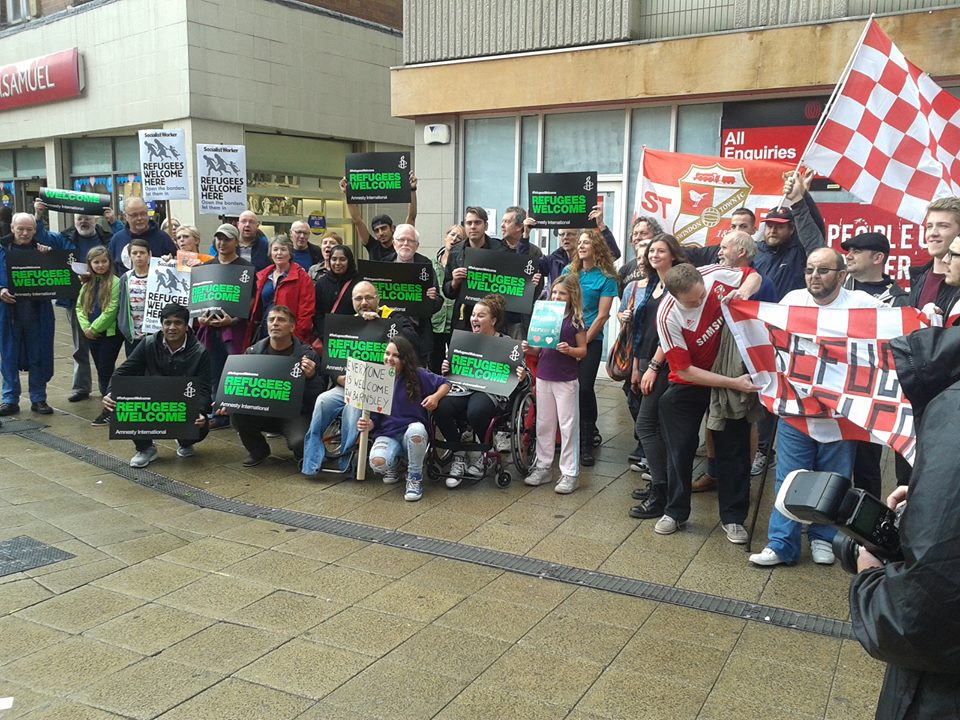 South Yorkshire says "Refugees are Welcome Here"
How can you help make refugees welcome here? Have a look at How Can I Help Make Refugees Welcome in SheffieldUpDATED
South Yorkshire people are showing that we are part of the growing Europe-wide movement to welcome refugees. A demonstration organised at short notice drew over 100 people from different communities together to say "Refugees are Welcome Here". The weekend after 150 people gathered outside Sheffield Town Hall at the same time as a massive protest in London and local events in Doncaster and Barnsley (pictured above).
The demonstration outside Sheffield Town Hall heard from refugees themselves and from people who had organised support for Syrian refugees. A video and short report from the Sheffield Star  is here. More pictures of the Sheffield protest are below (thanks to Manuch).
For the last 8 weeks there have been collections of clothes, food, health and hygiene products by Sheffield people who have taken them to refugees at Calais. Those people volunteering to collect, sort and transport donations have been overwhelmed in the last week by the generosity, humanity and solidarity shown by Sheffield people. They need your help! The Calais People to People Solidarity Fund Sheffield is the central body organising support for refugees in the Calais camps. You can donate here
Something Has Changed
We know that, particularly in South Yorkshire, there has always been humanity and solidarity shown to people migrating here. But in the last week or so something has changed. It wasn't just the picture of Aylan Kurdi drowned on the Turkish beach: there has been an unstoppable movement of desperate and determined refugees demanding safety all over Europe. It has become impossible to ignore. Riot police and sniffer dogs in Calais, razor fences in Hungary and the UK Government's "Let Them Drown" policy have not stopped refugees moving to safety.
And, it seems, this repression is now being questioned by more and more Europeans. Examples of solidarity are everywhere: German football fans with Refugees are Welcome banners; Austrian churches displaying "You Are Safe Here" signs; people in Hungary organising a Tom and Jerry film show for exhausted refugee children; Greek people sharing what little they have with refugees landing on Kos or Lesvos. This has forced European governments, including here in the UK to take some responsibility to support refugees fleeing from war and poverty often caused by European policy. As a refugee at the recent Right to Remain conference said "You do not set a man's house on fire and then tell him not to run."