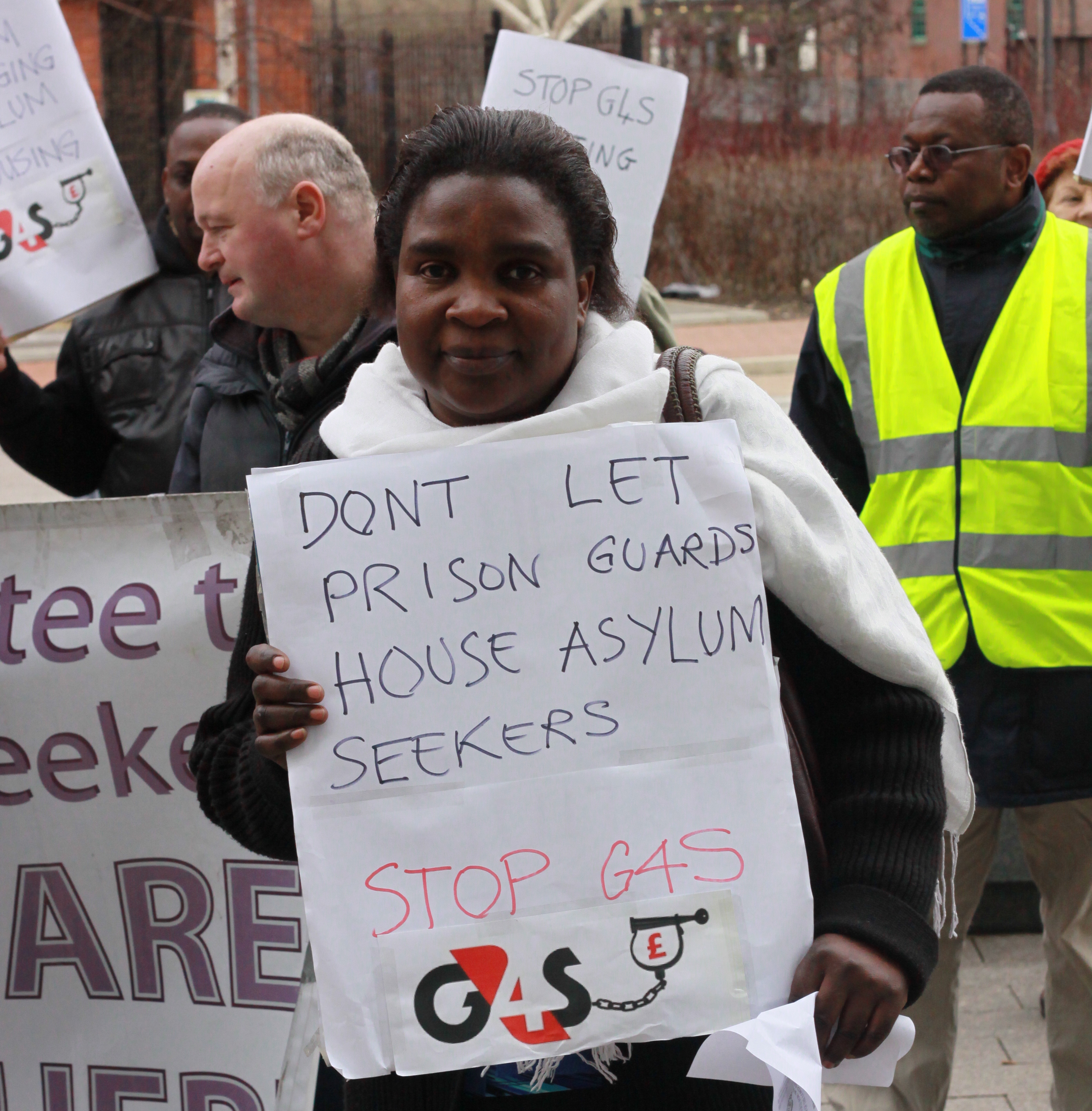 Leeds Council Order G4S to Review All Asylum Housing
A campaign led by two women asylum seekers has prompted Leeds City Council to take action against G4S. After visiting some of the squalid properties which G4S had tried to house people in, senior council officials ordered G4S to "undertake a full review of the property portfolio in Leeds to ensure they meet the contract standards".
 Cockroaches
One of the women who led the campaign, Ms A, along with her baby son, had been allocated a property in Leeds by Cascade Housing, a G4S housing subcontractor. The house was filthy, infested with cockroaches and the floors and walls were rotten with damp. Metal grilles covered the lower floor windows and the upstairs windows did not open wide enough to escape in case of fire.
Ms A refused to accept the property and was taken to another Cascade house in the city. This house was also filthy with mould covering almost all of the interior. When she refused to accept this place as a home for her and her baby Cascade staff tried to forcibly prevent her from leaving the property. It was only after the intervention of some local people that Cascade let her leave the property, agreed to take her back to the original (cockroach-infested) property and promised to move her again. This move never came. Instead, Cascade carried out cosmetic "repairs" painting over mould, laying linoleum over rotten, damp, spongy floorboards. During this time Ms A experienced racial harrassment at night with people banging on the metal window grilles. One day she found a cockroach inside her baby's bottle. Ms A contacted refugee agencies and campaigners and with the support of other women asylum seekers pushed Leeds City Council to intervene.
Standing Up to G4S
Leeds City Council's Housing Regulation Team and G4S visited Ms A's house and three other squalid properties in the city. Following the visits, G4S agreed to re-house all four women in the properties and to fully repair the four houses before they are used again to house human beings. Recognising that these cases are not isolated ones, Leeds City Council is insisting that G4S reviews all of its asylum housing in the city. Sheffield, Teeside, Bradford, Hull, Kirklees and other local authorities in our region should pay tribute to the courage of women asylum seekers who stand up to the might of UKBA, G4S and their subcontractors and do the same.
A Bad Week For G4S and Asylum Housing Subcontractors
The story of Ms A was reported in The Independent newspaper on 14th December, four weeks after Cascade Housing and G4S dumped her there. On Monday 10th December The Independent published a story about the eviction of a heavily pregnant asylum seeker – she was due to have an induced birth on the day that Target Housing (another G4S subcontractor) forced her to move in Rotherham. The CEO of Target Housing at the time of this eviction, Gino Toro, is now employed by G4S as their "Social Cohesion" manager in the Midlands.
How G4S Broke the Asylum Housing Contract
The deadline for the completion of the COMPASS asylum housing contract in Yorkshire and Humberside by G4S was originally the start of September. When G4S failed to meet this target, UKBA extended it. A new "final deadline" – 12th November – was set by UKBA. When it became clear that they would fail again, G4S demanded that local authorities (who G4S had undercut to win the contract) pay to house asylum seekers for an extra month.  
Despite breaking the contract and failing to meet the November 12th deadline, UKBA gave G4S another four "final weeks" to do the job that they are being paid £135million of public money for in Yorkshire and Humberside. On December 4th G4S's Stephen Small (with the chilling title of "Managing Director of G4S Immigration and Borders") stated "We are pleased to have completed the transition of all the people in our care". Two days later, Mr Small's colleague at UKBA, Simon Walker, announced "COMPASS Project – Transition Complete" in a Corporate Partner Letter – End of Transition.
The story of Ms A's squalid housing in Leeds indicates how G4S reached the latest UKBA-set deadline of 7th December. Her story, though shocking is not unusual, according to reports reaching us from around our region. Families from South Yorkshire have been moved 120 miles away from their friends, legal representation, support and communities to Teeside. In Teeside, Leeds and South Yorkshire people have been placed in areas where organised racist attacks are frequent. "Compliance checks on properties" have not been carried out before people have moved in. Glossy G4S "Welcome Packs" have not been completed with local details, making them useless to new residents.
Angel Lodge on Love Lane
The letter from UKBA's Simon Walker trumpetting the End of Transition tells us of another way that G4S have "completed the transition". Walker explains guardedly that "asylum applicants dispersed to this area are now entering the G4S managed Initial Accommodation facility at Love Lane in Wakefield before moving on to G4S managed accommodation across the North East, Yorkshire and Humber". The beautifully named "facility" on "Love Lane" in Wakefield is in fact the notorious Angel Lodge Initial Accommodation in the shadow of Wakefield Prison. This is not asylum housing, it is "Initial Accommodation": the place where people seeking asylum are first housed when they reach the UK, before they are housed. One 8 year old child of an asylum seeking woman in Huddersfield found himself back at Angel Lodge where he came when he was one year old and newly arrived in the UK. In an attempt to "warehouse" people seeking asylum to mask their inability to properly house them, G4S are dangerously overcrowding Angel Lodge.
For all of these reasons and in solidarity with the women asylum seekers of Leeds we repeat our call for an investigation into G4S' use of public money to force asylum seekers into squalor.
G4S' Handling of Asylum Housing Should Be Investigated:
Take Action: contact your MP and ask them to demand an investigation into the UKBA/G4S handling of the asylum housing contract.
You can find contact details of your MP here
A template letter is here for you to download MP letter template – Investigate G4S
Join the Campaign to Investigate the G4S Asylum Housing Contract: see website of Stockton North Labour MP Alex Cunningham