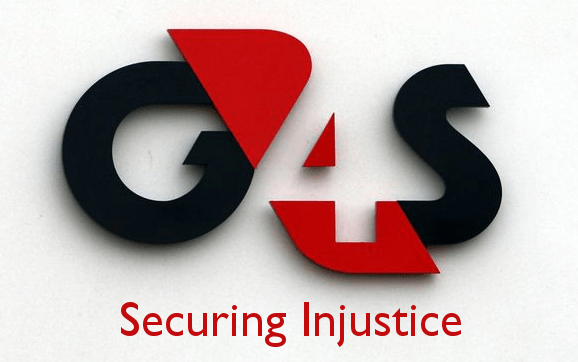 10 reasons to vote for G4S as the World's Worst Company…and why G4S disagree!
Security giant G4S rejects 'World's Worst Company' nomination
The world's leading security company, G4S, says it doesn't deserve to be nominated for Public Eye's World's Worst Company Award. Two activists examine G4S's defence.
The World's Worst Company will be declared this Thursday by Public Eye, an initiative of the of the Berne Declaration and Greenpeace Switzerland. The charity War on Want nominated G4S for the uncoveted award. Lately on OurKingdom (10 January) we offeredten reasons why G4S deserves to win. That same day the company sent a 150 word letter to the London-based Business and Human Rights Resource Centre opposing the nomination. Here we interrogate G4S's rebuttal.
We are activists who have scrutinised and resisted G4S's activities in asylum seeker housing in the UK, and the company's role in Israel's occupation of Palestine. As we write, G4S lies third in the public voting for the World's Worst Company, behind Shell and Goldman Sachs, and ahead of Repower (energy), Lonmin (formerly Lonrho— South African mining), Coal India and Alstom the French energy and transport conglomerate.
G4S say they don't deserve the nomination because: "The basis on which G4S has been nominated is inaccurate and very misleading."
We say: G4S appears to be responding only to one brief paragraph published byPublic Eye. In fact War On Want, Boykot G4S, Boycot Isreal Network, Corporate Watch UK, Jews for Justice for Palestinians, Palestine Solidarity Campaign (UK), submitted lengthy petitions to nominate G4S. The Institute for Business Ethics (IWE) at the University of St. Gallenexamined the nominations in relation to human rights, labour rights and environmental issues against the backdrop of international accords and standard. Such international standards are represented by UN Resolutions, Declarations, Conventions, OECD Guidelines, the Fourth Geneva Convention and the UN Guiding Principles on Business and Human Rights. Following the assessment by the University of St Gallen, an international jury selected the most irresponsible corporations. The jury consisted of four independent business ethics experts and four members who represented the Berne Declaration and Greenpeace.
In a few key strokes, G4S dismisses the work of the University of St Gallen and the international jury.
G4S says: "Much of the information published as criteria for the nomination is completely false, for example it is not true that G4S staff are 'often badly trained and paid' or that 'many have a criminal record'."
We say: The workers of G4S themselves, and their unions, have over the past few years systematically exposed the fact that G4S workers are "often badly trained and paid".
Back in 2008, UK charity Medical Justice's Outsourcing Abuse documented 300 cases of alleged abuse in the carrying out of deportations and other "immigration and asylum services" on behalf of the UK government. G4S held the highest rate of abuse. The abuse involved excessive force, resulting in injuries to the face and injuries as a result of restraints.
In October 2010, Angolan man Jimmy Mubenga who died under 'restraint' by G4S guards contracted to the UK Border Agency.
In the aftermath of Mubenga's death, G4S whistleblowers gave evidence to the UK Parliament in February 2011 alleging that poorly trained G4S staff on deportation flights "played Russian roulette" with peoples lives.
Later that year the BBC revealed that 773 complaints had been lodged in 2010 against G4S staff by detainees, including 48 claims of assault, and the UK Chief Inspector of Prisons reported G4S guards using extremely offensive racist language on deportation flights.
In 2007 War on Want and trade union researchers exposed G4S violations of international labour codes in South Africa, Malawi and Mozambique. White G4S managers in South Africa were accused of forcing black employees to use separate toilets"while white guards are given keys to the company toilet. And black G4S guards at Johannesburg airport complain that white supervisors call them 'kaffirs' and 'monkeys'".
Corporate Watch reported in February 2012 that workers in Nepal, South Korea, and Malawi were starting or threatening strikes and hunger strikes protesting about wages and conditions offered or paid by G4S. In May 2012 the UNI Global union accused G4S in India of paying "poverty wages" and"intimidating workers who speak out for their rights".
In 2011, G4S Armor Group private security guard Danny Fitzsimons in Iraq was imprisoned for twenty years for the murder of two of his fellow guards and the wounding of a third in Iraq. Following an investigation by BBC Scotland, a G4S spokesman admitted to the BBCthat its screening of Danny Fitzsimons "was not completed in line with the company's procedures".
G4S says: G4S staff do not "man checkpoints" or "manage prison security" in Israel.
We say: The company is undoubtedly complicit in Israel's restrictions of freedom of movement of Palestinians.
In July 2012, Israel's defense ministry confirmed that G4S is one of the companies that provides inspection services and scanning equipment to all the Israeli checkpoints along the separation wall in the West Bank.
G4S Israel signed a contract with the Israeli Prison Authority to provide security systems for Israel's major prisons in 2007. Independent lawyers commissioned by the UK government in 2012 published a report, Children in Military Custody, which described Israel's transfer of thousands of Palestinian prisoners including children, from the occupied territory to military prisons inside Israel as a violation of Article 76 of the Fourth Geneva Convention. Palestinian child prisoners are regularly subjected to torture and ill-treatment in several G4S equipped "security"prisons. By providing equipment to these prisons, G4S is complicit in Israel's violations of international law.
G4S says: "Where the company does operate in complex environments such as Iraq or Afghanistan, it often does so in support of humanitarian programmes or on behalf of western governments helping to resolve conflict or to provide a long term stable regime for the people of the country"
We say: G4S subsidiary Armor Group operates in the world of Private Military and Security Companies (PMSC's). For example, Armor Group was subcontracted by the US Air Force in Afghanistan. According to a 2010 report of the United States Armed Services Committee, G4S "relied on Afghan warlords, some of whom were Taliban supporters, to provide manpower for the company's guard force at the airbase."G4S has since tried to argue that it was simply following the practice of the US armed forces in Afghanistan. G4S is not just a 'private security company': it is also in part a private army, privatising war.
G4S says: "The nomination seriously misrepresents the hard work of thousands of dedicated G4S employees who make a positive contribution to the societies in which they live and work."
Our response: The nomination criticises G4S and its corporate management, not its workers. With a few shots in the dark, G4S dismisses serious public concerns about the company's record of violations of human rights, labour rights and international law. The quality of its response speaks volumes.
Vote for G4S as the World's Worst Company here
This article (below) "10 reasons to vote for G4S as the World's Worst Company" also first appeared on the Open Democracy website
The infamous Public Eye award wants your vote on the company that most deserves naming and shaming. Activists from South Yorkshire to the Canton of Vaud are backing security company G4S to win. Here's why.
War on Want has nominated G4S as the world's worst company in this year's Public Eye Awards, an initiative of the Berne Declaration and GreenPeace. The winner of the award for the worst record of corporate human rights abuses and environmental misdeeds will be announced on 24 January at the World Economic Forum in Davos.
The public will decide and competition is tough. Investment bank Goldman Sachs currently leads the voting in a list of finalists that includes energy companies Repower and Shell, South African mining company Lonmin (formerly Lonrho), Coal India and Alstom, the French energy and transport conglomerate.
We are backing G4S, the world's largest private military and security company, with operations in 125 countries and 657,000 employees, which caught international attention with its shambolic performance as security provider for the London 2012 Olympics.
We are John Grayson and Adri Nieuwhof, activist researchers. UK-based John, working with South Yorkshire Migration and Asylum Action Group (SYMAAG), has chronicled G4S's attempts to extend its asylum and detention markets into asylum seeker housing.
Adri Nieuwhof, a human rights activist based in Switzerland, monitors and exposes G4S's role in Israel's occupation of Palestine.
Here are 10 reasons why we think G4S deserves to win.
Reason One: G4S is privatising warfare
G4S owns the ArmorGroupand has ordinance management operations in 26 countries. Its Gurkha Services arm trains the British army for combat duties. In 2010 and 2012 respectively, the US Senate Armed Services Committee and the UN watchdog Global Policy Forum published criticism of G4S as a military contractor. According to War on Want, the criticism did not stop the British government from extending armed security contracts with G4S in Afghanistan, understood to be worth £72 million.
Reason Two: G4S profits from the Israeli occupation
G4S owns 90 per cent of its subsidiary G4S Israel (Hashmira) which supplies services to the Israeli police, the Ministry of Defense, the Israeli Prison Service, the Israeli army, and the settlement businesses. Over 4,500 Palestinian political prisoners, including 177 children, are held in Israeli jails. Israel transfers Palestinian political prisoners from the occupied territory to prisons in Israel in breach of the Fourth Geneva Convention.
G4S also provides security services to the detention and interrogation facilities to the "Russian Compound" in Jerusalem and to "al-Jalameh" detention centre in Haifa where Palestinian teens are interrogated. In January 2012, the Guardian reported that Cell 36 of al-Jalameh prison is one of the cells where Palestinian children are locked in solitary confinement for days or even weeks.
According to Defence for Children International Palestine section, in the past 11 years around 7,500 children, some as young as 12 years, are estimated to have been detained, interrogated, and imprisoned in Israeli military and 'security' prisons. This averages out at between 500 and 700 children per year.
To investigate the treatment of Palestinian children under Israeli military law, the UK Foreign and Commonwealth Office commissioned a group of lawyers. In their report 'Children in Military Custody' published in June 2012, the lawyers argue that Israel breaches international human rights standards including the UN Convention on the Rights of the Child and the Geneva Convention by its treatment of Palestinian child prisoners.
"Thousands of innocent men women and children have been put through the detention wringer."
Reason Three: G4S has an appalling record running immigration detention, deportation centres and escort services in the UK
In October 2010, Angolan asylum seeker Jimmy Mubenga died under 'restraint' by G4S guards contracted to the UK Border Agency. A chilling dossier of evidence entitled Outsourcing Abuse was published by Medical Justice in 2008. In 2011 an international universities research projectfound that:
"The story of the UK's immigration detention centres is one of indignity, danger, and misery as catalogued by many authorities. In the UK's detention centres there have been 16 suicides, alarming rates of self harm, hunger strikes and appalling levels of mental and physical illness. Thousands of innocent men, women and children have been put through the detention wringer." (1)
Despite damning criticism, G4S continues to run three privatised detention centres in the UK. The company is not scared to profit from controversial public contracts. In October 2012, the Australian Government announced that G4S would manage its off shore asylum processing centre on Manus Island in Papua New Guinea. (2) G4S is also poised, with Serco, to profit from Canada's 'crackdown on asylum' and development of privatised detention centres. G4S already provides security for one of Canada's Immigration Holding Centres. (3)
Reason Four: G4S and the'monstrous' UK asylum market
G4S makes profits from the UK's asylum support regime, a "system of institutionalised inhumanity" designed not to support those seeking asylum in the UK, but to deter others from coming to the UK, according to the distinguished immigration barrister Frances Webber in her book Borderline Justice. Webber describes "a monstrous regime of bare subsistence and a deterrent system of coercion, control and stigmatisation".G4S has extended its interests in these asylum markets with part of a five year UK Border Agency £600 million contracts to control transport, dispersal centres and housing for those waiting for decisions on asylum claims.
Reason Five: G4S children's prisons business
G4S pioneered police and prison privatisation in the UK and is poised to profit from the freshly privatised probation market too. At present, the UK has more private prisons than anywhere in Europe, even more than in the US. G4S has run privatised UK children's prisons or secure training centres since 1998. Fifteen-year-old Gareth Myatt died in April 2004 under 'restraint' by G4S staff at Rainsbrook Secure Training Centre near Rugby. There had, for years, been concerns about staff bullies and restraint techniques that caused 'positional asphyxia'. In a High Court judgment on 11 January 2012, Mr Justice Foskett found it highly likely that large numbers of children were unlawfully restrained in secure training centres run by G4S (and Serco) between 1998 and 2008.
He stated:"The children and young persons sent to [secure training centres] were sent there because they had acted unlawfully and to learn to obey the law, yet many of them were subject to unlawful actions during their detention. I need, I think, say no more."
Despite its history of abuse at Rainsbrook, G4S runs "a purpose-built mother and baby unit to care for detained young mothers and their babies".
Reason Six: G4S co-opts and distorts charity
G4S uses charities both as a Trojan Horse to penetrate and control freshly marketised areas of the public sphere, and as a fig leaf covering up human rights abuses against children. G4S is linked up with the UK's leading children's charity Barnardo's in the exploitation of prison and asylum markets. Through this partnership G4S accessed £3m of Big Lottery funding for projects with Barnardo's at its two private prisons in South Wales. Now G4S and Barnardo's jointly run the Cedars immigration removal detention centrewhich continues to lock up children and has been the scene of abuses against migrant families who were deported from the centre.
Charities are now becoming aware of G4S and its abuse of human rights. In Denmark, in September protests resulted in ending their links with G4S. (4) Late in December 2012 two Dutch charities Food Bank Utrecht and Jantje Beton cut their ties with G4S, after they were informed about the abuse of children in Israeli prisons equipped by G4S. (5)
Reason Seven: G4S exploits the 'revolving door' for politicians, police and civil servants
G4S has been adept at using business figures, and celebrities to enhance its image and lobbying power. G4S's latest catch is Adam Crozier, chief executive of the major media group ITV, Crozier previously headed advertising agency Saatchi and Saatchi. No matter how experienced Crozier is, he will not be able to whitewash G4S's record of corporate human rights abuses. (6) The company has systematically recruited as advisors and board members high profile UK politicians like Lord (John) Reid, former Labour Home Secretary, policemen such as Lord Condon, former commissioner of the Metropolitan Police, and civil servants. The UK's ambassador to Libya during the Arab Spring, Richard Northern, was recruited in January 2012 to advise G4S on  security business prospects in the region.
Reason Eight: Politicians need to be reminded of G4S's reality and its corporate  human rights abuses
In June 2012, sixty UK Members of Parliament signed a motion to bar firms with dubious human rights records, like G4S, from government contracts. The motion cited the European Parliament's cancellation of a G4S security contract because of its prison business in Israel.
Since Parliamentary hearings on the Olympics contract, the company has lost UK prison contracts, police contracts and a major contract for assessment of disabled people.
And yet all the three main Westminster parties Conservatives, Liberal Democrat, and Labour, used G4S for security at their annual conferences in the autumn of 2012.
Reason Nine: To remind taxpayers that they are enriching G4S shareholders, and making the company's executives quite astonishingly rich
G4S funds the development of its prison estate, detention and asylum markets, not from its own private capital, but from taxpayers' money. There is little risk involved for G4S and income and profits are guaranteed over very long periods.
These public contracts ensure G4S can reward its own 'fat cats'. G4S chief executive Nick Buckles according to the Annual Report  in 2011  gets an annual salary and shares worth £2.4 million and a possible annual bonus of £1.2 million. His pension pot is at present worth £7 million.
Meanwhile, in a G4S mother and baby hostel in Stockton on Tees in the North East of England, under the government's asylum housing contract, 38 children under one and a half live in what their mothers describe as 'cells'.
Reason Ten: Your vote will mobilise further protest
Your vote for G4S is a protest against the company's corporate human rights abuses, and a vote of solidarity with the protests of Palestinian political prisoners and child prisoners in Israeli jails, asylum seekers in UK detention and removal centres, asylum seeker and child prisoner mothers and babies in G4S UK hostels, and a vote of solidarity with all those individuals and organisations campaigning against G4S, the Worst Company in the World.
War on Want have made a video – featuring a Stop G4S demonstration in Sheffield – to give you some background on the multiple human rights abuses of G4S around the world.
To vote, go to the Worst Company of the Year website and to vote for G4S go here
---
References:
(1) Melanie McFadyean, Detention is no solution   International State Crime Initiative  24 June 2011
http://statecrime.org/online_article/detention-is-no-solution/
(2)  G4S may run Manus Island refugee centre  The Telegraph (Australia) 15 October 2012
http://www.dailytelegraph.com.au/g4s-may-run-manus-island-refugee-centre/story-friehlez2-1226496535549
(3) Bilbo Poynter,  Private prison firms look to cash in on Canada asylum crackdown The Guardian 29 Novemeber 2012
http://guardian.co.uk/world/2012/nov/29/canada-asylum-seekers-private-prison-companies
(4) Adri Nieuwhof, Danish clients dump G4S because of security company's ties to Israeli occupation, blog The Electronic Intifada, 28 September 2012
http://electronicintifada.net/blogs/adri-nieuwhof/danish-clients-dump-g4s-because-security-companys-ties-israeli-occupation
(5)Adri Nieuwhof, Dutch charities spurn G4S cash over abuse of Palestinian children Electronic intifada blog 24 December 2012
http://electronicintifada.net/blogs/adri-nieuwhof/dutch-charities-spurn-g4s-cash-over-abuse-palestinian-children
(6) Angela Monaghan, G4S appoints ITV's Adam Crozier to its board  The Telegraph 18 December 2012
http://www.telegraph.co.uk/finance/newsbysector/supportservices/9754169/G4S-appoints-ITVs-Adam-Crozier-to-its-board.html
See also:
Adri Nieuwhof, Palestinian children testify about cruel treatment by Israeli soldiers in new short film, blog The Electronic Intifada, 14 October 2012.
http://electronicintifada.net/blogs/adri-nieuwhof/palestinian-children-testify-about-cruel-treatment-israeli-soldiers-new-short
This article orinally appeared on 10 January 2013 on the Open Democracy website at http://www.opendemocracy.net/ourkingdom/john-grayson-and-adri-nieuwhof/ten-reasons-to-vote-for-g4s-as-worlds-worst-company