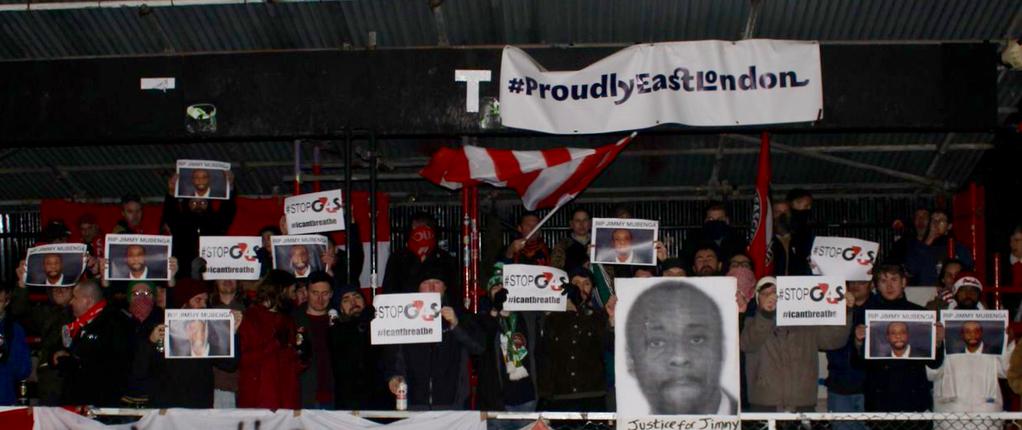 Who killed Jimmy Mubenga?
In 2013 an inquest found that Jimmy Mubenga was "unlawfully killed" while being "escorted" by G4S guards on a forced deportation flight to Angola in October 2010. On December 16th 2014 these G4S guards were found not guilty of manslaughter.
Protesting outside Westminster Court during the trial
"I am going to start a campaign to stop this happening again"
Jimmy Mubenga's widow Adrienne Makenda Kambana said in response "For the last four years I have fought for justice for Jimmy and our five children.  It is hard for me to understand how the jury reached this decision with all the overwhelming evidence that Jimmy said over and over that he could not breathe." 20 other people on the flight testified that they had heard Jimmy call out "I can't breathe" and "They're going to kill me."
"I am going to start a campaign to stop this happening again," Adrienne told the Guardian during the trial. "I will ask the Home Office to make sure there is an independent monitor on each deportation so they can observe what is going on. I can't stand by and watch this happen to another family. I have to do that for Jimmy."
Protesting outside G4S HQ on International Migrants Day
Racist texts: "Inadmissable Evidence"?
Immediately after the trial it emerged that the judge had ruled as "inadmissible" evidence pointing to endemic racism within G4S. 76 racist texts had been found on the phones of two of the  G4S guards "escorting" Jimmy Mubenga on the deportation flight. Clare Sambrook of Open Democracy (who had been ordered to remove certain website articles critical of G4S during the trial) looks at this issue here.
Around 200 people protested on December 18th International Migrants Day outside the Home Office in London demanding justice for Jimmy. Protesters called. "We can't breathe", echoing the last words of both Jimmy and of Eric Garner who was killed by police in New York recently. The protest finished with an impromptu march to the nearby headquarters of G4S.
Adrienne Kambana and supporters outside court
Heaven and Earth
Frances Webber writing for the Institute of Race Relations commented: "Should we be surprised at the verdicts? No. In all the dozens of deaths in custody involving undue force researched by the IRR over the last twenty-five years no one has ever been convicted of homicide. And where an inquest jury, after seeing and hearing incontrovertible evidence, has brought in a verdict of unlawful killing (which has happened at least nine times), heaven and earth are moved to reverse the verdict and/or to ensure that the CPS does not bring a prosecution of those involved."
A G4S spokesman said: "Providing a safe and caring environment for those in our custody or care is a priority for G4S"