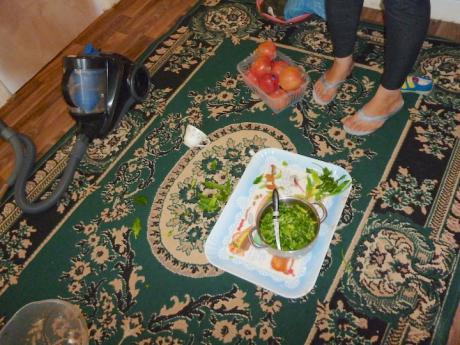 Welcome to my asylum home. I'd offer you a seat — if I had one
No chairs or table. Dangerous gas appliances. A blood-stained mattress. Rats. Squalor. Asylum housing today

Local authorities, charities and asylum tenants from all over the UK have given evidence that indicates the failure of the COMPASS asylum housing contract
John Grayson looks at G4S asylum housing in Sheffield ahead of Home Office negotiations to give more public money to G4S, Serco, Clearel to operate the "unacceptably poor" COMPASS asylum housing contract
This article was first published on Open Democracy on November 18th
Meanwhile a parliamentary inquiry into asylum housing lumbers on over ten months . . . and today in Leeds the Home Office holds yet another 'consultation' on a sorry business.
Jayne chops vegetables on a tray on her kitchen mat (John Grayson)
Jayne is on her knees, chopping vegetables on a tray on her kitchen mat. Jayne has no table or chairs. She and her two young children have lived in this squalid house in Sheffield for two weeks. Their landlord is the international security company G4S which holds part of a £620m government contract to house asylum seekers.
"I cannot stay here, it is not safe for my children." Jayne is crying. She points to her storage 'cupboard'. There's shelving around steep, filthy and unguarded stairs that lead to cellar. The cellar is full of rubbish.
Jayne's cellar steps (John Grayson)
Sam is Jayne's lively four-year old son. "Sam is ill all the time," Jayne tells me. "It is because of the dirty house." Sam has already fallen down the steep bedroom stairs — when the handrail came away from the wall.
Debbie, a volunteer social worker, tells me: "I first came across Jayne and her family in a refugee hotel in Dunquerque. We spent months persuading the British authorities that the family had relatives in the UK and was entitled to claim asylum here."
Through an interpreter Jayne, in tears, says: "Travelling from Turkey my husband and my other daughter went missing, I don't know where they are.
"When I arrived I was given £90 for each of us, that was in August. I have received nothing for nearly three months. Friends and my relatives around Sheffield give me food, and support us. G4S promise to get me a payment and I am waiting for the post every day."
A typical G4S house
In late October I inspect the house — typical of dozens of G4S houses I have seen in Yorkshire over the past few years — rundown, dirty and neglected. Debbie has already protested about Jayne's dangerous cooker and the National Grid man has capped off the gas pipe.
"He told me G4S should be ashamed to put the family in with that cooker, he said that there had been a serious house gas explosion in the recent past in the area."
Jayne gave me a letter confirming that a dangerous gas appliance notice had been served on G4S.
I walk around to the back of the house, where Sam might play. There's a blocked drain, a broken-down fence and a passage leading directly on to the street with the door missing.
Debbie had told me that Jayne was desperate about Sam's safety. "Her fifteen-year-old, Marie, cannot understand why she has to keep security gates shut for Sam." Both children have learning difficulties. Jayne tells me she must carry Sam around on her back up and down stairs.
Jayne carries Sam down the stairs (John Grayson)
As I am leaving Jayne answers to a knock on the door — it is a G4S delivery of table, chairs and a new cooker — Debbie's protests have worked.
The house is still dangerous for Sam and I have written to G4S warning them that they must provide safe accommodation now or risk a legal challenge to safeguard the human rights of Sam and Marie.
Legal action may be the only way to make Sam safe. On 7 November the Red Cross wrote to Paul Bilbao, head of Asylum Support Contracts and Compliance at the Home Office in Leeds giving details of my inspection of Jayne's house and a further Red Cross visit detailing dangers to Sam and his sister, and the urgent need for the family to be moved. On 10 November a reply came from Lee-Anne Prince, the Home Office specialist for 'safeguarding children' in asylum housing in Yorkshire.
She wrote: "I have spoken to G4S and we are intending to visit the property in the next few weeks after which I will come back to you."
Breaches of contract
According to its Home Office contract G4S must supply accommodation that is safe, habitable, fit for purpose, and correctly equipped and furnished, and G4S must "provide accommodation for disabled persons that is fit for purpose…in compliance with relevant law."
Jayne's furniture and a safe cooker should have been in the house before G4S moved the family in — one more breach of the COMPASS asylum housing contract requirements.
Working alongside asylum seekers over the past five years I have uncovered hundreds of such breaches.
This past year other campaigners, local councils and groups of asylum tenants and refugees have sent written evidence about asylum housing, just like Jayne's, to the Home Affairs Committee's (HAC) Inquiry into asylum housing.
Jayne's cellar-head 'larder' (John Grayson)
The Northern Ireland Community of Refugees and Asylum Seekers (NICRAS) interviewed 76 asylum-housing tenants, and told the committee that asylum seekers reported unsanitary conditions, dampness and cold, electrical and heating faults. One person told the researchers that the heating timer was set to turn off from Friday to Monday, and therefore there would be no heating in the house over the weekend. Another said they were left without heating for weeks on end.
The Welsh Refugee Coalition evidence states: "Housing is a major problem for many asylum seekers …the housing provided was often inadequate, degrading, shameful and unhygienic."
Bradford City of Sanctuary investigated twenty-five cases and reported that:
"fifteen directly referred to the cleanliness of the housing, which includes dusty carpets, mice infested kitchens, water leaking from walls, poor odours and mite damage. A number…did not have fully functioning central heating and boilers".
Bradford City Council had responded to complaints from asylum housing tenants.
"The Council's housing standards team inspected a number of HMO (House in Multiple Occupation) properties…and found that within each property similar deficiencies were repeatedly present such as; rodent infestations, damp, failure to meet…standards in terms of fire safety, external yards/gardens were overgrown."
Jessica: blood and mice
Reading the evidence, I'm reminded of a G4S house in Leicester I visited recently. There I listen to Jessica, who arrived from the Middle East in July.
She was allocated a room in a filthy G4S house. The mattress of her bed was stained with blood.
After protests from the Red Cross she was moved to another house in Leicester…this time infested with mice.
"I am terrified of the mice in my bedroom," she tells me. "I cannot sleep." Jessica shows me the mouse-traps and poison she has bought for her room.
Jessica attempts rodent control (John Grayson)
Two other women in the house, young asylum seekers from Africa, tell me of other problems. Dawn said:
"This house was without heating and hot water for nearly a month, we were boiling kettles to have a bath. The G4S man said that we should not switch the boiler off because it will not come back on…we live with a noisy boiler in this overheated kitchen now."
Buckets for hand-washing clothes (John Grayson)
Dawn had been in the house for two years. "Our washing machine kept leaking and was never repaired properly — then G4S left us without a washing machine for six months — they told us to wash our clothes by hand." Dawn pointed to the buckets they had bought to do the washing.
Ken – two years with rats
Rodents are a common feature in G4S housing. In Sheffield I talked with Ken, who showed me a window in his kitchen. "My wife had nightmares when she saw the rats out there so we put tape on the window," he said. Ken arrived from the Middle East two years ago with his wife and twenty-year-old daughter.
Ken's kitchen window (John Grayson)
"We saw the house and said we would not live there, the G4S man said that there were plenty of English people living under bridges and that we could join them if we refused the house."
Ken and his family have complained about the rats on at least six occasions over the past two years. The G4S notice in the house says the pest control staff came in mid-September but Ken tells me the rats are still about.
And that's not all.
Ken told me: "Young people came every night throwing stones at the house and calling racist names." The police were called, but still G4S would not move the family to safe accommodation.
Asylum seekers in Northern Ireland reported racist treatment from their landlords — the property company Orchard & Shipman, subcontractors to Serco. The Northern Ireland Community of Refugees and Asylum Seekers expressed alarm that "derogatory and racist behaviour" was common among Orchard & Shipman staff.
The Northern Ireland Community of Refugees and Asylum Seekers (NICRAS) reported to the Home Affairs Committee that a majority of asylum seekers said staff behaviour "made them feel like 'animals' and that they were 'subhuman'. Others reported that they felt 'bullied'."
What next for asylum housing?
Campaigners for better conditions for asylum seekers in accommodation provided by the Home Office contractors G4S, Serco and Clearel (Clearsprings) have had some success. Scottish Refugee Council's work  alongside asylum housing tenants in Glasgow has resulted in Serco dropping Orchard & Shipman from the contracts in Scotland. In the North East rumours circulate that G4S is planning to drop its sole contractor there, Jomast Developments, the company that achieved front page coverage in The Times for painting asylum seekers' doors red.
While the Home Affairs Committee prepares its report on these matters, the Home Office continues to negotiate with G4S, Serco and Clearel (Clearsprings) to extend the contract for two more years until 2019.
Since the contractors came on board in June 2012, there have been four significant inquiries, featuring asylum housing in Parliament, the Children's' Society Parliamentary panel in 2013, a Home Affairs Committee inquiry in 2013, a Public Accounts Committee inquiry in 2014 and the current Home Affairs Committee inquiry.
In 2016 G4S was fined £5.6m for the standard of the housing it provided in 2013/14. Despite all that, regardless of persistently negative media coverage and asylum tenants' tenacious resistance and solidarity campaigning, still, G4S, Serco and Clearel hold the contract. Indeed, the Home Office is currently negotiating a contract extension with its 'commercial partners'.
In any normal commercial setting a contractor producing such shoddy work might quickly find themselves off the job.
Why does the government tolerate this? Is it because substandard accommodation is exactly what the government wants for asylum seekers? This is one of the questions I'll put to the Home Office today in Leeds at their 'consultation' on future asylum housing contracts.
---
Note: Jayne, Sam, Marie, Jessica, Dawn and Ken are pseudonyms.