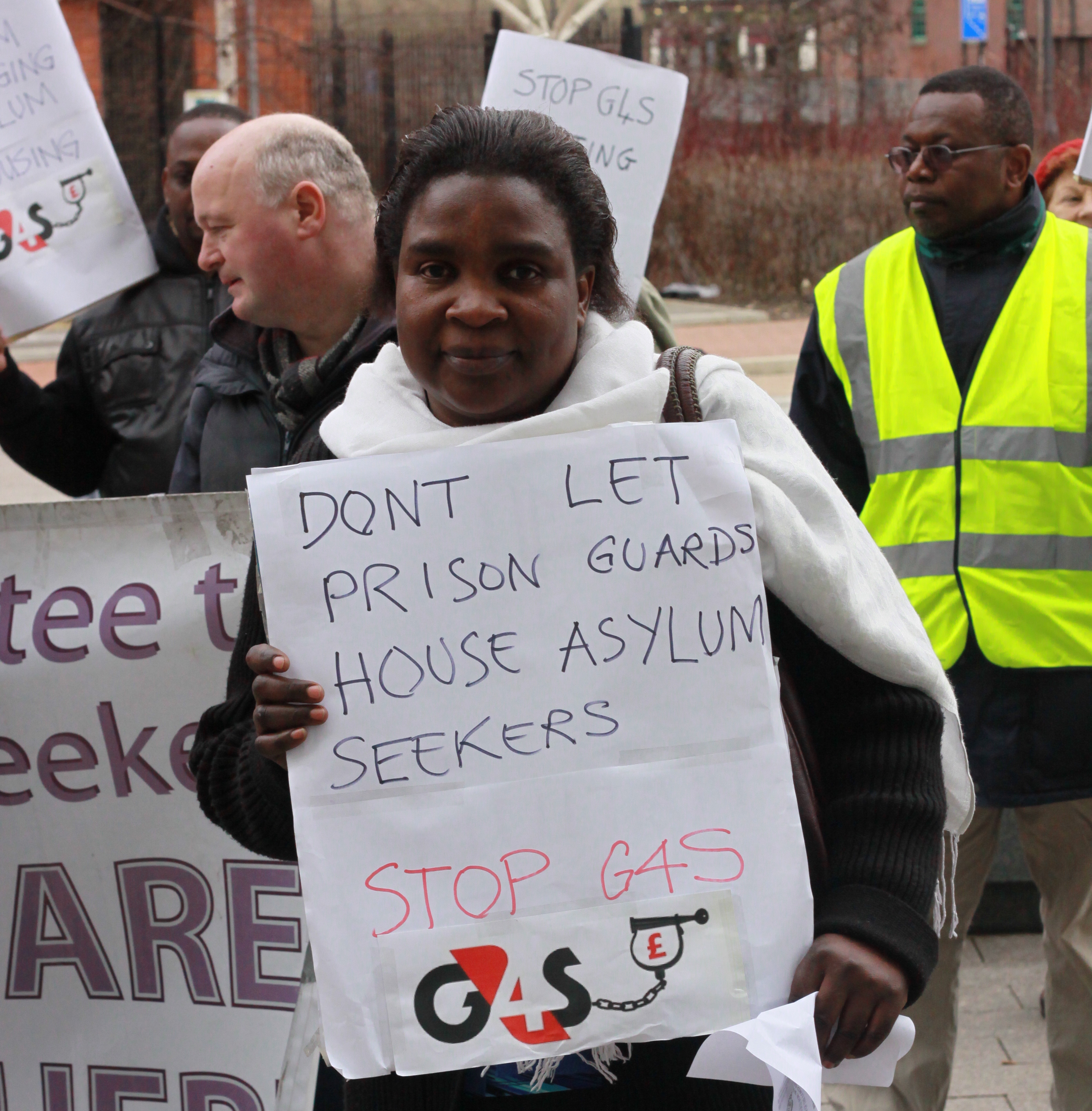 Rats in the yard: 4 years of UK asylum housing by G4S
"They simply want to make profits out of us, they show us no respect." Why are we still handing public money to G4S, Serco and Clearsprings despite all the evidence of their failure to treat asylum seekers with respect or house them safely?
Rats in the yard: 4 years of UK asylum housing by G4S
Today, yet again, a Parliamentary committee will hear how commercial landlords are failing asylum seeker tenants. And then what?
Jean's back yard (John Grayson)
A few days ago I was chatting with Jean, the mother of three small children, in the back yard of her Sheffield home.
Jean pointed to rat poison boxes, the fence gnawed by rats. "My children cannot play here, they are frightened of the rats," she said.
Jean (not her real name) is an asylum seeker from North Africa. She finished a degree in England last summer. Her home has water leaks, unsafe flooring, and damp walls which had holes in them, back in April, when the family moved in. The house is managed under a government contract by the world's largest security company, G4S.
Unity and social justice
On the day that Home Secretary Theresa became Prime Minister, she stood on the steps of Number 10 Downing Street and proclaimed her 'mission'.  It was "to make Britain a country that works for everyone". She spoke of "social justice". She spoke of the union, not just between the countries of the United Kingdom, "but between all of our citizens, every one of us, whoever we are and wherever we are from".
Remember that: "Everyone of us, wherever we are from."
In late July the UK government named the company that would run a helpline for people who have faced discrimination on the grounds of their sex, race or disability. The company? G4S.
Did it matter that G4S is well known for the "unhealthy culture" and "endemic racism" noted by the coroner at the inquest into the death of Jimmy Mubenga, an asylum seeker "unlawfully killed" by G4S?
Did it matter that G4S had recently been stripped of a contract to run Medway children's prison after revelations of abuse of young people, abuse which had prevailed in secure training centres for many years?
Apparently not.
Over the past four years the Home Office, under Theresa May, has come under relentless criticism for the quality of asylum housing. There was the  Children's Society parliamentary inquiry in early 2013, the Home Affairs select committee inquiry in 2013, the Public Accounts Committee inquiry in 2014 — all reported on "atrocious" asylum housing conditions. G4S and Serco were fined £5.6m for this fundamental breach of the contract in 2012/13.
Back in 2013, Zoe Williams asked in the Guardian, "just how bad does G4S need to get before it loses government contracts?"
Something for parliamentary Home Affairs committee to consider when it resumes hearings on the G4S, Serco and Clearsprings asylum housing contracts on Tuesday 13 September.
Hostile environment
Lately I've been talking with Angela. She was a G4S asylum tenant in 2012. I wrote then about how she had found cockroaches in her baby son's bottle and slugs in the carpets. Now a refugee settled in Leeds, Angela (not her real name) said: "I am really shocked G4S still has that asylum housing contract, they have ruined the early months and years of so many children."
In May 2012, Theresa May, then Home Secretary, told the Telegraph: "The aim is to create here in Britain a really hostile environment for illegal migration."
The following month, G4S, along with Serco and the smaller Reliance security company (in partnership with Clearsprings housing company), were handed the £620m contract for housing people awaiting the outcome of their asylum claims. At the time, this was the largest contract ever given by the Home Office.
Over four years, working alongside asylum seekers, I have witnessed and reported on the "hostile environment". I have seen its devastating impact on vulnerable lives.
John Grayson, BBC TV Inside Out programme March 2015
Catherine Tshezi, who was dumped in a G4S/Jomast 'mother and baby' hostel in Stockton in 2012, weeks after giving birth, said about her experience there: "This really goes to show that the asylum seekers are not respected. We are all human beings and we deserve respect and dignity."
Cha Matty, a whistle-blower who exposed conditions in the hostel in the Guardian and before a parliamentary inquiry told me: "They simply want to make profits out of us, they show us no respect."
When I interviewed her in 2012 she had been in the hostel with her toddler son for over a year. She said she was "shocked and disappointed at how we have been treated by the powers that be. How inhuman they are treating us, and we are just numbers for them in making a profit which is very unfair and sad".
It's 2016 and I am still visiting squalid G4S asylum properties in Yorkshire. In March, The Times reported on allegedly "horrific" asylum housing supplied by Serco in Glasgow, and Clearsprings in London. On 2 August the Guardian reported:
"There are currently 18 women and 15 children living in the property in Hounslow, which is two terrace houses knocked together …. Residents have complained of infestations of rats in the kitchen, bedbugs and slugs, filthy conditions, leaks, naked wires left exposed and periodic infestations of cockroaches."
Good enough for an asylum seeker
Stuart Monk is owner and managing director of Jomast, a property company based in the north east of England, that "strives to relentlessly pursue improvement in all aspects of its business" according to its publicity material.
In January 2016 The Times accused Jomast of creating "apartheid on the streets of Britain" by painting asylum seekers doors red, and Monk was called before the Home Affairs Select Committee. He said memorably that the homes he provided were "a product suitable for an asylum seeker".
Stuart Monk of Jomast, Home Affairs Committee, January 2016
Rupert Soames, grandson of Winston Churchill and CEO of Serco, in June 2015 told BBC Radio 4's cheerleading business programme 'The Bottom Line' that the new outsourcing market: "makes Britain now to public service provision what Silicon Valley is to IT".
The winners
In the first three months of 2016 new public sector contracts worth £1.35 billion were announced in the UK – sixty five per cent of all outsourced contracts.
In a close and cosy world, outsourcing companies provide well paid positions to former politicians and other prominent public figures. In 2009, John Reid, while still a serving Member of Parliament, took a £50,000-a-year "consultancy" role at G4S. They made him a director — from July 2010 until April 2013. And Reid, a former Labour Home and Defence Secretary has continued to promote the security industry's wares in the House of Lords.
G4S board members have included Lord Condon, former Commissioner of the Metropolitan Police and Adam Crozier, head of ITV. Current chairman John Connolly, once Britain's highest paid accountant — at Deloitte — also chairs the board at the Great Ormond Street Hospital charity, and was an advisor to Mayor of London Boris Johnson.
Fence gnawed by rats in Jean's back yard (John Grayson)
The Telegraph in April 2016 estimated that in 2011/2012 the Home Office spent £150million providing accommodation for asylum seekers, in 2014/15 it is thought to be closer to £200million.
Stuart Monk, owner of G4S contractor Jomast is reported to be worth £175m.
James Vyvyan Robinson CEO of Clearsprings, formerly of G4S, has an annual salary of more than £200,000. Graham King, the founder and chairman of Clearsprings, trousered £960,000 from the company in 2014.
Alex Langsam, founder of Britannia Hotels, twice voted the worst hotel chain in Which? Polls, this year entered The Sunday Times rich list with an estimated personal fortune of £220m. Langsam has been dubbed 'The Asylum King' after securing contracts in 2014 to house refugees in 17 of his budget hotels and making a profit of £14m for the company.
Over the past few months, along with other members of SYMAAG, an asylum rights group, I have been attending small 'hearings' in Yorkshire held to collect evidence for the Home Affairs Committee from G4S asylum housing tenants. The evidence continues to reveal a picture of filthy properties, G4S staff invading the privacy of tenants' homes, and vulnerable and traumatised tenants being neglected.
Tenants attending the hearings and the many tenants I have worked alongside over the past four years have had the courage to raise their voices against the disrespect and abuse they have faced in their asylum homes. Will the peoples representatives take action this time? Will they force G4S, Serco and Clearsprings off the asylum housing contract? If not, why not?
This article was first published on Open Democracy on 13th September at https://www.opendemocracy.net/uk/shinealight/john-grayson/rats-in-yard-4-years-of-uk-asylum-housing-by-g4s