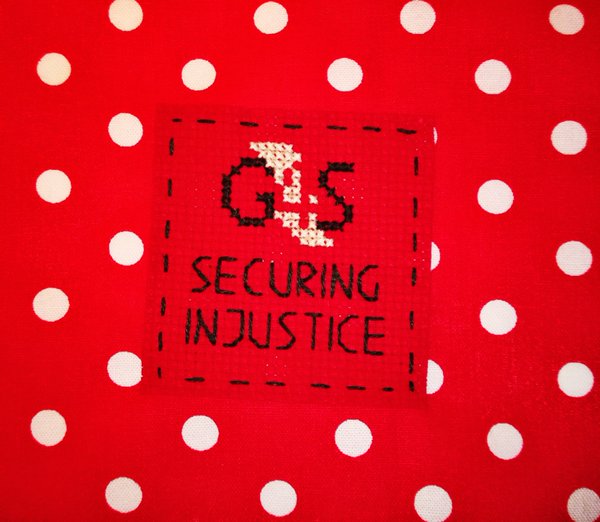 Merry Christmas from G4S, you're evicted
After constant failures and abuse of asylum housing tenants over nearly five years, and serious jail riots at a G4S managed Birmingham prison it is still business as usual as G4S (and Serco, and Clearsprings) are given lots more taxpayers money to continue their disastrous asylum housing contracts for another two years to 2019.  John Grayson reports

This week just before Xmas two G4S asylum tenants went to the weekly Drop In session in a Sheffield city centre chapel and told the workers for ASSIST, a charity working for destitute asylum seekers, that one of them had been told that because he had lost an appeal on his asylum claim he would lose all support from the Home Office and G4S would evict him on 21 December. Another man told ASSIST he had a similar letter for his eviction on 28 December.
Catherine a volunteer with ASSIST told me "We have some temporary shelters and emergency housing for destitute asylum seekers but we would never dream of asking people to leave over Xmas.G4S have some discretion – they could postpone the evictions – but of course they would lose money then, not getting their contract payment from the Home Office for a few days."
Just before Xmas in 2011 the UK Home Office announced, amongst the festive news trivia, a bombshell – that G4S the largest security company in the world was its 'preferred bidder' for a chunk of the £620 m contracts for asylum housing for the 23,000 asylum seekers waiting for the outcomes of their claims across the UK.
G4S had no experience of housing but it did have a dubious record in managing prisons and detention centres in the UK and worldwide, and at that time was being held responsible for the death in October 2010 ofJimmy Mubenga on a deportation flight restrained by G4S guards.
Last week again amongst the welter of news from Aleppo and Brexit trivia Robert Goodwill Theresa May's Immigration Minister offered the lowest possible profile in lodging a written statement in the Commons announcing extension of the asylum housing contracts and promising more taxpayers money or"more investment", for the companies, and their managers and owners.
He dealt with the fact that over the past three years there had been four major damning parliamentary inquiries into the management of asylum housing contracts by two international security companies, G4S, Serco and the housing company Clearsprings; constant media criticism; and protests from local councils, in one short sentence
"There has been considerable interest in the accommodation and support that is provided to asylum seekers."
He publicly contradicted the findings of the Parliamentary Public Accounts Committee (PAC) in 2014 when he claimed that "improvements…. have been made to the standard of accommodation when compared to those achieved under previous arrangements."
Margaret Hodge the chair of PAC in 2014 drew attention to "the loss of the knowledge of experienced specialist providers", pointing to the important role previously held by local councils and the specialist knowledge necessary to deliver such contracts. "Far from provision of housing for asylum seekers improving under privatisation, this evidence suggests that things are getting much worse."
Goodwill then gave the details of his largesse:
"Firstly, I have increased the amount of money that the Home Office pays for the provision of welfare officers and staff property management."
Perhaps Stuart Monk head of Jomast, G4S contractor in the North East with a family income of £175m from property development and asylum housing, could have used some of the £8m his company received last year for asylum housing for better staffing. Local M.P. Alex Cunningham has described Jomast taxpayer funded asylum housing as"hovels". Mr Monk describes them as "a product suitable for an asylum seeker" and seems unrepentant in painting many of the doors with red paint attracting hate crimes and far right attacks.
Secondly the Home Office has decided to "further reduce the need to use contingency arrangements, such as hotels, in the future." A blow perhaps to Alex Langsam, founder of Britannia Hotels, twice voted the worst hotel chain in Which? Polls. Langsam has an estimated personal fortune of £220m and has been dubbed 'The Asylum King' after securing contracts in 2014 to house refugees in 17 of his budget hotels and making a profit of £14m for the company.
Thirdly "There will be a new higher price band for any increases in the number of asylum seekers requiring accommodation, this will allow the providers to further increase their property portfolios if required and widen the areas in which they operate."
This will be good news to Clearsprings managers whose CEO James Vyvyan Robinson formerly of G4S, has an annual salary of more than £200,000. Graham King, the founder and chairman of Clearsprings, trousered £960,000 from the company in 2014.
It is also good news for Serco and their CEO Rupert Soames, grandson of Winston Churchill. They have extended another contract in their asylum market businesses, they have recently extended another controversial contract – to continue to run Yarl's Wood detention centre for women in 2014,worth £70m over eight years, and more over a possible eleven years.
Serco bizarrely described another £20 million of taxpayers' money for its asylum housing contracts as a reduction in losses. The Telegraph said Serco  "plans to recalculate future losses in the coming weeks and it expects the figure to be slightly reduced, potentially by as much as £20m". Serco shares were up 2.8 per cent after the announcement
Goodwill also formally announced a consultation on new contracts from 2019
"My officials have started work on putting in place new arrangements for when these contracts expire in 2019. This work is at an early stage and we are engaging with a range of stakeholders to consider options for the future arrangements."
I attended such a consultation in Leeds on Friday 18 November where a senior Home Office civil servant Kirstie Greenwood signalled very strongly that G4S and Serco would be the contractors beyond 2019 – and then for a very long time .Without mentioning anyone she spelt out that the Home Office was 'mindful' to have only national asylum housing contracts,to have longer contracts beyond the five years under present arrangements, and remarkably in Austerity Britain "We are clear that we shall have to spend substantially more money on future contracts" Ms Greenwood did not rule out that contracts would reflect current Home Office policies on creating a "hostile environment" for asylum seekers –'policy' apparently was not part of the consultation.
In the statements of Robert Goodwill and Kirstie Greenwood we can surely hear the voice of Chris Grayling in 2011, then Employment Minister:
"What we have tried to do is to create a situation where our interests and the interests of providers are really aligned.They can make shedloads of money by doing the things we would absolutely love them to do"
On Friday 9 December after the worst U.K. jail riot since 1990 G4S had to transfer its management of HMP Birmingham back to the state prison service. Demonstrating once again that G4S fails miserably to deliver on its outsourced public services contracts.
A campaign has already begun by SYMAAG to reverse the decision to extend the asylum housing contracts to G4S,Serco and Clearsprings.