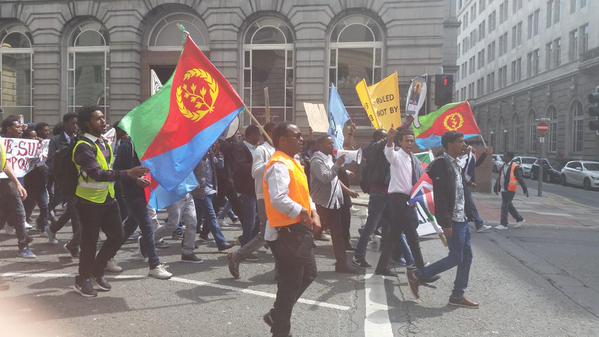 Walking in Pursuit of Justice: Eritrean refugees challenge Home Office lies
At the start of Refugee Week 500 Eritrean refugees marched from the International Slavery Museum to the Home Office in Liverpool . "We are asking the Home Office to be truthful about the regime in Eritrea and not just issue some report about how it is safe there. We are people who have been ruled by fear" said one of the organisers.
A Home Office spokesperson, who met the protesters said: "We are dealing with fluid situations all the time. Circumstances change and that effects people around the world including the United Kingdom.
"We need these type of events to enable us to review our policies" he said.
We hope this protest will enable the Home Office to understand that Eritreans – who risk everything to find safety –  do so for good reasons: they fear persecution and indefinite forced labour in Eritrea.
More pictures and information from @Right_to_Remain on Twitter
Full report of Liverpool demonstration in the Liverpool Echo
updated on 16/6/15
********
On Tuesday 16th June Eritrean refugees will march to the Home Office in Liverpool to call for justice. This march is one of a series of events planned by Eritrean refugees in the UK to combat Theresa May's recent claim that they are in fact "economic migrants". As part of Refugee Week there is an "Insight into Eritrea" meeting on Wednesday 17th June in Sheffield at 4pm at Theatre Delicatessen.
SYMAAG has supported both events, following our Annual General Meeting where we discussed Eritrea and the Don't Let Them Drown demonstration which involved many Eritreans in South Yorkshire.
The march in Liverpool on Tuesday 16th is the first major national demonstration ever called by Eritreans in the UK. This is the press release in support of the protest :
"1pm Tuesday 16th June 2015, Merseyside Maritime Museum, Liverpool
Eritrean refugees call on the Home Office to improve the country guidance reports used to assess asylum claims and ensure that people seeking safety from persecution in Eritrea are given the protection they need.
In March 2015, the UK government introduced new country guidance on Eritrea which relied on a Danish Immigration Service report as the most 'up-to-date' information on human rights abuses in Eritrea. A key author of the Danish report, Dr Gaim Kibreab, has since distanced himself from the report. Moreover, the guidance report has relied on information obtained from the top politicians of the government inside Eritrea. These politicians, nevertheless, are the very architects of the regime a June, 2015, UN investigation report accuses of ruling the people but fear rather than law and also crimes against humanity including a shoot-to-kill policy on its borders
Eritrean refugees from across the UK will be presenting the Home Office in Liverpool with a letter written in collaboration with Dr Gaim Kibreab calling for this discredited guidance to be taken out of the UK Government's country guidance reports.
Please join us at Merseyside Maritime Museum, Liverpool at 1.00pm marching to the Home Office, Union Street.
Contact Kate Jennings (07784194431) or Kidane Kiflezgi (07950820997) for further information."
"A political effort to stem migration"
The discredited report on Eritrea from the Danish Immigration Service (rejected by pretty much everyone except Theresa May and the Eritrean dictatorship) can be read here. According to Human Rights Watch "The Danish report seems more like a political effort to stem migration than an honest assessment of Eritrea's human rights situation,"  Key author Dr Gaim Kibreab has since disassociated himself from the published version. Since then, an exhaustive 484-page UN Commission of Inquiry report on systematic human rights abuses in Eritrea has been published which finds "systematic, widespread and gross human rights violations" in Eritrea. It also states that "a large proportion of the population is subject to forced labour and imprisonment" and helps to explain why one in ten of the entire population of Eritrea has left the country. A summary and link to the full report is here.
But the UK Home Office have, since March 2015, been using a Country Guidance report on Eritrea based on already discredited information.
For Eritrean refugees such reports can be a matter of life or death, influencing European governments' policy regarding accepting them as refugees or deporting them to the country they have risked their lives escaping.
Are Eritrean Refugees really "economic migrants"?
It could have been ignorance which led to Theresa May recently describing people fleeing Eritrea as "economic migrants". Or it could have been the fact that Eritreans made up about 10% of those crossing the Mediterranean to find refuge in Europe this year, according to UNHCR reports. Desperate to evade responsibility for accepting migrants crossing the Mediterranean – and make it possible to deport those already in the UK –  Theresa May seeks to discover evidence that little threat of persecution exists in Eritrea.
Gold, Copper, Zinc
In addition to showing hostility to Eritrean asylum seekers, the UK – and other western states – have important mining interests in Eritrea. The UK's colonial adventures and exploitation in Eritrea are not just in the past (it was, incidentally, the Yorkshire regiment of the British army that fought against the Italian colonialists for control of Eritrea's resources in 1941). The discovery of gold, copper and zinc in Eritrea have sparked renewed contacts with the Eritrean dictatorship, along with public relations exercises by the mining companies, for example Nevsun mining PR push. Indeed ex-Conservative Party chairman (Lord) Michael Howard recently led a business delegation to Eritrea. Howard appears to be closely linked with one UK mining company Andiamo Exploration. In December 2014 41 British MPs stated their opposition to the use of forced labour by mining companies in Eritrea.
"National Service" / "Abject Slavery"
As well as minerals Eritrea has near endless supplies of forced labour for western mining companies as part of the country's infamous "national service", described as "abject slavery" by Human Rights Watch. On the pretext of imminent war with Ethiopia all Eritreans are conscripted into "national service" for an indefinite period, despite Eritrean Government claims that it is only for 18 months. The UK Government appears satisfied with a statement from an Eritrean minister to that effect as opposed to United Nations, Amnesty, Human Rights Watch reports and the testimonies of hundreds of Eritreans fleeing indefinite slavery in their country. According to the UN report on Eritrea published in June 2015: "on the pretext of defending the integrity of the State and ensuring its self-sufficiency Eritreans are subject to systems of national service and forced labour that effectively abuse, exploit and enslave them for indefinite periods of time".
That is why Eritrean people in the UK are organising a national protest in Liverpool on Tuesday 16th June against a cynical Home Office policy. This new policy – if implemented – would abandon the UK's commitment to the 1951 Refugee Convention which commits states to providing refuge for those with a "well-founded fear of persecution". It would be replaced by a policy which shows more respect to racist anti-immigration sentiments and corporate mining interests than it does to the lives of Eritrean people.
******   Insight into the Eritrean Situation meeting Wednesday 17th June   ******
Come to hear Tesfamhret Tsegazghi from Eritrea talk about the history of the country, colonisation by the British and Italians, war and Eritrea's fight for independence and why 1 in every 10 Eritrean people have left their country in search of safety and human rights.

And find out w
hat historical event links Rotherham and Eritrea…