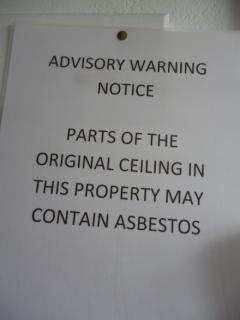 Toddlers, rats, asbestos. G4S, asylum seekers' landlord
SYMAAG's John Grayson asks why would the UK government let its commercial contractor get away with housing vulnerable asylum seekers in dangerous slums?
Toddlers, rats, asbestos. G4S, asylum seekers' landlord
Inside Jane's flat
I went to see Jane in her upstairs flat in Sheffield. She was anxious and panicky. "I put anything I can under the doors," she said. "The rats run up the stairs, and out of the store cupboard into the living room. I am frightened for the children."
This one-bedroom slum flat is what the UK government considers good enough for a lone parent asylum seeker from Africa, her three year old child and her baby, aged seven months. Jane's landlord is the government contractor, G4S, the world's largest security company.
Jane's flat wasn't easy to find. I was directed by a neighbour through a damaged door only a few feet away from the Sheffield Supertram rails and down a dingy passage.
Jane answered her mobile and warned me about the double buggy blocking the steep stairs and her only entrance door. She told me later: "I have to leave it there, I cannot struggle up and down the stairs with it and my two children."
There were child safety gates on the living room and kitchen sides of the stairs, but none at the head of the stairs. Jane said: "I turned my back one day and I found him [her three year old] swinging on a gate over the drop in the stairs. I can't let him run around and play properly. There's a hole in the corner of the living room floor. And it's dangerous outside."
Jane showed me exposed pipework and plugs and wires near the hole in the living room. I had already seen the back yard and the abandoned toilet area where the rats were coming from.
Tramlines outside the front door
"It's dangerous outside."Jane said: "The G4S worker thought the flat was OK and just told me to store the heavy buggy upstairs, he said it's dangerous to block the stairs if there is a fire."
Jane had been in the flat for three weeks. Over the previous two weeks she had been ringing G4S about the flat and the rats.
"Twice they said they were sending pest control – nobody arrived. My neighbour rang for me and still no-one has been."
After I left Jane's flat I rang the City Council pest control team. They arrived the next day. The council instructed G4S to send their pest control contractor. They finally turned up almost three weeks after Jane's first calls.
The Home Office is obliged to provide accommodation for asylum seekers and their families while their cases are being processed.
In March 2012, the government contracted out these services to three companies, G4S, Serco and Reliance. (There's a useful summary here: PDF)
G4S, Serco and Reliance were known among asylum seekers as the companies that drove them to detention centres and locked them up. Only Reliance (which formed a joint venture with a housing company) could claim any experience of the asylum housing sector.
G4S may be best known for its shambolic work on security at the London Olympics. Among asylum seekers G4S is the company that killed asylum seeker, Jimmy Mubenga.
The new housing arrangements have been a shambles from day one. Over the past three years, here on openDemocracy, I have told of children exposed to health risks in rat-infested homes, lone women intimidated by their landlords, acockroach in the baby's bottle.
Jane's flat is just one of the G4S slum properties in Sheffield that asylum seekers have shown me around over the past weeks.
Tony's bathroom
In a dingy terrace house in a working class suburb of Sheffield I meet Tony, a Palestinian asylum seeker who wearily tells me of his nine years being bounced in and out of immigration detention and around the asylum housing system. Since making his original asylum claim in Bristol in 2006, he has been housed in Cardiff, Plymouth, Birmingham, Peterborough, Ipswich, Nottingham, Rochdale, and a few times in Bristol.
Tony has lost the sight in one eye and is losing the sight in the other one. He was living in Bristol and undergoing treatment for kidney trouble at Bristol Royal Infirmary when he got the Home Office order: "I got the letter that I was moving again. They didn't tell me where I was going."
G4S staff brought him 180 miles north to Sheffield to a filthy back street terrace house. "This house is the worst they have given me in all those years," Tony said.
G4S is obliged to help Tony to travel for essential medical treatment and registration with a local GP, but that hasn't happened.
It's a ten mile round trip from his new home to the Sheffield eye clinic. I took him there after he showed me the house. Tony told me that in the week he had been in Sheffield, "I was given a map to find advice places and I walked into the city – I had no cash for the bus". He had to walk four miles into the city centre to a drop-in advice centre and then another four miles back to his house.
Tony had no cash, only his government-issued Azure card allowing him a little over £5 a day and only useable at specified supermarkets.
How was his new home? "The carpets were dirty, there was rubbish dumped outside at the back, the bathroom was filthy and I was given a room with the furniture broken. They said they wouldn't take me back to Bristol, I had to stay in the house."
When I contacted Tony a few days later, G4S had brought a vacuum cleaner for Tony to clean the living room he shared with three other tenants. The day after that G4S called back and took the vacuum cleaner away.
Earlier this year, at a meeting with a Home Office official, local Sheffield voluntary sector workers were given a copy of The Dial, a visual representation of the government's strategy that treats undocumented migrants as criminals. Part of this strategy is to "Create an environment that makes it harder to enter and live illegally in the UK".
Tony is a Section 4 'failed asylum seeker' in Home Office terms, living 'illegally' in the UK. Tony is also a very vulnerable human being whose failing health after nine years in the UK's asylum 'support' system makes a mockery of claims that the UK has "a long tradition of providing sanctuary for those fleeing persecution"
The Dial, part of the Home Office's armoury in the fight against "immigration crime". 
Balbir is an Asian asylum seeker I met in another G4S asylum property. Balbir told me that he's been locked up in various immigration detention centres – Dover, Dungavel in Scotland, Campsfield near Oxford, and Morton Hall in Lincolnshire. "I was detained in Harmondsworth; that's a torture centre not a detention centre," he said.
Balbir constantly protested about his treatment over nine long months and was constantly moved, he says, as a punishment. "I was finally released because I proved that I had been trafficked, and the High Court said that trafficked asylum seekers could not be kept in detention centres."
Balbir was sent to asylum housing in Sheffield – to a slum property with a history of rats and disrepair. By this time Balbir could only get out of bed with crutches and was suicidal. (He showed me scars from his self-harming).
"My doctors wrote to the Home Office, I had carers visiting three times a day and they officially complained. G4S then moved me to a clean house near to the hospital and my doctors."
Balbir became distressed and angry as he described how G4S had then moved him again to this shared slum house. "They moved me here from a clean house to this filthy place with real risks to my health."
I had seen in the entrance hall an asbestos warning notice posted after an inspection by the council. There was a large hole in the ceiling in the kitchen where an asbestos risk had been detected. Balbir said: "My carers immediately wrote in their log that the kitchen was dangerous and I have had only cold food here for two weeks."
A warning at Balbir's house
The asylum housing contract demands that when asbestos risks are discovered the Home Office and G4S immediately move people out of the property. That didn't happen.
A G4S repair man who came to the house called it the "worst house G4S has in Sheffield", and said that G4S had sent letters notifying residents that they were to be moved out. Meanwhile, G4S moved Balbir in and kept him there despite medical evidence of harm. He told me: "In the last month my doctors have sent five letters to the Home Office about my worsening health and the housing I have been forced into."
I added my protest to G4S. The company is well aware that I write about these matters here on openDemocracy and that I help local reporters and the housing press.
Balbir has since been moved to staffed accommodation suitable for his conditions, provided by a G4S specialist housing contractor. In a phone call he confirmed to me that at last he felt safe and cared for in his new accommodation.
Every move of asylum seekers around detention centres and from asylum housing addresses has to be pre-authorised by the Home Office. Public servants and corporate executives are complicit in exposing people to shoddy treatment around the slums of Sheffield.
Alan's ceiling
Alan, a young man from the Middle East, lives in another G4S slum in Sheffield. He and six other asylum seekers – from Ivory Coast, Sudan, Palestine, Kuwait, Iraq, and Afghanistan — each have a single room. Alan claimed asylum three years ago. He'd been detained for three months, then stayed with friends, and finally he was given asylum housing in the Greater Manchester area. "It was really good quality one of the flats I stayed in was new," he told me. "At home I had a background in the arts so I enrolled on a college course."
For personal reasons Alan asked for a move to the Sheffield area. "I was shocked when I arrived at this house. There were rats there. I discovered them on the first floor in my room and other rooms. We killed a few and got G4S to put poison down."
It wasn't just the rats. "For the past two months there has been a hole in the kitchen ceiling," Alan told me. "It collapsed after a major leak from a shower above. For the past two weeks the other shower has been out of action and we have all had to get showers at friends, or at the gym at college."
Outside Alan's back yard, near the back door, Alan showed me a filthy stagnant pool.
It's not as if G4S and its subcontractor didn't know things were this bad. Balbir had lived here. His carers had complained about the conditions, so G4S had moved him on. Alan said the men's complaints to G4S and the subcontractor were ignored.
Why not provide decent housing?
My years of research and reporting, the conditions I have witnessed and the tenants I have listened to convince me that these degrading and dangerous conditions are not just a matter of incompetence and failed compassion.
It's worse than that. On paper — the G4S Home Office contract — the company is obliged to provide accommodation that meets the "Decent Homes Standard" that applies to all council and housing association homes.
It's not a hard standard to reach. A home must meet minimum safety standards. Among the obvious no-nos are broken glass, damaged asbestos, blocked drains, dampness, mould growth, rats, cockroaches. The home must be in a reasonable state of repair, have reasonably modern facilities and services, efficient heating, effective insulation. Any home that does not meet all four criteria fails the standard.
So why does the Home Office allow G4S to house asylum seekers in rat-infested slums?
Here are some clues. In October 2014 Lord Hylton asked the government: "what naval or air-sea rescue contribution they will make to prevent refugees and migrants drowning in the Mediterranean?"
The Foreign Office minister Baroness Anelay gave this written reply: "We do not support planned search and rescue operations in the Mediterranean. We believe that they create an unintended 'pull factor', encouraging more migrants to attempt the dangerous sea crossing and thereby leading to more tragic and unnecessary deaths."
Let's reflect on that. If rescuing fellow human beings is a "pull factor", is letting them drown a useful deterrent?
In September 2009, Dave Wood, who bore the title "Director of Criminality and Detention" at the UK Border Agency, was called before the Home Affairs Committee. They asked him: "Why are children detained under the immigration system, because they have not done anything wrong, have they?"
Wood explained that the lack of detention "would act as a significant magnet and pull to families from abroad".
Letting people drown, locking up innocent children, forcing people to live in slum dwellings with cockroaches and rats, it's all part of the same shameful game: deterrence.
---
All photography by John Grayson. Asylum seekers' names have been changed
This article first appeared on Open Democracy at https://www.opendemocracy.net/ourkingdom/john-grayson/rats-asbestos-toddlers-when-security-company-g4s-is-asylum-seeker-landlord