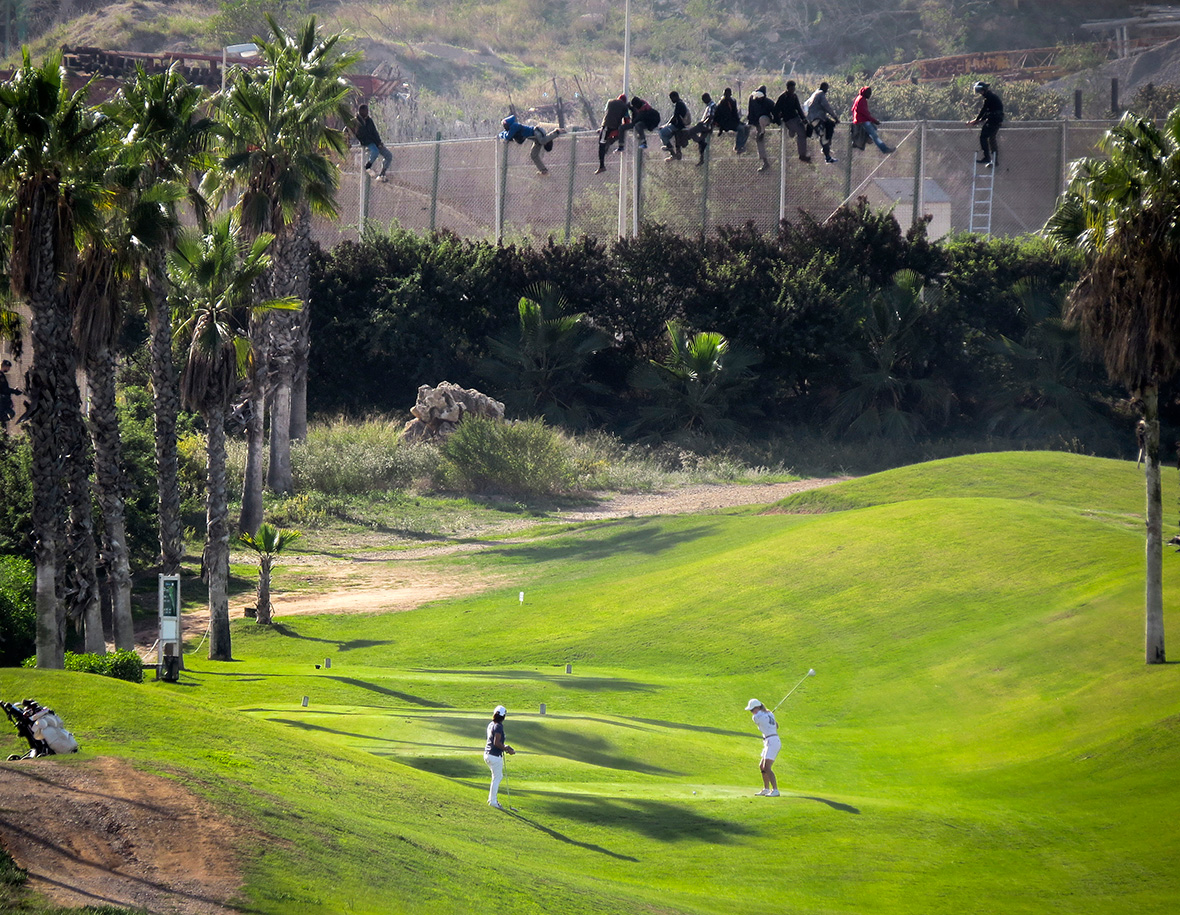 The Slippery, Cynical Politics of Asylum
With just months to go before the UK general election, John Grayson examines party politics on asylum and what the response of migrants and campaigners might be.
Main picture of is migrants and golfers at Melilla, Spanish enclave in Morocco.
This article is an extended version of one first published by the Institute for Race Relations on November 13th
The Slippery, Cynical Politics of Asylum
by John Grayson
A Home Office spokeswoman said: "The UK has a proud history of offering sanctuary to those who need it" (Channel 4 News 16 October after they disclosed the Home Office had deported over a hundred asylum seekers from Liberia, Guinea and Sierra Leone in the past three months back to their 'safe' countries).
"I feel for those who were with me. They got asylum in the sea"' survivor from the Mediterranean (quoted in Guardian 20 October 2014)
'We have the right to claim asylum in England but how do we get there? There is not a legal way to cross.' Part of a statement from a group of Syrian refugees blockading the Calais port administration October 2013
Is there a politics of asylum in Britain? Do any of the mainstream parties actually have a policy?
The New Statesman has described August 2014 as 'the summer of blood', with wars across the world. 2014 was also the year when 3000 refugees died in boats in the Mediterranean fleeing from those wars and carnage.On 2 October Ban Ki-Moon UN secretary general himself a child refugee of the Korean War told the annual meeting of the UNHCR that: "Never before in United Nations history have we had so many refugees, displaced people and asylum-seekers." Campaigners in Yorkshire have found that in the midst of a xenophobic and racist political debate on 'immigration' the politics of asylum are in retreat.
This summer asylum rights campaigners in South Yorkshire have been organising and lobbying with Syrian organisations, and the Refugee Council, to resettle Syrian refugees in the region, and to resettle thousands in the UK now rather than the 'few hundreds' over three years agreed by the Coalition government. The campaign coincided with a general increase in numbers of 'dispersed' asylum seekers in asylum housing (a few of them from Syria) coming to South Yorkshire towns and cities.
Defaced UKIP election billboard in Swansea
The campaign also coincided with the rapid escalation of toxic political discourses unleashed by the emergence of UKIP as a political force in the area. The growing numbers of asylum seekers was used as an issue by media and UKIP in their successful campaigns in the European and local elections in Yorkshire. The party held its annual conference at Doncaster racecourse, next door to Ed Miliband's constituency. UKIP is at present contesting the now vacant Police Commissioner post in South Yorkshire. All this has had its effects. In Rotherham hate crimes have dramatically increased over the summer, and in Barnsley hate crimes, the majority of them racist, are up by 100%; there have been around 150 reported in the first eight months of the year. For the first time for many years in Yorkshire the term 'asylum seekers' is again being demonised alongside 'illegals' 'migrants', 'foreigners', and 'immigrants'.
Only the mantra is left
Also over the summer SYMAAG like many other asylum rights and asylum support organisations was starting to develop our lobbying strategy for candidates in the 2015 General Election. It became obvious in the campaign for Syrian refugees that British politicians and mainstream parties policies on asylum rights had been reduced to the vacuous repetition of a mantra about a "proud history of offering sanctuary to those who need it":
David Cameron said at the beginning of Refugee Week in June 2014:
The UK has a long tradition of providing sanctuary for those fleeing persecution. I am proud that the UK offers genuine refugees and their children an opportunity to build a new life.
Deputy Prime Minister and Liberal Democrat leader Nick Clegg said:
. The UK has a long and proud tradition of providing refuge to people at a time of crisis. I am proud that this legacy continues,
In April 2014 Yvette Cooper Labour's shadow Home Secretary setting out the party's Immigration policy claimed the party
"Believe it is right to offer safe haven to those escaping rape, torture, genocide or the midnight knock on the door from the secret police. That's always been the British way."
In fact the mantra, if it ever had substance, is now long out of date. Now the soundbites of 'illegal immigrants' and 'evil traffickers' have replaced it in the narratives politicians use to define asylum policy. The current narrative has its origins in earlier electoral moral panics about 'bogus asylum seekers' before the June 2001 election. Here is Tony Blair from February 2001 in an Observe' article entitled 'Closing Europe's back door' (in the previous June fifty eight Chinese migrants were found dead in the back of a lorry at Tilbury docks).
"We Will Honour Our Obligation"
"Every day we hear of the horrors illegal immigrants endure at the hands of the people-traffickers. The catalogue of death in recent times speaks for itself……. hundreds drowned annually crossing the Mediterranean to Spain, Italy, and Greece. There is evidence that traffickers have thrown women and children, many of whom cannot swim, into the Adriatic to avoid detection by police patrol boats. In all that we do, we will honour our obligation to provide protection to those fleeing persecution. But we must not allow such tragic loss of life to continue"
Blair's pledge to 'honour our obligation' was soon discarded. In February 2003, he went on Newsnight and dramatically announced his abandonment of policies under the 1951 UN Convention on Refugees, and an immediate cut in asylum claimants by 50 per cent over the next eight months 'by making it extremely difficult for people fleeing from persecution to reach the shores of the UK'. The UK abandoned its international obligations, its only gesture being acceptance in 2004 of a 'Gateway' programme of 'resettlement' of 'very vulnerable' refugees from UNHCR camps. At first only Sheffield and Bolton local councils were willing to cooperate. The programme continues with an annual average now of around 750 refugees per year.
The Blair governments also supported the establishment in 2004 of FRONTEX,the EU agency funded to keep the borders of Fortress Europe secure from 'illegal' migrants. Labour governments also used the agency for controversial mass deportation flights to Iraq, Nigeria and Sri Lanka. Blair and the UK never fully signed up to all the EU asylum policy and the UK is only on the advisory body directing FRONTEX but has actively contributed to its deportation flights and has contributed personnel to secure borders initiatives in the Mediterranean area. . Tony Blair famously characterised the UK's selective participation as giving it 'the best of both worlds' as the UK was not obliged to take on EU commitments in the asylum and immigration context but could opt in to measures in order to "make sure that there are proper restrictions on some of the European borders that end up affecting our country."
Map from anti-FRONTEX group Frontexit showing deaths of migrants around Fortress Europe 1993-2012. See http://www.gisti.org/spip.php?article3261
And that is where we stand today; the political mantra about 'our obligation' is trotted out by Home Secretary after Shadow Home Secretary – but it is a lie. Our obligation has gone, scuppered by a secure borders policy with steel fences and riot police at Calais; and a lethal sea and land border in the Central and Eastern Mediterranean. The familiar sound bites and the media and political discourses have been repeated over the last ten years to cover for this vacuum in asylum policy. For instance, the Deputy Prime Minister Nick Clegg on 5 August used the crude stereotype of migrants and refugees as burglars slipping inside Blair's 'back door'. Calling for further clampdowns on illegal immigration he claimed that
"Illegal immigration isn't just about people sneaking in in the back of a lorry".
Later in August The Daily Mail headlined a story by Sue Reid on the cross Europe routes of migrants as 'Back Door Britain'.
So what passes for 'asylum policy' these days?
Essentially, apart from the gesture of the UNHCR Gateway programme, there are two aspects to asylum 'policy':
'Strong borders' – in recent years a fortified UK border at Calais and a FRONTEX land and sea border around Fortress Europe
Asylum procedures and institutions designed as a deterrent to future asylum seekers
Strong Borders: Calais
The Red Cross set up a centre at Sangatte near Calais in 1999 to accommodate refugees from Kosovo and the Balkans who were attempting to gain asylum in the UK. On Christmas Day 2001 500 refugees stormed the Channel Tunnel entrance. Eurotunnel spent more than £6m on security measures to protect the 1,700-acre terminal site, including 20 miles of outer fencing, six miles of razor wire and 300 video cameras. This pattern of protest and organising by refugees and migrants followed by evictions, police brutality and increased security has characterised the last fifteen years. David Cameron recently offered the French authorities £12m to strengthen security at Calais port and the high security fence erected in Newport for the NATO summit. This was in response to September events according to the Press Association 'where 250 illegal immigrants recently stormed the ferry terminal'. Refugees and migrants had earlier in the summer produced a manifesto of demands and sought negotiations with British and French authorities, or as the Sunday Express put it 'Hundreds of illegals demand the French send them to Great Britain' Once in Britain they will claim asylum and all the social security and other benefits that entails…which is why the migrants continually try to sneak aboard lorries headed here' – asylum seekers as benefit tourists ! The image of asylum seekers 'sneaking in' by Britain's 'back door', if they survive the Mediterranean crossing. has become embedded in media and political narratives
French police attack migrant at Sangatte refugee camp
On 19 August the Daily Express headlines continued the theme with 'Camp to be bulldozed to stop migrants sneaking in'. There obviously was little embarrassment at the Express that these headlines appeared two days after a death occurred in a container with refugees 'sneaking in' from Afghanistan.
When thirteen children were discovered alongside twenty two adults, one of whom had died, in a container at Tilbury on 17 August the media were puzzled by what to call them – the I settled for 'Afghan stowaways', although the piece appeared in the 'Crime' section and was covered by their Crime Correspondent. The Daily Mail decided on 'cargo stowaways' although they were described as 'migrants' later in the piece.   Other editions of the Mail quoted officials describing the people as 'these poor people' and 'victims'. The Telegraph fell back on 'Illegal immigrants in Tilbury shipping container' and put the story in their Crime section. The Guardian followed with a more guarded '35 suspected illegal immigrants'. By Monday 18 August Channel 4 News was reporting 'Afghan Sikhs claim asylum in Britain'.
The Tilbury container death and the fact that there were thirteen children involved did, as direct contact with asylum seekers always does, evoke human sympathy; and press reports settled into this vein. Richard Littlejohn in the Daily Mail cut through the sentiment
'Basic humanity requires that we give them medical treatment and temporary accommodation…There were thirteen blameless children among those packed into what has been described as a 'metal coffin'…Why didn't they seek asylum in Russia, or Turkey, or any of the countries that they crossed en route to Zeebrugge?…I know there is supposed to be free movement within Europe, but surely that privilege applies only to EU citizens not illegal aliens…However heartbreaking some of the stories, we can't go on giving asylum to all the world's waifs and strays'
UKIP and Syrian refugees at Calais
The views of UKIP's politicians, and their policy on refugees gathering at Calais, is very much in line with the Littlejohn view of the world. Janice Atkinson a UKIP MEP, visiting Calais thought that the 'French authorities might start to think seriously about repatriating the thousands crowding around the Eurotunnel entrance rather than tolerating the countless attempts to violate our borders'. Her UKIP MEP colleague Steven Woolfe agreed: "The people being thrown out of the camps are not going to give up…It is essential the UK Government makes it absolutely clear we will return illegal migrants to their ­countries of origin."
The verdict of well-read Syrian refugees on UK immigration policy
The fact is of course that many of the thousands of refugees and migrants who have gathered at Calais over the past two years are Syrians and Eritreans often with family or friends in émigré communities in the UK. Already in October 2013 65 Syrians blockaded gangways on ferries and 40 staged a hunger strike. The Daily Express recognised their protest as one from 'refugees' and 'asylum seekers'. The Guardian described them clearly as 'Syrian refugees seeking asylum in the UK', and quoted a statement they had prepared:
'We have the right to claim asylum in England, but how do we get there? There is not a legal way to cross.'
Labour and Calais
When in April 2014 Yvette Cooper Labour's shadow Home Secretary set out the party's Immigration policy she again turned to the asylum mantra, and claimed rather implausibly that Labour:
"Believe it is right to offer safe haven to those escaping rape, torture, genocide or the midnight knock on the door from the secret police. That's always been the British way."
Labour's 'new' smart and progressive policy on asylum claims to distinguish between asylum and other types of immigration. Refugees (not of course asylum seekers) along with university students will not be included in caps and target numbers – for asylum seekers it will be made even more difficult to enter the UK to claim. Cooper spelt this out looking at Calais:
"We need stronger controls at the ports where the most problems arise. Particularly in Calais, [my emphasis] where we've seen not just abuse but tragedy. Awful cases of young men camping by the roadside then leaping onto the wheel arches of passing lorries, only to be crushed and killed. So yes, it is progressive to call for much stronger enforcement at Calais. And we will bring back finger printing for illegal migrants caught stowing away at Calais – something the Government has refused to do."
 'take back the immigration discourse from the right wing'
At a fringe meeting at the Labour conference Cooper pledged to 'take back the immigration discourse from the right wing' and presumably responding to lobbying on Syria said that Labour policy on refugees would create' a more flexible system for when major international crises like the current situation in Syria happens again.' Cooper is careful to distinguish between refugees and 'asylum seekers'. Moreover campaigners have found in their present attempts to resettle a handful of Syrian refugees, it is mainly Labour councils who are unwilling to resettle them even though the terms are slightly better than the Gateway programme which many of them are signed up to. The reason is of course – that same right wing 'discourse' which makes them all nervous before an election.
In any event the near defeat in Heywood and Middleton and the demands of Labour M.P.'s like Simon Danczuk has meant another new strategy on UKIP (and Yvette Cooper is in charge of this). Labour now seems to be returning to its default positions on asylum and 'strong borders' Ed Miliband 's response to UKIP delivered in Chatham on 23 October, as part of the by-election campaign in Rochester and Strood, certainly suggests this. The 'I' banner headlines perhaps says it all.
'Deportation, Deportation, Deportation: Miliband toughens Labour's immigration policy to counter UKIP'
Refugees make their views of Mr Blunkett known in 2002
 Swamped
This impression of a Labour 'Groundhog day' on immigration is strengthened by David Blunkett's outburst supporting Tory minister Michael Fallon in his assertion that immigrants are 'swamping' communities. Blunkett in his article for the Daily Mail, looked back to the times when he had used the term 'swamping' before:
'This storm [over Fallon's outburst] echoed the experience I went through 12 years ago when I, too, used the word 'swamped' to describe the anxious feelings of people who were facing the dispersal of large numbers of asylum seekers into their own hard-pressed Northern communities'.
Of course both outbursts deliberately echo the 'swamping' rhetoric of Margaret Thatcher. Blunkett himself obviously realises why the term is offensive:
'That is because the term 'swamped' is so loaded with political history. It was famously uttered by Margaret Thatcher in a World in Action television interview in 1978, when she was still Leader of the Opposition.'
Labour having abstained on votes on the Coalition's 2014 Immigration Act – the most racist piece of legislation in years – is also apparently determined to start a Miliband government with a new Immigration Reform Act. Last time they were in office Labour managed six Immigration Acts We no doubt will be re-entering what Steve Cohen called the 'Orwellian world of Immigration controls'.
The Liberal Democrats
In the Liberal Democrat's policy on Immigration 'Making Migration Work for Britain' passed at their recent Annual Conference, of the 45 'Policy Points' only one obliquely deals with 'strong borders':
Liberal Democrats propose to accelerate the delivery of full monitoring of all UK border entry and exits
The Lib Dems see 'illegal immigration' as a criminal activity, and want more deportations
Liberal Democrats propose an intelligence-led approach to tackling illegal immigration, with more investment into investigating criminal gangs, the black market, and others who support illegal migration with a robust returns policy.
Labour in its 2010 election manifesto similarly had a section headed 'Crime and Immigration'
In the main document the issue of asylum is dealt with by restating a commitment to the 1951 Convention
Liberal Democrats want an improved asylum system which both strongly upholds the UN Convention and minimises the potential for abuse (p.45).
The ambiguities in this position are hinted at in other sections. Falling numbers of asylum claims from 'people arrived in the UK claiming asylum' to just 5% of total immigration is seen as a good thing…. Nevertheless it is still an area of public concern [bold in original] (p.44).
There is no analysis of extensive 'strong border' policies and EU border controls which brutally breach the UN convention and have to a large extent produced the fall in numbers. In fact EU asylum control measures are praised in the document – apparently the 'Eurodac Regulation' on fingerprinting 'has led to the removal of 12,000 asylum seekers from the UK since 2004' (p.47).
The Greens
The Green Party divides its 'Migration Policy' (revised in September this year), into Principles, Medium and Short Term policies. Amongst the Principles:'The Green Party is opposed to both 'forced migration and forced repatriation'. The Short Term policies include
Migrants illegally in the UK for over five years will be allowed to remain unless they pose a serious danger to public safety
Transport providers must not be penalised for bringing people without the required visas, etc. to the UK.
And under 'Immigration and the EC', and perhaps ten years too late:
We will resist all attempts to introduce a 'barrier round Europe' shutting out non-Europeans or giving them more restricted rights of movement within Europe than European Nationals.
Political silence on deaths in the Mediterranean
The political parties' silence on the carnage in refugee and migrant boats in the Mediterranean is deafening. Handwringing and rhetoric about evil traffickers and criminal gangs seem to be the limits of politicians' interest. In her speech to the September Labour Party Conference Yvette Cooper failed to even mention the tragedy of 500 asylum seekers (including 100 children) mainly from Syria and Palestine dying only a few days earlier off the coast of Malta.
This time the mantra mentioned Syrians – but only the handful the Coalition had agreed to admit over three years.
"We will never turn our backs on those fleeing persecution and I'm proud our party forced the Government to accept vulnerable Syrian refugees."
At present (October 2014), there are around 50 Syrian refugees in the UK, under this scheme, most of them accommodated by a housing association in West Yorkshire. There is a commitment to around 500 Syrians over three years. Germany has committed to around 24,000 over the same period, and unlike the UK where 'irregular' Syrians wait months for interviews Germany accepts the UNHCR view that Syria is manifestly unsafe, and was accepting Syrians a few months ago without interviews simply on application.
In the same speech Cooper returned to familiar territory
"That's why a Labour Government will bring in stronger border controls to tackle illegal immigration (and)….to stop the growing crisis at Calais"
We should note that 'our' EU border force FRONTEX describes ALL migrants crossing the external borders and the Mediterranean as 'illegal' or 'irregular'. The problem is that a large percentage of those crossing and dying in the Mediterranean, as recent analyses[1] have demonstrated, may be 'irregular', they may have used 'traffickers' but they are most definitely refugees seeking asylum in the EU, some aiming to join relatives and émigré communities in the UK.
The chilling verdict of Frances Webber in a recent Statewatch article on EU programmes and law, should be compulsory reading for politicians and their special advisers.
EU migration policy is ever more firmly anchored in the imperative of exclusion, causing the deaths of thousands at its borders and subjecting migrants to "institutionalised detention". This quasi-criminal framework for migration empties of meaning the ideals on which the EU claims to be founded.
The images conjured up when we think of migration to Europe are of boats – drifting, leaky and overcrowded; bodies – drowned, washed up on beaches and caught in fishermen's nets; fences topped with razor wire; camps – squalid places of misery and desperation. They are images of exclusion and death.
 
Deterring asylum seekers –the 'monstrous' UK asylum system
Theresa May in May 2012 told the Telegraph
"The aim is to create here in Britain a really hostile environment for illegal migration," she declares.
Work is under way to deny illegal immigrants access to work, housing and services, even bank accounts. "What we don't want is a situation where people think that they can come here and overstay because they're able to access everything they need," she says.
The 'Go Home' vans campaign followed in the summer of 2013, and the Immigration Act in 2014.
Liberty parody of the infamous "Go Home" Home Office campaign
Back in March 2007 the Home Office published Enforcing the Rules: A Strategy to Ensure and Enforce Compliance with our Immigration Laws, The BBC reported:
A clampdown has been launched targeting "foreigners [who] come to this country illegitimately and steal our benefits", home secretary John Reid has said. The plan is to stop illegal immigrants getting housing, healthcare or work. He said the UK was now "throwing out" record numbers of asylum seekers and he hoped to make life "constrained and uncomfortable" for illegal immigrants.
In March 2008 Liam Byrne, Labour Immigration Minister told the Telegraph
The enforcement budget is going to be doubled; the number of detention places increased and the rate of deportations stepped up. A fleet of mobile detention vans is being sent out. "They're big trucks with cages in," Mr Byrne explains. "Once upon a time an illegal immigrant who was picked up would be given a map to Croydon and told to turn themselves in. That was nonsense. Now we detain people immediately.
Tory myths on deterrence
Ann Widdecombe, as a junior minister to Home Secretary Michael Howard in 1995, was an early advocate of a deterrent asylum policy. Her crude argument (reproduced in her 2013 autobiography) was that rapid air travel, and TV available in the 'mud huts' of Africa meant that
'Any African eking out an existence in a makeshift hut, with a tarpaulin for a roof, if lucky, can see daily images of the west and its splendours. That understandably is what they want for their own families.' (pp 284-285)
Widdecombe now a columnist for the Daily Express has long been an advocate of 'detention on arrival' for all asylum seekers. She was recently (25 September) quoted in the Sunday Express on the Home Office putting new asylum seekers in hotels (owned by a hotel chain described by Which? as 'the worst hotel chain in UK'), as overspill from London's detention centres, saying hotels are not 'secure accommodation…You have to automatically detain all new asylum seekers…People don't think we are a soft touch, we are a soft touch'.
Deterrence at Calais and in the Mediterranean
The Coalition Government's obsession with deterrence does also overlap with their narrative of 'strong borders'. Matt Carr recently reported on the police actions and the evictions in Calais and argued that:
The result is an unacknowledged policy of deterrence in which both the British and French governments are complicit. It is intended to make life in Calais as harsh for migrants as possible, without actually killing them, in the hope that they will stop coming.
It has also now emerged that British policy on the Mediterranean border means that the Italian navy's Mare Nostrum rescue programme which rescued most of the 85,000 refugees who landed in Italy from January to July, will not be continued or supported; it did not deter refugees effectively enough. This policy
'was quietly spelled out in a recent House of Lords written answer by the new Foreign Office minister, Lady Anelay: "We do not support planned search and rescue operations in the Mediterranean," she said, adding that the government believed there was "an unintended 'pull factor', encouraging more migrants to attempt the dangerous sea crossing and thereby leading to more tragic and unnecessary deaths".
Tony Bunyan of Statewatch called the government's attitude "cynical and an abdication of responsibility by saying that not helping to rescue people fleeing from war, persecution and poverty who are likely to perish is an acceptable way to discourage immigration."
David Cameron in the House of Commons on Monday 27 October spelt out this crude philosophy of deterrence arguing that the search and rescue approach "almost encouraged people to get on the boats".
A mountain of evidence
Over the past ten years refugees and asylum seekers, campaigners, academics, asylum rights and asylum support organisations, government inspectors, Parliamentary select committees, and UN inquiries, have produced a mountain of reports and evidence on the callous and brutal asylum and immigration detention system. We already know from the Conservative's legislation and actions that it is highly unlikely that they will propose any reform measures in their manifesto. What about the rest?
Labour policy on asylum for 2015
Labour has said little about how it would reform the asylum system – after all they created most of it and its abusive institutions and practices. Mehdi Hasan has pointed out that Labour
Is 'willing to apologise only for being too soft on immigration and immigrants, not for being too tough….Enough with the apologies. Week after week, senior Labour figures queue up to express regret over the party's record on immigration. …If Miliband and his pals are bent on apologising for their record on immigration, there are better places to start. …..Why not express regret or remorse for the pernicious rhetoric around immigration and asylum during the New Labour years? …..Then there is child detention, perhaps the most obscene domestic legacy of the New Labour era, rightly described as "state-sponsored cruelty".
Chris Bryant when he was appointed Labour Shadow Immigration Minister in 2011 said the first thing he wanted to do was "treat migrants like human beings". Bryant publicly criticised Labour's past record on asylum housing along with current abuses by G4S. Yvette Cooper in her April 2014 policy speech gave one sentence to the brutality of the asylum system
'And when deportations are needed, they should be conducted according to proper standards of respect and humanity so we never tolerate the awful abuse seen by staff at Yarl's Wood. April 2014'
Chris Bryant was replaced in 2013 by David Hanson. Hanson has recently contributed a chapter to 'Why Vote…Labour', where he fails to mention the asylum system at all – it is all part of the Labour way of moderating markets
'Labour believes in making markets work, and that free and unlimited markets don't work well. This is just as true for the labour market, and free movement of labour…There is nothing in Labour history, values, or traditions that require us to be in favour, in principle, of unlimited immigration. We are not and never have been, we have and always will be for managed immigration. (p86)
Liberal Democrats
In office the Liberal Democrats have supported all the legislation and regulations in the field of asylum passed by the Tory led Coalition they have been part of. Nick Clegg is currently calling for even stronger borders and accelerated deportations as part of the election rhetoric and 'debate' on immigration.
In contrast the Liberal Democratic Party policy 'Making Migration Work for Britain' has been influenced by the efforts of Lib Dem M.P.'s like Sarah Teather and her campaigns to get Parliamentary scrutiny and reform of the asylum system. Teather was a leading opponent of the Coalition's Immigration Act and one of only 16 M.P.'s of all parties to vote against it. With the Childrens' Society she promoted a cross-party parliamentary inquiry into asylum support for children and young people, She is currently working with two APPG's (All Party Parliamentary Groups) on a Parliamentary Inquiry into immigration detention supported by the Detention Forum which has already gathered an impressive amount of written evidence critiquing immigration detention regimes.
Liberal Democrats' 'paper policy' for radical overhaul of asylum system
The Liberal Democrat Party's policy on asylum 'support' and detention is a call for a radical overhaul of the whole system. It calls for the abolition of Section 4 (where 'failed' asylum seekers are given reduced support)and the Azure Card; and an end to destitution and homelessness by continuing support to those who may have had their claims rejected but cannot be returned.
After 6 months waiting for the resolution of claims asylum seekers will be able to work and in these six months policy should 'make sure that appropriate training and volunteering opportunities are made available so they can make a contribution to society and be better prepared to find work.
The policy argues that 'Serious problems also persist around private companies that hold outsourced contracts for the delivery of enforcement and asylum services.' And citing the case of Jimmy Mubenga
'Liberal Democrats propose to restore deportation transportation and the accountability of enforcement functions to the public sector as soon as the current contracts permit.'
Jimmy Mubenga, died while being 'escorted' during a forced deportation by G4S guards in October 2010
On detention they propose to end Indefinite Detention for immigration purposes and to end the inappropriate use of the Detained Fast Track; and implement community-based alternatives to detention.
It will be interesting to see how these proposals survive into the Liberal Democrats' actual Manifesto for 2015. Andrew Stunnell who chaired the policy group chose to stress in speaking at the Lib Dem conference that 'the Lib Dem priorities on immigration will firstly be to count everyone in and everyone out and secondly to discuss immigration in parliament yearly' which suggests that the policy will remain a paper policy.
But the influence of Liberal democrats within the City of Sanctuary movement along with other groups like Still Human Still Here have meant that some of the proposals have emerged in the eight principles being debated at a Sanctuary Summit: Standing in Solidarity with Asylum Seekers and Refugeesa on 15 November[2] a summit supported by almost all the main refugee and migrant rights organisations including the Red Cross and UNHCR
The Greens
Green Party policy calls for a new Immigration law 'this law will be based on the principle of fair and prompt treatment of applicants rather than on excluding dishonest applicants whatever the cost to the honest ones'.
The Greens want 'the ending of immigration detention: No prospective immigrant will be held in detention for migration-related reasons, other than in the most exceptional circumstances, eg a prospective migrant who poses a serious danger to public safety.'
And:
'A thorough review of UK Immigration Practices and the UK Immigration Service to ensure that racist features are removed and immigration officers receive sufficient suitable training. We will encourage greater ethnic minority participation in the Immigration Service.'
Natalie Bennett leader of the Green Party has attacked political discourses around immigration – 'this nasty, stigmatising rhetoric'.
She believes that 'people who come to Britain, seeking to follow on our proud tradition of providing asylum, should be allowed to work if they can, should be given decent benefits equivalent to those of everyone else, and decent housing.'
Bennett is one of the few politicians who recognises that the asylum system has actually been constructed as a deterrent
'I tend towards the theory that messes are more likely to be the result of "stuff-ups" than conspiracies, but when you look at the system for seeking asylum in Britain, the tortuous, incompetent, confusing maze that is demonstrably failing even in its own terms to deliver sensible decisions (25% of rulings that go to appeal are overturned), it can only be said to be a deliberate attempt to stop refugees from securing asylum, to which they are entitled under international treaties that we signed decades ago'.
Natalie Bennett of the Green Party speaking at a demonstration against the Immigration Bill in Sheffield December 2013
Campaigning for asylum rights in election time
There is therefore a rich array of policy proposals from organisations focusing on the asylum system and detention within the UK which organisations like SYMAAG will be able to use in their local campaigns with candidates in the 2015 election. It is worth remembering that only a few weeks ago in Scotland the 'Yes' campaign was mobilising thousands of working class voters on a programme of welcoming migration to Scotland, closing down Dungavel detention centre, and encouraging asylum seekers as an economic asset. The TUC at its Congress in September adopted a policy calling on a future Labour government to repeal the Coalition's Immigration Act.
A winning campaign: Lemlem arriving back in Sheffield after a successful community campaign to defend her from deportation
Unfortunately in the pre-election documents and speeches there seems to be little awareness, or maybe a refusal to be aware of, the political narrative which suggests that the inhumanity of the system is deliberate – it is meant to deter asylum claims. All eyes are narrowly focused on the UK and firmly averted from Calais, and Lampedusa. There is an unwillingness to face the brutal reality that in the asylum system the British state, governments and civil servants have willfully developed policies based on xenophobia, discrimination and exclusion with regard to asylum. The state has used 'our' money to do this, and has also used 'our' money to outsource violence, racism and exclusion via contracts with international security companies like G4S and Serco. The coroner in the inquest of Jimmy Mubenga could not have been more direct. She commented on the racism of the guards who unlawfully killed him. This was
'Not evidence of a couple of 'rotten apples' but rather seemed to evidence a more pervasive racism within G4S". She added there was "real concern" that "endemic racism" might result in "inappropriate treatment" of detainees.
Campaigning for asylum rights in the 2015 election in solidarity with refugees and migrant workers has to include developing public and political awareness of this central issue of state led discrimination and exclusion in the asylum system. The campaigning has to confront the horrors of the Mediterranean and Fortress Europe. It needs to support refugees who have had the courage to resist EU asylum policies across Europe. School and university students in Germany and France have created a climate of solidarity with displaced Roma and survivors of the boats.[3]
"Right to Stay for All" – Berlin demonstration for refugee rights
Campaigns for refugees need to challenge what Michael Diedring of the European Council for Refugees on Radio 4's World at One on 28 October, called the "morally reprehensible" position of Britain and EU countries on search and rescue in the Mediterranean. The argument that the UK is funding Syrian refugees in camps with £600m of aid, and therefore does not need to take further humanitarian action, unravels when you read what the camps are actually like.
Robert Fisk has recently reported on
'200,000 Syrian refugee children – some as young as five-working in Lebanon's potato and bean fields, or picking figs in the Bekaa valley. Many of them are beaten with sticks in a situation perilously close to slave labour….sleeping in some of the filthiest camps in the land'
Channel 4's Unreported World has exposed the plight of disabled Syrian refugee children in makeshift shelters with the UN having no funds to resource their medical needs.
The real issue is that refugees become 'illegal' or 'irregular' migrants because the UK simply refuses to create safe routes and safe methods of claiming asylum. As Maurice Wren of the Refugee Council argues
"The answer isn't to build the walls of fortress Europe higher, it's to provide more safe and legal channels for people to access protection."
As the UNHCR pointed out in July, in its commentary on the situation in the Mediterranean,
'Legal migration routes could reduce the incentives for people to embark on dangerous irregular travel. They could also help boost local economies in the medium term and create labour opportunities in the longer run. The use of humanitarian visas, protected entry procedures and enhanced family reunification need to be further explored. In specific cases some Member States in the past have provided visas at embassies to enable people in need of protection to travel to European destinations. The potential to further develop such arrangements could also be considered.' (UNHCR p.3)
Now there's an asylum policy to campaign for.
[1] Amnesty International's report in September 2014 Lives Adrift: Refugees and migrants in peril in the central Mediterranean made this clear:
"The 400 victims of two major shipwrecks of 3 and 11 October 2013 were in the vast majority refugees from Eritrea and Syria. In 2013, FRONTEX stated that "It is undisputed that significant numbers of arrivals by boat originate from countries such as Afghanistan, Eritrea, Ethiopia, Iraq and Somalia. There is a considerable likelihood that nationals from these countries are in need of international protection. ….In 2013, out of a total of 107,365 people detected while attempting to cross a border irregularly, 25,546, about 24%, were Syrians, and 11,298, about 10%, were Eritreans."
In 2014 the top two nationalities of people landing in Italy were 28,557 Eritreans and 23,945 Syrians – over half of the total. See also IOM (International Organisation for Migration) Fatal Journeys: tracking lives lost during migration September 2014
[2] All asylum seekers, refugees and migrants to be treated with dignity and respect.
Asylum seekers to be welcomed & befriended on arrival, and offered free language tuition so they can fully participate and contribute to the local community.  
Free access to healthcare for all asylum seekers while they are in the UK.
Access to good quality legal advice and representation.
Improved decision making, so protection is granted to all who need it.
An end to destitution, by providing sufficient support to all asylum seekers to ensure they can meet their essential living needs while in the UK.
Permission to work for asylum seekers whose case has taken more than six months, or who have been refused and are temporarily unable to return home.
An end to the indefinite detention of asylum seekers and migrants.
[3] In November 2013, 20,000 university and school students marched through Paris to protest the deportation of a young Roma student, and teenagers barricaded schools (Telegraph 2013). In December 2013, thousands of school students in Hamburg walked out of lessons and demonstrated for better treatment of refugees in Germany (Snoek and Doll 2013). In February 2014, Berlin school students went on strike to stop the deportation of refugees who had arrived in Germany after crossing the Mediterranean to Lampedusa (Hansen 2014). It is perhaps no coincidence that Germany now grants asylum to more refugees than any other EU country.