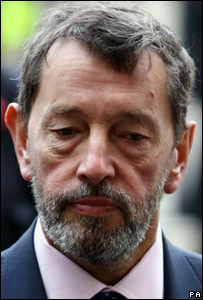 A Shiver Down the Spine: David Blunkett and the immigration "swamping" controversy
David Blunkett MP chose to echo the words of Tory MP Michael Fallon (and Margaret Thatcher) in alleging that communities are being "swamped" by migrants, writing in the Daily Mail on October 27th. Migrants and supporters in South Yorkshire were shocked (though not surprised) to see Blunkett again echoing the words of those who seek to create a "really hostile environment" for those they call "illegal" migrants.
South Yorkshire Migration and Asylum Action Group (SYMAAG) drafted and sent a response to Blunkett's Daily Mail article (below). SYMAAG Chair John Grayson was interviewed on Radio Sheffield on November 10th about Blunkett's comments and according to one migrant activist John's comments will have "put a shiver down Mr Blunkett's spine". SYMAAG received a response (also below) from Blunkett's office soon after.
Original article in Daily Mail 27/10/14 by David Blunkett
Open letter from SYMAAG and others to David Blunkett 8/11/14…
Dear David Blunkett
AN OPEN LETTER RESPONDING TO YOUR 'DAILY MAIL' ARTICLE
We are volunteers, academics, clergy, and organisations in South Yorkshire, refugees, asylum seekers and recent migrants (many of us your constituents).
In your 27 October Daily Mail article, which was widely publicised, you support the remarks of Conservative M.P. and Minister Michael Fallon when he alleges that communities are being 'swamped' by immigrants.
In your article you recognise that the term 'swamping' was used by yourself in 2002 when describing the number of asylum seeker children being dispersed to Northern towns. You also recognise that the term has a particularly unpleasant political ring about it because it was used by Margaret Thatcher in 1978. So we are puzzled that you choose not only to repeat it but to argue that this is the best way to 'tell the truth' about immigration – now, just a few months before a General Election.
We are concerned that your remarks are likely to fuel the toxic climate of debate already stoked up (as you point out) by UKIP. South Yorkshire and Sheffield in particular has a reputation as a 'city of sanctuary' welcoming asylum seekers and refugees. Over the past year the constant political and media barrage of xenophobic and intolerant political statements and speeches has had disturbing consequences on everyday life for migrants, asylum seekers and ethnic minority people in South Yorkshire.
In the county as a whole there has been an increase in racist hate crimes against these local residents. In Rotherham an increase overall in hate crime of 65 per cent, in Barnsley a 100 per cent increase with 150 already this year from January to September. Children's help lines have noted significant increases in reports of racist bullying in schools attributed by teachers to the hostile and xenophobic political debates in the mainstream media and social media.
We are sure that you do not intend your rhetoric to have these sorts of consequences; and we agree that there is a place for 'frank, rational, discussion [on immigration] where voters are treated with maturity' – but we suggest that the use of emotive language such as this provokes exactly the opposite, and that now more than ever, politicians should be thinking very carefully before using such inflammatory metaphors.
You say there is a need for "practical solutions" – let's take learning English as an example. Why not advocate an increase in the number of free good quality English classes and help migrants to understand and contribute to society, rather than cut them as present and previous Governments have done?
"Words are important", you say – so why choose one that serves to inflame, rather than inform this very sensitive debate?
Yours sincerely
Phillis Andrews (SYMAAG vice-chair)
Mohammed Bary (assistant secretary SYMAAG)
Revd Robert Beard, St Andrew's United Reformed Church, Sheffield
Emma Briant (University of Sheffield – in a personal capacity)
Charles Chikwana (SYMAAG executive)
Deborah Cobbett (University of Sheffield – in a personal capacity)
Rachel Cooling (SYMAAG deputy treasurer)
Stuart Crosthwaite (SYMAAG secretary)
Violet Dickensen (SYMAAG vice-chair)
Rodrigo Edema (SYMAAG executive)
Sarah Eldridge (Sheffield City of Sanctuary)
Dave Gibson Chair Barnsley Trades Council (in a personal capacity)
John Grayson (SYMAAG chair)
Nacera Harkati (SYMAAG executive)
David Hoad (SYMAAG Executive)
Em Lawless (Housing worker – in a personal capacity)
Marian Machekanyanga (SYMAAG executive)
Revd Steve Millwood, chair Trustees of Darnall Family Development Project
Michael Miller (retired Chartered Occupational Psychologist)
Jane Petrie (Sheffield Hallam University – in a personal capacity)
Ryan Powell (CRESR, Sheffield Hallam University – in a personal capacity)
David Price (SYMAAG executive)
Mike Reynolds (chair Sheffield City of Sanctuary)
Max Senior in a personal capacity and also on behalf of the Barnsley Branch of Amnesty International
Robert Siamtinta (SYMAAG treasurer)
Robert Spooner (SYMAAG executive and ASSIST)
Prof Fionn Stevenson Head of School of Architecture, University of Sheffield
Robin Story, Sheffield Amnesty International Group (in a personal capacity)
Carita Thomas (Solicitor – in a personal capacity)
Response from David Blunkett MP
Thank you for your open letter which was first drawn to my attention by BBC Radio Sheffield last week.
As many of you know I respect the work that you and many others in South Yorkshire continue to do in terms of providing practical support and a voice for those who otherwise would not be heard.
I would only take issue with you on two points.
The first is the question of my "support" for Michael Fallon. In my article I supported his right to speak on the issue and within the context of a balanced interview to use the term "swamped". I had as I pointed out, used the word within the context of enormous pressure back in 2002 although I also pointed out back then, that the word meaning the same but without the history dating back to 1978, "overwhelmed" might have been more sensitive.
Words cannot be captured by particular politicians at a moment in time and then become unusable.
My second point is to simply reinforce that all of us who care have been battling for funding not just for languages but for wider support to both those coming into the community and the host community themselves.
I hope to have better news on this front in weeks.
Finally, I know that those working at PACA at Page Hall would welcome any support you felt you could give.
Best wishes,