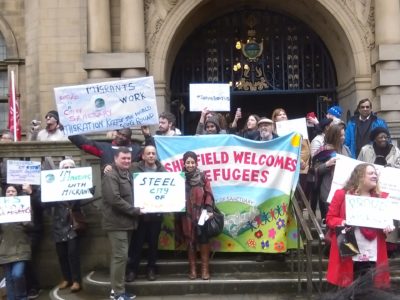 The Hostile Environment comes to Sheffield
EXCLUSIVE: Arrests of suspected undocumented migrants soar in Sheffield, the UK's first City of Sanctuary
Since Theresa May launched the "Hostile Environment" South Yorkshire Police have arrested hundreds of Sheffielders every year on suspicion of being "illegal immigrants".
13 September 2019
Councillors and police in the South Yorkshire city of Sheffield, the UK's first City of Sanctuary, have been working with immigration enforcement to harass and round up Sheffielders they suspect of being "illegal immigrants", according to research uncovered by activists and academics.
Arrests of Sheffielders under suspicion soared from 67 people arrested in the year to December 2010 to more than 400 by March 2014. The jump followed the introduction of Theresa May's plan to ramp up immigration control and delegate enforcement to employers, councillors, GPs, police, bank managers and others.
In May 2012, Theresa May, then UK Home Secretary, told The Telegraph newspaper:
The aim is to create here in Britain a really hostile environmentfor illegal migration… Work is under way to deny illegal immigrants' access to work, housing and services, even bank accounts.
In Sheffield the council has clearly and repeatedly stated its opposition to the raft of policies that the Conservative government called the "Hostile Environment". As recently as 2018, in its response to a government consultation on 'integration', the council said:
There can be little doubt that the so called 'Hostile Environment' policy has substantially undermined integration, not only for its intended targets, but for those who get caught by its sweep, AND for those who are required to be un-appointed border guards checking entitlement (banks, landlords, NHS staff etc).
The police
Arrests of Sheffielders suspected of being "illegal immigrants" totalled 67 in the year to December 2010, and 12 in the following year, according to a South Yorkshire Police response to a Freedom of Information Request in April 2011. Then came the Hostile Environment.
In the 12 months to March 2014, 420 Sheffielders were arrested on suspicion of being "illegal immigrants". In subsequent years arrests continued high—totalling nearly 1600 arrests from April 2013 to December 2017. Asylum seeker and refugee members of South Yorkshire Migration and Asylum Action Group (SYMAAG) have repeatedly reported personal harassment, racism and discrimination over the past few years.
In one year, 420 Sheffielders were arrested on suspicion of being "illegal immigrants"
In January 2017, for example, an Immigration Compliance & Enforcement team targeted a homeless people's camp in Sheffield's city centre and arrested a Romanian couple, one a Big Issue seller, who were then locked up in Yarl's Wood detention centre.
Families spied on and threatened at home
That same month the security company G4S, who managed asylum housing in Sheffield for the Home Office, were widely criticised for equipping staff with cameras to film asylum tenants and their families.
We at SYMAAG collaborated with Brass Moustache on a film shot in Sheffield "The Asylum Market" that documented intimidation and threats from G4S and the Home Office to asylum seeker tenants.
In April 2017 I discovered in an asylum house a G4S notice which threatened that tenants guilty of bad behaviour "will not be tolerated and will be reported to the Police and may be deported away from the UK".
In October of 2017 through an FOI request I found that immigration enforcement staff had been stationed at Sheffield's police custody suite and central police station throughout the year.
What about Sheffield council's opposition to anti-migrant policies?
We at SYMAAG have become increasingly concerned about how, even in Sheffield, the UK's first City of Sanctuary, council officers have been tasked to serve the "hostile environment" regardless of the council's purported values and principles.
For three years Sheffield city council officers who've attended monthly Refugee Forum meetings with the Red Cross, SYMAAG, City of Sanctuary Sheffield, ASSIST, a charity working with destitute asylum seekers, and other support projects, have repeatedly assured us that Sheffield would not apply for government money for 'immigration enforcement projects'.
In an email to me on 2 September Cllr Paul Wood, Sheffield council cabinet member for housing, said that in 2017 the city council announced that they "would not be bidding for immigration enforcement projects and we stand by this still … Our officers will continue to state this policy at meetings …. However, as a Council, if we find anyone acting illegally then we have a responsibility to inform statutory agencies." He added:
We do not intend to be working with UKBA directly to remove people from the Country but we could as part of this intensive work uncover activity or people that do not have all the approvals they need to stay in the UK, and we will then work with all of the key statutory agencies and charities to support these individuals as you would expect for a 'City of sanctuary' so they can live safely whilst any further process takes place.
In July, we in SYMAAG discovered an application form on the council's website, which had been submitted to central government asking for money from the Controlling Migration Fund in 2017. In the application, which would secure funds for the council's private housing standards team, they assured the government that they had worked directly with the UKBA Immigration Compliance Enforcement team locally.
According to the application, housing standards staff undertaking inspections in pursuit of rogue landlords between 2014 and 2017 had "made several referrals to the UKBA and had suspicions about other individuals who disappeared from premises immediately after initial visits had been attempted."
The council admitted these "referrals" in a reply to an FOI from migration academic Dr Rachel Humphris in July 2019, saying that "Sheffield City Council does hold information about referrals made to the UKBA" by the private housing standards team.
One response to a question on the application form suggests that the council may have checked the form with immigration enforcement before submitting it. The form asked whether the council had "demonstrated assurance from the local Immigration Compliance and Enforcement team, if a proposal involves their resource, that they are able to commit the resources requested in the…proposal". The council answered "yes".
The council's application made clear that they "have particular concern over recent undocumented, unlawful immigration into the (London Road) area, linked to private rented accommodation which is often of a very poor standard".
UK councils shun immigration enforcement
Sheffield city council has in effect turned its council officers into border control guards. The council should know that to be homeless, destitute and living in slums and "not have all the approvals" for residence in the UK is not unlawful or illegal.
The Guardian reported on 19 July 2019 that:
Local councils in England are refusing to share sensitive personal data of rough sleepers with the Home Office over fears it could result in their deportation. It is understood that 11 councils, including Brent, Croydon, Enfield, Islington, Hackney, Haringey, Lambeth, Liverpool, Newham, Oxford and Rugby, will not share the personal data unless explicit consent has been given. Some local authorities have slammed the programme, criticising it as a manifestation of the "hostile environment" policy.
SYMAAG has organised a demonstration on 19 September 12noon outside Sheffield Town Hall when a council committee discusses the issue. We will be demanding that the council ends its compliance with Home Office immigration compliance and enforcement teams in all its operations in a City of Sanctuary.
---
Thanks to Dr Rachel Humphris of Queen Mary University of London for allowing me to quote some of her Sheffield research.
Edited by Clare Sambrook and Rebecca Omonira-Oyekanmi for Shine A Light.
This article was first published on 13/9/19 by Shine a Light https://www.opendemocracy.net/en/shine-a-light/arrests-of-suspected-undocumented-migrants-soar-in-sheffield-the-uks-first-city-of-sanctuary/