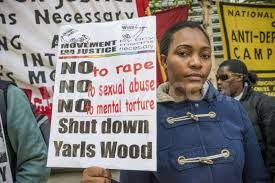 The Dark Reality of Britain's Privatised Immigration System
In July radical Australian journalist Antony Loewenstein came to meet members of South Yorkshire Stop G4S in Sheffield. We had lots to talk about: amongst many other things Antony has been looking at the role of corporations like G4S and Serco in profiting from the increasingly harsh anti-migrant regimes in Australia, the UK and around the world.
Antony wrote this article (below) published by The Guardian on 25th July
 The Dark Reality of Britain's Privatised Immigration System
Yarl's Wood is a Serco run immigration removal centre in Milton Ernest, built in an industrial park more than an hour from central London. Allegations have been made against Serco staff, including of sexual assaults by guards against detainees, yet the British government continues to use the facility.
During a visit inside the centre, I briefly experienced the prison-like conditions suffered by immigrants on a daily basis. After submitting myself to a biometric reading of my index finger – a Serco brochure in reception helpfully informed me that the information could be kept indefinitely because the Data Protection Act is so vaguely worded – I met a young couple from Sri Lanka who were confused and anxious.
The woman was pregnant, and told me Serco staff often didn't believe her when she said she needed to visit a local hospital for care. She was depressed and worried about her baby. She regularly missed meals and begged me to help them get out. Thankfully, they were released shortly after my visit, to an undisclosed location.
Emma Mlotshwa is the head of Medical Justice, an NGO that provides doctors to immigrants in detention. They offer independent assessments of asylum seekers condition while campaigning for the end of prolonged incarceration. She told me that the system was making people sick.
"The lowest price wins the contract", she said. "They cut corners, which results in less care, lower paid staff, lower qualified staff – and at Yarl's Wood, this deliberately aims to fudge responsibility between Serco and the Home Office. Serco often tries to stop us visiting, saying detainees can't be found or we have the wrong paperwork."
One thing is clear: keeping the Sri Lankan couple locked up for months was about punishment; they weren't a security risk, nor flush with funds and able to disappear into the community. This brutal treatment is supposedly a deterrent for future migrant arrivals landing in a country where politics is increasingly defined by leaders who talk tough against the most vulnerable.
The desperation of immigrants behind bars was repeated during my visits to the Geo Group-run Harmondsworth and Serco-managedColnbrook sites, both near Heathrow airport. The centres will be taken over later this year by Mitie, a less well-known British provider than G4S and Serco.
In October 2013, a large fire broke out in Mitie's Campsfield detention centre. Subsequent investigations found no sprinklers had been installed. Mitie's CEO, Ruby McGregor Smith, told me that when her firm took over the facility from the Home Office, she wasn't asked to install a sprinkler system.
She was confident that she had a "good team" to manage what would soon be, according to the corporation's February press release, the "largest single private sector provider of immigration detention services to the Home Office, less than three years after entering the market".
I asked McGregor Smith why she thought her company could run these centres any differently than other contractors. She talked of a more "humane" policy towards asylum seekers – she damned G4S and Serco for their failings in Australia, and argued that both firms were clearly incapable of managing remote facilities, but didn't admit this to the government in Canberra.
She also slammed competitors for having a "prison culture". "There's a danger", she said, "that if you bring in companies who have run some of the toughest prisons in the world to run detention centres, you won't get anything different. That's all they know."
Nick Hardwick, Britain's chief inspector of prisons, told me that contractors like Serco, G4S or Mitie aren't entirely to blame for problems in detention centres. "What causes people's despair in immigration removal centres, the bulk of them, why they are such unhappy and sad places, is because of people's distress in how their immigration case is being handled. It's not generally about the centre itself."
When detainees are released, they still often face indefinite insecurity. In Sheffield, I visited G4S housing in one of the poorest areas of the city. On a windy summer day, with Roma children playing in the streets, I saw squalid houses, with up to nine men packed into small rooms. I heard stories about the Home Office taking years to reach a decision on immigration claims, which precludes many migrants from building a decent life, given their lack of work rights.
G4S in Sheffield is opposed by local campaigners, such as the South Yorkshire migration and asylum action group. The privatisation of asylum seeker housing has led to allegations of corruption, incompetence and wilful blindness. A senior Serco source in Australia told me last year that his company wanted to run all Australia's asylum housing, concerned that the immigration centres would empty and their bottom line suffer.
The political class in Britain rarely highlights the personal cost of outsourcing the most basic social services. The complete privatisation of welfare services is a real possibility, despite G4S and others failing to assist the unemployed after being paid by the state to do so. Across the UK, Europe and the world, the same few companies are competing for an ever-widening range of contracts.
What I saw and heard across Britain confirms the startling facts: poverty is soaring and the government and corporate media response is to pass these people into the warm embrace of multinational bureaucracy.
by Antony Loewenstein
*****
Detention Inquiry
The first ever Parliamentary Inquiry into immigration detention in the UK is to be held this year. While there are no guarantees that this will improve conditions in detention centres, we urge those who have experience of the centres to contribute evidence. More information on the inquiry is here and see here to get support in submitting evidence.
On Tuesday September 23rd at 6.30pm in Sheffield SYMAAG is holding a meeting to discuss our contribution to the inquiry and to assess whether a hearing of the inquiry should be held in South Yorkshire.