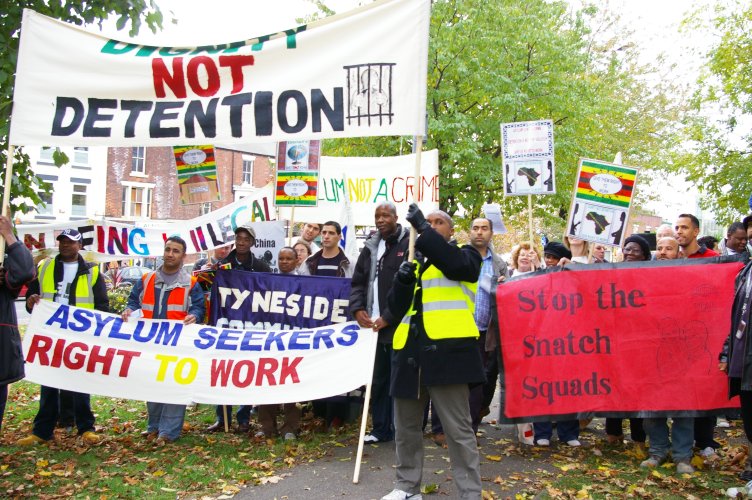 SYMAAG Annual General Meeting Tuesday 13th May Sheffield
The theme of this year's Annual General Meeting is "The UK Asylum and Detention System Can Damage Your Health". We will hear from speakers who have experienced the system themselves and have campaigned for asylum seekers' rights inside it. The meeting will be looking in particular at the affects of the detention system on mental health, coming as it does during National Mental Health Awareness Week
South Yorkshire Migration and Asylum Action Group Annual General Meeting 
Tuesday 13th May 7-9pm. Doors open at 6.30pm for refreshments
Quaker Meeting House, 10 St James Street, Sheffield
all who support migrants' rights are welcome to attend
The meeting will also be a chance to review the last year's work, plan the next and elect members to carry out various roles within SYMAAG.Our 2013-2014 Annual Report will soon be published here to give you an overview of what we have been doing.
Get involved
If you have some time, energy and a passion for migrants' rights you might want to work more closely with us, perhaps take on a particular role within SYMAAG: for instance, promoting our work through social media, making sure your community's voice is better heard, determining our campaigning priorities, helping with admin or fundraising work or taking up an issue which is important to you.
Feel free to contact us at dignitynotdetention@yahoo.co.uk to talk about what you can offer us and how we can support you if you're thinking of getting more involved with our work. You can contribute as much or little of your time as suits you and we can make sure that your expenses are paid when you work with us. We particularly welcome asylum seekers, refugees and other migrants as leading members but everyone has a valuable role to play.
You can download an AGM flyer at agm2014flyer