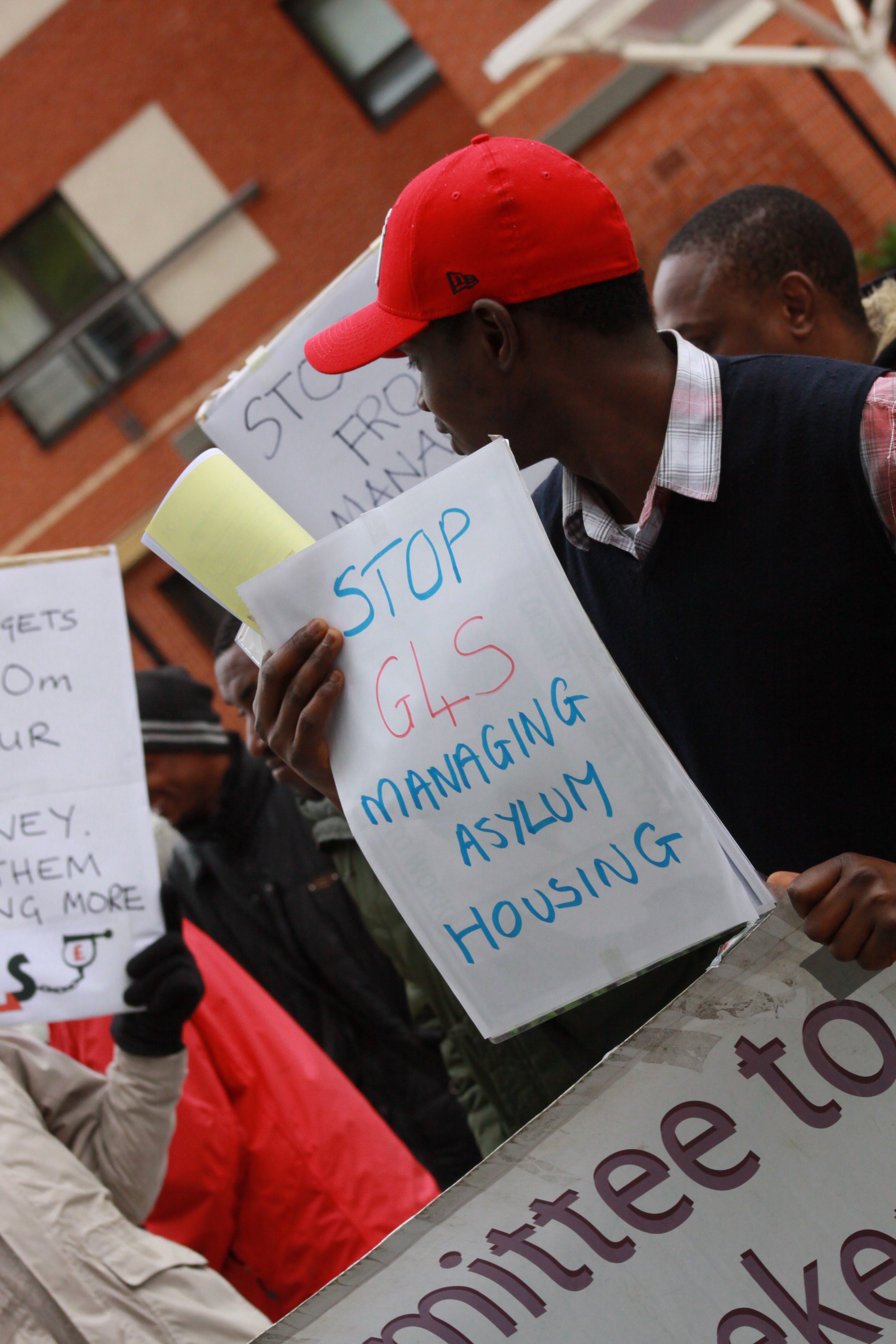 It's official. G4S and Serco asylum housing: "unacceptably poor"
Another Parliamentary Committee, another damning report on the disaster that is privatised asylum housing. SYMAAG's John Grayson looks at the latest report from the Public Accounts Committee (PAC) on 24 April and the lessons from this squalid episode.
The PAC report comes only a month after G4S were fined over £100 million after a Serious Fraud Office investigation into overcharging for public contracts. Two weeks after the PAC's damning report G4S were handed another £300 million of public money to run the punitive "Help to Work"  workfare scheme for unemployed people
This article first appeared on Open Democracy on 24th April at http://www.opendemocracy.net/ourkingdom/john-grayson/five-lessons-britain-must-learn-from-botched-privatisation-of-asylum-housing
Five lessons Britain must learn from the botched privatisation of asylum housing
A Parliamentary watchdog reports on the dangerous consequences of an ill-conceived, badly planned and poorly executed rush to privatise
Stephen Small, recruited from Rentokil, G4S executive in charge of asylum housing, gives evidence Feb 2014
Today the Public Accounts Committee (PAC) released their Report on the appalling privatisation of housing for people awaiting outcomes of asylum claims or appeals.
Committee chair Margaret Hodge's comments on the fiasco are worth quoting in full:
"The Home Office decided to replace 22 separate contracts to provide accommodation for destitute asylum seekers with six regional contracts in order to save £140 million over 7 years," she said. "The change was poorly planned and badly managed and is unlikely to yield the savings intended.
"Three contractors secured the new big contracts. Two, G4S and Serco, had no previous experience of accommodating asylum seekers. Instead of brokering a smooth transition between outgoing and incoming contractors and with local authorities, the Home Office short-sightedly decided to take a hands-off approach and only allowed three months to get the new contracts up and running."
And that's not all.
Margaret Hodge MP, chair of the Public Accounts Committee
Hodge went on: "G4S and Serco failed to inspect and check the properties before taking them over. This lack of information contributed to delays, extra cost, and disruption and confusion for a very vulnerable group of service users.
"The Home Office's decision to rely on fewer and larger contractors was risky and lies at odds with the Government's stated commitment to encourage SMEs [small and medium-sized enterprises] to deliver public services. The knowledge of experienced specialist providers has been lost and there are fewer alternative options available to the Department if the contractor fails.
"The standard of the accommodation provided has often been unacceptably poor for a very fragile group of individuals and families. The companies failed to improve quality in a timely manner. None of this was helped by the Department's failure to impose penalties on contractors in the transition period. It is disturbing that over a year into the contract the accommodation is still not of the required standard and the Department has only chalked up £8 million in savings.
"Progress was also hampered by the failure of the Home Office and its contractors to establish a proper working partnership and to share necessary information, such as forecasts of demand for asylum accommodation."
Less feistily, Hodge concluded: "The Home Office must insist adequate plans are in place for how it will manage the introduction of any new contracts in the future, including an understanding of what will be inherited from previous contractors, and clear arrangements for exiting previous arrangements."
So, business goes on.
Cockroach traps, asylum-seeker flat, Leeds 2013 (Grayson)
This is the third major parliamentary investigation and report on the shambolic job the major contractors G4S and Serco have made of the housing of 23,000 asylum seekers throughout the UK. The Asylum housing contract is potentially worth £1.8 billion over seven years and is the largest single contract ever allocated by the Home Office. (The contract goes by the acronym COMPASS: Commercial and Operating Managers Procuring Asylum Support).
MPs, ministers and chairs of select committees have described conditions in G4S asylum housing as 'appalling', have exposed harassment of tenants, and gross invasions of privacy. This final report from the PAC goes over similar ground.
The PAC has at last made sure that G4S and Serco have been fined for their breaches of the contract and failure to deliver, but the two international security firms with absolutely no experience of social housing are nonetheless being allowed to continue the housing abuse of vulnerable asylum seekers and their families – potentially until 2019.
Here are five lessons we should learn from this sorry tale:
1. Don't entrust the housing of the vulnerable to people who understand nothing about them
International security companies like G4S and Serco have been given contracts in the "asylum market" before – in detention centres, as escort guards deporting people. Former G4S guards are at present facing trial for the manslaughter of Jimmy Mubenga. Serco manages the notorious Yarl's Wood detention and removal centre for women. The Home Office recently refused to allow the UN to visit the centre and Yvette Cooper shadow Home Office minister has called for an investigation into Yarl's Wood.
This is the record of companies who were seen as suitable to take over the successful and sensitive provision of asylum housing for often traumatised asylum seekers from local councils. As Margaret Hodge chair of the PAC said in the committee hearings there was no reason to privatise the service:
"I don't believe it is right to say the previous service was poor. I think they…were delivering a far better service than we've had so far."
2. Don't hand public contracts and millions in public money to companies who continually fail to deliver
And in the case of Serco and G4S illegally defraud the taxpayer. G4S spectacularly failed to deliver its security contract for the 2012 Olympic Games and this year is being rewarded with the security contract for the Glasgow Commonwealth Games.
3. Do make public contractors like G4S and Serco immediately accountable to regular public and parliamentary scrutiny
Companies running contracts financed entirely from taxpayers' money should be subject to FOI (Freedom of Information) legislation. Their management and delivery of contracts should be transparent and they should not be allowed to hide behind secrecy walls of commercial confidentiality.
The only reason G4S and Serco have been exposed as slum landlords abusing asylum seekers and forced to appear before parliamentary committees is because asylum tenants have been willing to speak out and campaigners and activists have publicised the  incompetence, corruption and delusion of the privatised contractors.
4. Parliament should give asylum housing tenants the same tenancy rights as other people in social housing
The Immigration and Asylum Act of 2000 stripped asylum seekers of any tenants' rights, and gave landlords a duty to spy on them in their homes. In practice when local authorities ran the system they defied the government and many asylum housing tenants were given tenancy "licenses" which gave them some protection but also recognised that the tenancy was only temporary. Asylum tenants were given access to the existing statutory right to be consulted by some local authority landlords again against Home Office advice.
In evidence to the Public Accounts Committee it emerged that under the present contract G4S is tearing up agreements with local authorities on numbers and overcrowding.
In Liverpool, according to the Sunday Echo on 16 March, Serco simply does not consult with the local authority and has been prosecuted and fined for conditions in asylum housing property.
The contract also requires (and the PAC Report repeats this) that the contractors Serco and G4S have to ensure that all properties should meet the Government's legal "Decency standard" for social housing. This requirement has been ignored and G4S and Serco continue to provide appalling slum housing.
5. Don't hand contracts to people who lack basic human decency
The sordid saga of asylum housing managed by G4S and Serco has exposed the everyday abuse and disrespect for those who exercise their rights to seek asylum and safety in the UK by the Home Office and their contractors.
What should be care and support for asylum seekers has become a monstrous system of abuse and deterrence. Asylum seekers and activists working in solidarity with them are slowly but surely shining a light on the darkest parts of the 'asylum market' where the state has outsourced violence and abuse, where people have become commodities — every prisoner a profit centre, every immigrant a business opportunity
This debacle with asylum housing was absolutely predictable. As one asylum tenant said when he heard that G4S had got the housing contract: "I do not want a prison guard as my landlord". G4S is now facing growing campaigns challenging its appalling human rights record in many countries. Campaigners have recently set out the case against G4S in a comprehensive briefing for trades unions commissioned by UNITE, Britain's largest union. Members of the Public Accounts Committee should read it, revisit their report and cancel the G4S and Serco asylum housing contracts.
******
The Stop G4S Campaign has news on the global resistance to G4S, a comprehensive briefing for trade unionists and support on how to challenge proposed G4S contracts. The South Yorkshire Stop G4S Campaign meets in Sheffield – details are on the SYMAAG Events page