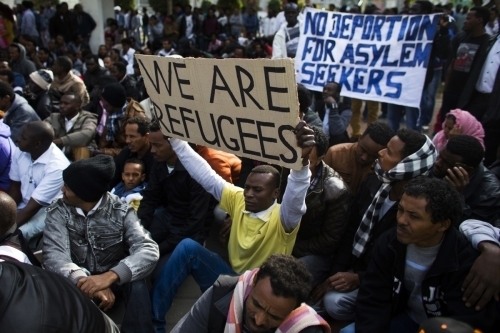 Migrants speak out at SYMAAG AGM: "It's great to be listened to"
"Mental Health and the Asylum System" was the theme for the 2014 Annual General Meeting of SYMAAG. 35 people came to hear three local speakers who had first hand experience of this system. Despite the pain of describing their experience of the asylum system all three speakers gave moving accounts to an audience which listened in silence and with great respect.
"Creak of the Floorboard"
Pride Mbiagbor from Cameroon explained that he was used to "arrest at any time" in Cameroon because of his political views. In the UK he feared that each "creak of the floorboard" at night was the sound of the Home Office coming to arrest or deport him. The medication he received to counter his depression affected him badly and induced paranoia in addition to the constant and very real threat of being deported. The result was more anxiety resulting in running from perceived threats, real or not. Like other people seeking asylum Pride has to report to the Home Office regularly. Each time there is a possibility that he could be detained and deported:  "I'm always sick… the week before I go to sign" he explained.
Despite the pressure of life as an asylum seeker Pride volunteers with ASSIST, a Sheffield charity for destitute migrants.
"The UKBA put me on medication"
Nacera Harkati from Algeria explained that "It's the UKBA which put me on medication", that "UKBA destroyed our lives" with constant threats to deport her and family along with the hopelessness of waiting for her asylum claim to be resolved. To cope with this stress she too was prescribed medication which disabled her, preventing her from carrying out everyday activities: "I couldn't even concentrate to  do homework with my kids when I was on medication."  When she came to the UK from Algeria to claim asylum her husband was not allowed to stay and decided to divorce her: "That way, the UKBA destroyed my family too".
Nacera is an Executive Committee member of SYMAAG and a leading activist with Development and Advancement for Womens Empowerment (DEWA) and Why Refugee Women
"Taken in handcuffs to the hospital"
Phillis Andrew described his experience of being officially stateless. In particular he told us about his indefinite detention at various Immigration Removal Centres (IRCs). He compared IRCs to prisons: "if you're doing a prison sentence at least you know when you'll be released" and described the stress and anguish which resulted from not knowing when or if he would be released. He became ill at one IRC and was "taken in handcuffs to the hospital". "We are treated less than animals" in detention he explained. Phillis calmly explained how he had demanded his rights in detention and been victimised for it: he was moved between various centres and been the subject of an attempt by the Home Office to frame him for things he never did.
Phillis is an Executive Committee member of SYMAAG, active with the Barnsley Afro-Caribbean Together Association and a Community Safety delegate of the Barnsley Equality Forum
"Re-traumatisation"
Dr Mike Nutt of the Mulberry Practice also spoke briefly. He is a GP at this medical practice in Sheffield and specialises in treating people seeking asylum. Mike paid tribute to the courage and strength of the three previous speakers and to everyone going through the asylum and detention process. He described how the UK asylum system added to the stress and trauma that many migrants were already suffering from ("re-traumatisation"). He also talked about how physical pain and injury could manifest itself as mental pain and illness (and vice versa) and the side-effects of medication. He summed up the brutality of the UK asylum system saying "If you don't have a health problem when you arrive, you soon will".
"It's great to be listened to"
After applause for the speakers there was utter silence and some tears. The first question from the floor was a great one: "How can you manage to relive these experiences and describe them to us like this?". Pride contrasted his treatment by the Home Office with tonight's sympathetic audience, saying "It's great to be listened to". Nacera and Phillis agreed that they drew strength and confidence from being listened to, respected and taken seriously by people in the UK. They also explained that it gave them strength and boosted their self-respect to work with groups like SYMAAG for the benefit of all migrants, not just themselves. For supporters of migrants rights the fact that Pride, Nacera and Phillis shared their experiences with us is a gift which strengthens our resolve to fight for justice alongside them.
"Hostile Environment"
There followed a wide range of questions and contributions about alternative treatments and activities to medication for mental health problems; of the therapeutic value (as well as political) in telling these migration stories to various audiences, particularly schoolchildren, in the UK. Many people commented that the harsh treatment and persecution of migrants was deliberate Government policy (remember Theresa May's desire to create a "hostile environment" for "illegal" migrants?). We discussed the ongoing campaign against G4S running asylum housing and our involvement in wider anti-G4S actions like persuading local public bodies not to let them bid for contracts. Speakers from campaigns which supported other demonised groups in the UK – like benefit claimants – stressed the importance of joining together against Government and media scapegoating and the importance of showing solidarity rather than charity towards migrant struggles. The further reduction in access to legal support for asylum seekers was noted along with the run-down and sell-off of asylum advice services to Migrant Help (a company previously dropped by G4S for under-performance…)
The SYMAAG Annual Report (available for download below) and the Treasurer's report were presented and briefly discussed and elections to the SYMAAG Executive Committee and officers positions were held. A majority of the Executive Committee is now made up of migrants and 2014-15 will see a number of migrant activists trained and supported to take up leading positions in our group.
Download the SYMAAG Annual Report 2013-14 here