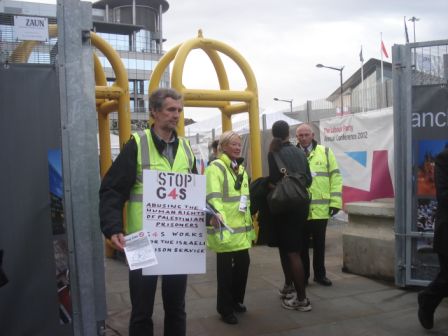 National Stop G4S Campaign formed: latest report

'The company you need to target is G4S'.  Opponents form strategic alliance
Critics of the world's biggest security company are banding together. A report from the Stop G4S Convergence campaign.
Sixty people came together in Sheffield's Workstation one recent Saturday. We were activists for asylum rights, Palestine solidarity campaigners, trade unionists resisting privatisation and people opposed to the work-for-nothing Work Programme. An unlikely combination on the face of it, but united by opposition to G4S, the company prepared to trample on human rights in its attempts to profit from 'Securing Your World'.
"Serial abusers" was how one contributor from the floor described G4S, the world's biggest security army. Activists from the diverse Stop G4S campaigns described G4S's human rights abuses and resistance to them.
Diana Nelsen from Jews for Justice for Palestinianssaid Palestinian political prisoners "had no hesitation in saying, the company you need to target is G4S".She described the company's role in the maintenance of an Israeli prison and security system that serves the denial of Palestinian human and national rights, its transportation of children into Israeli 'military custody', its support in policing the occupied West Bank and supplying security equipment and personnel in defiance of numerous UN resolutions.
"I don't want a prison guard as my landlord."
John Grayson from the South Yorkshire Migration and Asylum Action Group (SYMAAG) described the Yorkshire-wide campaign against G4S running housing for people seeking asylum. The campaign was launched after a local asylum seeker had declared: "I don't want a prison guard as my landlord".How could G4S – a security company better known for abusing asylum seekers during forced deportations and detention – have been given the contract by the UK Border Agency and the government, he asked. John summed up by saying "Using G4S to privatise asylum housing is a further step towards the UKBA aim of bringing in detention on arrival for asylum seekers. Asylum housing is becoming a form of house arrest".
"Asylum housing is becoming a form of house arrest."
Shiar Youssef from Corporate Watch gave an overview of G4S's privatising activities based on CW's "G4S Company Profile". G4S were"not just a security company but an outsourcing company", he said, detailing their role in the coercive Work Programme.
He pointed to flaws in the company's financial stability, exacerbated by the reputational damage caused by their failure to provide security to the Olympics. The purpose of a united campaign against G4S should be "to expose the revolving doors between the private sector and government" internationally, he suggested.
Recent Successes
We began our discussion of themes and tactics by reviewing what our separate campaigns had already achieved. Palestinian rights activists reported that after an international campaign G4S had lost the contract to provide security for the European Parliament which objected to its role in human rights abuses in the West Bank.
By monitoring contracts and threatening legal action backed by public protests, asylum rights campaigners in Yorkshire had prevented G4S and its subcontractors evicting some asylum seekers and putting them in unsuitable and slum housing.
G4S subcontractors in Yorkshire, United Property Management had been dropped, partly as a result of a campaign against their use of unsuitable housing for asylum seekers.
Pressuring organisations with investments in G4S to end them had already brought results. For example, 'ethical' energy company, Good Energy had been successfully persuaded that investing customers' money in G4S was far from 'ethical'. As a result they had stopped investing in G4S.
The toxic G4S brand
Some shared observations and themes emerged. "It isn't just about G4S's incompetence but about principle," said John Nicholson, from Palestinian rights campaigns in Manchester, relating G4S's failure to provide security for the Olympics to their practice of profiting from human rights abuses. Many agreed that states' tendency to relinquish responsibility for their human rights abuses through outsourcing had to be resisted. "They hand their dirty work to companies like G4S," said a campaigner for Palestinian human rights, a view shared by anti-deportation campaigners in the wake of Jimmy Mubenga's death while being "escorted" by G4S guards.
We need to "render the G4S brand toxic and end all government contracts with them", said one participant. Many people made the point that our opposition to G4S didn't mean that we thought any of the other security companies who profit from human rights abuses were any better. Asylum rights activists from Manchester, Glasgow and the south-east of England confirmed that Serco and Reliance were no better and said they would continue to work together with Stop G4S campaigners.
We summed up by outlining how we intend to stop G4S —using publicity, direct action, monitoring contracts and linking existing community campaigns. Our targets would include those organisations and companies that subcontract from or invest in G4S, especially where G4S is using such relationships to obscure its complicity in human rights abuses.
To finish a long day's work, we set up communication networks for the new group, specific working groups, a new website and planned a number of co-ordinated actions against G4S. As we cleared the room and headed for the pub I took a bundle of leaflets about the national day of action on October 12 to mark the two years since Jimmy Mubenga died while being forcibly deported by the G4S "serial abusers". It reminded me of why we are doing this.
Stuart Crosthwaite 22 October 2012
this article originally appeared on the Open Democracy website at http://www.opendemocracy.net/ourkingdom/stuart-crosthwaite/'-company-you-need-to-target-is-g4s'-opponents-form-strategic-alliance
original call-out notice below…
This weekend Sheffield will witness a Convergence of activists campaigning against the many faces of G4S. Readers of this website will know all about the chaos and misery which has been caused by G4S' evictions of asylum seekers in Yorkshire and Humberside. And about their brutal record in forcibly deporting asylum seekers.
Despite this track record of complicity in human rights abuses in the UK and abroad, G4S is being handed control of public services – everything from policing to "asylum markets" to the welfare system. Even after the Olympics débâcle, G4S looks set to take over even more control of our communities.
And this giant security army also have other ways of boosting their annual profits to around £550million per year.
That's why groups like the Palestine Solidarity Campaign and Corporate Watch have worked with SYMAAG and others to organise this event on Saturday.
The Convergence has been called by organisations campaigning against the activities of G4S and aims to plan how to build a more effective Stop G4S campaign. Supported and endorsed by the Boycott Israel Network, Corporate Watch, Dundee Trades Council, Jewish Socialists' Group, Jews for Justice for Palestinians, Newcastle Palestine Solidarity Campaign, No Borders UK, No One Is Illegal, Palestine Solidarity Campaign, Scottish Palestine Solidarity Campaign, Sheffield Palestine Solidarity Campaign, South Yorkshire Migration and Asylum Action Group (SYMAAG) and Stop Deportations, it is open to all who oppose G4S and want to work with others to Stop G4S from taking over public services for private profit while violating human rights'.
The gathering will launch the UK 'StopG4S' campaign coalition, bringing together grassroots campaigns, networks and organisations with the aim of providing support, resources, guidance and skill-sharing. This coalition will be inclusive and non-hierarchical.
Please respond to:
stop-g4s@riseup.net
to reserve a place, find out more or to request a speaker to attend a meeting to discuss campaign plans. If you or your organisation (if you have one) wish to endorse this call please let us know.
Facebook event
Reasonable travel costs may be paid to those unable to fund themselves. Overnight accommodation will be provided by local activists.