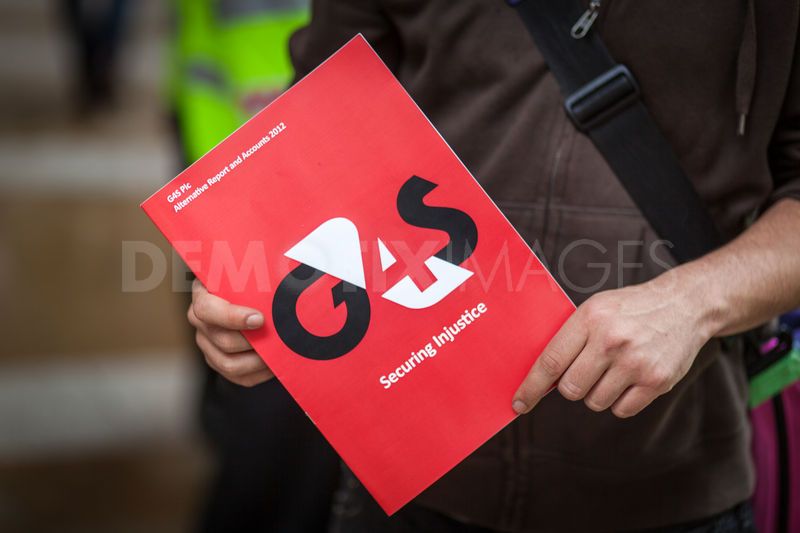 Don't Invest in G4S: Pension Fund Protest
SYMAAG and Barnsley Asylum Support Group activists picketed the Annual Meeting of the West Yorkshire Pension Fund WYPF) in Huddersfield on Friday 26th October with the call DO NOT INVEST IN G4S. WYPF has significant investments in G4S.
Two hundred leaflets were handed to arriving members, many of whom did not know that WYPF invested in prison guard company G4S.The leaflet emphasised that members who include local government workers, fire services, and councillors throughout West Yorkshire (which includes the cities of Leeds and Bradford and major centres like Huddersfield, Halifax and Wakefield) had their pensions dependent on the profits of G4S.
The response to the leaflet from pensioners and members of the WYPF was overwhelmingly positive. The hotel manager at the Cedar Court Hotel aggressively removed us from the hotel grounds but cars were still stopping for us on the approach road to the hotel. It was a useful start to persuade the WYPF to stop investing in G4S
John Grayson
You can read the leaflet given out at the protest
For more information about G4S' investors see the Corporate Watch G4S Company Profile at http://www.corporatewatch.org/?lid=337
See also new articles from SYMAAG and the Stop G4S network about G4S and the COMPASS housing contract