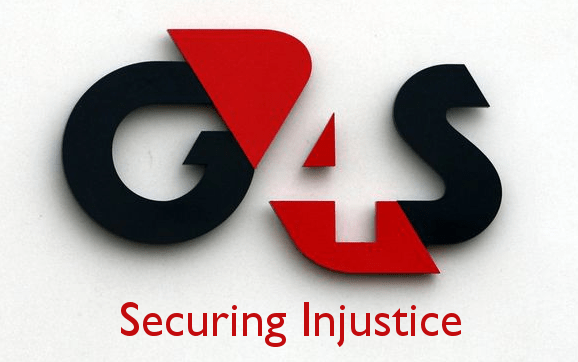 "Sleepless Nights" as G4S Asylum Housing Contract Falls Apart
At a recent G4S Asylum Housing "Roadshow" event in Leeds, G4S Director Steven Small was eager to reassure his critical audience that he'd suffered "sleepless nights" over the disastrous G4S COMPASS asylum housing contract. Were we supposed to feel sorry for him? To put the suffering of asylum tenants – months of stress, squalor and abuse – into context? To appreciate the commitment of this man (a former Rentokil pest-control executive) to the welfare of asylum tenants?
One month after the Leeds "Roadshow" PR event it is clear why Mr Small was having sleepless nights.
After protests from women asylum seekers, asylum rights groups, Leeds City Council and national press coverage, G4S sub-contractors Cascade were suspended from the COMPASS housing contract in West Yorkshire for 3 months
A leaked G4S letter dated February 25th (seen by SYMAAG and authenticated by G4S), reveals that another sub-contractor, Mantel, had resigned from the Midlands contract on 30th January
The same letter explains that 2 other subcontractors, "Live (Management) and Cascade have also expressed similar concerns to Mantel," but goes on to say that they have not (yet, at least) been dumped
According to "G4S Assessments" (an "entirely separate" company from G4S apparently) 18 per cent of properties in South and West Yorkshire allocated to asylum seekers were unfit (from a random sample of 366). If these figures hold for all Yorkshire properties run by G4S and their subcontractors Cascade and Live Management Group, then perhaps 300 asylum seekers and their families are living in unfit properties.
G4S and its (current and former) sub-contractors have victimised asylum tenants who have dared speak out against them leading to local defence campaigns and exposure in the national press.
National and Parliamentary awareness of the G4S asylum housing disaster has grown: inquiries by the Home Affairs Select Committee and the Chief Inspector of Immigration into G4S and asylum housing are pending. Even the Shadow Minister for Immigration, Chris Bryant was moved to comment: "The hideous conditions in which many people live. We need to do far more in this country to crack down on unscrupulous and poor landlords, who put people into housing that, frankly, is not fit for living. It has been a disgrace that successive Governments have not concentrated enough on that."
Those asylum tenants who have courageously spoken out against G4S and their (dwindling number of) sub-contractors are now seeing the results of their efforts to be treated like human beings. An alliance of asylum rights groups, anti-privatisation campaigners, trade unionists, Stop G4S activists and tenants' rights groups stands alongside them.
G4S' Steven Small's desperate letter pleads: "What it does not mean is that G4S is willing to give up on COMPASS." (emphasis in original). Our job over the next few months is to get G4S and other private contractors off the asylum housing contract. Last summer our campaign forced sub-contractors UPM off the COMPASS contract. With Mantel now dumped, Cascade suspended, Live Management not far behind and Target Housing discredited we can do it. Soon, G4S and Mr Small, their pest-control expert, will be left without any sub-contractors.
We maintain our view that G4S are prison guards not landlords. Their record is one of abuse towards asylum seekers in this country and elsewhere. We should not be paying them public money to operate this contract. People seeking asylum have the same rights to decent social housing as anyone else in this country.
More details of the leaked G4S letter and the collapse of the G4S COMPASS contracts can be found in Clare Sambrook's recent article for Open Democracy Another G4S scandal: are the UK's asylum housing subcontractors falling apart?
SYMAAG's John Grayson has recently written an analysis of who has profited from the privatisation of asylum housing Their secret is out, but for G4S and friends 'abject disregard' for human dignity persists
The Independent newspaper has extensive coverage of the latest G4S asylum housing disaster here
and finally….
Even the Tory-supporting, privatisation-loving, migrant-baiting Daily Telegraph has a go at G4S here