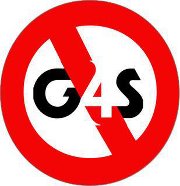 Wide Support for Inquiry into G4S Asylum Contracts
SYMAAG and the Yorkshire-plus No to G4S group have found wide support for an inquiry into G4S' contracts for housing, transport and initial accommodation in what it calls the "asylum markets". 
We are calling for the Independent Chief Inspector of Borders and Immigration (ICIBI) to launch an inquiry based on a comprehensive report (published below and available for download) on the G4S asylum housing disaster in Yorkshire and Humberside. Many regional and national organisations have put their name to the call, some of whom have worked directly with asylum seekers who have suffered at the hands of G4S and their subcontractors. Much of this abuse has been catalogued before: on this website, in the Independent and Guardian, and social housing websites like Inside Housing and 24 Dash but this report is, we believe, a comprehensive catalogue of the failure of the G4S handling of the COMPASS contracts based on many personal testimonies of asylum tenants themselves. We dedicate this report to those people who had the courage to speak out against this abuse.
In short, the report makes the points:
The original business plan of G4S was not adequately scrutinised by the UKBA. There was never enough good quality accommodation in the PRS (Private Rented Sector) in Yorkshire to move asylum seekers into. This fact was put to the UKBA and never considered;
The UKBA/G4S transition process entailed delays for up to six months in moving individual families, properties not being inspected prior to allocation, and substandard properties offered on a 'no choice' basis. The report quotes a large number of case studies;
There was no evidence that UKBA and G4S had any procedures for assessing the needs of asylum seekers and their families and attempting to match them with appropriate accommodation;
Housing management services provided by G4S and subcontracting companies were totally inadequate as a result of reductions in staffing levels on the new contracts compared with the previous Target contracts;
There is evidence particularly in the North East that G4S and its subcontractors ignored the UKBA guidelines on not allocating asylum seekers 'vulnerable properties' in high crime areas and in areas with known racial incidents and far right activity.
the infamous "cell-like" mother and baby hostel in Stockton
run by G4S and sub-contractors Jomast
Report for the Independent Chief Inspector of Borders and Immigration (ICIBI)
A call for an inquiry into the UKBA / G4S contracts for asylum housing, initial accommodation and transport from December 2011 to January 2013 in the Yorks and Humber and North East Region, as part of ICIBI's scheduled thematic inspection of Asylum Support
Prepared by John Grayson
Independent Researcher, SYMAAG (South Yorkshire Migration and Asylum Action Group)
On behalf of:
SYMAAG, and Notog4sYorkshire Plus.[1]
Supported by National organisations:
End Child Detention Now,
MRN (Migrants Rights Network),
NCADC (National Coalition of Anti Deportation Campaigns).
Yorks and North East Regional organisations:
Regional Asylum Activism,
Why Refugee Women?
South and West Yorkshire and North East organisations:
Barnsley Asylum Support Group,
DASH (Destitute Asylum Seekers Huddersfield),
DEWA Project (Development and Empowerment for Womens' Advancement), Sheffield
Dorothy Ismail (Sunderland Friends of the Drop-in (FODI) p.c.[2]),
Just West Yorkshire,
Notog4sHuddersfield,
Maxwell Senior (Principal Officer Barnsley MBC),
Sheffield Refugee Asylum Action Group (RASAG),
Kate Smith (PhD Researcher and Lead for asylum and immigration research and practice) on behalf of the Centre for Applied Childhood Studies, University of Huddersfield,
SOLACE Leeds.
Others:
Dover Detainee Visitors Group,
Notog4sNottingham,
Nottingham City of Sanctuary,
Santé Refugee Mental Health Access Project.
Executive Summary
The Report argues that the G4S takeover and privatisation of humanitarian asylum housing under the UKBA COMPASS contracts has been a disaster for asylum seekers and their families in Yorkshire and the Humber and the North East. It also argues that the allocation of the contracts to an international security company rather than a housing provider suggests that the contracts were allocated for political rather than commercial reasons.
The original business plan of G4S was not adequately scrutinised by the UKBA. There was never enough good quality accommodation in the PRS (Private Rented Sector) in Yorkshire to move asylum seekers into. This fact was put to the UKBA and never considered
The UKBA / G4S Transition process entailed delays for up to six months in moving individual families, properties not being inspected prior to allocation, and substandard properties offered on a 'no choice' basis. The report quotes a large number of case studies.
There was no evidence that UKBA and G4S had any procedures for assessing the needs of asylum seekers and their families and attempting to match them with appropriate accommodation.
The report documents the totally inadequate housing management services provided by G4S and subcontracting companies as a result of reductions in staffing levels on the new contracts compared with the previous Target contracts.
The Report describes how G4S and its subcontractors have simply ignored their duties under Section 55 of the 2009 Borders and Immigration Act to safeguard children. The development of a Stockton mother and baby hostel with 30 women and 38 children living in accommodation women residents describe as 'cells' is clear evidence of this. The disgraceful treatment of lone mothers and children in the COMPASS Transition process is further evidence of this.
The Report suggests that there is evidence particularly in the North East that G4S and its subcontractors ignored the UKBA guidelines on not allocating asylum seekers 'vulnerable properties' in high crime areas and in areas with known racial incidents and far right activity.
The abundant evidence of malpractices by housing providers in this Report is only available because of the diligent efforts of volunteers and housing academics and the courage of individual asylum seekers who have been willing to pass on information about what has been happening to them. Such action puts them at risk, as we have found in several instances that asylum seekers who make a public protest are liable to be victimised by G4S and/or UKBA. In one case, an asylum seeker was deprived of support shortly after giving evidence to a Committee of MPs.
The Report argues that the weight of evidence gathered by researchers, journalists, volunteers and activists should trigger an investigation by the Independent Chief Inspector for Borders and Immigration
Evidence and Methodology
The Report has been written by John Grayson from a variety of primary and secondary sources, including a large range of evidence collected through interviews, and from the everyday experience of volunteers and asylum seeker tenants in asylum rights organisations involved in monitoring the G4S asylum housing contracts.
Publicly available evidence (eg. print and on-line media research and articles) is cited but there is a great deal of confidential evidence which could be made available by the author and other informants to any inquiry.
The COMPASS Due Diligence and Transition Process in Yorks and Humber and the North East Region December 2011 to June 2012
G4S, from Preferred Bidder through Due Diligence
COMPASS is the commercial external procurement arm of UKBA responsible for sub-contracting the provision of transport, asylum housing and initial accommodation to asylum seekers 'dispersed' from their point of entry.  Previously, these services were provided under "Target contracts" with housing providers.  In the Yorkshire and North East area, these were often local authorities.
Political decisions were taken in 2011 by the UK Border Agency is to  reduce the amount of money it spent on providing housing for asylum seekers by 17 per cent in 2012. The agency's provisional spending on accommodation in 2010/11 was £164 million. Its budget for 2011/12 £135.5 million. The UKBA made the savings by reducing the number of contracts it held with accommodation providers from 28 to 22 – a drop of 21 per cent. Some providers had their contracts extended for 12 months, but faced being axed in 2012. The UKBA ran a full tendering process for 2012/13 contracts during 2011 through its COMPASS project, to replace  the then current contracts and further reduce costs.( 1) The new COMPASS contracts when awarded in March 2012 were estimated to be worth £620m over five years which was also estimated to be a 'saving' of around £150m on original projections.
For those voluntary organisations and campaign groups monitoring the G4S contracts in Yorkshire and the North East throughout 2012 it became apparent that the new COMPASS 'cut price' contracts were to have massive implications for the new regime of housing management, the quality and nature of accommodation offered to asylum seekers on a 'no choice' basis, and most importantly, the quality of life, health and wellbeing offered through state contracts of housing support for individuals and families legally resident in the U.K., simply awaiting outcomes of claims for asylum under international treaties and conventions.
UKBA divided the UK into six regions, for which it awarded COMPASS contracts as follows. This Report will focus on the North East, Yorkshire and the Humber Region and the COMPASS contracts for asylum housing, initial accommodation and transport awarded to G4S Care and Justice Services (UK) Ltd
| | |
| --- | --- |
| Region | Provider |
| London and South of England | Clearel Ltd |
| Wales | Clearel Ltd |
| Midlands and East of England | G4S Care and Justice Services (UK) Ltd |
| North East, Yorkshire and Humber | G4S Care and Justice Services (UK) Ltd |
| North West | Serco Limited (Serco Civil Government) |
| Scotland and Northern Ireland | Serco Limited (Serco Civil Government) |
In December 2011 UKBA announced that the preferred bidder for the Yorkshire and the Humber and North East area was G4S.  Also at this time, G4S announced that their preferred partner for the actual provision of housing would be UPM (United Property Management), a company already involved in Yorkshire in the existing UKBA "Target contracts" for asylum housing.  From this date, UKBA and the dedicated COMPASS team undertook due diligence checks on G4S and its ability to comply with the contract.
SYMAAG (South Yorkshire Migration and Asylum Action Group www.symaag.org.uk) representatives, together with a group of university academics, met Stephen Small and Andrew Gray of G4S, with Anita Bell of UKBA COMPASS, in Sheffield on 28th February 2012. This meeting was the only opportunity given to specialist academics in housing and immigration, and to asylum rights organisations and charities to critique or comment on the contracts during the 'due diligence' period. Throughout the due diligence period, SYMAAG and other voluntary organisations were told by UKBA that only corporate partners had status to comment on due diligence matters and that the 'consultation' period had ended with the announcement of preferred bidder status.  The due diligence period was scheduled to end by the end of February and contracts were to be signed on 1st March 2012.   The contract award to G4S was formally announced on 21st March 2012.
The exclusion of organisations from giving evidence on the financial risks and business case offered by G4S taking over asylum housing was to have very serious consequences for the whole process of 'Transition' from March to December. Voluntary organisations observed unwarranted collusion between the UKBA COMPASS team in Yorkshire and the North East and the representatives of G4S throughout the period from January to March 2012. The Transition team had no formal responsibility for the COMPASS Transition until March and yet prior to this, were actively working with G4S to put together subcontracts and property purchases.
This unease about procedures resulted in approaches to the Rt Hon David Blunkett M.P. who asked Margaret Hodge to institute an investigation by the NAO (National Audit Office) into the contract. The NAO found no irregularities. In the autumn of 2012 a further NAO investigation instigated by voluntary organisations in the North East had a similar outcome. NAO investigations were of course centred on 'value for money' and procedural and contract irregularities, rather than the matters covered in this Report.
During the due diligence period SYMAAG and housing academics in the region questioned the fundamental basis of the G4S business plan for asylum housing – that they (G4S) would be able to acquire or subcontract sufficient good quality accommodation from the Private Rented Sector in the Yorkshire and Humber contract area.
The academics who were involved in early criticism of the privatisation of humanitarian housing had provided evidence of this flaw in the G4S business plan in a letter  on 2 February 2012 to Stephen Small of G4S raising these concerns.  It stated as follows:
In the most comprehensive recent research on the Private Rented Sector by colleagues at York University in 2008 (The Rugg Report) suggests 50 per cent of the PRS nationally is below the decency standard accepted by public sector landlords. It also suggests that asylum seekers and the most vulnerable tenants are concentrated in what they describe as 'slum housing'. On-going local housing markets research in the region has reinforced this picture. In 2008 Ian Cole and colleagues at Sheffield Hallam CRESR found in West Yorkshire a smaller sector than national figures of 11.5 per cent with 5 per cent (Wakefield) to 10 per cent (Leeds). A significant percentage of housing was in their Housing Benefit/low income category and over 40% in terraced housing from before 1919.
More recent trends since the banking and housing crash of 2008 have only emphasised the fact that in the Yorkshire region and sub-regions, outside student accommodation, there are fewer than national average for-profit rented houses and most of these are very old slum housing. It is in this market that G4S claim that they can find 'housing which is safe and meets the Government's Decent Home standard'. We would ask on what research evidence does it base this assertion. The 'housing assessment specialists', G4S claims it will use, will find exactly this picture which we have outlined in the Private Sector Housing Stock Conditions Surveys of local authorities throughout the region.
This central fact, that the PRS market in Yorkshire and the Humber could not supply sufficient decent accommodation at the prices tendered for in the COMPASS contracts, can to a large extent explain the chaos and delays encountered in the Transition period – and more importantly the enormous amount of disturbance, stress and hardship forced on asylum seekers and their families by the new COMPASS contracts. This stress and hardship is continuing and was forseeable.
Campaigning and Monitoring the G4S contracts
On hearing of the preferred bidder status of G4S, SYMAAG organised a campaign against the company's appointment, including demonstrations and a media campaign.The campaign was supported by individual members of local charities concerned about the likely impact on asylum seekers. These included volunteers involved with ASSIST, (a charity providing emergency accommodation support to destitute asylum seekers) and City of Sanctuary (a voluntary welcoming organisation for asylum seekers).
The campaign was supported by 28 Yorkshire university academics (seven of whom were professors) [3] as well as churches, councillors and trades unions. The campaign established NotoG4Syorkshireplus a Yorkshire wide network and monitoring group (with support from Nottingham activists) and a Kirklees notog4s group.
Campaigners considered G4S as unsuitable to become, in effect, a humanitarian asylum housing provider. This was based on their controversial management of immigration detention centres and alleged involvement of their deportation escort staff in the death of Jimmy Mubenga in 2010. [4] We found widespread public opposition to the award of the COMPASS contracts to G4S.  When the controversies regarding G4S's management of its Olympics contracts became widely known, additional members of the public raised their concerns with us.
Opposition to G4S as a social housing provider was never simply based on the grounds that G4S was a private company with no previous housing experience outsourcing public housing. Opposition also centred on a company with a controversial record of UKBA contracts in the fields of security, enforcement, detention and deportation and seeking to extend these contracts into what the company openly declared as its new, for profit,  'asylum markets' in asylum support. The boundaries which were being crossed from an asylum seeker point of view were clear: as one Zimbabwean asylum seeker said in Sheffield in January 2012, on hearing of a possible G4S take over, 'I do not want a prison guard as my landlord'.
Certainly many encounters and interviews with asylum seeker tenants throughout 2012 reinforced the impression that the experience of asylum housing is now  seen as less that of social housing, or council housing but more a process of house arrest, an extension of the UKBA's 'detention  estate'.
Voluntary organisations also believe that the award of asylum housing contracts to security companies is a political as much as a commercial transaction. It is part of the openly declared policies of all recent governments to make the UK experience of asylum seekers so unacceptable that it will act as a deterrent to future asylum seekers, and persuade asylum seekers already in the UK to risk the dangers of their home countries as almost preferable to the realities of asylum 'support'.
We were concerned that G4S would save money by using poor quality housing; ignore statutory duties and mire a crucial area of humanitarian support in a web of unaccountable sub-contracting. To a large extent our fears were justified by events over the Transition period to the contracts in 2012.
The end of humanitarian asylum housing?
Opposition to a security company privatising social housing was also based on the unique situation that prevailed in Yorkshire and the Humber. In the Region well over half the asylum housing in Sheffield, Barnsley, and Kirklees MBC's was still humanitarian asylum housing. These Yorkshire councils had been, as a matter of policy, involved in offering emergency accommodation to refugees and asylum seekers for over fifty years: from Hungarian refugees after 1956 through 'Kenyan and Uganda Asians' to Chilean refugees and then Kosovan refugees in the late 1990's.
Sheffield City Council had in 2007 formally supported a City of Sanctuary movement in the city which spread later to a large number of other cities and towns in the UK, welcoming asylum seekers. The city has actively supported the resettlement of UNHCR refugees in larger numbers than any other local authority under the Home Office Gateway programme. Sheffield city council members unanimously applauded the presentation of a petition by local asylum rights groups in early February (see Appendix Three).
Many major local authorities had withdrawn from the UKBA Target contracts which COMPASS now succeeds.These authorities included Birmingham (the largest English housing authority) in 2010. But these three Yorkshire authorities (Sheffield, Barnsley and Kirklees) continued their policy commitments to asylum housing and bid for the COMPASS contract in 2011, as part of a local authority consortium. When they were unsuccessful, many viewed the COMPASS process as privatising the role of local authorities in providing humanitarian housing. Barnsley MBC, even during the Transition period was proclaiming its belief in publicly funded humanitarian housing from its own housing stock (the council had only six properties contracted from the private sector in its asylum housing portfolio of around a hundred properties)
Asylum seekers and migrant workers advice and support services
Barnsley Council works with the Home Office to assist with the UK's international commitments regarding those fleeing from persecution by taking asylum seekers into managed properties throughout Barnsley Borough.
This work is on behalf of, and in contract with, the Home office.  Funding for this humanitarian work comes entirely and directly from Central Government, there are no cost implications for local tax payers.
The most concerning consequence of G4S receiving the COMPASS contract was that single people and families would have to be moved to new COMPASS accommodation, more so than perhaps in any other region. The transition from the previous regime of "Target contracts" to the new 'COMPASS contracts' that have been awarded involved the transfer of 4392 supported individuals in the whole of the Yorkshire and North East area.
And such relocation would be on an unprecedented scale: not as individual 'dispersal' decisions from the South East, nor as accommodation needs occasionally dictated in individual cases, but en masse and due to largely unnecessary and unaccountable contracting arrangements.
We  estimated that in the Yorkshire and the Humber part of the 'Yorkshire and North East' COMPASS contract there were around 1300 individuals in direct council or council contracted accommodation (Councils have routinely subcontracted a minority of their asylum housing to small private landlords who can provide council quality accommodation) out of the 2000 or so individuals in asylum housing. These figures were estimates because although overall figures of Section 95 and Section 4 supported individuals were available, numbers in specific categories of accommodation were not.
Although the COMPASS contracts were eventually signed towards the end of March, UKBA and G4S were only able to officially announce the start of the contracts on 18 June 2012.  One of the main reasons for this delay  was the fact that G4S had to dispense with UPM (United Property Management)  as its chosen partner in delivery, after the company was exposed sending an asylum seeker mother and her baby forty miles from Bradford to Doncaster, and leaving them in a unsuitable and dangerous flat for six weeks ( 2 )
Without UPM, G4S was faced with the fact that, in Yorkshire and the Humber there simply was not a low cost Private Rented Sector which would provide enough acceptable housing for the 1300 or so asylum seekers to be moved from the asylum council housing presently provided by Yorkshire councils.
G4S announced on 18th June 2012 that it now had new delivery partners to replace UPM.  They were Mantel, a commercial property company with no experience of asylum housing, who have to our knowledge subsequently played no part in the contract; Live Management Group, a private company only registered in January 2012 with no track record in similar contracts; Cascade Housing Ltd, who are operating in West Yorkshire, who had in the past actually lost small asylum housing contracts with both UPM and Kirklees council, for poor performance; and in Sheffield, Hull and Derby, Target Housing, a charitable housing association who in the past had worked only with ex-offenders.
In the North East part of the new G4S contract area, after prolonged negotiations, Jomast Developments became the sole and exclusive subcontractor for G4S. Although Jomast had extensive experience of providing asylum housing (it had been the sole provider for the UKBA under the previous Target contract since 2009 in most of the North East) there was to prove to be a shortage of quality private rented properties in this region also for Transition moves, and Jomast insisted on continuing use of its controversial Stockton hostel for 30 women asylum seekers and their 38 infants under one and a half years. Conditions in the Stockton hostel were criticised by the recent Childrens' Society Parliamentary inquiry into children and young people and asylum support (3)
Thus the inadequate supply of quality houses in the PRS throughout the region taken together with delays and incompetence on the part of the UKBA, G4S and its subcontractors, stretched out the 'Transition' period from 18 June to 6 December 2012.
The original draft G4S business plan for the COMPASS asylum housing 'Transition' process of moves for asylum seeker families and individuals submitted to the UKBA offered completion by 1 September 2012. Minutes of the Barnsley MBC asylum team for 27th January 2012 already mentions the absolute deadline for ending all Target contracts would be November 2012. When G4S failed to meet this deadline to transfer tenants the UKBA still maintained that they had not breached their contract even though new short term contracts had to be negotiated with local authorities which took the Target contracts through to December 6th.
Journalists like Emily Twinch of Inside Housing who had closely monitored asylum contracts since 2011 was certainly clear that G4S had failed to deliver on the contract, as was Cllr Peter Gruen, Leeds City Council Executive Member with responsibility for private sector housing regulation (4).UKBA apparently are unwilling to sanction G4S and to claw back this extra unbudgeted expenditure from the company – thus taxpayers are at present facing paying for this apparent contract failure by G4S.
Moreover G4S, although recognising that their subcontracting housing companies, were in breach of contractual guidelines (particularly in the pre inspection of contracted properties prior to allocation), the company will not be instituting financial or other penalties on their subcontractors.[5]
Delays, chaos and effects on asylum seeker families
This crucial lack of expertise of the contractors to replace UPM, coupled with a lack of housing supply, meant that the transition to the COMPASS contract was in Yorkshire, chaotic. Claire Dale, UKBA, SEO for Operations, Asylum Support and Compliance in West Yorkshire stated on 26th July 2012 in an e-mail to voluntary organizations stated:
As with all changes, we are experiencing some operational issues, particularly with regard to the availability of accommodation in the south of the region.'
These 'operational issues' meant that, at each stage, commitments were broken and pressure has been exerted on asylum seekers to move at short notice, to unsuitable properties, with inadequate assistance. I explain these issues in more detail below.  It is clear that they stem from a failure to have proper consideration of the needs of asylum seekers, particularly those with special needs over and above the vulnerabilities faced by all asylum seekers.
In August 2012 when the moves had originally been planned to be completed, in papers sent to the High Court, the UKBA disclosed that 'so far 53 people have completed a move and 651 have stayed in properties. That meant that, in Yorkshire and the North East, '3311 individuals still await transferring to COMPASS.' The original numbers announced almost six months previously were 4396 people to be transferred so incredibly slow progress was being made for G4S to meet its deadlines.
By September in Kirklees, only a handful of families had been moved out of 260 people in this category of accommodation. On 24th August 2012, it was reported that only one family had been moved. In Barnsley, only one family had been sent instructions to move. No one had as yet been relocated from directly owned Sheffield council asylum housing.
These delays were clearly evidence of planning and organisational failures in G4S and its subcontractors but the delays had really stressful effects on individual asylum seekers and families:
TWO ASYLUM SEEKER FAMILIES IN BARNSLEY
In Barnsley two families were supported through the Transition process by voluntary organisations. It was very apparent that the process was very stressful.
The families who were to be moved by G4S were three generation asylum seeker families with grandparents, parents and children with children at local schools, and family members with disabilities, and serious chronic illness. The families had lived in their council houses for more than five years awaiting outcomes of asylum claims. One family was told in July that they would be moved, allowed only two bags each person, and that they could be moved to Hull (72 miles away) or Newcastle (120 miles away). Over the whole summer, and into the autumn and winter for six months, the families had to be packed ready to go (The UK Border Agency and G4S later backed down on the 'two bags rule' after protests from campaigners).
Despite UKBA and G4S undertakings that families with children at school would be given two weeks notice of a move, one of the families was given five days' notice on 24 August and not told where they were to be moved, the move was then cancelled. The families then had repeated notices and cancellations, for the 28 September, for the 30 October, for the 9 November and then 12 November. A further cancellation was announced on the 12 November. One family had now had six letters from G4S giving notice of moves both families faced disruptive move in term time for their school age children. One family faced a move which would have cost them over £600 a year (£15 per week in term time, for bus fares to get the children to a school they could walk to from their council house).
Both extended families were moved by December 6th, but to unsuitable properties with promises of further moves to acceptable properties into January. It had taken almost seven months to resolve issues around relocating these families – and the families had been supported by volunteers, they had legal support from Public Interest Lawyers and members of the families were articulate and courageous enough to challenge UKBA and G4S.
There were many other examples of even long distance moves being repeatedly delayed
A Section 4 NASS supported individual was told she was moving from Huddersfield to Middlesbrough (90 miles). Transportation never arrived to pick her up. She would later receive three further notifications that she would be required to move and each time she packed her bags and prepared to leave. Each time no-one arrived to move her however and no explanations were forthcoming.   The stress and strains of relocation was being exacerbated by a lack of organisation and communication at all stages.
Unnecessary Long Distance Relocations
On 13th June 2012 when rumours were circulating amongst asylum seekers in Leeds about moves to Newcastle and the North East, Anita Bell Project Manager for COMPASS UKBA in Yorks and the Humber and the North East stated in a joint reply with Andrew Gray of G4S in two e-mails that
There is no intention during transition to re-house individuals currently residing in Yorkshire & Humberside to the North East.
And on 1st August 2012 Anita Bell stated that:
…currently all individuals affected by transition have been kept in their immediate locality.
However, on Tuesday 24th July 2012, a family of two adults and a one year old were moved 100 miles from Sheffield to Stockton-on-Tees. The move was witnessed by Sheffield volunteers. (See below) Another single asylum seeker refused to move to Stockton on the same day.
Further, on 4th July 2012 the Barnsley Council asylum team wrote to a family with two school age children who had been in a council house for five years waiting for a resolution of their asylum claim, warning them of a move to new accommodation which 'could be outside Barnsley'.  The family were then told officially in a personal visit from a member of the Barnsley council asylum team that the move could be to Hull (72 miles away), or Newcastle (120 miles away).
Although the UKBA COMPASS Transition officers and G4S initially ruled-out long distance transfers, they appeared to be no policy prohibition operating in practice.
Inadequate Notice of moves
Although the UKBA gave some undertakings for moves of asylum seekers (one week for single people and two weeks for families with school age children) under arrangements for COMPASS Transition, no such requirements were built into the G4S contracts on moves of Section 4 supported individuals and families from IA accommodation to asylum housing. Here there are examples of very vulnerable asylum seekers being given incredibly short notice of moves
A section 4 supported individual in Huddersfield was told at 4 p.m. on a Friday that she would be required to move at 9 a.m. on Monday. She was extremely distressed as she had specific mental health needs (PTSD and depression) and wanted to discuss relocation with her GP. Obviously, requiring someone to prepare to move in a two day window (and over a weekend) made such discussions impossible.
Inadequate Transportation of Belongings
G4S and UKBA at first clearly intended to follow the transport procedures established under their previous Target contract for dispersal from IA where they transported only 'personal items'. In Barnsley this was described as 'two bags each' by council asylum staff briefing a family about Transition who had lived in their council accommodation for over five years. Larger furniture etc. would have to be moved at the family's expense and no storage facilities were available. The Barnsley MBC letter of 4th July 2012 to the family and other asylum housing tenants, stated
The new company have informed us that they will not move large items of your furniture. We will be unable to store such items for you. You should make your own arrangements to move these items on the day you travel.
Campaigners protested to UKBA about this G4S rule as challenging already impoverished, stressed and traumatised families and individuals. A UKBA email of 1st August 2012 records what appeared to be a change of position by G4S:
G4S are providing the transport element of transition and in order to facilitate SU cooperation G4S will, except in exceptional circumstances, try to accommodate an individual's excess luggage either as part of the same journey, or if necessary storing it safely at the point of departure until it can be transported to join the individual at a later date.' [SU refers to Service Users i.e. asylum seeker families and individuals].
However, this stops a long way short of, a commitment to transport all belongings in all cases even allowing for the occasional extremely bulky item. Clearly, mothers with young children are going to have more than two bags with them. Nevertheless, Anita Bell of UKBA confirmed in an e-mail of 4th September 2012 that:
"…the 2 bag guidance to which you refer forms part of the accommodation provider's statement of requirement both under the exiting Target Contract and under the COMPASS contract. Consequently, should G4S take the decision to move excess luggage they do so outside the requirements of the contract.'
Lone asylum seeker mothers and children
The G4S COMPASS contracts have resulted in much worse accommodation and conditions for asylum seeker mothers and their children under school age. This conclusion is supported by the recent (January 2013) findings of the Childrens' Society Parliamentary inquiry into asylum support for children and young people.
The gradual and now total privatisation of asylum housing has totally changed the 'offer' on 'no choice' asylum housing – particularly its quality and suitability for children.
Under the so-called Target contracts for asylum housing, in the past, where local councils were involved in contracts, 'decency' standards applied, which are much higher than the Housing Act responsibilities of landlords in the PRS. The G4S takeover of asylum housing has highlighted a number of cases in the past few months, during the 'transition' period between contracts, where children have been moved from council or council contracted properties, where the safety and health of children have been put at risk. This has also been the case in a number of cases where children have been moved from IA (Initial Accommodation), or dispersal centres, to asylum housing.
Evidence from the University of Huddersfield Centre for Applied Childhood Studies to the Childrens' Society enquiry cited
'Apparent decisions on accommodation under the new COMPASS contracts and on dispersal to asylum housing which treat lone parents with very young children as single persons for housing purposes with inadequate regard for the needs of their young children.'
As a result the Centre in its evidence recommended a
'Government review into the contract compliance of G4S and their sub-contractors, including due diligence processes and equality impact assessments. Such a review should include the impacts of the G4S contracts on the well being of children and young persons' (5)
It therefore seems apparent that children under school age and in particular babies and infants under two years six months with a lone parent mother are either simply ignored in allocating 'no choice' accommodation, or housed under Housing Act and Public Health space and quality standards, much lower standards than were being applied by councils contracted for asylum housing in the past.
A number of cases have been exposed over the period from May 2012 to the present. It is important to stress that in the asylum support system no asylum seeker individuals, families or children are moved from any accommodation, or to any accommodation, without express UKBA approval. This has always been the case and still is the case.
Six weeks in a dangerous unhealthy bed sit for mother and ill baby
In late May an African asylum seeker mother and her six weeks old baby, receiving section 4 support, was evicted from asylum housing in Bradford by the UKBA and G4S's then partner contractor UPM, and transported to a single person's 'bed sit' in Doncaster forty miles away. The six week old baby had a diagnosed heart murmer and was receiving specialist treatment under a consultant in West Yorkshire. The parent did not receive her cash vouchers on arrival and local volunteers had to provide emergency provisions, nappies etc for mother and baby.
The bed sit had only a tiny sink for water and washing, and was in an HMO (housing in multi occupation) in an area used by rough sleepers and known for far right activity and racist harassment. The mother and baby had to endure men sleeping in her doorway and racist abuse and an attempted break in. The police formally investigated these incidents and they advised her not to go out of the flat unless really necessary. The bed sit over heated regularly threatening the well being of a very young baby.
A few days after the arrival of the mother and baby, after protests from SYMAAG in South Yorkshire and the church organisation BEACON in Bradford, the UKBA accommodation compliance inspectors visited the bed sit and declared it unfit for the housing of a mother and baby. Yet it took six weeks for the UKBA to move the baby and mother. It was the intervention of Doncaster Council Childrens' Services, alerted by SYMAAG campaigners, which forced the UKBA to order a move back to Bradford.
Despite UKBA undertakings that families would not be sent the 140 miles from Sheffield to Stockton on Tees, on the 24 July an Afghani couple with a one year old asked for a move from their poor standard accommodation with their child. There were contracted houses available in South Yorkshire and yet the family was transported to Stockton by G4S away from a range of support organisations in Sheffield.
G4S refuses to transport baby belongings and mothers food in 'two bags' rule
On Tuesday 28 August a Zimbabwean mother a few weeks after a Caesarian birth was told by G4S that she had to move from IA accommodation in Barnsley to the North East. Her hospital and the Barnsley asylum team intervened and her move was changed to Rotherham relatively near to her hospital support in Sheffield. She was moved with two bags only, and G4S refused to transport important items for her baby and her own food. Her cash vouchers were not given to her on arrival in Rotherham and volunteers had to provide emergency provisions for her and her baby. After protests G4S delivered the baby items the next day. In Rotherham she was allocated single person's accommodation. She continued to have problems with her support and emergency payments had to be pursued from the housing provider Target Housing.
In the same set of flats alongside the Zimbabwean mother and baby a Libyan student couple and a very young baby were also allocated a single person 'bed sit' as long term housing yet they had been moved from spacious IA in Barnsley.
In both these cases right to remain was granted very quickly after their moves to Rotherham-there was no need to move the new babies and mothers at all.
A female tenant and 12-week old baby were moved from Huddersfield into shared housing in Stockton-on-Tees, which already included women with babies and children. There appeared to be no clear picture about when shared accommodation was suitable or not suitable and as to what, if any, assessments were carried out to decide on a move to shared accommodation.
The G4S / Jomast hostel for mothers and infants in Stockton on Tees
In October 2012 research was undertaken on a lone mother and baby hostel G4S had contracted from Jomast Developments a property development company in Stockton.The research was published on the Institute for Race Relations website(6). Asylum seeker women residents or former residents of the hostel have continued to campaign for the hostel to be closed at least for childrens' accommodation. One of the residents gave oral evidence to the Childrens' Society parliamentary enquiry on November 20th about the unacceptable conditions for babies and infants in the hostel. The woman also collaborated on a Guardian investigation of the hostel published in December (6) As a result the person concerned believes the UKBA withdrew Section 4 support and threatened to evict her and her one year old from the hostel despite her appealing the decision. A national campaign persuaded UKBA to stop the eviction and the appeal is to be held on the 14 February 2013. UKBA last year moved another woman from the hostel (then part of the Target contract) because of her protests on conditions in the hostel.
There is unpublished evidence re. the hostel which demonstrates that local professionals have opposed the very idea of such a hostel and qualified staff have resigned in protest at conditions there. A formal complaint about the hostel to the UKBA in 2012 elicited the following response on 19 November
'The use of the hostel facility……was the subject of a detailed consultative process involving numerous local agencies and organisations. We have not received any specific complaints or details of any issues in relation to breaching of contractual obligations from any past or current residents or from any of the organisations involved in the support of those residents. If any such referrals are received then they will be investigated accordingly.'  (7)
In fact as the UKBA knew meetings of residents with G4S and UKBA had taken place prior to the COMPASS contract where demands had been made for closure of the hostel. As a professional university researcher my research on the hostel did not uncover any organisation or professional in local support organisations who endorsed the use of the hostel by G4S and the UKBA. In fact everyone I spoke to wanted the place closed down but of course professional ethics on confidentiality meant that none of these individuals were willing to go on public record.
Currently there are two formal complaints to UKBA being prepared from current and past residents of the hostel. Legal advice is suggesting that future challenges to the use of the hostel might concentrate on actions citing Section 55 of the 2009 Borders, Citizenship and Immigration Act and responsibilities on subcontractors of the UKBA on asylum housing, for the safeguarding of children and promoting their welfare.
G4S / Jomast simply seems to ignore Home Office and UK Border Agency rules for children in the asylum system which state: "Our statutory duty to children includes the need to demonstrate fair treatment which meets the same standard a British child would receive." (8) It is surely not the case that public authorities would sanction the use of, and fund a hostel like the one in Stockton if the infants were
'British'.
When the recent Childrens' Society Parliamentary inquiry into asylum support for children and young people was published, which refers to the Stockton Hostel, Maggie Atkinson, Children's Commissioner for England, said: 'We remind the government that, under the UN Convention on the Rights of the Child, they are required to ensure that all children, irrespective of nationality, ethnicity or immigration status, are enabled and supported to survive and develop. Systems and processes for supporting children, and that includes those for asylum seekers, must be designed with their best interests as a primary consideration.' (9)
Unsuitable moves for women (and children)
Voluntary organisations throughout Yorkshire organised support networks for asylum seekers who wanted to contest their moves in terms of suitabilty, and size of properties, medical conditions and vulnerability, locality and implications for the well being and education of their children. Public Interest Lawyers were able to offer free legal support to contest moves. This meant that potentially harmful moves particularly for children were successfully contested including for instance a threatened move of a Cameroonian family in Sheffield.
On a freezing cold night, a severely ill woman recovering from cancer and in receipt of S.95 support was relocated from Huddersfield town centre to the outskirts into Cascade shared accommodation. There was no heating or hot water in the property and she was not provided with bedding. When she insisted that she was ill and could not stay in such a property, she was told that she would be moved to a property in another town. When she refused to be moved outside of Huddersfield where she had an established support network, she was provided with a single quilt and later that evening a temporary heater.
The support network and the legal work of PIL (Public Interest Lawyers) exposed the fact that there was little evidence that G4S and the UKBA had systematically assessed the needs of asylum seekers or their families prior to moves. The UKBA admitted in a FOI request on moves in Sheffield that during Transition it was not itself monitoring inspections of properties but delegating this to G4S and its subcontractors. Evidence began to emerge of many properties which clearly had not been inspected and declared compliant.
In Leeds two cases in December exposed the negligence of G4S and its subcontractors in this case Cascade Housing Ltd both in their failure to inspect properties and unwillingness to respond to maintenance and major repairs issues
Angela and Ruth and G4S / Cascade slum housing in Leeds December 6th to 14th 2012
In mid-December 2012 two women asylum seekers in slum quality G4S / Cascade Housing houses in Leeds defied the UKBA and an imposed move into privatised accommodation from decent council accommodation. They went 'public' despite the fact that they are vulnerable, existing on UKBA 'Section 4 support'.
Ruth and Angela (not their real names), working with voluntary organisations have proved that asylum seekers can assert their rights to demand decent housing.
Angela was forced to stay nearly a month with her five month old baby in the Leeds landlord Cascade's property in the Chapeltown / Harehills area in a slum of a house with wet rotten floors, infested with cockroaches and slugs. Ruth with three other women asylum seekers endured, for six weeks, life in another Cascade-owned filthy Chapeltown property with constant loss of electric light, water leaks and no heating or hot water for weeks at a time.
I interviewed the two women on Thursday 6 December, and  sent angry protests to the United Kingdom Border Agency, and G4S and to Leeds City Council ward councillors and senior members of the ruling Labour Group. I publicised the cases throughout the notog4s activist network of campaigners, academics and lawyers and with a number of journalists who had covered the G4S asylum housing contract. A journalist from the Independent took up the story.
On Monday 10 December the City Council Environmental Health inspectors declared Angela's property having the "Capability of becoming a Category 1 Hazard and unfit for human habitation in its current condition'. Despite this Andrew Gray of G4S blamed Angela for the problems saying 'This property was inspected before the individual moved in and there was absolutely no damp problem and certainly no sign of pest infestation then". Angela had taken photographs from moving into the house, and everyone new Gray's claim was nonsense.
The Council inspectors were quickly followed on Monday by UKBA 'contract compliance' inspectors, clearly shocked at Cascade and G4S's abuse of their contract. The G4S property inspector finally arrived the next day, Tuesday 11 December. as did a solicitor who had taken on Angela's case. On Tuesday evening G4S caved in, and rang Angela offering her a move to a 'better' area assuring her she could vet the new property before moving. Soon after the G4S call the City Council rang saying that if Angela found her new property unacceptable she had to ring immediately.
Angela looked at the place and accepted it, and she moved on Wednesday evening. The council then insisted on G4S and Cascade joining an inspection of Ruth's accommodation. They told G4S to move the four women and to undertake major repairs and not let the property again till they were completed. The women moved on the 14th .The council have now made G4S look at all the Cascade rented accommodation for asylum seekers in Leeds and submit them to the council for approval. (10)
Poor Quality Destination Housing, Unsuitable for Families
A Sheffield case in the second week of August exposed major failings in the way G4S and the private landlords (in this case Live Management) approached COMPASS Transition moves of asylum seeker families with children. The family with four children from 6 months to seven years were given two weeks' notice by G4S on 6th August 2012 of a proposed move to another property.  The family had already been moved from the South coast on 7th June 2012 (under the previous contract regime) to a poor quality three bedroomed terrace house, which they had spent considerable time and effort improving.  They had, after touring local schools, found a school for their two school age children for September, three miles away from their house. After notification of the subsequent proposed move, the father went to look at the outside of the new property. It had an overgrown and rubbish-strewn back yard.  Neighbours said it had been empty for a long time and had only two bedrooms.  The family feared an exact repeat of their appalling housing experience of the past three months and feared the move would put the school places in jeopardy.  They appealed to UKBA and G4S who rejected their appeal, and were told that the property was a four bedroomed property and would be thoroughly cleaned by Live Management for their move.
SYMAAG raised the issue with G4S, Live Management and the Council. Even on Friday 17th August 2012, with the move scheduled for the 20th, G4S was insistent that the new address was a four bedroomed property 'according to Live Management'.  A SYMAAG volunteer had seen the property on Wednesday 16th August and confirmed that it was in poor condition externally and certainly looked like a two bedroom terrace. These facts were confirmed by an internet property search in which the property was described as having two bedrooms.
After our intervention, UKBA, G4S and Live Management relented and confirmed with the family that the move had been cancelled and urgent replacement carpets and improvements would be made to their existing accommodation. This was confirmed in a phone conversation I had with a senior housing officer with Live Management in their Leicester headquarters.
Below is a report from a volunteer who accompanied two women asylum seekers to their new allocated asylum housing in Sheffield in October
'They have a small child each.  The flat they have been allocated is truly appalling.  Apart from having no fridge, an outside stairway access with no lighting, plus some other issues, it is infested with bedbugs and the children have been bitten.  This is obviously an environmental/public health issue and is being dealt with.  Importantly, the flat is supplied by an agency contracted to G4S.' The 'agency' was Live Management Group.
In Rotherham there are documented cases of Target Housing Association procuring very poor quality housing and placing families in uncleaned and unprepared properties.
Some single asylum seekers in Rotherham who have been there five years have refused to go 120 miles to overcrowded dirty accommodation in Middlesborough. They are now effectively destitute.
On October 30th an Iranian asylum seeker and her children, one son aged 19 and a daughter aged 12, recently arrived in the UK were dispersed from Barnsley to Sheffield. A volunteer worker for ASSIST, one of the asylum support charities in Sheffield agreed to visit the accommodation allocated to the family. Here is her account
'On arrival I found the flat to be on the first floor above a shop.  It is approached up a metal staircase at the back of the building.  There is an outside light at the top of the stairs which doesn't work.  In my view the stairs constitute a hazard at night without a working outside light.
The kitchen had a large puddle covering most of the floor, from a leak which appeared to come from the washing machine. The G4S housing contractor had told the family in the morning that he would have it repaired.  At 4.30 that afternoon nothing had been done and the kitchen was unusable with the floor covered in water.
On inspection I found the oven and the grill to be filthy.  The same was also true of the fridge and freezer which also had mould growing in them. In the bathroom the cabinet above the basin was also filthy.   There is a broken light switch in the bedroom. The general appearance of the flat was dirty and it seemed that it had not been properly cleaned since the previous occupant left. The G4S contractor had compelled the mother of the family to sign a document saying she would accept the flat.  She was very reluctant to do this, given the state of the place but he told her he could not allow her into it unless she did.   Being afraid that she and her children would have been left standing on the pavement if she didn't sign, she agreed.'
Two national newspaper journalists documented the poor quality of properties allocated by G4S and its subcontractors
A family was moved from Huddersfield into a property in Leeds with insect infestation and huge amounts of rubbish. There had been no attempt to clear or clean the property since the previous tenants had occupied. In fact, the family were originally told they would be moving to Halifax but were then diverted to Leeds during the journey. Where the move destination is changed after the client has left their former property, this can cause problems whereby the former housing provider has the incorrect address for forwarding mail, with the implications that solicitor or tribunal letters would be significantly delayed.
In November 2012 Nina Lakhani of the Independent documented two cases (11)
Sarah, 31, a Tamil from Sri Lanka who sought asylum in 2008, has been in Sheffield with her daughter, aged 5, for three years. The two were moved from Huddersfield after serious domestic violence.
They lived in a tiny council flat, up on the fourth floor where Sarah felt safe, until 1 September when they were moved by G4S to a basement flat, away from the little girl's school and Sarah's GP and counsellor for depression. There was mould and a leak from upstairs into the girl's bedroom. Sarah found rat poison in cupboards, which the landlord advised not to remove since it acted as a deterrent.
"We were very settled before, my daughter had made friends," said Sarah. "I was volunteering with the Refugee Council, and I was seeing my GP and a counsellor. The letter from G4S said we had to move but no address, it felt like they were blindfolding my eyes and leaving me somewhere.
"My daughter's friends only came once. [Eventually] I was moved to this new place.
"My daughter has had to move schools and she misses her friends, but at least we feel safe here."
Ruth, 31, left Kenya in 2006 to escape forced female genital mutilation – compulsory in her tribal sect.
She has been in West Yorkshire for four years, the past two years in Huddersfield, where she volunteered with the Red Cross, was active in her church and had a network of friends.
Two weeks ago she and another asylum seeker were collected in a van to be taken to a new address in Bradford, as part of the G4S re-housing scheme. She says they were told en route that the plan had changed and they were going to Leeds, to shared accommodation as they could no longer expect separate flats. The place was dirty and had visible damp on the walls. Ruth refused to sign the tenancy agreement.
"I could not wash for five days until they replaced the bath," she said. "On one day last week there was no electricity all day. It is an electricity card meter so if it runs out at night or the weekend, we have to live in darkness and without a cooker because we cannot top it up. It's only because I complained that they have put some new things, but most people are too scared to complain or can't speak English. The council treated us like people; these companies just want to make profits. But we are human beings."
And in January 2013 Emily Twinch of Inside Housing highlighted further cases (12)
F breaks down in tears as she talks about the number of times she has called her landlord to sort out problems with her property.
'I called them a hundred times and I get nothing. I am really tired,' she says. 'I told them I would kill myself.'
It took about three weeks to get heating, F says. When she first moved in, a broken internal door meant people walking past could see straight into her bedroom. The door took a similar amount of time to fix, she adds.
While these problems have been sorted when we visit F home in Sheffield in November – about six weeks after she moved in – F still has clothes drawers that are falling apart and no door on the food cupboard in the lounge/kitchen of her small one-bedroom flat.
She points out she must pay for every phone call to her landlord and, as an asylum seeker with an income of £36.62 per week on section 95 support from the UK Border Agency, it is money she could do without spending.
F has moved into a property run by a sub-contractor of security giant G4S, which was awarded the contract for housing 3,816 asylum seekers in the Yorkshire and Humberside region in March. She says the standard of housing and service she receives is much worse than that provided by previous landlord, Sheffield Council.
'[The council] were the best people I have [met] in the UK. They asked us what we needed all the time. When they visited me they wrote a letter or called me [in advance].' Her current landlord, she says, either does not turn up when she has a problem – or does so unannounced.
In a second property in Sheffield, we find 12 men living in a six-bedroom house – two to a room. Kasun (not his real name) has been living here since September. He says when he tries to call G4S about a broken toilet and light in the shower room, no one picks up the phone. When he has been able to get through, he has been assured someone will come out to the house, but no one turns up.
A representative from the landlord came to the house about three or four weeks ago, Kasun says, yet the light he asked them to fix is still broken when we visit.
A spokesperson for G4S admits there 'have been issues with the service centre but these have been resolved'.
Appalling conditions
The 12 men share one upstairs toilet, as the second one downstairs is broken. The mould that was in one of the two fridges when they moved in has continued to grow, while the other is prone to breaking down. The railings on a flight of narrow stairs going up to the third floor of the house come away from the wall as you grab onto them. The lino in the bathroom has stains which look like mould and the kitchen walls are splattered with flecks of fat that appears to have been welded on for some time.
Kasun says when they moved in the place was filthy and they had to clean it themselves. 'This is not a home,' he says. 'This is jail.' When asked why he doesn't complain he voices many asylum seekers' fear – deportation. 'I can't complain. G4S and UKBA are more powerful than me. They can deport me,' he says.
A reply to a FOI request to the UKBA concerning moves to accommodation in Sheffield on 8 November 2012, suggested that UKBA COMPASS civil servants were very poorly briefed by G4S
'All properties were inspected to ensure contract compliance by G4S providers prior to them being used by providers' (13}
By the end of the Transition period on 6 December 2012 Stephen Small of G4S at last admitted the truth, that much of the stock they had used for rehousing asylum seekers was in effect non compliant with the COMPASS contract and its requirements on quality
'He (Stephen Small) also pledged to improve the standard of housing. He admitted: 'Much of the housing stock we have inherited from the previous providers does not comply with the higher standards demanded of the [commercial and operational managers procuring asylum support services project] contracts, and we are now embarking on an improvement plan with our accommodation providers and local authorities which will see standards raised across all our property portfolio.' (14)
Cut price tendering, staff cuts and cuts in service to asylum seekers
Contracts for asylum housing since the 1999 Immigration and Asylum Act and the 'dispersal' of asylum seekers from the South East have proved to be extremely profitable to for profit private housing companies. In 2005 the Guardian pointed out that 'Home Office contracts have been enormously lucrative for the private sector'   In 2004 the Home Office spent £439m on accommodation, and in July 2005 the National Audit Office estimated that this was £25m above 'market rates' (15). Major property developers like the Angel Group were actually launched from asylum housing contracts (In the case of Angel from housing single asylum seekers in Kent in 1999).Opportunities for profits have obviously declined with the rapid drop in the numbers of people claiming asylum in the UK, but the COMPASS contracts are still valued at £620m over the next five years. The contracts almost before they became operational were in one case sold on to a new company. Capita bought Reliance Secure Task Management in August 2012 for £20m. Reliance had formed Clearel Ltd with Clearsprings housing company and were allocated contracts for asylum housing in the South East, South West and Wales.
The financial and property crash of 2008 has given new opportunities for companies interested in profits from asylum housing.
In West Yorkshire a development of twenty apartments became unsaleable on completion in 2008.A small property company bought them and subcontracted them to private company UPM for asylum housing. In 2011 the property company was put into receivership and another small company bought all the twenty flats in early 2012 for only £495,000 with a guaranteed annual rental income from the 'sitting tenant' asylum housing company UPM of around £1m per year. When G4S dropped UPM in June 2012 as a favoured partner the apartments, which were mostly allocated to lone mothers and very young children were 'novated' across to Cascade Housing Ltd for the COMPASS contract.
Despite receiving a possible annual £1m to subcontract the apartments to the property company Cascade and its maintenance staff, cleaners, and housing management workers simply failed to provide any maintenance service at all to the asylum seekers and the apartments for the next six months. Asylum seekers had high quality accommodation which they cleaned with the few mops and brushes available, but furnishings were of poor quality and new kitchens were supplied with few utensils and a mother and child received two knives two spoons two plates etc. Of course if you had two children then three spoons three plates etc
After six months neglect communal spaces had filthy windows, heaps of rubbish left by Cascade when flats were cleared for new tenants; the lift had never worked and ground floor stairwells were blocked with buggies. Light bulbs fixed high in ceilings had never been replaced and some apartment areas were in permanent darkness where there was no natural lighting. Batteries for fire alarms had not been replaced and the building was filled with the bleeping of alarms. Volunteers took photos and contacted statutory services fearing a disaster if there was a fire in the building, and also fearing for the health of young children exposed to unhygienic communal areas. After the interventions by voluntary organisations Cascade cleaners arrived and light bulbs and batteries suddenly appeared.
Cascade the G4S contractor for West Yorkshire, Jomast the contractor for the North East and Target one of the contractors for South Yorkshire have all employed far fewer housing management staff under COMPASS than local authorities and private contractors did under previous Target contracts. Interviews with present and former staff of private housing companies (and one housing association ) contracted to G4S, throughout Yorkshire and the North East  have uncovered job cuts, poorly paid, unqualified and inexperienced workers, and totally inadequate staffing levels. This has resulted in inadequate preparation of properties, further subcontracting of procurement, totally inadequate repairs and maintenance services – and stress, and degrading treatment of asylum seekers and their families. G4S and its subcontractors tendered at a price it is believed well below that offered by the previous local authority consortia and have vigorously cut support services and housing management services to squeeze out profits from reduced income.
Eviction of a pregnant asylum seeker in Rotherham
On 8 August a heavily pregnant asylum seeker resident in Target Housing Association accommodation in Rotherham was granted leave to remain in the UK. As a refugee the woman had to leave the property, her landlords, subcontractors of G4S, would not be paid by the UK Border Agency if she lingered there.
Her eviction notice was for the same day as the local hospital had insisted that she should go and have the birth induced. Target management made her pack, and suggested that she find her own way with her bags, first to emergency homeless accommodation, and then on to the hospital, pointing out that her destinations were on bus routes. It was only the intervention of a sympathetic member of the Target staff who insisted on using her own car to get the woman to housing and the hospital which made the journeys possible.
All the support agencies in Rotherham made clear that such events would have not taken place when the Local Authority Target contract was in place.
Target HA was one of the subcontractors to G4S where former staff have been willing to document totally inadequate staffing and profit driven decisions on vulnerable asylum seekers. (16)
The lack of staff has meant that on arrival at new accommodation there have been many examples of tenants receiving inadequate service from G4S subcontractors' housing staff.
A woman was allocated accommodation from Huddersfield to Bradford and the G4S driver took her to the property. There was no one to meet her at the accommodation. She was left in the property with one cash voucher to buy food. She did not receive any induction or transition pack.
A family of 3 were allocated accommodation in the North-East, moving from Huddersfield and the G4S driver took them to the property. There was no one to meet them at the accommodation. They were left in the property with two cash vouchers. They again did not receive any induction or transition pack.
Social Cohesion and Contract obligations to protect asylum seekers from being allocated to 'vulnerable properties with risk of 'racist incidents'
Under UK Border Agency contracts, providers have a clear duty to safeguard asylum seekers against racist incidents: "Accommodation providers must keep under review their property portfolios with regard to the vulnerability to racist incidents of people living in particular premises or in particular area . . . Accommodation providers must consult… about allocations to such vulnerable premises and not let these premises to households who may be foreseen to be at risk from harassment." (17)
As early as June 2012 UPM G4S's preferred partner for the COMPASS asylum housing contracts sent an asylum seeker mother and sick child 40 miles from Bradford to Doncaster to a known area where racist incidents were common. She was racially harrassed whenever she left the premises and police advised her to stay indoors
In Sunderland G4S / Jomast refused, in October 2012 in clear breach of its UKBA contract, to give lists of housing to be used for asylum seekers to the police, and local councils. At a meeting in Sunderland on Wednesday 17 October of a group looking at issues surrounding future asylum seekers' support, both the Sunderland city council Housing Manager and the police civilian liaison officer confirmed that Jomast had stopped notifying them who they are putting where.
G4S has appointed a Social Cohesion Manager who seems not to have been active in the North East, where asylum seekers are allocated dirty rooms in high crime areas. Properties are being used in Sunderland well known for far right activity at a time when racist activity is on the rise. On 6 October the far right Infidels mounted a violent demonstration in Sunderland city centre. (18)
G4S / Jomast refuse to move African couple aged 80 and 70 under siege by racists for months
On 8 August, with only seven days' notice, Jomast Developments evicted an elderly African asylum seeker couple from a flat in Sunderland. Mr A is 80, Mrs A is 70. The couple had been dispersed to the North East in 2008. They had lived in their flat in Sunderland since 2010. The couple had developed good links with asylum support organisations and the Freedom from Torture organisation. Mrs A, who has diabetes and is disabled, had received specialist support and adaptations from local social services and the NHS. The couple was sent on by the UK Border Agency and Jomast to a flat twelve miles away in Gateshead.
Two weeks after they arrived, their flat became the target for a series of racist attacks with stones thrown at their windows and constant chanting of racial abuse. A series of such racist incidents, many recorded by local police, occurred throughout September and into October. The couple's plight was well known to the local Gateshead Hate Crime Tension Monitoring Group where both the UKBA and Jomast are involved. Jomast argues it has no properties available back in Sunderland, and the UKBA refuse to move the couple. (19)
Kurdish journalist sent to known racist area in Stockton
On the evening of Tuesday 30 October a new asylum seeker sent from London, 250 miles north to a property in Thornaby, Stockton found himself, along with four other asylum seekers, besieged by a crowd shouting racist abuse. They broke down the door and broke windows. The asylum seeker, a journalist, had only recently fled from such harassment in Iraq. The area is well known for racism and rowdyism yet the police refused to record the attack as a 'racist' incident. The landlord simply repaired the door (not the window), and refused to move the journalist. The other four asylum seekers left the property, fearing further attacks
In Sunderland G4S and its contractor Jomast managed to allocate a dirty shared room in a high crime area well known for far right activity to an Eritrean Olympic athlete claiming asylum (which he has now achieved).(20)
Asylum Seekers Raising Complaints
Most asylum seekers in asylum housing, particularly those receiving section 95 support, have told asylum support workers and volunteers that they fear that asylum claims might be affected by them complaining or raising issues. This may not be the case but the perception is present.  With section 4 support, the power of UKBA to impose more onerous conditions at will is obvious. What Guardian journalist Zoe Williams has described as 'Theresa May's private fiefdom' when describing measures taken against a woman speaking out on conditions in the G4S / Jomast Stockton hostel  (21) make it very difficult indeed for asylum seekers housed under the COMPASS contracts.
The UKBA definition of a 'complaint' has a certain surreal quality. Complaints have to be from 'service users' citing their NASS numbers their Home Office identification, full names date of birth and address. Voluntary organisations have to have proof of asylum seekers nominating them to 'complain' and give all the details above. Then the Home Office and UKBA refuse to answer 'complaints' from third parties on individual cases. At present advocates and voluntary organisations working with asylum seekers can only use national 'complaints' routes through the UKBA website which you are warned could take up to three months to respond to. This is almost four times the period in which FOI (Freedom of Information) requests have to be answered.
Now that asylum housing is outsourced the process of complaints from asylum seeker tenants to their landlords becomes even more opaque, and UKBA contractors less and less accountable for the public funds they are expending. The 'new delivery model' means that small landlords are contracted through letting agents or the major subcontracting companies. The major providers in turn sub contract from G4S. A complaint to your landlord becomes a major bureaucratic journey.
Asylum seeker tenants were stripped of all tenancy rights under UK legislation in 1999. The transition process has exposed a system which makes it almost impossible for asylum seekers in COMPASS housing to register 'complaints'. The 'help line' facility of G4S from Worksop simply failed to operate for much of the crisis period of November. Interpreters are rarely available when asylum seekers are introduced to properties and the question of translating letters and communication has simply not been addressed.
A case in August 2012 illustrates the dangers of UKBA and G4S not translating letters or bothering to check whether asylum seekers were ready to be moved.  A volunteer was contacted by the friend of an asylum seeker in Sheffield who was very distressed because he had received a letter whilst in hospital undertaking treatment for a heart condition, saying he would have to move. Neither he nor his friend understood written English, but when the letter was reviewed by asylum workers they were able to inform him that it stated that he was, in fact, NOT going to be moved.  A great deal of unnecessary distress was caused to a tenant undergoing treatment in hospital, caused by the lack of translation or follow-up.  This case also suggests that UKBA case owners do not inform G4S of medical conditions of people moving or their language competence. The UKBA in commenting on this case again was reduced to the opaque response that they actually did translate the receipt slips for letters!
When asylum seeker tenants do 'complain' they are immediately unlawfully sanctioned, and punished by the UKBA.
In the case of the African woman and her baby left in a Doncaster bed sit for six weeks the fact that she had to sign at UKBA regional centres more frequently when she was relocated to Doncaster either in Leeds 25 miles away or Sheffield 20 miles away, was in fact a UKBA disciplinary response to her complaining.
A woman was moved from the Jomast Stockton hostel under the Target contracts for organising protests to conditions there. In January 2013 Section 4 support was removed from the most outspoken resident in the Stockton hostel and she was threatened with eviction and destitution for herself and her infant daughter. A media and voluntary organisation campaign stayed her eviction and restored her support.She believes this was directly related to her giving evidence to a Childrens' Society Parliamentary enquiry about conditions in the hostel. Her appeal is scheduled for a date in February.  (22)
It is therefore unsurprising that UKBA and G4S communication channels are viewed with some scepticism by asylum seekers. It is very difficult for asylum seekers to tell UKBA and G4S about their circumstances as the system has erected so many barriers to this.
What was remarkable was that the UKBA COMPASS team in Yorkshire and the North East announced that despite their very narrow definitions of 'complaints' they had registered 14 per cent of people and families moved had a complaint to them about the G4S move and their G4S housing. UKBA should be required to revise its complaints procedure so as to ensure speedy and sensitive responses and no victimisation of those who make complaints.
Conclusions and Priorities for a Review and Investigation of the G4S asylum contract in Yorkshire and the North East
From the evidence presented in this Report it is abundantly clear that the UKBA  simply failed to deliver on its promises, at the beginning of the G4S COMPASS contracts, in their 'Stakeholder FAQ's' they said
26. What involvement will UKBA have with relocations?
UKBA will be working with current accommodation providers to identify any special requirements that service users may have and will be sharing this information with new providers so that the most appropriate accommodation can be provided.  UKBA will oversee the current providers' Exit Plans and new providers' Transition Plans to ensure that the provision of services is seamless during the transition period.
It is clear from the evidence described above that that there never were procedures in place 'to "identify any special requirements of service users" prior to moves carried out by UKBA or G4S under COMPASS Transition. UKBA appeared to be relying only on what information they may fortuitously have had in some cases.
There never was a system to assess the personal circumstances of individuals and families.  An enquiry to the Sheffield Safeguarding Children's Board in April 2012 established that, so far as children are concerned, there was no impact assessment carried out during the due diligence period to look at the effects of the wide scale moves on the wellbeing of asylum seeker children.  Therefore no interviews or questionnaires were carried out with individuals or families to assess risks to health, well-being etc. of transferring and potentially relocating the 3816 people in Yorkshire and the North East who were part of the COMPASS Transition process.
There is no evidence whatsoever, that anyone at any level in the UKBA, G4S or subcontracting companies had the time or staffing resources or even the will to actually assess, evaluate or even monitor effectively the carrying out of the COMPASS Transition process. Most important of all the abject failure of all those involved in the chaos and failures of the last twelve months has had a profound and distressing effect on the lives and wellbeing of already vulnerable and traumatised asylum seeker individuals and families.
A rigorous and comprehensive investigation of the G4S asylum housing, IA (Initial Accommodation) and transport contracts in Yorkshire and the North East over the calendar year 2012 needs to be undertaken
The Enquiry needs to prioritise an investigation into the failure of the business model championed by G4S and the inevitable but catastrophic resort to use of unfit, unhealthy slum properties to house asylum seekers awaiting outcomes of asylum claims and those in receipt of Section 4 support.
Providers already admit widespread breaches of contract requirements for inspections prior to allocation. Any enquiry should make recommendations on the use of financial penalties or even cancellation of contracts with such widespread admission of breaches of contract.
An investigate should also focus on the housing management services provided for within the COMPASS contracts and the evidence of delivery by G4S and its subcontractors
Any enquiry should prioritise procedures whereby the identity of asylum seeker tenants making complaints should be protected.
In the light of the Childrens Society Parliamentary enquiry into asylum support for children and young people, where evidence of the COMPASS contract housing conditions in Yorks and the North East including the Stockton G4S/Jomast hostel were heard, further rigorous investigations need to be carried out on the effects on children of the asylum housing provided by G4S.
It is our view that G4S has proved that it is unable to carry out the asylum housing contract .The contract should be cancelled and more appropriate social housing providers should replace them
References:
1. Emily Twinch 'Asylum housing budget slashed by almost £30m' Inside Housing 8 April 2011
http://www.insidehousing.co.uk/news/care-and-support/asylum-housing-budget-slashed-by-almost-%C2%A330m/6514419.article
2. John Grayson 'G4S asylum housing the evictions begin: mother and baby dumped in sub standard flat' OpenDemocracy.net 30 May 2012
http://www.opendemocracy.net/ourkingdom/john-grayson/g4s-asylum-housing-evictions-begin-mother-and-baby-dumped-in-substandard-fla
See also articles by Max Salsbury and Stuart Crosthwaite on www.24dash.com
http://www.24dash.com/news/housing/2012-06-01-Mother-and-baby-dumped-in-unsuitable-flat-by-Border-Agency-subcontractor
3. See Section 'Home Life' in Report pp. 19 – 21
4. Emily Twinch 'G4S misses asylum seeker deadline' Inside Housing 16 November 2012
http://www.insidehousing.co.uk/care/g4s-misses-asylum-seeker-deadline/6524663.article?dm_i=1HH2,12390,811933,397EN,1
See also Emily Twinch 'G4S has ten days left to rehouse 349 people' Inside Housing Friday 2 November 2012
http://www.insidehousing.co.uk/care/g4s-has-10-days-left-to-rehouse-349-people/6524444.article
See also 'G4S 'fails again' as deadline on asylum seekers' housing looms' The Yorkshire Post Thursday 1 November 2012
5. Written evidence of University of Huddersfield Centre for Applied Childhood Studies to Childrens' Society Parliamentary Inquiry into asylum support for children and young people December 2012
6. John Grayson 'G4S, Jomast Stockton Hostel and the Mother and Baby Market' www.irr.org.uk
24 October 2012
http://www.irr.org.uk/news/g4s-jomast-stockton-hostel-and-the-mother-and-baby-market/
Zoe Williams 'Evicting asylum seekers? We just follow orders' The Guardian 14 December 2012
http://www.guardian.co.uk/theguardian/2012/dec/14/asylum-seekers-contractors-mothers-housing
7. UKBA response to official Complaint from John Grayson on asylum housing contract in the North East 19 November 2012
8. See UKBA and Department for Children Schools and Families 'Every Child Matters: Change for Children' November 2009
9. Quoted in Emily Twinch 'Asylum families living in appalling conditions' Inside Housing 30 January 2013
http://www.insidehousing.co.uk/care/asylum-families-living-in-appalling-conditions/6525537.article?PageNo=18SortOrder=dateadded&PageSize=20
10. John Grayson 'A cockroach in the baby's bottle, G4S Asylum-seeker housing in the UK' www.OpenDemocracy.net 17 December 2012
http://www.opendemocracy.net/ourkingdom/john-grayson/cockroach-in-baby%E2%80%99s-bottle-asylum-seeker-housing-by-security-giant-g4s
See also
Charlotte Philby 'Homes, G4S style: Rubbish, rising damp… and 'roaches'' The Independent 14 December 2012
http://www.independent.co.uk/news/uk/home-news/homes-g4s-style-rubbish-rising-damp-and-roaches-8418089.html
11. Nina Lakhani 'Another G4S blunder: councils attack security giant after housing contract shambles leaves families living in squalor' The Independent 19 November 2012
http://www.independent.co.uk/news/uk/home-news/another-g4s-blunder-councils-attack-security-giant-after-housing-contract-shambles-leaves-families-living-in-squalor-8329407.html#
12. Emily Twinch 'Taking over the asylum' Inside Housing 11 January 2012
http://www.insidehousing.co.uk/care/taking-over-the-asylum/6525285.article
13 UKBA answer to FOI request from David Price CBE chair of SYMAAG
14. Quoted in Emily Twinch 'G4S rehouses asylum seekers in the north' Inside Housing 6 December 2012
http://www.insidehousing.co.uk/care/g4s-rehouses-asylum-seekers-in-the-north/6524913.article
15. Owen Bowcott and David Pallister 'Rich pickings in the world of asylum seekers' The Guardian 3 August 2005
http://www.guardian.co.uk/uk/2005/aug/03/immigration.immigrationandpublicservices1
16. Barney Guiton 'G4S contractor evicted heavily pregnant asylum seeker even though they knew she was being induced the same day' The Independent 10 December 2012
http://www.independent.co.uk/news/uk/home-news/g4s-contractor-evicted-heavily-pregnant-asylum-seeker-even-though-they-knew-she-was-being-induced-the-same-day-8399581.html.
17. NASS Policy Bulletin 81 Racist Incidents 21 June 2004 p3
http://www.ukba.homeoffice.gov.uk/sitecontent/documents/policyandlaw/asylumsupportbulletins/general /pb81?view=Binary
18. Matthew Collins 'Trouble flares in Sunderland' Hope not Hate Saturday 6th October 2012
http://www.hopenothate.org.uk/blog/article/2210/trouble-flares-in-Sunderland
19. Max Salsbury 'Elderly asylum seeking couple moved to face racial abuse' 24dash.com 8 November 2012
http://www.24dash.com/news/housing/2012-11-08-elderly-asylum-seeking-couple-moved-to-face-racial-abuse
20. Conditions in the North East for asylum seekers are documented in John Grayson 'Forced evictions, racist attacks, meet the new landlord security company G4S' www.OpenDemocracy.net 8 November 2012
http://www.opendemocracy.net/ourkingdom/john-grayson/forced-evictions-racist-attacks-meet-new-landlord-security-company-g4s
21. Zoe Williams 'Life on section 4 becomes a nightmare worse than Kafka' The Guardian 31 January 2012
http://www.guardian.co.uk/commentisfree/2013/jan/30/asylum-theresa-may-private-fiefdom
22. Zoe Williams 'Life on section 4……. Op cit
APPENDIX ONE
Proposed letter for the media in Yorkshire e.g. 'Yorkshire Post', 'Hull Daily Mail' and national housing press e.g. 'inside Housing'
As researchers and university teachers in the fields of housing and immigration in the Yorkshire region we oppose the plans of the Coalition government, through the UK Border Agency, to award national contracts of around £135 million for managing asylum seeker social housing to the three multinational security companies who manage most immigration detention centres, and forcible deportations in the UK; G4S, SERCO, and Reliance.
In Yorkshire the preferred bidder is G4S and the UKBA is at present checking 'due diligence' matters before contracts are signed at the end of February. G4S is not of course a social landlord.
G4S are perhaps known to many people in Yorkshire as the firm who read gas and electricity meters, empty cash machines, and through their 'events arm' in Sheffield police local sporting and other events.
In fact they are the world's largest private security army – they have been responsible for 'security' at Doncaster airport but also responsible for 'security' at Baghdad airport, and for guarding diplomats at Kabul airport and throughout Afghanistan. They have been awarded a contract of £100 million for the London Olympics running security inside the Olympic park providing 10,000 guards to patrol venues. G4S have a close link to police and prisons. They managed in 2011 675 court and police station cells, four detention centres for asylum seekers and since the summer of 2011 they manage a brand new 'family friendly' detention centre the Pease Pottage 'pre-departure accommodation centre' where families are forcibly held for up to a week prior to enforced removal by the UK Border Agency.
UKBA maintain that the new asylum social housing contracts are going to partners with a proven track record. In the case of G4S they lost the contract to supply escorts in forcible deportations after the death of an Angolan deportee – two G4S guards face criminal charges and the company may yet face corporate manslaughter charges. In 2010 there were a record 773 complaints lodged against G4S by detainees including 48 claims of assault. Three complaints of assault and two of racism were upheld. G4S were allowed to investigate themselves under UKBA 'scrutiny'.
G4S remarkably claim that they will 'improve cohesion' managing the contracts. Asylum seeker tenants already feel intimidated and threatened by the prospect of prison guard companies being installed as their managing landlords. Asylum seekers in social housing are fleeing from persecution and violence and can only have tenancies if they are in the process of applying for or appealing cases for sanctuary. They are not 'criminals' who deserve prison guards as their landlords but families and individuals claiming their rights under international treaties signed by the U.K. on our behalf.
The new contracts will mean the privatisation of the whole of social housing available to asylum seekers. Local authorities in Yorkshire still have a large role in delivering contracts and asylum seekers throughout the region prefer their experience with councils and housing associations compared to the performance of private landlord companies already providing some housing. If the councils lose the contracts it will mean hundreds of families dispersed to private landlords often miles away from childrens' schools or family doctors.
G4S the proposed private managing landlord in Yorkshire are a mega international corporation – the second largest private employer in the world and the largest employer quoted on the British Stock Exchange. They already (2011) have British government contracts worth around £600 million. G4S chief executive Nick Buckles, according to the Annual Report, gets an annual salary and shares worth £2.4 million and a possible annual bonus of £1.2 million. His pension pot is at present worth £7 million. We believe few people in Yorkshire if they were told would believe their taxpayer's money should be awarded to such a company to manage asylum seeker housing.
Signed
John Grayson,
Independent Researcher
AdEd Knowledge Company and Sheffield Hallam University
Dr. Quintin Bradley
Associate Senior Lecturer, Housing Studies,
School of the Built Environment & Engineering
Leeds Metropolitan University
Julia Brooke,
PhD student,
Human and Health Sciences,
The University of Huddersfield
Dr Rionach Casey
Senior Lecturer in Housing Studies
Sheffield Hallam University
Dr. Cristina Cerulli
Lecturer School of Architecture
University of Sheffield
Charlie Cooper
Senior Lecturer
Hull University
Prof. Gary Craig
Professor of Community Development and Social Justice
Centre for Social Justice and Community Action
University of Durham
Rachael Dobson
Lecturer in Sociology and Social Policy
University of Leeds
Dr Max Farrar,
Emeritus Professor,
Leeds Metropolitan University
Jenny Fortune
Senior Lecturer Architecture and Planning
Sheffield Hallam University
Dr David Haigh
Senior Lecturer Planning, Housing and Human Geography
Faculty of Arts, Environment and Technology
Leeds Metropolitan University
Prof Malcolm Harrison
Emeritus Professor Housing and Social Policy
University of Leeds
Dr Stuart Hodkinson
School of Geography
University of Leeds
Professor Caroline Hunter
York Law School,
University of York
Prof. Adele Jones,
Professor of Childhood Studies,
University of Huddersfield
Martin Jones
Lecturer in international human rights law
Centre for Applied Human Rights and the York Law School
University of York.
Dr. Florian Kossak,
Lecturer, School of Architecture
University of Sheffield
Dr Hannah Lewis,
Research Fellow,
School of Geography
University of Leeds
Dr Simon Parker
Senior Lecturer in Politics
University of York
Coordinator End Child Detention Now
Professor Doina Petrescu,
Head of Graduate programme,
School of Architecture,
University of Sheffield
Jane Petrie
Lecturer in Housing Law
Sheffield Hallam University
Dr Kesia Reeve
Senior Research Fellow
Centre for Regional Economic and Social Research
Sheffield Hallam University
Professor Flora Samuel,
Head of School of Architecture,
University of Sheffield,
Dr. Tatjana Schneider,
Senior Lecturer School of Architecture
University of Sheffield
Ala Sirriyeh
Lecturer in Sociology
School of Social and International Studies
University of Bradford
Kate Smith,
PhD student,
Human and Health Sciences,
The University of Huddersfield
Professor Fionn Stevenson,
School of Architecture
University of Sheffield
Dr Louise Waite
Senior Lecturer in Human Geography
School of Geography
University of Leeds
ARTICLE IN YORKSHIRE POST 3 FEBRUARY 2012
Fears grow over asylum seeker housing run by 'prison guards'
Published on Friday 3 February 2012 06:00
LEADING Yorkshire academics have expressed concern over plans by the UK Border Agency to award a contract for managing social housing for asylum seekers to the same security firm that runs immigrant detention centres and forced deportations.
In a letter in today's Yorkshire Post, 28 academics from the region's universities claim hundreds of families will be displaced miles from their communities and "intimidated and threatened" by private landlords working for "prison guard" company G4S.
The private security firm – which patrols airports, prisons and sports venues the world over – is the front-runner to become landlord to hundreds of asylum seekers' homes across Yorkshire by the end of this month.
It is part of a national contract worth £135m, which will be shared between three private firms – G4S, SERCO and Reliance – as local authorities struggle to find the money to continue managing social housing for those seeking British citizenship.
The letter raises concerns about G4S's record in handling asylum seekers, claiming that in 2010, 773 complaints were lodged against them, including 48 claims of assault.
Three of the company's security guards are still under investigation for the death of Angolan Jimmy Mubenga as he was being deported in 2010.
It reads: "Asylum seeker tenants already feel intimidated and threatened by the prospect of prison guard companies being installed as their managing landlords.
"Asylum seekers in social housing are fleeing from persecution and violence and can only have tenancies if they are in the process of applying for or appealing cases for sanctuary.
"They are not 'criminals' who deserve prison guards as their landlords but families and individuals claiming their rights under international treaties signed by the UK on our behalf."
As well as being responsible for security at the London Olympics Games as part of a £100m deal, G4S earns £600m from the Government to run four prisons, three immigration removal centres and 675 court and police cells.
One of the signatories, John Grayson, an academic at Sheffield Hallam University, presented a petition to Sheffield City Council on Wednesday, urging them to think again about awarding the contract to G4S.
Two regional demonstrations have been planned for outside Sheffield Town Hall on February 15 and March 1.
Mr Grayson said: "Sheffield has always been a 'City of Sanctuary' for asylum seekers.
"These are people who are in the process of claiming asylum or those who are appealing. These are not failed asylum seekers who should go home."
Stuart Crosthwaite, secretary of the South Yorkshire Migration and Asylum Action Group, said: "When our group discussed this issue, the response of our asylum-seeking members was horror and disbelief.
"The only possible reason that we can see for G4S winning this contract is by undercutting current housing providers. But what control do asylum seekers and the general public have over the quality of this housing provision?
"After all, it is our money that's subsidising G4S, the biggest company on the London Stock Exchange."
A spokeswoman for G4S said the firm would be working with local authorities and existing asylum landlords to provide housing.
"We take the welfare of the people in our care very seriously.
"As with other public sector contracts we run, will be delivering services entirely through a supply chain of experienced housing providers, which includes local private and voluntary sector housing organisations.
"Our focus will be to ensure that asylum seekers can be integrated into local communities and into housing which is safe, sanitary and fit for purpose."
A spokesman for the UK Border Agency said: "These contracts will help deliver a service which meets the needs of asylum seekers and offers value for money with estimated savings of more than £150m over seven years."
APPENDIX TWO
Adults & Communities Directorate
Principal Hate & Hidden Crime Officer
Beevor Court 2, Pontefract Road,
Barnsley S71 1HG
Tel: (01226) 774991.
BARNSLEY HATE CRIME REDUCTION INITIATIVE PANEL
Date 21.03.2012
To COMPASS UKBA
The Hate Crime and Hidden Crime Committee of Barnsley MBC (a multi agency committee with representatives of the Police, statutory and voluntary organisations) at its meeting of 14th March discussed news of your decision to name G4S as your preferred bidder for asylum housing in Barnsley and throughout the North East and Yorkshire and the Humber.
I was asked to write on their behalf to communicate their dismay that a company which had been publicly discredited in its management of detention centres and escort services could be described by you as having a good track record and named as a preferred bidder for asylum housing.
Some members of the committee suggested that from a local asylum seeker's perspective management by G4S could be seen as an extension of their prison and detention centre estate and a regime of virtual 'house arrest'.
Barnsley has a proud record of offering humanitarian housing to those   fleeing natural disaster and political oppression. The takeover of asylum housing by a private for profit security company ends this tradition, and offers in return a housing management regime which seems to threaten asylum seekers and make their already traumatised lives even more uncomfortable, and stressful.
Members of the committee which included local authority elected members and specialist staff were concerned that:
1) G4S management would result in children moving schools and having to leave specialist medical care through GP's well known to them. The committee was supporting a submission to the Barnsley Local Safeguarding Children Board for them to review the contract because of these effects on the rights of asylum seeker children and families.
2) G4S management could mean vulnerable adults with chronic illness and / or disabilities would after years of accessing specialist care and health services coordinated by the Council's asylum team find themselves uprooted and seeking such services.
3) Council representatives at the meeting pointed out how the placement of asylum housing had taken into consideration using their specialist officer knowledge, areas and neighbourhoods where asylum seekers might be at risk. Members felt all this careful management of asylum housing would be compromised by a G4S takeover.
It was felt unlikely that G4S or its nominated partner UPM would commit either time or resources to this sensitive process.
They thus feared for the implications for cohesion and a threat of the increase in hate crime, targetting asylum seekers.
4) Members noted the active role COMPASS TRANSITION UKBA had been taking with G4S in the due diligence period prior to the signing of contracts and suggested that this seemed unusual in the public procurement processes they were familiar with.
The whole panel wishes to state its objections to the way this has been conducted and is seriously very concerned with the potential outcomes on the lives of many individuals and their respective families, we trust at this late stage, considerations are given to the points raised.
Yours
Maxwell Senior (DIP/HE-FCIH retired)
Principal Hate and Hidden Crime officer
Barnsley Hate Crime Reduction Initiative Coordinator.
APPENDIX THREE
Petition to the Council meeting of Sheffield City Council Wednesday 1st February 2012 presented by Robert Spooner (ASSIST)
This Council views with dismay the fact that COMPASS the procurement arm of the U.K. Border Agency has named the multi-national security corporation G4S as a preferred bidder to take over the management of Asylum seekers social housing in Sheffield.
This council believes that the current 'due diligence' process underway at COMPASS prior to the signing of contracts at the end of February should take into account
i) The poor track record of G4S in managing detention centres for asylum seekers In 2010 a record 773 complaints were lodged against G4S by detainees including 48 claims of assault. Three complaints of assault and two of racism were upheld. G4S were allowed to investigate themselves under UKBA 'scrutiny'.
ii) The disturbing record of G4S with its contract to provide escort guards for deportees where an Angolan asylum seeker lost his life and two G4S guards are facing criminal charges and a decision is being considered to charge G4S with corporate manslaughter. G4S lost this contract as a result of this and other infringements.
iii) The feelings of intimidation and unease already apparent in asylum seekers households in Sheffield who are facing a company who they recognise as employing detention centre guards and as agents of forcible deportation.
iv) The potential effects on Council asylum seeker tenants (the City Council has presently around 60% of tenants) who have always declared a preference for the City Council over the private landlords on offer. Families face the very real threat and prospect of being dispersed out of their neighbourhoods, perhaps out of their city with unacceptable disturbance to already traumatised families and  children having to find new schools, family doctors, and new local services at present being provided and signposted by the City Council.
The City Council therefore calls upon COMPASS to reconsider the G4S bid for asylum housing and to find a contractor / managing agent for asylum seeker housing more suited to the needs of asylum seekers in the process of seeking sanctuary in the city of Sheffield.
---
[1] NotoG4SyorkshirePlus is a monitoring network comprising organisations like SYMAAG, NotoG4SHuddersfield,KFTRA (Kirklees Federation of Tenants and Residents Associations),NotoG4SNottingham
Academics: Steve Herschler, Simon Parker, and Prof Caroline Hunter(University of York) Ala Sirriyeh (University of Bradford) ,Kate Smith (University of Huddersfield),Hannah Lewis and Stuart Hodkinson (University of Leeds) Dexter Whitfield (European Services Strategy Unit) John Grayson (Sheffield Hallam University)
[3] Draft Letter and list of signatures appears as Appendix One. Yorkshire Post article which resulted from letter also in Appendix One
[4] This disquiet was shared by local authorities, their senior officers and elected members. See Appendix Two Letter from Barnsley MBC. Sheffield City Council members applauded a petition presented by campaigners on 1 February 2012 see Appendix One also
[5] This was made clear by Stephen Small of G4S at the company's COMPASS 'Roadshow' at Leeds Civic Hall on Monday 18 February 2013. UKBA were represented at this meeting.