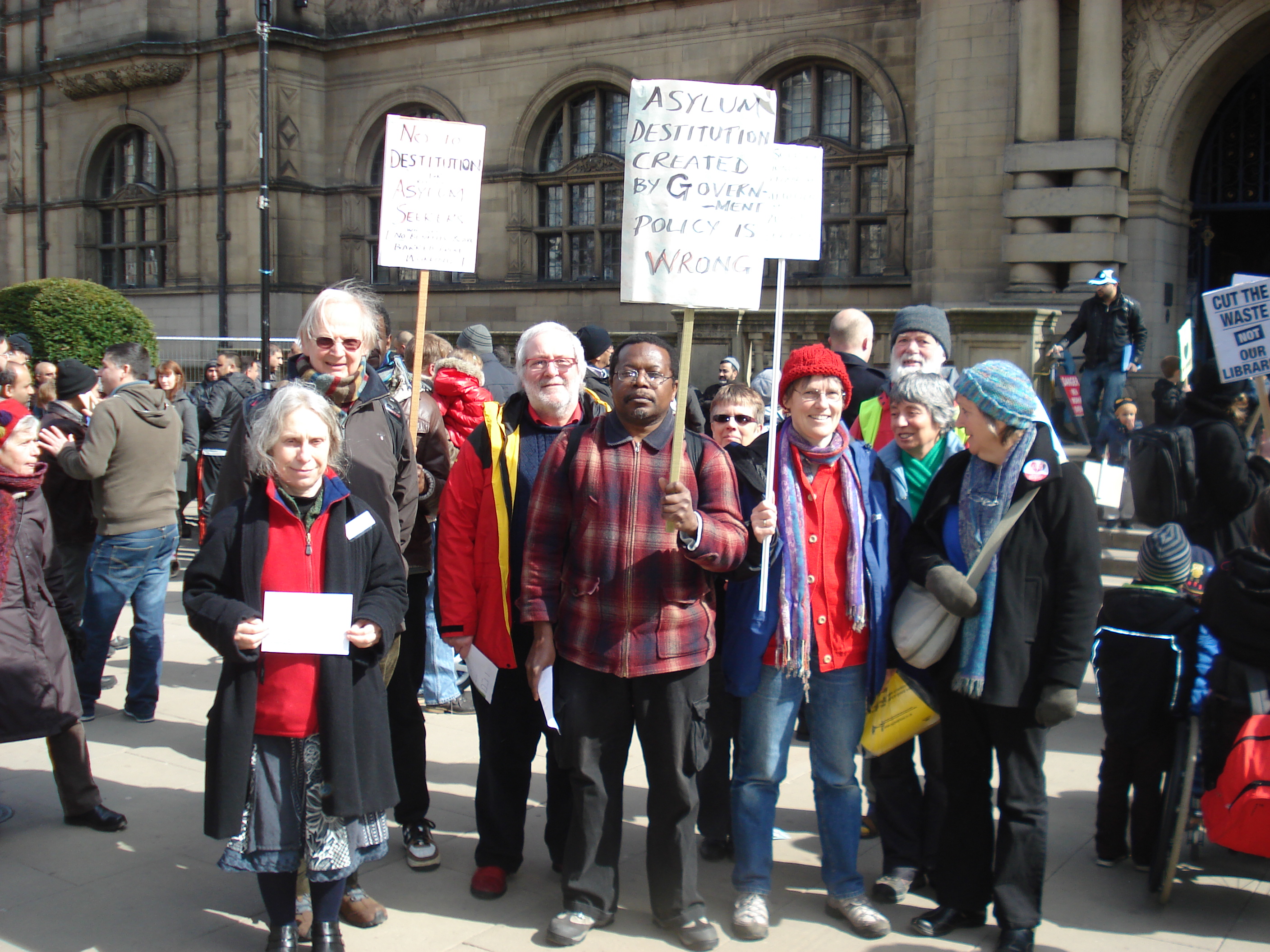 Sheffield Council Takes Stand Against Asylum Destitution
It is now some ten years since the Government started to use destitution as a weapon in its efforts to persuade refused asylum seekers to leave this country.  It was the shock of this decision and concern at the human misery that it would cause which led to the creation of ASSIST in Sheffield in 2003 in order to provide the necessary local support on a voluntary basis. This has been a remarkable success.
Indignation about destitution was also one of the factors which led in 2007 to the foundation of the South Yorkshire Migration and Asylum Action Group (SYMAAG) to campaign for better treatment for asylum seekers and other migrants. At about the same time, City of Sanctuary was born in Sheffield with the objective of building a culture of hospitality for asylum seekers and refugees. In 2007 Sheffield City Council passed unanimously a resolution designating Sheffield as the UK's first City of Sanctuary. Since then, City of Sanctuary has spread to 24 other towns and cities, with a further dozen groups in formation.
These are but part of an extensive network of asylum support charities and campaigning organisations which has emerged all over the country. More than fifty of these organisations are affiliated to 'Still Human Still Here' Coalition, together with the Anglican Archbishops' Council, the Catholic Bishops Conference and other important faith bodies.  This coalition campaigns specifically for an end to asylum destitution and the removal of most of the restrictions on asylum seekers working.
It is depressing  that, despite ten years of effort, asylum destitution  remains in place in Government policy and legislation. Unfortunately, politicians seem reluctant to listen to the knowledge and experience of those who actually know asylum seekers and are directly involved in supporting them. Instead, politicians are excessively influenced by the prejudices and misinformation aired daily in parts of the media. But the campaigning efforts will continue. It was recently decided to keep Still Human Still Here in existence as a campaigning body.
Glasgow, Bristol, Sheffield, your city next…
Recently, a new form of protest about asylum destitution has come onto the scene, reflecting the sense of outrage of city councils that there should be Government policies which actually create destitution on city streets. This began in Glasgow, where in June 2012 the City Council overwhelmingly passed a resolution condemning the UK Border Agency's policy of forcing people seeking asylum into destitution. Then in January 2013  Bristol City Council passed a similar motion.
This development led the asylum organisations based in Sheffield – ASSIST, City of Sanctuary and SYMAAG – together with the faith leaders group, including the Anglican and Catholic Bishops and Muslim leaders, to urge Councillors in Sheffield to pass a similar resolution.  On 3 April 2013 Sheffield Councillors voted unanimously to support a motion condemning the prevalence of destitution amongst people who have claimed asylum in the city. The resolution, proposed by Labour Cabinet member Councillor Geoff Smith and seconded by Councillor Sylvia Anginotti for the Liberal Democrats asks the Leader of the Council to write to the Home Secretary to express concern about asylum destitution and to call for changes in the current system. Representatives from asylum supporting groups (pictured) lobbied Councillors as they went in to the meeting. The full text of the resolution is below.
We hope that this protest movement will now spread to many towns and cities across the country. This is certainly the objective of the coalition Still Human Still Here. Such a movement among our towns and cities will show Government Ministers that there is a substantial groundswell of opinion in favour of bringing to an end the damaging (and totally ineffective) policies that cause destitution among asylum seekers.
David Price
Chair, SYMAAG
NOTICE OF MOTION GIVEN BY COUNCILLOR GEOFF SMITH AND PASSED UNANIMOUSLY BY SHEFFIELD CITY COUNIL ON 3 APRIL 2013
That this Council:
(a)       welcomes the initiatives by Glasgow & Bristol City Councils in passing a motion highlighting concerns about refused asylum seekers and the lack of support for them in the UK;
(b)       commends the work with refused asylum seekers in Sheffield by organisations such as City of Sanctuary, Northern Refugee Centre, SYMAAG and ASSIST;
(c)        shares the concerns raised by groups working with refused asylum seekers about the levels of destitution in Sheffield and the associated problems this creates; and
(d)       asserts that if Sheffield's proud declaration as the country's first City of Sanctuary is to be meaningful and worthy of its fine words, we must act to improve this situation in the following ways;
(i)         the Leader of the Council writes to the Home Secretary and Chief Executive of the UK Border Agency seeking changes to their policy toward refused asylum seekers; and
(ii)        the Leader of the Council sends a copy of this letter to:
1.         The Home Affairs Select Committee for consideration during its inquiry into Asylum;
2.         Sheffield MPs to support the content of this motion and to raise the matter in the House of Commons; and
3.         The Local Government Association to encourage other councils in the UK to follow Sheffield's lead.