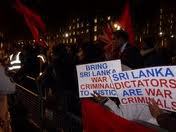 Sheffield Asylum Organisations Campaign For Human Rights in Sri Lanka
After hearing a powerful and emotional account from a woman seeking asylum from Sri Lanka, three South Yorkshire bodies concerned with asylum seekers – ASSIST, Northern Refugee Centre (NRC), and the South Yorkshire Migration and Asylum Action Group (SYMAAG) – recently asked Nick Clegg, the Deputy Prime Minister and MP for Sheffield Hallam, to take up with his Cabinet colleagues the plight of persecuted Tamils in Sri Lanka.
44% Successful Asylum Appeals by Sri Lankan Applicants
This persecution is reflected in the fact that in 2012 the UK received 1,747 asylum applications from Sri Lanka. The Home Office was slow to recognise the genuine crisis that was occurring and turned down many well based claims. As a result, in the first 3 months of 2013, there were no less than 99 successful appeals by Sri Lankans whose asylum applications had been turned down – an astonishing 44% success rate.
"Minorities will be eliminated from our country"
In April 2013, "Arjuna" (not her real name) a Sri Lankan refugee of Muslim origin spoke to a SYMAAG meeting about the persecution that was taking place in her country of those of Tamil origin, whether, Hindu, Muslim or Christian. "They are limiting everything" she explained referring to attacks on Muslim Tamil culture and practice. One device was to remove people from the voting register, thus greatly reducing their rights of citizenship, including access to schools, rights to passports and so on. Both the UN High Commission on Refugees and the UK Foreign and Commonwealth Office have been highly critical of human rights abuses in Sri Lanka. Attempts to intimidate the judiciary and to impeach the Chief Justice have caused particular concern. Arjuna quoted the Sri Lankan President's statement that "Minorities will be eliminated from our country".
Nick, Theresa and William
On 29 April, SYMAAG, ASSIST and NRC sent a joint letter to Nick Clegg setting out their concerns about human rights in Sri Lanka and asking him to take up the following proposals with his Cabinet colleagues:
• That refugee status should be granted generally to Sri Lankan asylum seekers of Tamil background, not just on a case by case basis, unless and until the situation substantially changes; and
• That the UK should seek Commonwealth agreement that the meeting of Commonwealth heads of government (CHOGM) in November should not take place in Sri Lanka. It was noted that such action had been called for by the Canadian Government and by distinguished international figures, such as Archbishop Desmond Tutu, and Mary Robinson ands by two former Foreign Secretaries, David Milliband and Malcolm Rifkind.
In May, Nick Clegg passed on replies from both Theresa May, the Home Secretary, and William Hague, the Foreign Secretary.
Enforced Returns Suspended
Theresa May's reply argued that 'the right approach is to consider the protection needs of individuals in particular circumstances'. She claimed that the Home Office's decision in particular cases were based on accurate and up to date information. Where asylum applicants were turned down, 'the return of individuals is not enforced unless the Home Office and the courts consider it is safe to do so.' In the case of Tamils from Sri Lanka, enforced returns were suspended pending the outcome of a Country Guidance High court case.
William Hague's reply stated that, while the UK's concerns about human rights in Sri Lanka were shared by other Commonwealth countries, there was not widespread support for a change in the location of the meeting. There was concern that the Commonwealth could be damaged or weakened by a dispute over the meeting's location. The Prime Minister and Foreign Secretary would both be attending the meeting in Sri Lanka in November and would take the opportunity to promote human rights and good governance. They would 'use all opportunities, including CHOGM, to raise human rights concerns with the Sri Lankan Government and urge them to uphold Commonwealth values.'
Pressure
While the Government is evidently unwilling to go as far as we would have wished, it is clear that our pressure, along with pressure from others concerned with human rights in Sri Lanka, is having some impact. Is the Queen's decision not to go to Sri Lanka in November solely due to her advanced age or was there also a concern to avoid lending royal dignity to the present Sri Lankan Government? It will be interesting to see how far Commonwealth leaders are prepared to go in criticising their hosts in November. It will also be important to monitor developments affecting asylum seekers from Sri Lanka in this country, including the impending Court judgement and the Home Office reaction to it.
David Price
Chair
SYMAAG
For more information about resistance to forced deportations to Sri Lanka see Stop Deportation Network, Open Democracy and Freedom From Torture
Letter from Home Secretary Theresa May to Nick Clegg MP 16th May 2013