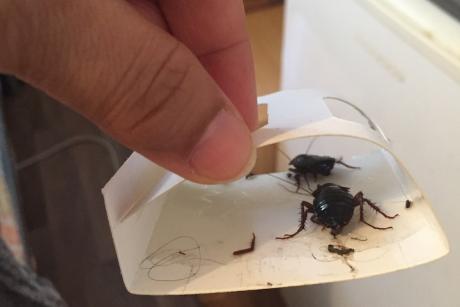 Rodents, bedbugs, mould: UK asylum housing is a Hostile Environment
A Manchester asylum hostel run by Britain's biggest outsourcer Serco is riddled with cockroaches, rodents and bedbugs.
by John Grayson
Mothers with babies in a Manchester hostel run by Serco have shown us their dirty and dangerous living conditions.
Shadow immigration minister and local MP Afzal Khan has told us: "Nobody, let alone families with children, should be forced to live with cockroaches, bed bugs, damp, leaks and mice. Unfortunately we know that this is not an isolated case. Our asylum accommodation system is not fit for purpose."
Last week I visited the ground floor and basement of the hostel that is home to three mothers and three children. One mother, Carole, showed me the damp basement where she lived with Nathan, her 11 month old son. She showed me water gathered by the dehumidifier that she had bought.
She said Nathan is asthmatic, and showed me bedbug bites on his arms.
"I have them too, Serco said they could not find them, but they did not change the mattress — just put plastic on it." That looked to me unsafe, and a suffocation risk.
Bed bug infested mattress wrapped in polythene (John Grayson)
Carole showed me a video on her phone of two mice running around her bed in the middle of the night. I could hear her frustrated voice: "I can't sleep, I can't sleep."
An asylum-seeker from West Africa, Carole told me: "I am on medication all the time, but it is the damp and Nathan and his breathing I am really worried about."
From the bin Carole produced a glue trap with a dead mouse and cockroaches.
She said she feared fire breaking out in the kitchen above her basement room. "If there was a fire in the kitchen I could not get up these stairs with Nathan past the kitchen. I would have to climb up through the window which is below ground and all bars."
The kitchen ceiling showed evidence of water leakage from the flats above — presenting risks of electrocution and fire. Carole said: "The ceiling leaks when upstairs use the baths and showers. We need buckets."
Rooms provided to mothers with toddlers had no space for play. Carole poked behind a kitchen unit and showed me a poison box for mice. "Nathan can pick the boxes up and put them in his mouth. He was playing in here, the only place where he can, and hit his head on a door handle."
Nathan's bedbug bites (John Grayson)
Carole showed me letters from her doctor, her health visitor, her play scheme organiser, all asking Serco to move her and Nathan. "The man from Serco comes, once or twice a week. He says he reports everything but people above him do nothing."
Upstairs Pamela, from south Asia, grimly joked about the cockroaches, "I have the really big ones up here," she says, and it's true.
"I came here nearly two years ago. Paul my son is nearly two and he was a few months old then. Carole's baby has spent his whole life down there. I think it is worse for them."
A squalid rear yard, strewn with refuse is no place to play.
Above the women's quarters live male asylum seekers. I hadn't seen a mixed hostel in my six years of working alongside asylum tenants. Pamela said: "The men upstairs were really bad, noisy but there are new ones now."
Last week I sent a detailed report and photographs to Serco company spokesman Marcus De Ville. He replied: "We are confident that in the vast majority of cases we are providing appropriate housing for asylum seekers but we are not complacent and we always want to look into any issues or concerns that are raised. We are now doing this with this property and I will get back to you in the near future."
Dead mouse with child's toy (John Grayson)
I sent the same evidence to local MP and shadow immigration minister Afzal Khan. He replied: "The description of conditions in this house is shocking. Nobody, let alone families with children, should be forced to live with cockroaches, bed bugs, damp, leaks and mice. Unfortunately we know that this is not an isolated case. Our asylum accommodation system is not fit for purpose. It is unacceptable that in 21st century Britain, people fleeing war and persecution are routinely housed in appalling and at times unsafe conditions."
Serco accommodates nearly 15,000 asylum seekers in more than 5,000 properties across the North West of England, Scotland and Northern Ireland. According to the Home Affairs Committee Inquiry into asylum housing Serco housed 8,342 asylum seekers in the North West of England in September 2016, including 994 in Manchester. This suggests that they manage between 200 and 300 asylum properties in the city. In evidence to the same inquiry Serco revealed its average income per service user in February 2016 was around £300 a month. So, for the three rooms in the Manchester hostel with a mother and child in each Serco received £1800 every month of taxpayers money, £21,600 over twelve months.
Security company G4S and Clearsprings also provide accommodation under the contracts known as COMPASS (Commercial and Operating Managers Procuring Asylum Support).
I'm a housing academic and volunteer working alongside asylum seekers. Over years we have exposed the landlords' failures and mismanagement. Reporting here on Shine A Light, we've exposed health hazards, intimidation, and fire risk.
This work has helped to provoke and inform a National Audit Office Inquiry and Parliamentary scrutiny.
Stairs down to Carole and Nathan's room (John Grayson)
The National Audit Office in 2014 found that G4S and Serco, were "still failing to meet some of their key performance targets, notably relating to the standards of property and the time taken to acquire properties for asylum seekers."
Three years later, in January 2017, MPs reported that the contractors were still failing. "Some of the premises used by Providers as temporary accommodation are substandard and unfit to house anyone, let alone people who are vulnerable," MPs said.
The Home Affairs Committee urged that inspections should be passed to local authorities and should include: "whether an individual's health or special needs are being met; the quality and quantity of food available; the fabric of the building itself." And whether are facilities are appropriate for "vulnerable people, including mothers and children and victims of torture and trafficking."
They warned that people were being moved around the asylum system without their consent, which can "disrupt vital support networks" and "cause emotional distress". And they said the complaints system wasn't working — asylum seekers feared complaints would prompt reprisals.
Basement window: Carole and Nathan's escape route? (John Grayson)
The contractors carried on failing. In November 2017, the Guardian reported charities' claims that in Greater Manchester, asylum seekers wereforced to live in "squalid, unsafe, slum housing conditions" and the public was largely unaware of the conditions into which "traumatised people are routinely dumped".
Serco's origins are in defence and military procurement. Its joint venture with Lockheed Martin and Jacobs Engineering holds the government contract to design, manufacture and maintain the nuclear warheads for Britain's Trident missiles.
For more than 10 years, Serco has managed Yarl's Wood detention centre, where guards have sexually assaulted women detainees, guards have stood by as expectant mothers undergo obstetric examinations, and where a case of child sexual abuse went uninvestigated.
Four years ago, an undercover reporter at Channel 4 recorded Serco guards at Yarl's Wood calling women detainees "animals", "beasties" and "bitches". "Headbutt the bitch," one guard says. "I'd beat her up."
Serco is tendering for the new asylum housing contracts from 2019 worth a potential £4 billion of taxpayers' money over seven regional contracts over ten years.
Serco CEO is establishment figure Rupert Soames, grandson of Winston Churchill. In his written evidence to the Home Affairs parliamentary select committee Inquiry into asylum housing in 2016 Soames said: "Our determination to provide a decent and caring level of provision and fulfill our contractual obligations despite massive losses deserves some recognition."
I am not sure Carole and Pamela would agree.
---
Edited by Clare Sambrook for Shine A Light at openDemocracy. Names have been changed. First published at Open Democracy on 29 May 2018 here