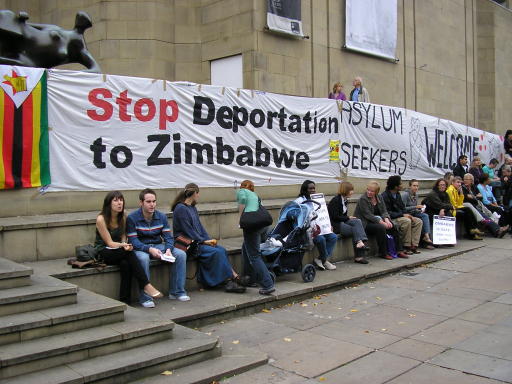 Zimbabwe: "no changes and no democracy"
Why Zimbabwe is still not safe for refugees like Marian Machekanyanga
Marian was forced to leave Zimbabwe in November 2002 as
a result of victimisation and mistreatment. As a member of a workers
committee in a government department in Harare,she led a protest to
the Zimbabwean Parliament against the misdirection of the Government
funds to ZANU-PF. She has spent 16 years trying to secure her safety
by fighting for the right to remain in the UK.
During those 16 years Marian has also continued her fight for the
human rights of others. She is an Executive Committee member of the
South Yorkshire Migration and Asylum Action Group and active in
Zimbabwean opposition organisations in the UK, protesting against
ZANU-PF and for the rights of all asylum seekers in the UK, including
Zimbabweans.
Like many Zimbabwean political exiles in the UK she was relieved when
Robert Mugabe was forced to resign in November 2017, but wasn't
positive about his successor Emmerson Mnangagwa. When I asked Marian
she explained "nothing has changed for Zimbabwean people here or at
home. Mnangagwa is still ZANU-PF". Separated from her family in
Zimbabwe for an unimaginable 16 years, Marian would dearly like to
return to Zimbabwe but the party that victimised her before she came
to the UK are still in power. "The treatment of Joice Mujuru is a
sign there are no changes and no democracy" Marian said. Joice Mujuru
was Vice President of Zimbabwe who left ZANU-PF in 2015 to become an
opposition politician and has faced harassment since.
With elections due later this year there are reports that 5000 troops
have been deployed in rural Zimbabwe and voters threatened with
compulsory use of new biometric voting cards which will identify who
they cast their vote for. Despite these and other repressive measures
directed at the opposition in Zimbabwe the UK government seems
determined to continue the deportation of people seeking asylum to
Zimbabwe. The UK ambassador to Zimbabwe Catriona Lang, recently told
Zimbabwean Deputy President Kembo Mohad  that the UK wanted to deport
2500 Zimbabweans who were "living illegally in the UK".
The Home Office regard Marian as "living illegally". Despite clear
evidence of the danger to Marian if she returns to any part of
Zimbabwe and the severe risk to her health if she could not get vital
medication there for her diabetic condition, the Home Office rejected
her asylum claim and initial appeal.
Marian clearly feels it is still unsafe for her to return to Zimbabwe
and continues her long battle to be recognised as a refugee and given
leave to remain in the UK. Lots of South Yorkshire people agree with
her too – over 1000 of us have already signed a petition in her
support.