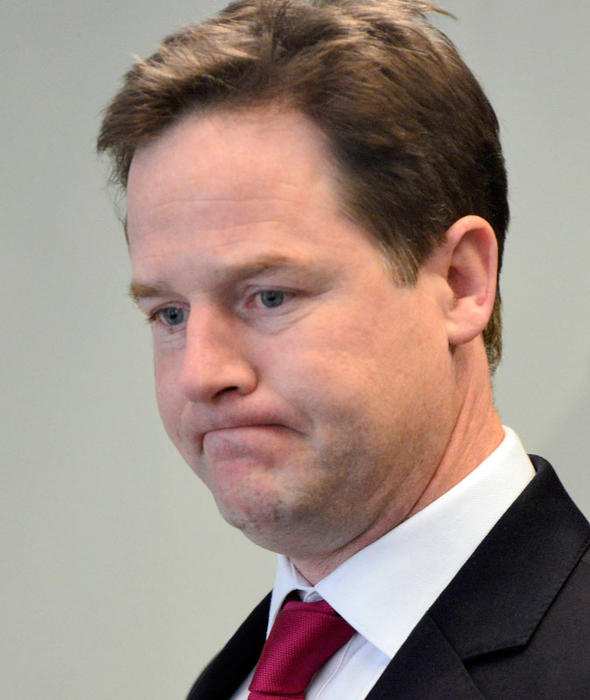 Nick Clegg and the Immigration Bill
Representatives of five of Sheffield's migrant-rights and support groups met Deputy Prime Minister Nick Clegg in his Sheffield constituency office days after the Immigration Bill had its second reading in Parliament. The Bill, introduced by Home Secretary Theresa May, aims to "create a really hostile environment" for people she calls "illegal migrants". In particular it proposes to charge migrants for healthcare and reduce migrants' access to appeals.
Just before the last general election in 2010 SYMAAG sent an "Asylum Election Pledge" letter to all candidates in South Yorkshire. The letter was backed by 30 refugee community organisations, campaign groups, faith groups and trade union branches. Nick Clegg was asked if he would "Give those seeking asylum full access to healthcare". His response to us on 22nd April 2010 was "we support the concept of improving the provision of healthcare". When asked if he supported "adequate legal aid and enough time to make legal representations" he replied "we are committed to retaining the right to appeal for those whose applications for asylum support have been turned down".
Clegg speaking on asylum rights in 2008 at Sheffield Town Hall
Report of meeting with Nick Clegg about the Immigration Bill
On 18 November 2013, representatives of migrant and refugee organisations in South Yorkshire met Nick Clegg, Deputy Prime Minister, for a discussion mainly about the Immigration Bill which is currently going through Parliament. Our team was:
Cllr Sylvia Anginotti, Chair, Northern Refugee Centre (NRC)
Violet Dickenson, Executive Member from SYMAAG
David Price, Chair, SYMAAG.
Mike Reynolds, Chair, City of Sanctuary, Sheffield
Jim Steinke, Chief Executive, NRC
Carita Thomas, ASSIST and South Yorkshire Refugee Law and Justice.
We opened the meeting by expressing our general concern about the Immigration Bill which was proceeding through Parliament at a rapid speed and was currently in its Committee Stage in the Commons.  We were particularly concerned about three aspects of the Bill: the NHS angles, the proposed checks on immigration status and the removal of appeal rights from migrants.
Immigration Bill – NHS angles. We had held a meeting attended by more than 60 people at which many misgivings were express and a strong resolution had been passed unanimously. We did not believe that the Government had established that 'benefit tourism' was a sufficiently big problem to justify making' temporary migrants' pay £200 a year towards their potential NHS costs. Clegg was unsympathetic with these criticisms. He argued that the funding of the NHS predominantly through taxation rather than insurance was unique: as a result there was a need for special provision for foreign users.  The proposed £200 charge was reasonable compared to what other countries required in the form of insurance. He had had a deputation of students to see him and was following up their points.
We also referred to the good services available to refused asylum seekers in Sheffield  – through GPs and through the Mulberry Practice and the Transcultural Mental Health team etc.  There was strong concern at our recent meeting about whether refused asylum seekers would still be able to obtain free access to GPs. Clegg promised to raise this with Department of Health colleagues.
Immigration Bill – checks on immigration status. We pointed to the danger that landlords, banks and building societies, required to check immigration status, would take the easy option of discriminating against anyone against whom there was a doubt. Clegg took this point, and said that he was concerned about how the bill would work in the case of small landlords and it had now been agreed that this would first be piloted so that it would not come generally into force until after the General Election.
Immigration Bill – Home Office workload. We pointed to the Home Office's massive backlog of 430,000 cases, the fact that, according to the Home Affairs Committee, they only follow up 6% of tip offs from the public about irregular migrants* and the fact that they now face large numbers of cases of  renewal of leave to remain. We suggested that the last thing that the Home Office needed was vast amounts of additional casework arising from the Immigration Bill. Clegg felt that at present the present system was in danger of being over harsh in relation to asylum seekers and too lax in relation to other migrants who over-stayed their visas but were not sufficiently chased up. He saw a need for exit records, so that the extent of overstaying could be properly monitored.
Immigration Bill – removal of appeal rights. We argued that the removal of numerous appeal rights for migrants (other than asylum and human rights cases) was most undesirable given that around 50% of appeals were currently successful, suggesting a high level of administrative incompetence. It was also a denial of justice and might lead to extra costs through an increase in judicial review. Clegg said that people in his own party had studied the existing appeal system and concluded that it bristled with complexity and caused delay. We disputed this. Clegg said he was not expert in this area and it was agreed that we would email him with our concerns which he would follow up.
Lib Dem preparations for the election in relation to migration and asylum. We deplored the rhetoric employed by some politicians on these subjects and feared that this would get worse as the election approached. We asked what Clegg as Party Leader would do to ensure the avoidance of inflammatory rhetoric in his own party. Clegg said that activists like ourselves must recognise that we could not have a tolerant society unless the public had confidence in the system, which had to be tough when necessary. But at present the system was excessively risk averse and lacked compassion in relation to asylum.  He said that Andrew Stunell MP was leading a working group considering what the Lib Dems should say in their manifesto about migration and asylum. He encouraged us to contact Andrew with our views.
David Price
November 2013
*Note: SYMAAG does not favour the  Home Office policy of seeking 'tip-offs' from the public. But we would draw attention to the folly of demanding vast quantities of extra information from landlords, banks etc which could not be followed up.'
Demonstrating against the Immigration Bill outside Parliament
SYMAAG submitted the following written response to the Immigration Bill consultation at http://www.publications.parliament.uk/pa/cm201314/cmpublic/immigration/memo/ib13.htm
Written evidence from South Yorkshire Migration and Asylum Action Group (SYMAAG) (IB 13)
Summary
1 This submission argues that the Immigration Bill:
· threatens civil liberties and community cohesion by introducing intrusive checks on migrants engaged in perfectly normal activities like renting accommodation, taking out a bank account or seeking a driving licence;
· proposes unnecessary charges on migrants for their prospective use of the NHS, regardless of their contribution to the UK in taxes and student fees and as employees, particularly in the NHS;
· threatens to remove free access to primary care from refused asylum seekers, which would be deeply damaging to vulnerable people;
· removes important rights of appeal from migrants, although the real problem is faulty decision making by the Home Office;
· is being rushed through Parliament, on insufficient evidence and without sufficient public scrutiny; and
· could not be properly implemented by the Home Office which already has huge backlogs of work.
It is suggested that parts of the bill should either be radically revised or abandoned altogether.
What is SYMAAG?
2. SYMAAG was established in 2007 with the following terms of reference:
'To campaign for action by Government and others to improve the position of asylum seekers (particularly those who have been refused) and exploited migrant workers (including the victims of trafficking).'
3. Since then, it has become a very active campaigning organisation and has met with local MPs such as Nick Clegg, David Blunkett and Paul Blomfield, with UKBA, G4S and many other people and organisations. Its meetings are well attended by asylum seekers and refugees and others from all over South Yorkshire. Recently, it has exposed the abuses surrounding G4S's contract with the Home Office for the provision of asylum housing in Yorkshire. SYMAAG is part of a powerful network of organisations [1] supporting asylum seekers and other migrants in South Yorkshire and draws on their knowledge and expertise about what really happens on the ground to people affected by the UK's ever more complex immigration and asylum system.
Why is SYMAAG concerned about the Immigration Bill?
4. We appreciate that this Public Bill Committee has been given a difficult task. In a short time, it has to scrutinise a long and complex bill which received strong Commons Second Reading support, with only 18 MPs voting against. The only UK-wide parties that opposed the bill are the Greens and UKIP, whose leader, Nigel Farage, said that it 'would lead to a society where scrutiny in daily life would threaten individual freedoms and liberties' [2] . In our view, it contains provisions which will adversely affect race relations, damage the UK's international reputation, penalise vulnerable people, create unwieldy bureaucracy and implant an atmosphere of fear and suspicion in various important sectors of our national life. Our views are widely shared in other organisations in close contact with migrants, asylum seekers and refugees.
5. We have several general concerns:
a. The Bill threatens civil liberties by imposing intrusive checks on migrants who wish to engage in such normal activities as renting accommodation, taking out a bank account and driving a car. It will unnecessarily foment suspicion and antagonism and victimise those who are relatively new to this country or, through no fault of their own, cannot immediately demonstrate that they have leave to remain. It fails to recognise the diversity of situations that arise in a complex world – eg the problems of migrant domestic workers or stateless persons. The measures will inevitably lead to racial profiling for services and will revive racism and discrimination against migrants and ethnic minorities legally settled here.
b. The Home Office has failed to produce evidence sufficient to justify such extensive intervention in people's lives. .
c. The Bill is being rushed through Parliament too quickly for proper scrutiny and questioning to take place. This speed may help to explain why opposition to the bill has been relatively muted. People have not had time to grasp its implications. As understanding grows, so will public criticism and opposition.
d. The Independent Chief Inspector of Borders and Immigration and the Home Affairs Select Committee have both drawn attention to the large backlogs in the Home Office in dealing with immigration and asylum cases. The Home Office will soon face a serious increase in workload soon as many people granted 5 years leave to remain seek renewal. We cannot see how the Home Office can possibly handle promptly the level of enquiries likely to arise from this new bill. Resulting delays will penalise migrants. In our view, the last thing that the immigration system needs at present is yet more complex and hastily prepared legislation.
6. We also have more specific concerns about particular parts of the Bill. These are discussed below.
National Health Service
7. On 29 October, we held a meeting in Sheffield to discuss the NHS aspects of the Bill. It was attended by more than sixty people, with much expertise in medicine, asylum and migration. Those present were completely unconvinced of the need for annual charges on migrants to cover their prospective use of the NHS. It was pointed out that all migrants pay VAT, working migrants may pay income tax, while overseas students pay substantial fees. Far from being a burden on the NHS, migrants keep it going: 30% of NHS doctors and 40% of nurses were born outside the UK.
8. Particular concern about the impact of the proposed charge on overseas students has been expressed by the Students Union at the University of Sheffield, whose petition with over 1000 signatures has been presented to Nick Clegg. They have also posted over 1300 letters to the Home Office protesting against the health care levy.
9. At our meeting there was great concern about the potential threat to asylum seekers. We noted the Home Secretary's statement in the Second Reading debate that this bill is:
'restricting access to free NHS care to those non-EEA nationals with indefinite leave to remain and those granted refugee status or humanitarian protection in the UK'.
It is disturbing that this formula makes no mention of asylum seekers. Yet, in view of the UK's commitment to the 1951 Refugee Convention, we cannot believe that the Government seriously contemplates removing free access to NHS care from asylum seekers or imposing charges upon them, which many could not pay. Our greatest concern relates to refused asylum seekers, who already suffer destitution and may be highly vulnerable, but who at present can at least get free primary care. We fear that the Government may class them as 'irregular migrants' and deny them access to free primary care. At the meeting, we heard about the excellent services in Sheffield like the Mulberry Practice, the Transcultural Mental Health Team and psychiatric services which support, among others, people traumatised by their experiences both in their own country and over here. There was deep concern that these services might now be under threat, which could in turn threaten public health as our present services may detect infectious diseases.
10. We realise that the Home Office wants refused asylum seekers simply to 'go home'. But we know many whose fears for their personal safety if they return home seem entirely legitimate. Moreover, many may be in the process of trying to appeal against Home Office decisions, even if cuts in legal aid are making this progressively more difficult. The large number of Home Office decisions overturned by Tribunals bears out our view that it would be entirely wrong to treat refused asylum seekers as 'irregular migrants'. This measure would also increase costs in the long term through emergency hospital admissions and threats to public health.
11. We hope that your Committee will question the Department of Health about the checks on prospective and existing patients that they will expect GP surgeries, A and E and other hospital services to make in future. Our fear is that the proposed annual charges on migrants, far from simplifying the situation, will create pressure to investigate the immigration status of all those who have not paid them.
12. Our meeting on 29 October passed unanimously the resolution which is at Appendix 1 to this paper.
Checks on immigration status
13. The bill proposes checks on the immigration status of all people seeking a tenancy, an account at a bank or building society or a driving licence. Private landlords would face the risk of a civil penalty fine of up to £3,000 per irregular migrant tenant.
14. This imposition on private landlords is both unrealistic and potentially damaging to vulnerable minorities. There are currently over 4 million private lettings in the UK – 71% of which are managed by private landlords rather than companies [3] . The Government could not possibly monitor compliance with such provisions. But there is none the less a danger that the new law will lead landlords to discriminate against people who cannot quickly prove that they have leave to remain – and leave to remain is usually not obtainable until a person has been in the country for five years. The Home Office says it would aim to provide response to queries within 48 hours, but, as the volume of queries increased, so the response time would lengthen. The effect will be to encourage landlords not to let to anyone about whom they had a doubt, leading to a serious increase in homelessness.
15. Checks by banks, building societies and DVLA would also have damaging effects. In principle, in order to avoid discrimination, they would need to investigate the immigration status of all new customers. In practice, in order to save time, staff are likely to focus on those whose colour, ethnic background and origins suggest that they might not have leave to remain. This could in turn mean that migrants could not get bank accounts and this might preclude them from accessing employment and state benefits
16. The Home Secretary has claimed that this bill it will create a 'hostile environment' for illegal migrants. We believe that the 'hostile environment' will affect the majority of migrants. The UK is a multi-cultural society seeking to trade successfully in an increasingly globalised international environment. These provisions of the bill are inappropriate and should simply be dropped.
Restrictions on appeals
17. The bill proposes to remove the right of appeal for a large proportion of immigration decisions. This seems a perverse reaction to a situation in which between one third and one half of the Home Office's decisions are found on appeal to be faulty. (Of 28,300 appeals determined in 2012/13, nearly 50% of all managed migration and entry clearance appeals were successful. 32% of all appeals against deportation from the UK were successful) [4] . Instead, the Home Office should put more high quality effort into getting decisions right in the first place.
18. This part of the bill will damage Britain's reputation in the world, as all migrants including students, highly skilled workers and family visitors will no longer be able to challenge wrong decisions. Those affected include those seeking entry or stay as 'the brightest and best', and those presently lawfully in the UK. Since the UK Border Agency has so recently been abolished as not fit for purpose, to place total confidence in immigration decisions without external redress is deeply irrational and damaging to community relations, our national life and economy.
19. We are also unhappy about clause 14, which seeks to amend Part 5 of the Nationality, Immigration and Asylum Act 2002 (clause 117B). While appreciating Ministers' frustration about certain recent court cases, we do not think that these problems can be resolved by the inclusion in UK legislation of subjective unevidenced statements of opinion, such as:
· 'persons who can speak English are less of a burden to the taxpayer', and
· 'persons who…. are financially independent…. are better able to integrate into society.'
These statements may be valid in most cases but will not be valid in all cases. It would be most unwise to expect courts to be bound by them instead of exercising their own judgement. Moreover, it seems highly unlikely that they would survive scrutiny by the European Court of Human Rights. The statute book is not the place for naïve generalisations.
Conclusion
20. It is our view that the three parts of the bill discussed above are ill-judged and require either major revision or complete abandonment. We should drop the unrealistic and divisive idea that the Home Office can enlist huge numbers of landlords, together with white collar workers in the NHS, banks and DVLA as auxiliaries in its task of border protection. Nor should we abandon the appeals system which provides a vital corrective to many flawed decisions by the Home Office.
November 2013

APPENDIX 1
RESOLUTION PASSED UNANIMOUSLY AT MEETING ON NHS AND MIGRANTS AT QUAKER MEETING HOUSE SHEFFIELD ON 29 OCTOBER 2013
This meeting is concerned that the Coalition Government
(a) is 'restricting access to free NHS care to those non-EEA nationals with indefinite leave to remain and those granted refugee status or humanitarian protection in the UK'(Theresa May 22 October), apparently discriminating against asylum seekers, including vulnerable refused asylum seekers, who are our greatest concern;
(b) fails to recognise the vital importance of universal free access to primary care for the health of the population;
(c) has not demonstrated that the extent of 'health tourism' justifies major new measures;
(d) proposes in its Immigration Bill a health surcharge as a precondition of entry to this country in order to pay for supposed costs to the NHS;
(e) fails to recognise the significant contribution that migrants already make to this country through taxation and student fees;
(f) ignores the huge contribution made by migrants working for the NHS; and .
(g) is prepared to damage the UK's global reputation by imposing unnecessary costs and bureaucracy which will discriminate against poorer people.
This meeting calls upon the Government to withdraw these damaging policies and consult with medical organisations and bodies working with migrants and asylum seekers in order to find more constructive policies for the future.
This resolution was approved by a meeting of more than sixty people, among whom were the following:
NAME
ORGANISATION
Sylvia AnginottiJim Steinke
Gina Clayton
Richard Chessum
Robert Spooner
Bernard Greenwood
Margaret Spooner
Anne Greenwood
Pat Wormald
JC Snell SRN SCM
David Price CBE
David Hoad
Janice Costa
Paul Fitzpatrick
Nic Burne
Julia Burne
Denise Cann
Joan MacFarlane MBE, RN, RM
Dr Maureen O'Leary MBChB, RCPsych
Dr Jack Czauderna MBChB
Charlotte Bryson
M B Duggan MD, FRCP, FRCPCH
Sithole MayaChair, Northern Refugee CentreChief Executive, Northern Refugee Centre
Chair, ASSIST and South Yorkshire Refugee Law and Justice
Vice Chair, ASSIST
Former Chair, ASSIST
Treasurer, ASSIST
Team Leader, ASSIST
Team Leader, ASSIST
ASSIST/SYRLJ
ASSIST Advocacy Volunteer
Chair, SYMAAG
Membership Secretary, SYMAAG
Doncaster Conversation Club
" " "
" " "
" " " and retired GP
" " "
Formerly of Mulberry Practice
Retired consultant psychiatrist
Retired GP
Mulberry Practice
Retired paediatrician
MAR
---
[1] These include: Northern Refugee Centre, ASSIST (Asylum Seeker Support Initiative Short Term), City of Sanctuary (now to be found in many cities and towns but originating in Sheffield ) and South Yorkshire Refugee Law and Justice.
[2] Daily Express 11 October 2013.
[3] Migrant Rights Network briefing paper on the Bill.
[4] See MRN's briefing paper on Bill: footnote 18, quoting Impact assessment of reforming Immigration Appeal Rights. 1 October 2013. Home Office.