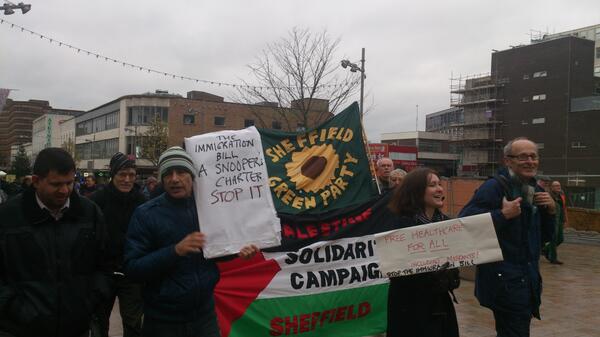 Call out: Demonstrate Against the Immigration Bill 18th December
***stop press***Green Party leader to speak at rally Town Hall 12.30pm
Join the regional demonstration against the Immigration BIll in Sheffield on December 18th, International Migrants Day.
Meet at the bottom of The Moor S1 4PL (near new market) at 12noon. March to the Town Hall arriving at 12.30 then to UK Border Agency, arriving at Vulcan House S3 8NU at 1pm
We will also be meeting before the demo at 10.30am 18th December at the Northern Refugee Centre office in Sheffield to make  placards and final preparations for the demo.
Download a flyer at Demonstrate against the Immigration Bill leaflet
We hope that you and your organisation will support this regional protest, on Wednesday December 18th in Sheffield, against the latest Immigration Bill which was described by Theresa May as aiming to "create a really hostile environment" for people she calls "illegal migrants". The main results of the Bill – if it becomes law – are….
·         That private landlords and banks should check the immigration status of prospective tenants. But understanding immigration status is complex. This will lead to racial profiling and discrimination.
·         To limit appeal rights and an increase in appeals that can only be made from abroad. But Home Office decision making is poor – 40% of appeals succeed. Taking away the right to appeal will make the system even more unfair.
·         A charge on all migrants, without indefinite leave to remain, for use of the NHS. This idea is based on the myth of health tourism. But migrants are more likely to being working in the NHS than using it: 30-40% of all doctors and nurses were born outside the UK.
We think that the only people who should find the UK "a hostile environment " are those who seek to promote racism and division in the pursuit of anti-immigrant votes
Please spread the word, get your organisation to support the protest and come to the demonstration on December 18th
You can find out more about the Immigration Bill – and protests against it:
http://www.migrantsrights.org.uk/files/publications/MRN-Immigration-Bill-briefing-Oct-2013.pdf
http://ncadc.org.uk/blog/2013/11/stop-the-immigration-bill-a-regime-of-harassment-for-migrants/
http://www.unitetheunion.org/news/protest-and-lobby-of-parliament-against-the-immigration-bill/
http://www.voice-online.co.uk/article/new-immigration-bill-will-increase-racism
https://www.symaag.org.uk/2013/10/20/migrant-rights-to-healthcare-public-meeting-october-29th-sheffield/
There is information about the Bill, it's progress through Parliament at http://www.migrantsrights.org.uk/blog/2013/11/immigration-bill-committee-evidence-sessions-highlights
SYMAAG submitted the following written response to the Immigration Bill consultation at http://www.publications.parliament.uk/pa/cm201314/cmpublic/immigration/memo/ib13.htm