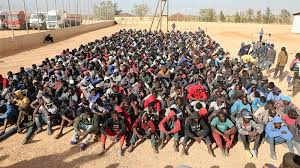 Don't Let Them Die in Libya – Sheffield protests 18 January
 Don't let them die in Libya
Sheffield march and demonstration Saturday 18 January 12.30pm
Meet bottom of The Moor near Moor Market S1 4PF at 12.30 and march to Sheffield Town Hall for a rally at 1pm
"I was lucky to find safety in the UK before Libya erupted into chaos following the fall of Gadaffi" says one of the march organisers Mihreteab Kidane. Now people who've lost their money and nearly their lives trying to cross the Mediterranean find themselves in a country that is incapable of safeguarding them from exploitation and abuse".
Tell the people of Sheffield and the Council what is going on in Libya. Join us and march alongside SYMAAG (South Yorkshire Migration and Asylum Action Group) the Eritrean and other refugee communities in Sheffield.
Thousands of refugees and migrants are stranded in horrendous detention centres in Libya facing an early death, torture, rape or being sold as slaves. There are no UNCHR camps in Libya. The European Union (including for now the British government) is stopping asylum seekers from crossing the Mediterranean by working in partnership with the Libyan coastguard and militias. As a result, people seeking asylum in Europe  are trapped trying to cross the Mediterranean to Europe. The consequences of EU migration policy should, as the charity Médecins Sans Frontières puts it, "shock the collective conscience of Europe's citizens and elected leaders".
Many of those stranded in Libya are fleeing persecution and conflicts from Eritrea, Syria, Yemen, Sudan, Somalia, etc. In Sheffield members of these communities are in daily contact with the detention camps and have family, friends and relatives dying in Libya.
We support their demands to
Rescue the stranded. Save lives. 
Give them safe routes to asylum in Europe.
To tell the British government to agree to take a percentage of those crossing the Mediterranean as other countries have done.