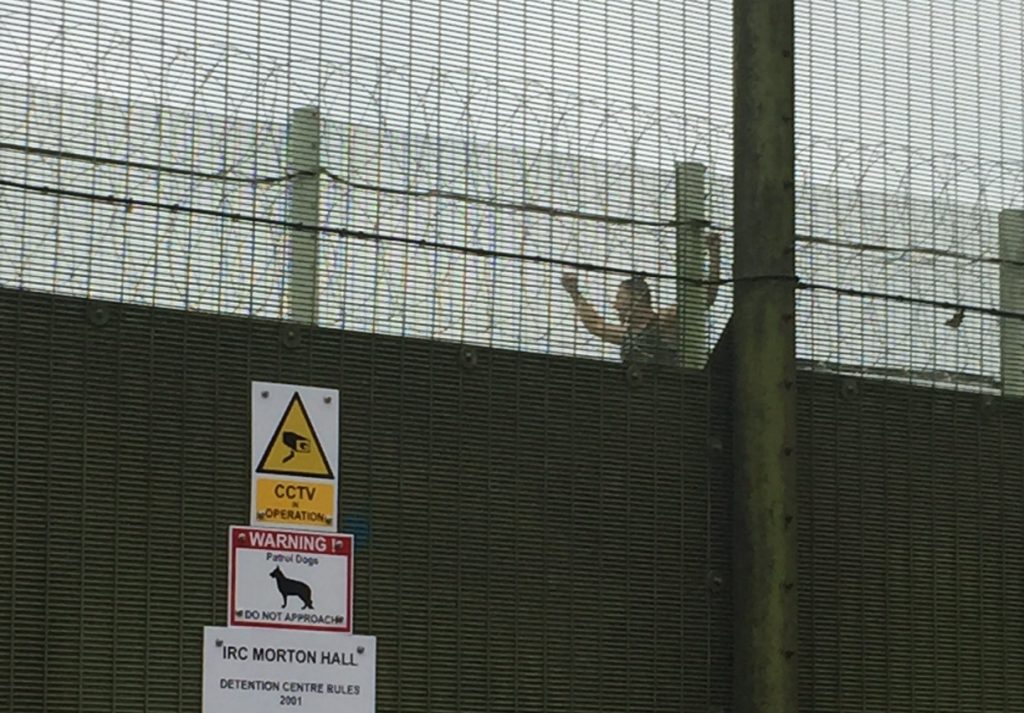 Another person dies at Morton Hall – a letter from detainees
This letter was written by people detained at Morton Hall Immigration Removal Centre and sent to Glasgow Unity Centre following the death of Mr Carlington Spencer on October 2nd. We publish it as it was written. Mr Spencer's death follows the deaths of a number of people detained at Morton Hall this year. This is why we will be demonstrating at Morton Hall on Saturday January 20th 2018 to demand the closure of this, and all other, detention centres
IRC Morton Hall
05/10/2017
Re: Death Incident (IRC Morton Hall)
Dear Unity
Thank you so much for your texts this morning. I have now gathered all the information from main witnesses and even have couple of written statements.
Mr Carlinton Spencer was a detainee here at Morton Hall. Unfortunately Mr Spencer aka (Rasta) died in hospital on the 2nd of October 2017.
This whole ordeal started on Thursday the 28th of September 2017 when two of Mr Spencer's friends turned at his room in Fry Unity 3/06. They noticed that the door was unlocked and the room was dark, however they heard some sort of distress voice coming from inside. They both came in and switched the lights on. They found Mr Spencer lying in floor in agony and unable to get back in bed. They assisted him and put him on his bed. One of them went to the office in Fry unit and informed the officers. Two female officers arrived an started speculating that Mr Spencer's condition was induced by drugs consumption. Few minutes later a nurse came in and failed to assess Mr Spencer's conditions properly. The nurse put a tissue on Mr Spencer's hand, asked him to wipe his own nose when she could clearly see this was not possible. According to these two detainee's testimony the nurse assisted Mr Spencer's hands to wipe his own nose but his hand kept pulling back down. The officers and the nurse asked Rasta's two friends to leave the room but one of them insisted to stay.
On Friday the 29th of September 2017 about midday, another detainee went to Mr Spencer's room to check on him. But this point Mr Spencer was shaking in his bed and looking in a very bad state. This detainee informed the officers in Fry unit while another detainee went to the health care and dragged the medical professional to come to check on Mr Spencer's conditions. Few detainees were standing outside Mr Spencer's door when the nurse and doctor arrived. The officers asked the detained to go away but they decided they would not leave until Mr Spencer is taking to a hospital. An ambulance arrived at about 2pm and Mr Spencer was then taken to hospital.
It has now been said that Mr. Spence suffered another stroke while in the back of the ambulance on his way to hospital and in fact he was in a (non induced) coma in hospital and died on Monday 2nd of October 2017. We were not told by IRC Morton Hall staff of this until Wednesday 4th of October 2017.
On Monday, I personally asked one of the officers in Windsor Unit what were the conditions of Rasta and if he had an update, the officer in question told me he did not know about that incident as he was off on Friday. I found that extremely hard to believe but I continue with my activities.
Yesterday 3rd of October 2017 at around 19:00 hours the news started circulating that Mr Spencer has passed away in hospital. I was shocked and deeply traumatized when I heard the news because I personally knew him. He was a very pleasant and decent gentleman.
By 20>30, final roll check time, the officers at Windsor Unit were trying to calm down a few of the detainees that were deeply distress, They lady officer claimed that Rasta died as result of spice attack. This is very misleading and untrue. He died as a result of gross negligence from part of the health professional at Morton Hall and IRC staff that failed to identify Mr Spencer had a stroke on 28 of September 2017.
Such a gross negligence could potentially revoke a doctor's license to practice from the GMC register. I come from a medical background environment and I understand this subject in depth. The GMC will rule that doctor is unfit to practice. However there are no Doctors here at IRC Morton Hall between 17:00-09:00. Here at Morton Hall detainees are 16 hours without a doctor. We only have nurses that do not meet the standards of a medical professional and lack insight and professionalism, obviously disregarding their patient's duty of care. I believe in this case the protocol would have been to ring an ambulance straight away on Thursday. Perhaps this would have change the whole outcome.
I know one detainee Mr T put a written complaint on Saturday because he directly witnessed what happen to Mr Spencer and how he was neglected. Mr T was moved to the CCU on Monday 2nd of October 2017 in the afternoon and now has been moved out of this centre but no one can get a hold of him.
This should have never happened if proper medical care has been offered in time to minimize the negatives effect of a stroke. This is shocking and it revolts me to my core knowing that IRC Morton Hall staff are insisting that MR Spencer died as a result of spice attack.  This has spared anger among the population her. I am personally very distressed, traumatized and angry as his is the second death incident I have experience while in detention.
Thank you for your support, we really appreciate it.
Kind Regards
Concerned Detainees at IRC Morton Hall