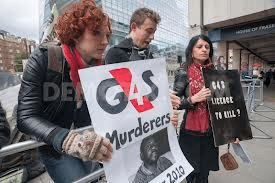 After Jimmy Mubenga unlawful killing verdict: Could asylum seekers have a worse landlord than G4S?
Our campaign against G4S housing people seeking asylum began in January 2012 when a Zimbabwean member of SYMAAG said: "I don't want a prison guard as my landlord". Jimmy Mubenga's inquest recently returned a verdict of "unlawful killing" while he was being 'escorted' by G4S during a forced deportation. G4S are still landlord to thousands of people seeking asylum in Yorkshire, Humberside, the north east and the midlands…SYMAAG's John Grayson looks at the issues
• Inquest jury return unlawful killing verdict • Jimmy Mubenga died after 'restraint' by three G4S guards • G4S executives David Banks and Stephen Small gave flawed evidence to UK parliamentary committee about restraint techniques • Lately Stephen Small dismissed allegations about abuse of asylum seekers housed by G4S
Today an inquest jury delivered a verdict of unlawful killing in the case of Jimmy Mubenga, who died on a deportation flight after being restrained by three G4S guards. Thanks to privatisation, some of the most vulnerable people in Britain have G4S as their landlord. Recently G4S executive Stephen Small was summoned to appear before the Parliamentary Home Affairs Committee to answer questions about his company's housing of asylum seekers in the north of England.
Small showed his nerves. That's hardly surprising for evidence he gave during a previous appearance has since been exposed as unreliable.
Unreliable evidence, 2 November 2010
Let's recall the moment. Small was managing director of G4S Detention and Escorting. It was 20 days after Jimmy Mubenga had died in his division's care after being restrained on a deportation flight. Small and his boss David Banks (head of G4S 'Care & Justice') were rattled. The Home Office had just handed their contract to a cheaper contractor. "It came as a great shock," said Banks of the loss of the contract. Neither man expressed feelings about the death of their detainee.
About the restraint techniques G4S used on people in their care, Small told the committee: "we may hold their head up when they're trying to put their head down, but we do not use any holds that involve pushing the head down towards their body."
A few months later he was contradicted by whistleblower testimony reported in the Guardian. Managers had been repeatedly alerted that refused asylum seekers who became disruptive on flights were being "forced into submission" with their heads placed between their legs, the whistleblowers said. G4S guards called it jokingly "carpet karaoke".
While Mubenga's widow and children grieved, Stephen Small got a promotion. Small, who had joined G4S in January 2010 direct from Rentokil (the pest control company) became G4S director, Immigration and Borders.
Unreliable evidence, 25 June 2013
Last Summer Small's G4S division landed part of what committee chair Keith Vaz called a 'massive' UK government contract for asylum housing. Small told the committee that G4S's slice was £30 million-a-year.
Vaz asked Small about the Stockton mother and baby hostel whose residents have spoken of "living in cells". Vaz quoted from theGuardian's interview with one mother.
She said "the whole floor has diarrhoea and"there "is vomiting" on the floor. "An ambulance comes to the building every week."
Vaz asked Small: "Do you recognise that description?"
Small replied: "we do not recognise that description. In fact, after that article appeared . . . we had — unsolicited —a number of the residents in that building write to us to say themselves they did not recognise it. They did not recognise the description of the housing officers who attended it. So my answer is I do not recognise that description at all."
I have visited the Stockton hostel several times. I have sat with and listened to Stockton residents. I can vouch that conditions are oppressive, unhealthy and totally unsuited to the early development of the thirty-eight babies and toddlers who are housed there.
How much is this thirty-room hostel costing the taxpayer? Funding information disclosed to the committee suggests that we are paying around £22,000 per month in rent to G4S and its subcontractor Jomast.
In February the South Yorkshire Migration and Asylum Action Group (SYMAAG) and a range of other asylum rights organisations, made a submission to the committee. We documented case study after case study of appalling housing conditions, and disrespect and abuse of asylum seekers in G4S publicly funded asylum housing.
Committee members Julian Huppert and David Winnick made good use of the briefings and case studies in their interrogation of Stephen Small, and of Jeremy Stafford CEO of Serco for UK and Europe, who gave evidence alongside Small.
David Winnick Labour MP for Walsall said:
"I want to ask you whether you are aware of the complaints that are often made to us – be it as Members of Parliament or in evidence by those organisations that represent asylum seekers – that your organisations …are insensitive to asylum seekers?"
The former pest control man replied: "We do recognise the vulnerability and the difficult time that an asylum seeker is going through at this point when they are in our care. We have a long history in G4S of working with vulnerable people . . . Many of the reports that have been published we do not recognise."
Mr Winnick:"You do not recognise?"
Stephen Small:"Some of them have been completely unsubstantiated."
G4S always knocks first
Julian Huppert, the Liberal Democrat MP for Cambridge asked Small about one woman "who was forced to stay nearly a month with her five month old baby in a Cascade property – I think that is a G4S one – in a house with wet rotten floors infested with cockroaches and slugs. . . The city council environmental health inspector described it as capable of becoming a category 1 hazard unfit for human habitation in its current condition, which strikes me as bad. I am sure that is not what you intend to provide and may well not even be a majority, but do you accept that there are cases where the accommodation simply is not appropriate for people? Do you accept that does happen?"
Small replied: "we inherited a lot of the issues and we are addressing them quickly."
Commercial contractors hold keys to asylum seekers' homes and commonly let themselves in, unannounced.
MPs challenged both G4S and Serco on this. Huppert said: "May I just have it very clearly from you both that nobody should be entering properties unannounced except potentially in some sort of emergency?"
Small gave a long and rambling response about making appointments, knocking on doors, ringing bells, then he said: "Where there is no answer after repeated attempts, we must and have the right to enter the property to ensure that it is still being inhabited by the asylum seeker."
(Now there's a phrase: "inhabited by the asylum seeker").
Huppert said: "Again, you are describing a theory and if that were the case that would be good. What I cannot do is fit that with the comment, for example, from Sarah Teather, 'Almost every family told us that housing contractors routinely enter properties without knocking'." (Liberal Democrat Sarah Teather led the recent Parliamentary inquiry into asylum support for children and young people).
Contractors bid low to secure the business
Serco's Jeremy Stafford let slip an astonishing revelation. He claimed that the Home Office contract paid Serco £11.71 for each single person in dispersed asylum housing each night, and £30.28 per night for each single asylum seeker in dispersal centres like Birley Court in Liverpool. Remarkably, he suggested that so far as Scotland and Northern Ireland were concerned, Serco handed on all but 21p per person per night to its main subcontractor, Orchard and Shipman.
An astounded Keith Vaz said: "You are telling this committee that Serco makes 21p per asylum seeker?"
Jeremy Stafford: "That is correct."
Later Vaz came back to the point: "At the moment Mr Stafford I am not sure what your shareholders are going to say, but 21p does not sound a huge amount of money for one of the biggest service providers in the world."
Stafford admitted what campaigners had long suspected, that the G4S and Serco bids were, in effect, 'loss leaders'. Or, as Keith Vaz put it:
"You obviously put in a bid that was quite low; that is why you got the contract."
Stafford explained that Serco was:
"Very focused on building an accommodation business . . . we felt that we could establish a very good platform that we felt was scalable . . . some of the services that we develop in the United Kingdom we then go and take to other geographies . . . For us, we felt accommodation management was an important development area.'"
In other words the outsourced and privatizing housing contracts would give the security companies experience in asylum markets as a way into asylum and mainstream housing markets in the UK and abroad.
Is that it?
Or are these contractors bidding low to win the business, and then working to fatten the margin by degrading the service?
Or are they planning to sell the contracts on?
Or are they just spinning us a line? And making their big money on the management fee?
Stephen Small would not tell the committee how much G4S was being paid. He said it was complex, varying each night and in 'bands'. He promised to send the information to the committee later.
It's all about subcontracting
Keith Vaz laid bare the nature of this privatisation: "Prior to the contract being given to yourselves and G4S and Reliance, this was being administered by a number of SMEs [small/medium sized enterprise] . . . The contract was then given to all three of you and you all have subcontracted. Your subcontractors, Mr Small, I think are Urban Housing, Target Housing, Jomast Ltd, Live Management Group, Cascade and Fentons."
(Vaz underplays the scale of privatisation. Many of the previous contracts were coordinated and serviced by consortia of local councils. I'll be writing to the Home Affairs Committee to clarify this).
Turning to Serco's man, Vaz said: "We have a list that begins with Happy Homes Ltd all the way down to First Choice Homes, Cosmopolitan Housing. I can see about 20 or sosubcontractors. So it is not really Serco that is providing this accommodation, is it? You have taken the contracts and then you have subcontracted it out to somebody else. In Serco's case you do not have direct management of these places. You take a management fee, I would imagine."
Vaz questioned Small on the crisis amongst G4S subcontractors that Small himself inadvertently exposed in a memo that was leaked to the press.
Chair "…you in your own memo of 25 February, which has got into the public domain, said the subcontractors were having to face 'property defects' and 'issues with the pastoral care offered to Service Users'. Was that your memo?"
Stephen Small:"That was my memo."
Chair: "That is quite serious isn't it?"
Stephen Small:"It was, and the main issue they had Chair, was . . . that properties were not up to the standard that is required . . . and it required a huge amount of investment, time and energy, which Mantel as an SME were never structured to do."
Small outlined what G4S was doing about their subcontractors in the Midlands, East of England and South Yorkshire, after Mantel's withdrawal and Live Management's financial crisis.
Stephen Small: "What we have done, Mr Chair is that we have now secured the properties . . . We have also transferred the staff that were delivering the frontline service for Mantel into G4S." What Small did not mention is that by Monday 1 July G4S also aimed to complete the transfer of all Live Management front line staff to its direct employment.
These changes make matters worse for asylum seeker tenants. Subcontractors' workers have told us privately that the contracts had cut resources for housing management to a level where Mantel and Live Management could simply not afford to employ the skeleton staffs they had.
Asylum seekers we have interviewed say they fear G4S and their staff appearing at their doors, managing their housing, because of their experience in the G4S 'detention estate'. The Yorkshire and North East campaigns on G4S asylum housing began around the simple statement by a Zimbabwean asylum seeker tenant "I do not want a prison guard as my landlord." Stephen Small connects these fears as the G4S director called to answer to G4S's role in Jimmy Mubenga's death in 2010, and now the director of an asylum housing contract bringing misery to many of the 11,000 asylum seeker tenants they "support".
Despite the comprehensive exposure in Parliamentary hearings and reports Small still apparently has friends in high places. Throughout his grilling he repeatedly quoted support from the Home Office for his company's hold on the contracts. A week before the hearings on 19 June Mark Harper, the Coalition Immigration minister, in a written answer to Labour MP Chris Ruane, a member of the Home Affairs Committee, placed the Coalition government squarely behind G4S:
"G4S performance is satisfactory. Where shortfalls in performance have been identified the performance regime has been applied and improvement plans developed and implemented."
Despite the spin and fabrications from G4S, Serco and their friends in high places, the skirmishes in the Home Affairs committee suggest that this is a battle that can be won.
In solidarity with asylum seeker tenants, we can get rid of G4S, Serco and Capita/Clearel, and switch taxpayers' money for asylum housing back to local authorities, for them to coordinate housing associations and housing companies with decent housing, to provide real housing support for those waiting for their claims to asylum to be determined.
 this article originally appeared on the Open Democracy website at ://www.opendemocracy.net/ourkingdom/john-grayson/after-mubenga-unlawful-killing-verdict-could-asylum-seekers-have-worse-landlord