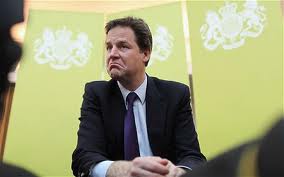 Just before the last general election SYMAAG sent an "Asylum Election Pledge" letter to all candidates in South Yorkshire. The letter was backed by 30 refugee community organisations, campaign groups, faith groups and trade union branches. Many candidates replied to say they agreed with 6 key points which, if implemented, would go some way to showing respect for the rights of people seeking asylum in the UK. One of them was Nick Clegg, elected as MP for Sheffield Hallam, and now Deputy Prime Minister.
Nick Clegg's stated support for key asylum rights began earlier: In July 2008 at public meeting in Sheffield, over 200 people heard him declare his support for asylum seekers' right to work and for the ending of the detention of asylum-seeking children.
 In 2012 there's no right to work for asylum seekers and child detention continues despite Clegg's incredible claim that the Coalition Government has ended it. But Nick Clegg, a patron of local asylum-support charity ASSIST, continues to argue that he and the Liberal Democrats are for asylum and migrant rights. So, on 16th November 2012, representatives from various Sheffield-based asylum-rights groups met the Deputy Prime Minister and "put our concerns" to him. This was the third such meeting: reports and assessments of the others can be found here and here. 
Report from Meeting with Nick Clegg, Sheffield 16th November 2012
On 16 November, representatives of SYMAAG, together with representatives of other asylum organisations in Sheffield, ASSIST, City ofSanctuary Sheffield, Northern Refugee Centre and Sheffield CDAS, met Nick Clegg, MP for Sheffield Hallam. It was the third such meeting since  the formation in 2010 of the Coalition Government in which he is Deputy Prime Minister.
The team from the asylum organisations  was Richard Chessum for ASSIST, Sam Musarika for Sheffield Committee to Defend Asylum Seekers (CDAS),  Mike Reynolds for City of Sanctuary Sheffield, Jan Thompson for Northern Refugee Centre (NRC) and John Grayson and David Price for SYMAAG. It was a short meeting but covered a lot of ground.
David Price began by remarking that, as they had said at previous meetings, they did not feel that the asylum system had fundamentally changed from what it was like before the last General Election – the 'culture of disbelief' was still in evidence.
G4S and Asylum Housing. John Grayson spoke about the effect of G4S taking over asylum housing in Yorkshire and the North East – people being moved into awful premises, Angel Lodge being reopened as initial accommodation, moves  into areas where asylum seekers suffered abuse from the far right, the shocking hostel for mothers and children in Stockton on Tees (subject of an inquiry led by Sarah Teather MP the following week). G4S were behind with the contract – 300 people had yet to be moved out of Council accommodation in Yorkshire. SYMAAG was drawing together a case to put to the Chief Inspector of Immigration and Asylum in the hope of a thorough inspection. Various points were discussed:
How did moves to the North East come about?  Mainly at this stage from the fact that G4S held both the contract for initial accommodation and for longer term accommodation.  
What scrutiny did UKBA give to homes into which people were to be moved? Not much.
What was the previous quality of housing? Councils had on the whole ensured observance of minimum standards.
Deportation to dangerous countries. Mike Reynolds drew attention to various recent cases, referring particularly to the Justice First report on deportations to the Democratic Republic of the Congo (DRC) in which out of 17 cases 13 were abused on return. He called for the monitoring of returns and said that there were moves in the voluntary sector  to develop a national monitoring network initially concerned with DRC, Uganda and Afghanistan.
Family Migration. David Price said that SYMAAG had held a meeting at which great concern was expressed about the new family migration rules introduced in July. He suggested that it was highly discriminatory against poor people and poor regions such as South Yorkshire to require an income of £18,600 to bring a spouse into the country (and more for children).  
Nick Clegg said that, but for the Liberal Democrats, the limit might have been much higher. But he was less sympathetic with SYMAAG's arguments here than on asylum issues where the UK had entered into international obligations.  Every country had to have rules to control immigration. David Price pointed out that both Yemenis and Pakistanis in Sheffield considered the new rules damaging to their communities. Councillor Maroof' had put a motion on this to Sheffield Council which had been accepted. There were disturbing individual cases. Nick Clegg said he thought it worthwhile to look at the option of regional differentiation of the income threshold.  Richard Chessum, referring to a particular case, urged that when asylum seekers were given leave to stay they should be allowed to bring in close family members.
Young asylum seekers. Jan Thompson  expressed concern about the way in which judgements about the age of young asylum seekers were handled and referred to one case where the authorities had been slow to recognise that a young Afghan had learning difficulties.
Nick Clegg undertook to investigate what monitoring the UKBA had in place to check on different local authorities and their policies on assessing the ages of young asylum seekers.
Legacy Cases. Richard Chessum said that there were tens of thousands of cases that had been unresolved for years – the situation was very stressful for those involved who could not work or get on with their lives. UKBA tended to dismiss fresh claims as not sufficiently different to previous claims to justify pursuing them – thus leaving people in limbo.
Clegg summed up by saying he would follow up G4S (sub-standard housing, Angel Lodge etc), post-return monitoring, possible regional differentiation of income requirements for family migration, age assessments and fresh claims in legacy cases.
We will be watching carefully (but not waiting) for any progress…