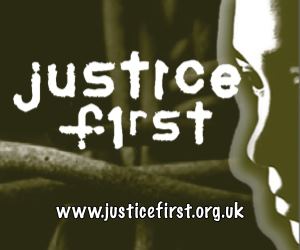 UKBA: "No evidence that returnees to DRC are at risk"
Latest news: UKBA claim there is "no evidence to substantiate the allegations that returnees to the DRC are at risk" (UKBA Chief Executive Rob Whiteman in a letter to Paul Blomfield MP 31/7/12.) See Returns to DRC letter from Whiteman to Paul Blomfield MP.
This claim that there is "no evidence" that people deported to the DRC are at risk will come as a surprise to most Congolese people who have been deported to the DRC as it will to the authors of the "Unsafe Return" report which gave detailed evidence of the persecution which followed their forced return.
                                                  **************************************
At the SYMAAG AGM on May 1st Catherine Ramos from the Justice First group summarised her report "Unsafe Return". The report documented the abuses experienced by Congolese people during and after their forced deportation to the Democratic Republic of Congo (DRC) from the UK.
Now Catherine has inspired a number of MPs to put forward a parliamentary motion opposing further deportations to the DRC on the basis of the evidence in the "Unsafe Return" report.
Catherine says "Please contact your MP urgently asking them to sign this Early Day Motion (EDM).  Often MPs are not aware of EDMs, perhaps they could be asked to ensure their colleagues know of this one." Many MPs, both Labour and Liberal Democrat have told us that they support asylum rights. Contact your MP and ask them to stick to their pledge. You can find their contact details here.
 We successfully stopped Djoly's deportation to the DRC in 2011
This attempt to stop future deportations to the DRC comes after a campaign to stop a deportation charter flight to a number of African countries. Following intensive work between Detention Action and Duncan Lewis solicitors, at least 7 people from DR Congo were taken off the multi-detstination charter flight which departed 5 July due to last minute injunctions. The judge who granted the injunctions commented that because the Congolese ambassador had recently said at a meeting in parliament that people who were sent back to DRC should be punished, returns should be halted until this has been investigated.