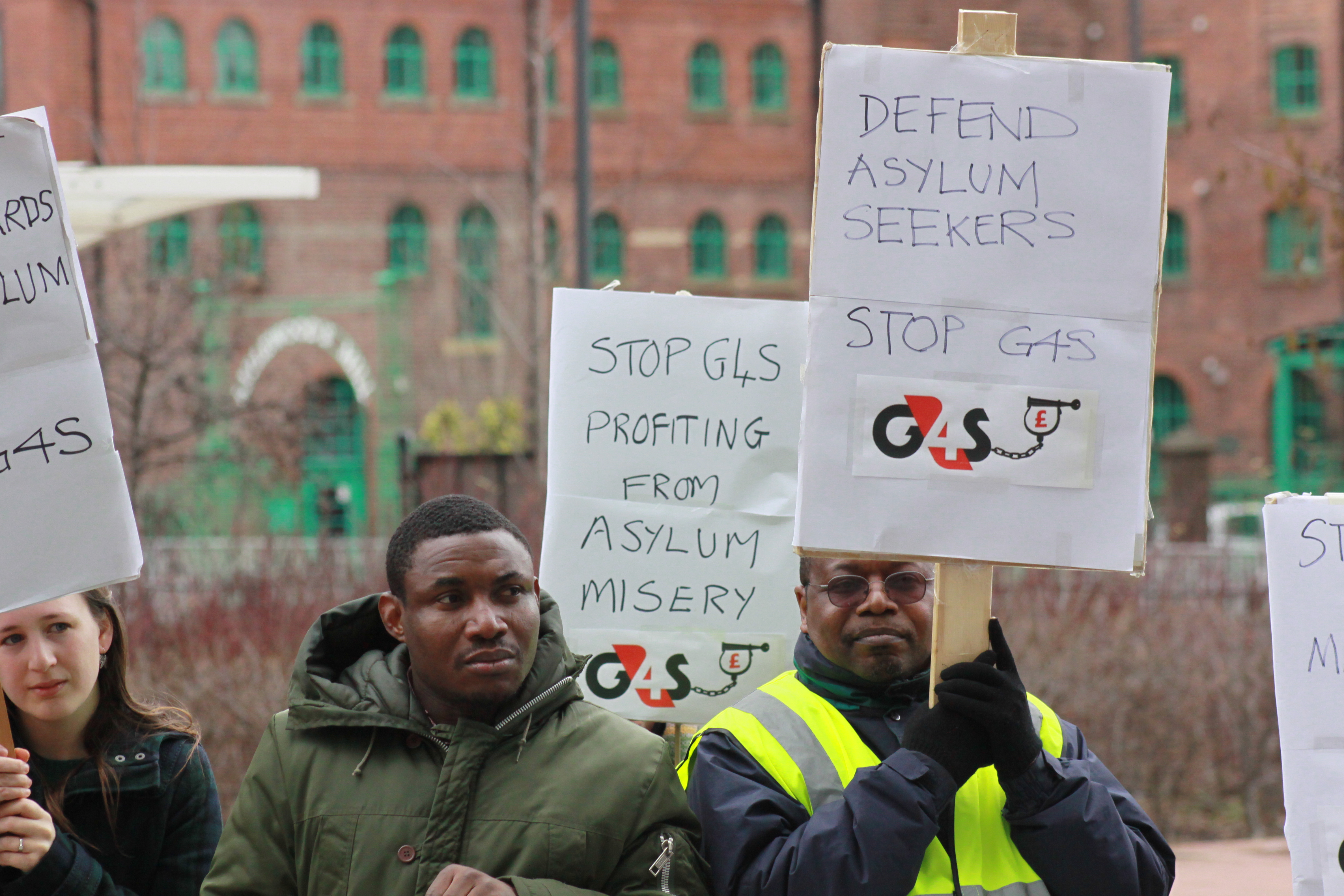 Target Housing: Sheffield Charity's Reputation Shredded By G4S Deal
When G4S eventually won the COMPASS contract to house asylum seekers in Yorkshire, Humberside and the Midlands they were well aware that their experience with asylum seekers was limited to detaining them, transporting them to detention centres and (until the death of Jimmy Mubenga, while in G4S custody, in 2010) forcibly deporting them.
 "They Come Round At Any Time"
G4S tried desperately to point to their use of "caring" sub-contractors. They pointed to their sub-contract with United Property Management (UPM). For anyone familiar with asylum housing and especially for anyone unlucky enough to have been housed by UPM, this was a bad joke. Apart from a history of gross inefficiency, many people seeking asylum associate UPM with abusive behaviour: "They (UPM) come round at any time. They open the door of the house without the knowledge of the people who live there" one Rotherham asylum seeker told SYMAAG. In another property, housing 6 people, UPM had provided one old cooker, one set of cutlery, one plate and one pan: "We had to cook in shifts, sometimes I didn't eat until after midnight" one ex-UPM tenant reported to us.
 UPM Dumped
So ex-tenants of UPM, asylum rights campaigners and most people who ever came across them were delighted when UPM were dumped as G4S sub-contractors last month after a campaign by Why Refugee Women? and SYMAAG. G4S thrashed around for replacement sub-contractors, settling on 2 minor property managing companies (with zero experience of housing asylum seekers) and a third, Cascade Housing which is so poor it was once sacked by UPM for incompetence! The 4th replacement sub-contractor was to be Target Housing, a Sheffield-based charity which had a record of working with ex-offenders and other vulnerable groups.
 Chilean Community Appalled
It would be fair to say that Target Housing, run by Gino Toro a Chilean refugee, enjoyed a reputation as an organisation with some integrity. Until that is, they took G4S' money and became their major subcontractor in Sheffield, Rotherham (and potentially Derby and Hull). The Chilean community in South Yorkshire, asylum seekers and campaigners have been appalled that Target Housing is prepared to give cover to G4S, allowing them to claim that a (hitherto) respected housing charity is on board.
The Sums Don't Add Up
Target make big claims about the services they intend to provide to asylum tenants, but with a handful of (underpaid) staff and (untrained) volunteers, the sums just don't add up.  We have appealed to Target CEO Gino Toro to withdraw from the G4S COMPASS contract. Even with G4S' Olympic shambles on everyone's lips, he refused. So SYMAAG, along with asylum seekers housed under the new COMPASS contract will be keeping a close watch on Target – and all the other sub-contractors. When they fail to treat asylum tenants with dignity or provide the service they deserve, we will protest.
Have your say about Target Housing's collaboration with G4S on the South Yorkshire Chilean Community website here
*****************************************
SYMAAG  press release on Target Housing, G4S and Asylum Housing
Sheffield charity Housing association gets £2.5 m asylum housing contract from 'shambles' Olympics security company G4S.
Asylum groups claim they are 'selling their principles to a prison guard company'
Target Housing Association a Sheffield based charitable housing association has shocked the charity and asylum rights world in Sheffield by becoming a subcontractor for asylum housing for Olympics security firm G4S the world's largest security corporation.
G4S has already taxpayer funded contracts worth hundreds of millions pounds in managing privatised prisons, police and court services as well as its core business of providing security personnel – a business now in tatters after its Olympics fiasco.
For asylum seekers in asylum housing in Sheffield  G4S is notorious as managing detention centres and escort services for people being deported. The company has been heavily criticised by Parliamentary committees and inspectors for its methods. Since January South Yorkshire campaigners have been organising to stop the G4S contract moving hundreds of people and family out of council contracted properties  under the slogan coined by one Sheffield Zimbabwean asylum, seeker. 'I do not want a prison guard as my landlord'
Campaigners claim Target, desperate for contracts to survive, is collaborating with G4S in a cut price deal which means Target senior staff on the asylum contract will be paid the same £8 an hour that G4S guards at the Olympics are getting. Services to asylum seeker families will be cut back to cut costs.
Asylum rights group SYMAAG say Target is desperately offering itself as a fig leaf to G4S to cover up the fact that G4S has no experience in managing housing, whereas Target up to now has been respected as providing housing and services for ex offenders on local council contracts in South Yorkshire.
As John Grayson a researcher for SYMAAG and Sheffield Hallam University puts it
'Target should pull out of the contract now, we are witnessing the same shambolic state of affairs in asylum housing as we saw in the Olympics contract. Target claim to have accommodation for 120 people in family groups in South Yorkshire, yet last week the UK Border Agency and G4S sent a Sheffield family 100 miles to private rented housing in Stockton on Tees under the new contracts. Asylum families in Barnsley are being told they could be sent to Newcastle– totally tearing up assurances G4S has given to campaigners and politicians over the past months. The longer Target stay on the contract the more their reputation will be shredded along with that of G4S'
Media coverage of Target's deal with G4S:
Social Housing website 24 Dash carried a piece critical of Target's decision here
Target CEO defends their decision here
SYMAAG's John Grayson analyses Target's role in privatising asylum housing here