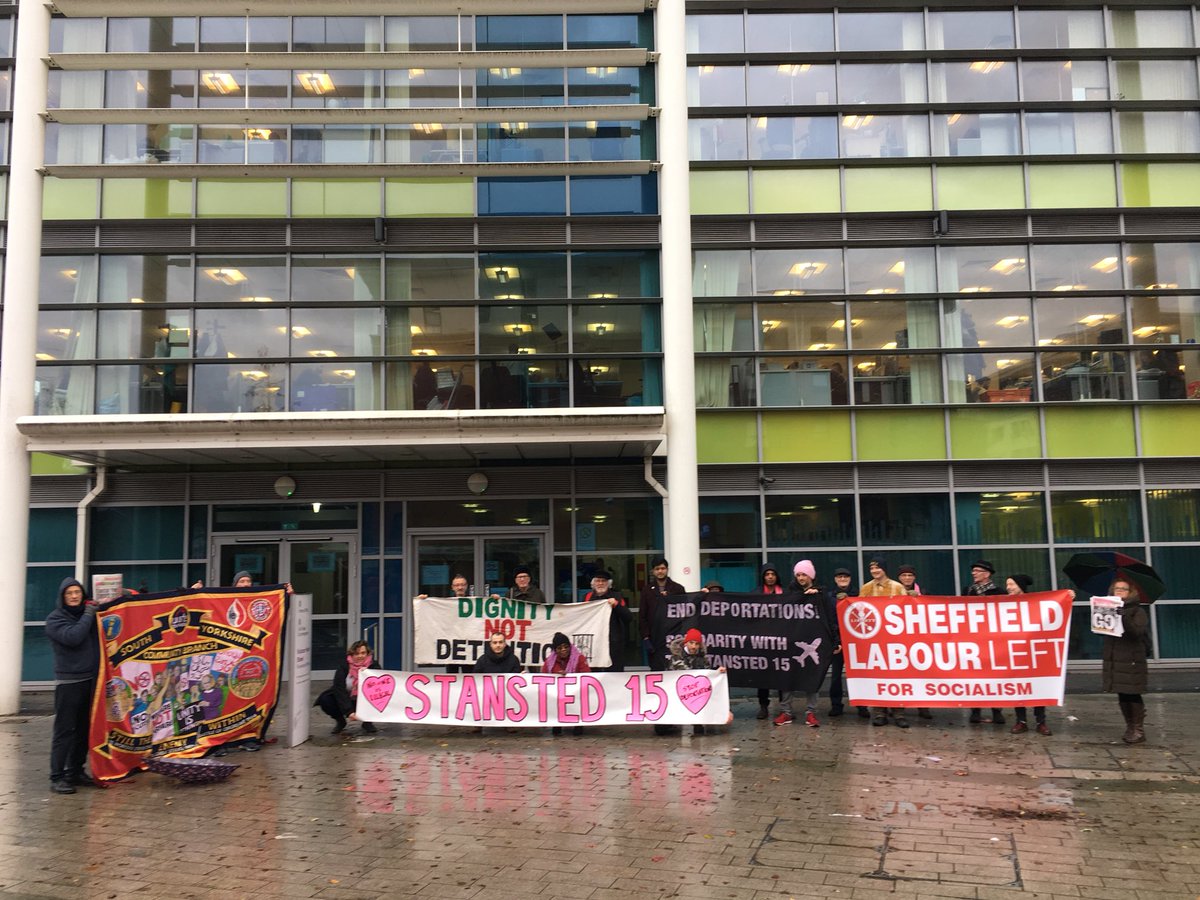 Sheffield Stands with the Stansted 15
December 18th, International Migrants Day, was a day of action in support of the Stansted 15 who were convicted of terror-related offences for stopping a deportation charter flight taking off. In doing so they saved lives. We believe the government and Home Office are trying to terrorise those showing solidarity with people seeking asylum.
So SYMAAG and many others protested outside Vulcan House Home Office in Sheffield, as part of a day of action in support of the Stansted 15 involving 20 towns and cities in the UK.
Statement from Right to Remain on the Stansted 15
The Stansted 15 have been convicted for preventing a charter deportation flight through peaceful direct action.
Today's ruling is a bitter blow for the defendants, their friends and families. It is also a blow against all those who seek to stand for justice. We wish to first and foremost express our solidarity with them as they deal with this news today.
We know that the steps they took – which caused neither injury or ill-will to anyone – was done only in order prevent a great crime. That crime was one that would have serious impact on the 60 people bound for deportation on a 'charter flight'.
Charter flight removals and deportations are one of the most worrying aspects of the UK's asylum and immigration process. Shielded from public oversight and information protected from freedom of information requests, these 'ghost flights' forcibly remove people en masse from the UK. As is common with charter flights, many who were on the grounded flight were still fighting their cases. Everybody seeking the right to remain in the UK faces significant obstacles to establishing their legal rights. Those subject to charter flight removal and deportation have even less access to justice.
The Stansted 15's actions meant that people were able to continue to fight to remain in the UK with their families, communities, in the places they have made their lives. Not only that, it shone a bright light on charter flights and the wider deportation regime.
To Helen, Lyndsay, Nathan, Laura, Melanie E, Joseph, Benjamin, Jyotsna, Nicholas, Melanie S, Alistair, Edward, Emma, May, and Ruth, we say: stay strong, we are with you.
The Stansted 15 will be appealing the verdict. Please donate today to help them with trial related costs. Donate here.