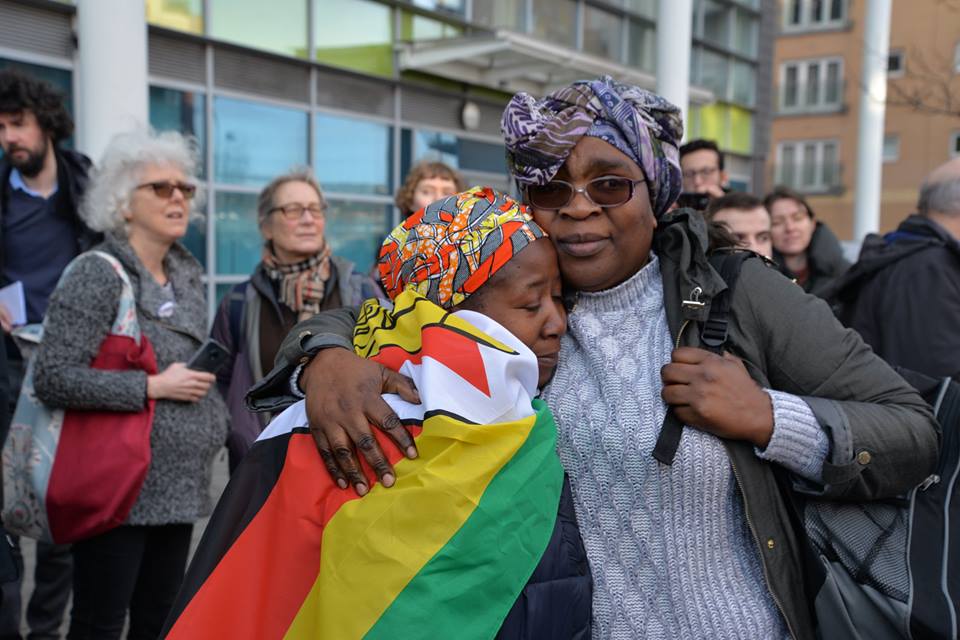 Resistance to Zimbabwe deportation plan grows
Victor, Khuzani and Benji, Zimbabweans from South Yorkshire have been released from Morton Hall detention centre. Marian and the other people interviewed by the Zimbabwean Embassy official at Sheffield Home Office have not been detained since. Perhaps Sheffield Home Office got the message from the well-supported local campaign for their right to remain.
However, the Home Office continue with their plans. We know of other Zimbabweans still at Morton Hall and around the country the process of preparing people for detention/possible deportation continues. For example "dozens" of Zimbabweans (including well-known campaigners) were interviewed and photographed by a Zimbabwean Embassy official when they reported at Southend police station (being used by the Home Office) earlier this week. One of them, Felix Zinhu, describes the stress this caused him here
There are reports of other Zimbabweans being either detained, or interrogated by Zimbabwean Embassy officials invited by the Home Office, around the country. The stress and anxiety caused by this needs to be appreciated. Perhaps for the UK government it's an intended consequence of their desire to create a hostile environment for people like Marian and Victor. And why should people have to sacrifice their privacy and expose themselves to even more risk by speaking out against the Zimbabwean government on national media and online?
The Zimbabwean government is well aware of criticism from opposition activists forced to become refugees. Zimbabwean Information Minister Nick Mangwana responded to stated fears of persecution from Marian Machekanyanga and others by making the laughable claims that "there are no political persecutions in Zimbabwe" and "there is no single returnee that has been persecuted regardless of the circumstances of their departure".
In February 2018 the UK Ambassador to Zimbabwe Catriona Laing and Zimbabwean Deputy President Kembo Mohadi agreed to cooperate in the deportation of 2500 Zimbabweans living in the UK.
There has been much speculation on the details of this deal between the UK government and the Zimbabwean military dictatorship. In return for accepting 2500 Zimbabwean refugees perhaps Zimbabwe would receive financial aid, favourable trade deals (important for the UK post-Brexit) or diplomatic support in rejoining the Commonwealth?
The Chair of the All Party Parliamentary Group on Zimbabwe tellingly described the UK government's "ill-advised cosying-up to the Zimbabwean leadership, which owed its position, power and loyalty to the military and political machine that manoeuvred to install it and not to the people of Zimbabwe through a free and fair electoral process. I will not go into more detail; the Minister knows what I am talking about".  Brian Donnelly, ex-UK Ambassador to Zimbabwe was more explicit, describing a "disgraceful conspiracy by the Home Office and Foreign and Commonwealth Office to return Zimbabweans against their will".
So the campaign against detentions and threatened deportations to Zimbabwe – at it's most dangerous for opposition supporters for years – continues. We've had widespread national and local media coverage, including this excellent Channel 4 report on the Sheffield February 19th protest in support of Marian. There has been parliamentary pressure, for example here from Sheffield Central MP Paul Blomfield. We've seen an impressive mobilisation of campaigners, refugee organisations, political parties and countless individuals illustrated by a petition for Victor Mujakachi which gained 75,000 signatures in a week.
Inspired by the bravery of Zimbabwean asylum seekers and by what we've already achieved the campaign against deportations to Zimbabwe continues. While well-known and much-loved activists like Victor and Marian have received huge publicity and support we will campaign against all deportations to Zimbabwe. As Marian put it "this shouldn't be happening to anyone, not just me".
thanks to Manuchehr, Luis Arroyo for the photos, many more on our Facebook pages