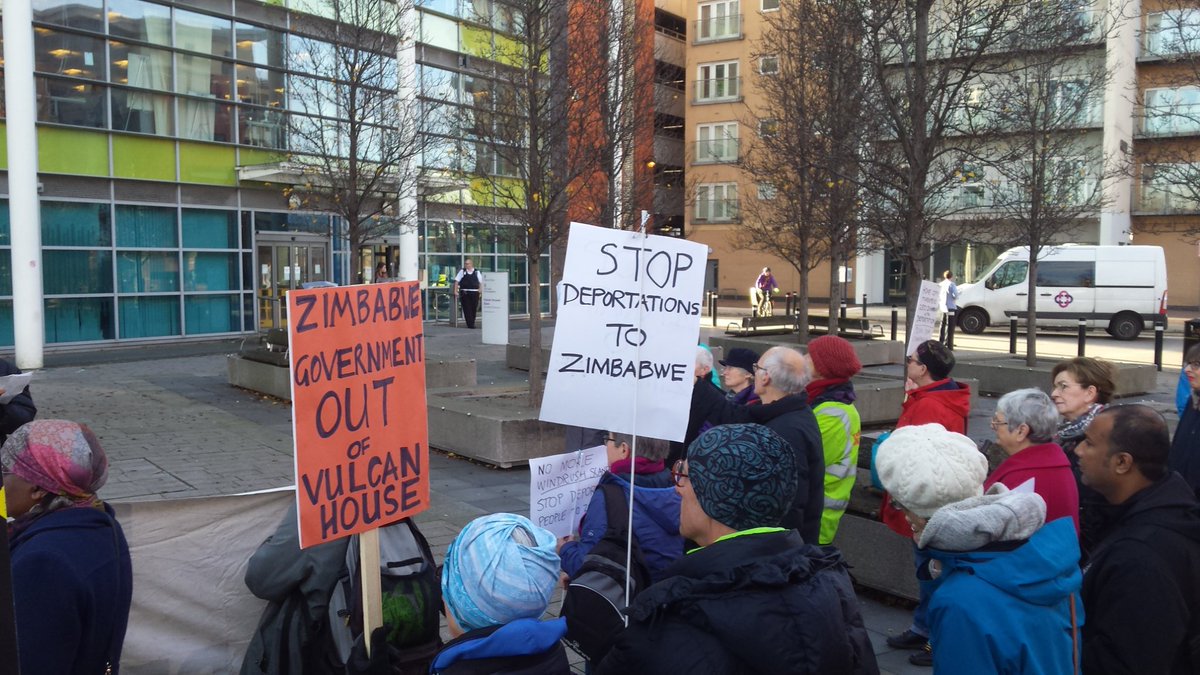 No Deportations to Zimbabwe – protest Tues 19th Feb 9am Vulcan House
So far two asylum seekers from Sheffield/Zimbabwe have been detained and are threatened with deportation to Zimbabwe. They were detained when they went to Vulcan House, the Home Office building in Sheffield for an 'interview' on Monday 11th February. An article in Independent "He'll be killed" 12th Feb gives more information
This latest move follows asylum seekers being questioned by a Zimbabwean Embassy official invited by the Home Office to interrogate them in December. A number of other Zimbabwean asylum seekers are being asked to attend Vulcan House over the next week and we are concerned that they maybe detained. Naturally, they are afraid that this could result in deportation to Zimbabwe, the country they were forced to leave because of persecution.
That's why Zimbabwean asylum seekers have called for a protest to support them when they go to Vulcan House. The Home Office and government seem ready to deport political opponents of the Zimbabwean government at the height of violence against those who criticise ZANU (PF). SYMAAG member Marian Machekanyanga described the Zimbabwean army going house to house to identify, beat, detain, sometimes kill opposition activists and others critical of the government, of children shot in the street, internet access shut down and phone calls monitored. The new Zimbabwean government of Emerson Mnangagwa seems every bit as repressive as Robert Mugabe's.
Some of the Zimbabwean people in Sheffield threatened with deportation are well-known and well-liked community activists like Victor Mujakachi and Marian Machekanyanga. 5000 people signed a petition to release him from Morton Hall immigration detention centre in 24 hours. Other people are not so well-connected but all need our support. There should be no deportations to Zimbabwe. Our asylum system should give protection to those who need it, not hand them over to their tormentors.
No Deportations to Zimbabwe. Release our friends from detention. Zimbabwe is Not Safe
Demonstrate! Tuesday 19th February 9am Vulcan House, Sheffield Home Office S3 8NU