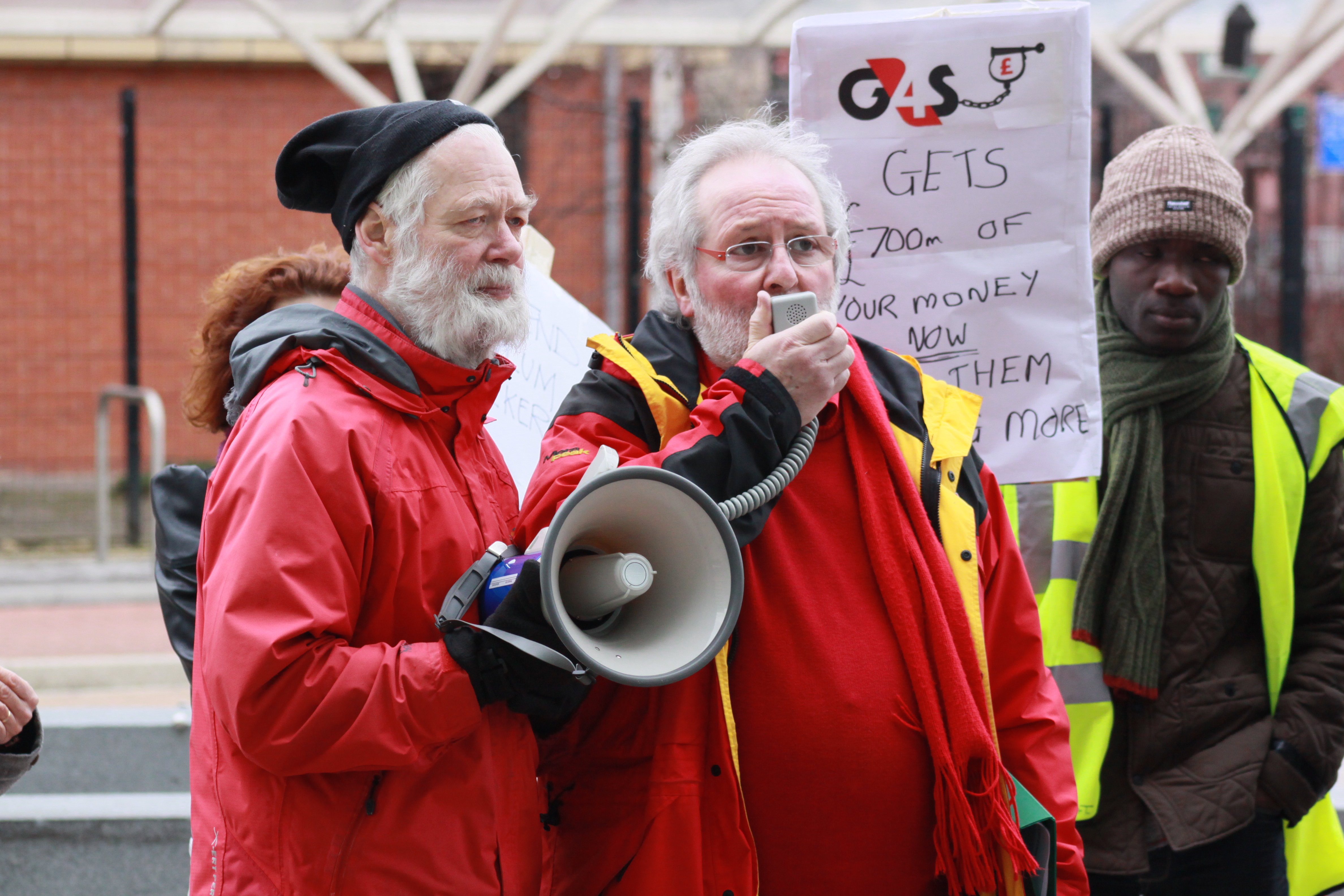 "Mobilising Outrage: our campaign against G4S"
Mobilising Outrage: campaigning with asylum seekers against security industry giant, G4S
John Grayson, 12 April 2012
About the author
John Grayson works in Barnsley with the South Yorkshire Migration and Asylum Action group (SYMAAG); has been a researcher and adult educator for many years for the WEA andNorthernCollege; and teaches atSheffieldHallamUniversity.
A Yorkshire campaign deploys rigorous research to expose and resist the astonishing corporate takeover of Britain's 'asylum seeker markets'
Private security firms with records of abuse in managing detention centres and escorting asylum seekers are about to take over as asylum housing landlords and disperse asylum seeker tenants into poor quality private rented housing. This is just part of the relentless rise of the private security company and their networks of privatised taxpayer-funded prison and welfare contracts.
G4S and the other security companies announced as preferred bidders for asylum seeker housing last December have now signed contracts with COMPASS, the UK Border Agency procurement agency. The Yorkshire region and its asylum rights organisations in Sheffield, Barnsley, Kirklees (Huddersfield), andBradfordhave been engaged in a campaign since the end of January to stop G4S taking over asylum housing.
The campaign has sprung from moral outrage and these words from a Sheffield Zimbabwean asylum seeker: "I do not want a prison guard as my landlord".
The appalling record of G4S in managing detention centres, and the death of Jimmy Mubenga in 2010 whilst being 'escorted' for deportation by G4S, have framed the campaign to stop the contracts for asylum seeker housing, prompting a protest letter from university staff and researchers↑ , and securing strong regional and local press and radio↑ coverage.
Two demonstrations and marches in Sheffieldfeatured G4S's record, drawing upon research such as Medical Justice's 2008 report on private escort companies, "Outsourcing Abuse"↑ .
The Coalition government's UK Border Agency (UKBA) throughout has insisted that G4S had a good record, and would be a suitable landlord for asylum seekers, and constantly denied that G4S had lost the escort contract because of their brutality. These denials are looking more and more absurd as parliamentary reports pile up↑  and whistleblowers (including their serving charter operations manager)↑ speak out about the company's brutal methods.
Three former G4S escorts face trials — the DPP says a decision on their charges is imminent↑ ,  and G4S may yet be charged with the corporate manslaughter.↑
G4S strenuously denies the 'prison guard' label. At a meeting in Sheffieldon February 24 with campaigners, the company's Stephen Small (Managing Director, Immigration & Borders), argued that asylum housing was actually part of a separate caring and professional housing division. Meanwhile G4S trumpets the asylum contracts on its website↑ with its prisons and criminal justice contracts.
The company carefully crafts different messages for different audiences:
Speaking to the Financial Times on 22 March, Mr Small said about the asylum housing contracts:
"We will employ dedicated social cohesion experts to work with local authorities, migrant support groups, health and education bodies."
But a G4S job advert for a "social cohesion manager" says the role is to:
"Establish relationships with key stakeholders within the Asylum Seekers market to promote the company as an industry thought leader and ensure that business opportunities are maximized."
G4S even changed the name of its subsidiary bidding for the work — from "G4S Regional Management" to a softer sounding "G4S Care and Justice Services".
The problem for politicians, and the UKBA, was that in Yorkshire some councils and local politicians actually welcome asylum seekers, indeed they saw the G4S contract as ending a fifty years old tradition of providing, what Barnsley Council calls, 'humanitarian housing' for refugees. In 2007 Sheffield declared itself a City ofSanctuary, and continues to promote the national movement.
Some outraged council officers and members of asylum teams went public in opposing the contracts, and many have now resigned or taken early retirement rather than take up offers to work for G4S.
The Yorkshire campaign forged links with trade unionists threatened by G4S: both UNISON, representing around 60 asylum team workers, and NAPO (National Association of Probation Officers), took industrial action against a G4S takeover of probation services in Doncaster prisons.↑
The prison guard company taking over the welfare state in Yorkshire
G4S, whilst pursuing the asylum housing contracts, had been involved in the government's controversial and now discredited Work Programme in North East Yorkshire and the Humber.↑
With oneSheffieldbased company, A4e, in meltdown with corruption allegations and resignations, G4S's role has been overlooked. Here's how employment minister, Chris Grayling encourages private security companies like G4S: "They can make shedloads of money by doing the things we would absolutely love them to do."  The government has allocated £5bn to the work programme over seven years, of which G4S could take a £250 million share. One council (East Riding) is now, remarkably, a subcontractor for G4S in delivering the Work Programme.
Just over the Pennines, inManchester,CheshireandWarrington, G4S was given EU European Social Fund money last December to deliver the government's programme to support 3000 families with multiple problems.
On 23 March, G4S Welfare to Work announced that it has been invited to bid for the delivery of the Coalition's Youth Contract, which aims to support disadvantaged 16 and 17-year-olds at risk of becoming long-term NEET (not in education, employment or training).
On 25 March, an excited Financial Times reported↑ : "A raft of lucrative contracts worth between £300m and £5bn are expected to be awarded to companies including G4S, Serco and Capita over the next few months, chief among them the controversial reassessment of disability allowance'. G4S carried out a trial last year assessing claimants of Disability Living Allowance and is now bidding for seven-year regional contracts from April 2013 involving more than 3.2 million people (11,000 a week).
G4S's shoddy record in the asylum field has proved no barrier to public bodies and major charities giving the company legitimacy. Children's charity Barnardo's is helping G4S run a Border Agency family detention centre. Few people buying their Lottery tickets will know that the Big Lottery has awarded £3,137,466 to a G4S project for prisoners, families and children↑ at their Bridgend prison and Youth Offenders Institution.
Late in 2010 G4S chief executive Nick Buckles told The Times's Tempus column, that he had "no idea how anyone made money working for the UK Border Agency dealing with asylum seekers". But as the financial Share Cast↑ site points out: "The new contracts are larger and so more attractive. The shares sell on a respectable 11 times earnings, which is not much to set the pulses racing though prospects for growth long-term are still there." By 22 March G4S shares were one of their star tips.
The company's top earners are thriving. Last year Nick Buckles trousered £5.3 million↑  (despite waiving his annual bonus↑ after costing the company £55 million in an aborted takeover bid). According to a BBC Radio File on Four investigation (Sunday 20 March, transcript here↑ ), a G4S executive bonus tax avoidance pot — called an Employment Benefit Trust (EBT) — contains £19 million worth of shares. Serco at first denied to the BBC that it had an EBT, and then owned up to having one containing £6 million in shares, but denied it was a "tax planning vehicle".
HMRC did not approve, saying G4S and Serco were engaged in "tax avoidance pure and simple". Margaret Hodge MP, chair of the Public Accounts Committee, was blunter, saying it was "not morally right" for such companies, run out of individual tax payers' incomes, to refuse to pay a fair share of the governments 'tax take'. G4S, it emerges, also uses the tax haven ofBahrainfor some of its business, boosting the income of that repressive regime.
G4S and their Corporate Welfare State
How does a company with G4S's reputation clean up on so many public privatising contracts now worth well over £1 billion a year in theUKalone?
Firstly, it simply coopts, employs or buys former senior politicians, civil servants and diplomats to 'advise' and lobby for its contracts. The best known is former Home Secretary John (now Lord) Reid, a G4S board member. In recent months G4S has appointed to the new post of Director of Probation and Community Services David Griffiths, recently Deputy Director (justice policy) at the Ministry of Justice.
In January Richard Northern joined G4S Risk Management as an adviser. He is "the former British Ambassador toLibyaduring the period leading up to and throughout the 2011 uprising". According to G4S, he will be "pivotal in identifying, introducing and developing relationships with prospective clients and key Libyan decision-makers".
G4S already has interests inIraq,AfghanistanandPalestine.
Secondly G4S, in the 'business state' theUKhas become, is adept at using public relations and sponsorship to 'mainstream' and sanitise its corporate image, to win contracts.
G4S has been given a contract for £100 million for guards for the London Olympics in 2012. Since 2006, G4S has been a 'silver level sponsor' of Skandia Team GBR — the British Sailing Team in the Olympic and Paralympic Classes. In 2007, G4S launched 'G4S 4Teen' a sports programme "to support a group of fourteen aspiring young athletes from around the world", with double Olympic Gold medallist and "global sporting icon" Ethiopian Haile Gebrselassle as their mentor.
In April 2011 in the midst of controversy over the Mubenga case and G4S management of detention centres and child detention, G4S came second in the annualBritain's Top Employers award.
This past February, G4S Events became Security Company of the Year at the Event Production Awards, hosted by comedian Mark Steel, for its work at the 'V' music festival in Staffordshire.
Campaigners and Lib Dem councillors in Sheffieldwere angry at the deathly silence of Deputy Prime Minister, Nick Clegg, a Sheffield MP, and patron of ASSIST, one of the asylum rights organisations supporting the campaign against G4S. In fact he was already compromised, On 12 January 2012, G4S announced↑ :
"G4S signs up to the Business Compact, the Deputy Prime Minister's flagship scheme to create fairer opportunities to getting the best jobs. G4S, the UK's leading security company, has been congratulated by Deputy Prime Minister, Nick Clegg, today as one of the leading companies in opening their doors to young people from all walks of life."
Clegg said:
"I'd like to thank G4S for signing up to the Business Compact. Today's success makes me even more ambitious. This great news is just the beginning – I will be doing everything I can to bring even more businesses on board." 
Even Channel 4 News has helped sanitise the G4S brand↑ . On 14 March presenter Jon Snow introduced a new project 'The Jobs Report' and its 'Jobs Ambassadors' – a "panel of experts from some of the most influential brands in the world of business. . .on hand to share their skills". Including "the man heading up security for this summer's Olympics" Mark Hamilton managing director of G4S.
The Campaign continues
The corporate welfare state we provide for companies like G4S can involve them acting in collusion with politicians and state agencies who are awarding them contracts, apparently in violation of EU rules on contracting. On May 25th 2011, at the annual G4S 'capital markets day', according to transcripts, senior executive David Taylor Smith appears to suggest an extraordinary degree of cooperation with ministers in bidding processes.
On G4S and the Work Programme contract, he says:
"So we will be responsible for three areas for managing subcontractors as a prime to get long term unemployed people who have been out of work for more than one year back into work and being paid on the basis of that.  We see this as providing significant additional growth opportunities.  Two nights ago I was with Iain Duncan Smith, Oliver Letwin, Crispin Blunt and they're talking now also applying this into the prisons programmes, into drug programmes and also benefit fraud.' (my emphasis)  (pp 40-41)
So far as the asylum housing contracts are concerned, G4S was confident of winning the contracts. They released to the Copenhagenstock exchange on March 13 a profits notice↑ that reported winning the asylum housing and transport contracts 'in 2011'. This was some days before the UKBA officially reported the signing of the G4S contracts.
The COMPASS Transition UKBA team in Yorkshirewere set up to work on transition arrangements regarding the asylum housing contract after the signing of the contracts with G4S. There is mounting evidence that they actively worked with G4S senior management during the 'due diligence' period when COMPASS UKBA was supposed to be scrutinising the G4S bid.
The campaign inYorkshirehas established a volunteer research team of academics and specialists digging into this apparently flawed contract procurement process.
Working and campaigning with Asylum seeker tenants
Now the contracts have been signed, refugees and asylum seeker tenants who have been involved actively in the campaigning are preparing to organise and monitor the contracts, to demand decent housing conditions and a 'tenants charter' from the private landlords subcontracting from G4S, along with advocates from asylum rights organisations. In Kirklees, links are developing for asylum housing tenants with KFTRA (Kirklees Federation of Tenants and Residents Associations) with 92 TARA's (Tenants and Resident Associations) and full time staff. Similar initiatives are planned with the Barnsley tenants federation and TARA's inSheffield.
Asylum seeker tenants were stripped of any formal tenant rights by the 1999 Immigration and Asylum Act. Campaigners are determined to win them back.
---
Acknowledgments: This article uses material from campaign researchersStuart Crosthwaite, Kate Smith, Hannah Lewis and Tony Bowers. I have also been assisted by Clare Sambrook, co-editor of OurKingdom, and James Legge of Hammer and Tongs.
Further reading: 
Medical Justice 2008: 'Outsourcing Abuse: The use and misuse of state-sanctioned force during the detention and removal of asylum seekers↑ '
Home Affairs Committee 2012: 'Rules governing enforced removals from the UK↑ '
Whitfield D. 2012 'In place of austerity: reconstructing the economy, state and public services'Nottingham: Spokesman Books see chapter 3 'Corporate Welfare reaches a new zenith' pp 55-63
This article first appeared on the Open Democracy website on 12th April
See http://www.opendemocracy.net/ourkingdom/john-grayson/mobilising-outrage-campaigning-with-asylum-seekers-against-security-industry