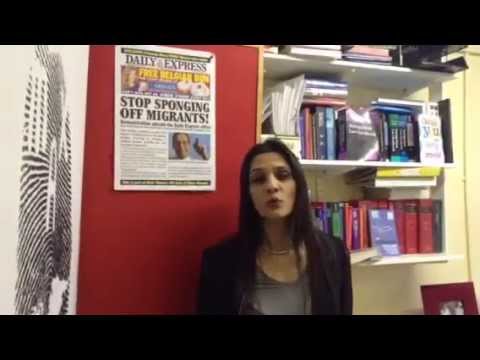 Asylum Rights Election Question Time Sheffield 16th April 7pm
Will any political party will stand up for the rights of refugees and people seeking asylum?
Do the votes of refugees, anti-racists and supporters of human rights and migrants rights count? Do the candidates support the creation of a "hostile environment" for some people coming to live, seek safety or work in this country? How will the candidates challenge racism and xenophobia towards refugees and migrants?
Asylum Rights Election Question Time

SYMAAG has organised an Asylum Rights Election Question Time event on Thursday 16th April at 7pm in Sheffield where you get the chance to question representatives from most of the parties standing in the general election in South Yorkshire. The event is also supported by all of the major asylum/migration organisations and charities in our region: the Committee to Defend Asylum Seekers; Sheffield City of Sanctuary; South Yorkshire Refugee Law and Justice; ASSIST and Northern Refugee Centre
The meeting is at 7pm Victoria Hall S1 2JB in the centre of Sheffield, opposite the Crucible Theatre (see Get directions to Victoria Hall Methodist Church, Sheffield). The meeting starts at 7pm but doors open at 6.30pm for a cup of tea and a chance to look around the information stalls.
After short introductions to the main issues facing refugees and people seeking asylum from the vice-chairs of SYMAAG, the politicians will make short speeches, leaving plenty of time for your points and questions.
If you want to ask a question but can't get to the meeting use the Twitter hashtag #asylumrights and we will try to put your point to the politicians
Election Pledges
By the time of the meeting, candidates in South Yorkshire will have all been asked to support 6 key migrants' rights election pledges.
Those seeking asylum should have the right to work whilst in the U.K.
Replace Azure cards with adequate cash support for asylum seekers whilst in the U.K.
End the indefinite detention of asylum seekers and migrants without time limits; and introduce judicial oversight for immigration detention. End the detention of children.
Give those seeking asylum full access to healthcare and to English courses.
Restore and give adequate legal aid for immigration and asylum cases; and enough time to make legal representations.
Keep families together, whatever their income, by abolishing the income threshold for family members' visas.
For more information on the background to these Election Pledges see SYMAAG General Election Pledges May 2015 Briefing which has also been sent to candidates.
For a record of the candidates in the 2010 general election who supported our Asylum Rights Election Pledges see here.
Here is the full list of speakers for the meeting on Thursday 16th April:
Chair Sarah Eldridge (Sheffield City of Sanctuary)
Introductions and SYMAAG Election Pledges by Violet Dickenson (vice chair SYMAAG)and Phillis Andrew (vice chair SYMAAG)
Parliamentary Candidates and speakers from the
Conservative Party: (speaker invited)
Green Party:   Jillian Creasy (Prospective Parliamentary Candidate Sheffield Central)
Labour Party:  Paul Blomfield (PPC Sheffield Central)
Liberal Democrats:  Joe Otten (PPC Sheffield Central)
Trade Unionist and Socialist Coalition (TUSC):  Maxine Bowler (PPC Sheffield Brightside and Hillsborough)
United Kingdom Independence Party (UKIP): (Steve Winstone PPC Sheffield Heeley)