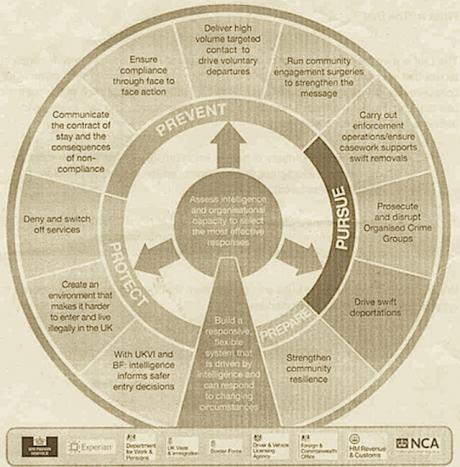 The Home Office's sinister moves to create a "hostile environment" for migrants
First the Go Home vans, the Go Home texts and now this.
Meet the UK's latest weapon against organised crime…and asylum seekers
This article was first published on Open Democracy on 16th March written by John Grayson, chair of the South Yorkshire Migration and Asylum Action Group
Take a look at this. It's part of the Home Office's armoury in the fight against "immigration crime". They call it The Dial.
It's stamped with the National Crime Agency logo, and, among others, HM Prison Service, HM Revenue & Customs, and the gigantic international data company Experian.
The Dial is about tactics. They include: "Prosecute and disrupt Organised Crime Groups", and "Run community engagement surgeries to strengthen the message".
Huh? Community engagement to tackle organised crime?
It's all explained on the reverse:
"The Dial is a visual representation of our strategic objectives showing the wide range of tactics that we need to deploy in order to effectively drive down immigration crime. Our collective use of intelligence is at the heart of the approach which we then use to select the most effective responses to any given threat…a flexible system that we can 'dial up' in response to emerging threats or ministerial priorities."
I volunteer among asylum seekers in the north of England. I have never knowingly had any contact with organised crime groups. The asylum seekers and their families I work alongside in South Yorkshire are by no stretch of the imagination "an emerging threat".
So I was surprised, to say the least, when a senior Home Office official handed out The Dial to some representatives from Sheffield charities at a recent meeting.
Let's recall who asylum seekers are and why they are here. The 1951 UN Convention ensures protection for people who have a "well-founded fear of persecution" because of their race, religion, nationality, political opinion, or membership of a particular groups. The Home Office is responsible for deciding whether an asylum applicant should be recognised as a refugee under the terms of the convention.
Protections for refugees have got nothing at all to do with organised crime. That's something else, something completely different. So why is the government trying to conflate the two?
A meeting with the Home Office
There's a lot of concern around Sheffield about a steep deterioration in the way that asylum seekers are being treated at the Home Office's Sheffield base, Vulcan House, an office block by the River Don, where asylum seekers are obliged to sign in regularly.
Volunteers who escort 'failed' asylum seekers and people waiting for outcomes of appeals have been  treated contemptuously there.
A retired teacher from Barnsley, who is an experienced volunteer, told me what happened when he accompanied a South Asian family on a recent visit to Vulcan House: "As soon as I entered the building I was shouted at to 'identify' myself. One of the staff spoke to me as if I was a child. 'If you're not their lawyer what are you doing here? Get over there out of the way and don't interfere.'"
Graffiti, Birmingham 2011 Adam Yosef / I Am Birmingham
Officials have been handing out compulsory questionnaires (in English) to asylum seekers, demanding comprehensive personal and family information from people signing.
The Home Office wants to know, not just any addresses where the asylum seeker has stayed, but also details of everyone else at these addresses. Asylum seekers are obliged to tell the Home Office if they are doing any voluntary work and, if so, where.
Sheffield asylum rights charities had sought a meeting with Home Office staff from Vulcan House to talk about these matters.
A meeting took place in February on the neutral ground of local MP Paul Blomfield's office on an industrial estate not far from Sheffield United's Bramhall Lane stadium.
The representatives were surprised to find that the Home Office had sent along its head of the 'Reporting Centres' for asylum seekers across Yorkshire and the North East region of the UK.
The charity people raised their concerns. The senior officer from the Home Office was apparently in no mood to apologise for her staff or give any ground to "you voluntary organisations". Instead, she brusquely handed out copies of The Dial.
Then she read out a lecture about her exercise of powers under the new Immigration Act of 2014 (checking on addresses and landlords who housed illegal immigrants) and hinting that anyone (not just landlords) giving assistance to illegal immigrants in the future might find themselves subject to the law. She also threatened the representatives with the prospect of an order "at present on the Minister's desk waiting to be signed off" banning volunteer escorts from all Reporting Centres.
Tackling terrorism
Around The Dial are the four Ps — Pursue Prevent Protect Prepare.
This is the language of the government's anti-terrorism strategy, known as Contest, explained

here

 (PDF): "Our counter-terrorism strategy will continue to be organised around four workstreams, each comprising a number of key objectives:
Pursue: to stop terrorist attacks;
Prevent: to stop people becoming terrorists or supporting terrorism;
Protect: to strengthen our protection against a terrorist attack; and
Prepare: to mitigate the impact of a terrorist attack."
When, in 2013, the Coalition government launched its 

National Crime Agency (NCA)

 to "make the UK a hostile environment for serious and organised criminals", there were the four Ps again.

Go Home van, touring London boroughs, Summer 2013
The term "hostile environment" has a particularly ugly resonance — it has long been part of the language of 

rodent control

. So why is this rhetoric being invoked against asylum-seekers and other respectable, law-abiding people in Sheffield who work with them?


The hostile environment
In Chapter five of the Labour party's 2010 election manifesto, entitled "Crime and Immigration" (author: Ed Miliband) you can read this: "We will continue to make Britain a hostile place for organised criminals."
Then, in the very next paragraph: "Our borders are stronger than ever. A new Border Agency has police-level powers and thousands more immigration officers. . ."
In 2010 a Home Office whistle blower called Louise Perrett exposed the racist culture at the Cardiff UK Border Agency. A soft toy gorilla called a 'grant monkey', was placed on the desk of any officer who approved an asylum application, as a mark of shame. One method used to determine the authenticity of an asylum seeker claiming to be from North Korea was to ask whether the person ate chop suey.
In May 2012 Coalition Home Secretary Theresa May told the Telegraph: 
"The aim is to create here in Britain a really hostile environment for illegal migration. Work is under way to deny illegal immigrants access to work, housing and services, even bank accounts. What we don't want is a situation where people think that they can come here and overstay because they're able to access everything they need."
Liberal Democrat MP Sarah Teather in 2013 disclosed that the Coalition government had, "on the explicit instructions of the prime minister", brought together a group of ministers called "the hostile environment working group – its job being to make Britain a hostile environment to unwanted immigrants."
In 2013, as part of its hostile environment strategy, the Home Office sent vans touring London boroughs bearing the message: "In the UK illegally? Go Home or Face Arrest."
That phrase: "Go Home". Down the decades, migrants and their descendants have heard it from racists.
UK Border Agency Office, Glasgow Broad Street, September 2013
In Glasgow, visitors to the Home Office's Broad Street offices were assailed by gigantic posters declaring: "Is life here hard? Going home is simple." Chairs in the waiting room bore the message "Ask about going home."
Then came the government texts, sent by outsourcer Capita direct to peoples mobile phones, telling them: "You are required to leave the UK as you no longer have right to remain."
For reasons that have never been satisfactorily explained, one recipient was the civil rights activist Suresh Grover, who has lived in Britain for fifty years and holds a British passport. Another was Bobby Chan, an accredited immigration adviser at a central London law centre.
Home Office text, sent by Capita, October 2013
Then came the Immigration Act in 2014, making doctors, teachers, landlords and health vistors agents of immigration control.
The current induction training programme for immigration staff employed by the Home Office starts with a section labelled "Combat" and addresses the personal security risks associated with contact with immigrants and asylum seekers, according to people who have seen it.
The Sheffield meeting ended with a blunt statement of intent from the senior officer from the Home Office: "We are not going to allow people to have a comfortable life here when they should return to their countries of origin."
This article was first published on Open Democracy on 16th March https://www.opendemocracy.net/ourkingdom/john-grayson/meet-uk%E2%80%99s-latest-weapon-against-organised-crime-and-asylum-seekers written by John Grayson, chair of the South Yorkshire Migration and Asylum Action Group
---
Notes & references
Decca Aitkenhead 'Sarah Teather: I'm angry there are no alternative voices on immigration' The Guardian 12 July 2013 
John Grayson 'The shameful 'Go Home' campaign' IRR News 22 August 2013 
Bethan Jenkins AM 'We must investigate UK Border Agency allegations' @ LGBT Asylum News 20 February 2010
CONTEST summary issued in July 2011 (

PDF here

)
The names on The Dial:
The National Crime Agency is one of eight government departments and agencies whose logos appear underneath The Dial. The others are: HM Prison Service, the Department of Work& Pensions, UK Visa & Immigration, the Driver & Vehicle Licensing Agency, the Foreign & Commonwealth Office, HM Revenue & Customs.
In among them is the international data company: Experian, which calls itself an "information powerhouse", with annual revenues of $4.8bn (March 2014), 16,000 employees worldwide and headquarters in Nottingham, England.