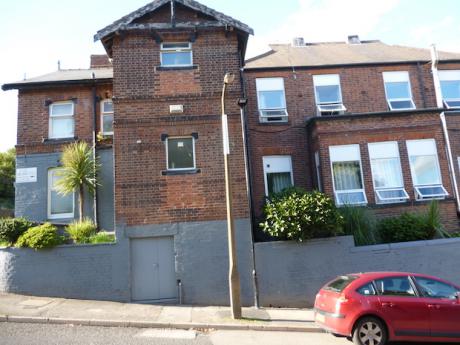 Mothers and children unlawfully housed in Sheffield B&Bs for years
Women and young children routinely placed in shared hostels with vulnerable homeless men.
Earl Marshall Guest House (John Grayson)
Mothers with young children have spent months on end in Bed & Breakfast accommodation in Sheffield, South Yorkshire, living alongside vulnerable homeless single men. Women forced to share bathrooms and kitchens with men they don't know tell us they've faced intimidation and racist abuse. They say they fear for themselves and their children.
Councils are obliged by law to avoid placing pregnant women or families with children in B&Bs except as a last resort, and then for no longer than six weeks. But we at South Yorkshire Migration & Asylum Action Group (SYMAAG) know of women and children housed unlawfully in potentially dangerous B&B accommodation for months, and some for years.
At a B&B on Grimesthorpe Road, Sheffield, mothers with children have been housed alongside vulnerable homeless single men.
Called Earl Marshall Guest House, the B&B is in Burngreave, to the north of the city, which has housed incoming migrants, workers in the steel industry, over the last sixty years, people from Yemen, Kurdistan, Pakistan. And in recent years from Central and Eastern Europe. The steel industry has almost disappeared and Burngreave, with its streets of redbrick terraced housing, is one of Sheffield's poorest districts.
We first met Esther at the Earl Marshall with her young daughter one sunny September afternoon in 2017.
Esther's room (John Grayson)
For two months, mother and daughter, aged six, had shared one small cramped room, with bunkbeds and hardly any storage space. "Come in, there's not much room in here to sit down," Esther said. "I have to keep the buggy in here. It's not safe to leave it by the front door."
Families with more children had bigger rooms, but hers was normal for a mother and child, Esther said. "I have our food in here, I can't store it in the kitchen, there are no locked cupboards and about 20 people use that kitchen. There is only one cooker in there."
Esther, a survivor of trafficking from West Africa, said she didn't feel safe at the B&B. "I am frightened for my daughter," she told us. "The man next door is very noisy, bangs on the wall at night — I think he uses drugs in there."
She said: "The worst thing is having to queue for toilets and showers with the men, it is not right for my little girl."
Her only income was the £20 a week she received from Sheffield social services for her daughter. "My social worker gives me vouchers for the food bank and she got them to provide a fridge in my room," she said.
A kitchen for 20 people (John Grayson)
The 'box room' (John Grayson)
Esther worried about other children in the house. Were they getting enough to eat? "They don't serve breakfast unless you ask the woman," she said. "Then it is never before eight, which means the children here who go to school have to eat cereals and milk bought by parents."
In a corridor we met an agitated woman dressed only in her nightie, who said excitedly: "I will be leaving soon, I will be moving out." She opened her door to a small box-room with little natural light on a sunny afternoon, one tiny window obscured by a curtain. She said that's where she was living.
Other women forced to spend time at the Earl Marshall also feared for their children's safety.
Carol lived there for a year from February 2015. Like Esther she had survived trafficking from West Africa, had been turned down for asylum and so lost her financial support from the National Asylum Support Service.
"I was sharing a single bed with my daughter Sophie, no money and living with friends," she told us. "They asked us to leave, and we went to the council as homeless."
We asked Carol what she felt when she first arrived at the Earl Marshall. "I hated it and did not want to stay," Carol said, "but Sophie saw the bunk beds, and after months of sharing a small bed with me, thought it was great."
Carol told us: "It was worse at weekends. There were drunken men outside and inside, amongst the guests of the B&B as well as in our part. An American man who ended up in our part on a very busy weekend told me 'This place is not safe for the kids. I think it is the cheapest place in Sheffield.'
"On those weekends all the mothers would gather with our children in the biggest of our rooms and stay there all weekend, making sure there was one of us with the children wherever they were.
"While I was at the Earl Marshall there was a Chinese woman with a baby, and a woman from Cameroon with her child. She hated it and went back to Cameroon. Single refugee women came but only stayed one or two nights. There was a man with five children, all in the same room."
"No Recourse to Public Funds"
All three refugee families we spoke to from the Earl Marshall had found themselves labelled "No recourse to public funds". In a letter to us in May 2016 the leader of Sheffield Council, Cllr. Julie Dore, explained what that means.
"Public funds are defined and include all benefits and homelessness help from the Housing Department. This means that the Local Authority's Housing department cannot provide accommodation under the housing laws."
Showers at Earl Marshall 
But, she added, "Children's Social Care may still owe a duty to the children."
This comes under the Children Act 1989 (Section 17), Children in Need, for whom money that is provided is not considered to be public funds.
Dore went on: "We explore a number of options with such families including enabling them to return to their home country if they wish and it is safe to do so."
These Sheffield families receive only the equivalent of UK Child Benefit (around £20 for the first child). For the mothers, social workers gave Carol and Esther vouchers to take to the local food bank, and £5 each week to pay their Earl Marshall laundry bills.
"They treat us bad," said Carol. "Sometimes the bedclothes and washing were not collected on time, I had to change the beds and take the washing myself, it was difficult with a schoolchild to keep her clean. Breakfast was never till eight o'clock, too late for my child to get to school."
Dinah spent five months in the Earl Marshall with her daughter Adele who was six years old. She told us: "They would only wash bedclothes and school uniform in there, other things I washed by hand."
Waiting for toilets and showers were the worst times for the families. Carol said some of the men "asked us for money and called us racist names. Every time we had to wait, then we had to clean the toilet, so we could use it."
Waiting for toilets and showers were the worst times. The men asked for money and called us racist names.
Dinah told us: "The showers were locked from 8pm to 9am. Waiting in the queue we heard screaming and banging doors and a naked man came in and joined the queue. I decided to buy a potty for our room so that we felt safe."
When she spoke to us a few weeks ago Dinah had been in the UK asylum system since 2001, 17 years. "I tried to become a student, but someone stole my passport and took my money. I was in a bad abusive relationship and ended up in a house rented by my church. They wanted to buy another place and evicted me and Adele, then we ended up in the Earl Marshall.
"Adele had chicken pox when they told us we had to go to the Earl Marshall and I thought she would spread it to the other children. They told me 'You can either go in there, or we will take Adele into care'."
Dinah remembered two Chinese women with two children each, girls and boys, in the Earl Marshall. "A student came with her small baby, she decided to leave the country. There was a lady, she was out of her mind, she kept saying, 'I can hear the voice of my boyfriend', over and over again."
Direct action
Earl Marshall managers spotted us taking photographs from outside the B&B in September 2017. Esther asked us not to identify her in anything we reported. "I don't want them to make me homeless again," she said. And so it was November before we wrote to the council setting out the dangerous situation for children in the B&B.
We demanded that the council immediately rehouse any families with children remaining in the Earl Marshall and declare that it would never again be used as emergency accommodation for children.
The secretary to the leader of the council replied on 22 November 2017.
"I have forwarded on all of your emails regarding Earl Marshall B&B to both Councillors Drayton and McDonald and asked them to contact you, as soon as possible."
Then…nothing (later they claimed not to have received our email). So, we decided on a more direct approach.
On 7 February 2018, SYMAAG members went along to a Sheffield City Council meeting. We presented a petition, asked questions and stated our demands:
End the use of the Earl Marshall guest house for homeless refugee children;
Provide equal treatment for homeless refugee children to that given to other homeless children in Sheffield.
In response to our testimony about the long periods families spent in B&Bs, Cllr. Jackie Drayton, chair of the Children, Young People and Families committee, said, "These were asylum seeker families who we could not help in other ways because they had no resource to public funds."
Later, on 20 February 2018, we received an email from the chair of housing, Cllr. Jayne Dunn. She admitted the council's department for children, young people and families (CYPF, more commonly known as social services) had two families accommodated in the Earl Marshall.
She said: "Both families have no recourse to public funds. One family has been there since 9th September 2016, and one family since 28th January 2016, just over 2 years. The families are supported by CYPF. In any case B+B is not a good option for families for long periods, and I have offered to help source alternative accommodation if this is appropriate for both families."
One councillor later admitted that the B&B was unsuitable for the families
Then Carol, who had asked a question at the council meeting in February, received a reply to our petition from Cllr. Drayton, chair of the CYPF committee who placed the families in the Earl Marshall.
The letter, dated Dated 8 March 2018, contained no apology for the year Carol and Sophie had spent in the Earl Marshall. Cllr. Drayton said that, "Children's services do not support bed and breakfast accommodation for families and work to prevent this whenever possible."
Cllr. Jackie Drayton concedes: families have been housed in B&Bs for more than 12 months (letter, 8 March 2018)
The letter admitted "some cases" in bed and breakfast "for over twelve months" were "unacceptable" and a review of the cases was underway. Any families in bed and breakfast for more than six weeks would have reports issued to "monitor" them. There was no commitment to stop using the Earl Marshall. "We will assess the concerns raised about the particular institution identified in the petition."
Sheffield, City of Sanctuary, and the homeless
Lately, we spoke to Barry, a volunteer in mental health campaigning groups in Sheffield. He told us, "Over the past twenty years I have known of many people when they are discharged from NHS care, and find themselves homeless, who have been put in the Earl Marshall by Social Services."
They made me live in the same small bedroom with him, for three months.
Mary is an elderly Anglican minister and refugee from Southern Africa, who runs an art and handicraft project for women refugees in Sheffield. She found herself in the Earl Marshall in 2015, with her adult autistic son.
"There was a serious fire in our council house and the Council had to find somewhere for us to live whilst it was repaired," she told us. "They wanted to place my adult son, who is autistic, in the Earl Marshall. I said he would not cope in there without me. They refused to budge, so I went there with him. They made me live in the same small bedroom with him, for three months."
Earl Marshall's response
We contacted the Earl Marshall on 22 March and asked for a response to the refugee families' specific allegations and concerns raised in this article.
Nada Mortin, director of Earl Marshall Guest House Ltd, replied on 26 March with the following statement:
Firstly, we refuse to comment on allegations of this nature as a matter of principle. We feel such comments may misrepresent the nature of our work or of the Hostel itself, which seeks to provide quality accommodation to homeless and vulnerable people in the community.

We would emphasise and reiterate that at all times we have complied with all regulations and policies issued by Sheffield City Council from time to time together with all regulatory bodies applicable to our sector and at no time have any allegations been received by the Hostel, whether from the council or any resident or former resident, in connection with the operation of the Hostel. Residents have always been provided with the requisite facilities and access to the same at appropriate times.
We contacted Ms Mortin again on 28 March and 4 April, again inviting her response to the families' particular concerns about breakfast, shower, kitchen and laundry arrangements. We await her reply.
---
All names of refugees and refugee children, and interviewees, have been changed.
Edited by Clare Sambrook & Rebecca Omonira-Oyekanmi for Shine A Light.
This article was published first by Open Democracy at https://www.opendemocracy.net/shinealight/john-grayson-violet-dickenson/mothers-and-children-unlawfully-housed-in-shef