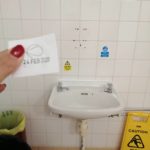 'How do we wash our hands with no soap in the bathrooms?'
The appalling, overcrowded, unhygienic housing offered to some asylum seekers and their young children is putting them at especial risk of Covid-19. A refusal of insanitary accommodation leads to threats of homelessness. John Grayson of South Yorkshire Migration & Asylum Action Group investigates the reality in Leeds, Halifax and Wakefield.
Helen 'I don't want to stay in that haunted house'
Helen is from South Asia with a 13-month-old daughter Debbie, she rang me late in the afternoon on Wednesday 18 March because she had been taken from Urban House to a mother and toddler 'unit' in Leeds. She was distraught, saying the Mears housing manager had said she could not refuse to stay there and had left her saying she would return the next morning. Helen said, 'I don't want to stay in that haunted house'.
I went to Leeds the next morning to wait for the manager and tell her that Helen had the right to refuse the accommodation. Arriving at a Victorian villa in the suburbs of Leeds I realised that four years ago, in March 2015 I was at this same Victorian villa just after G4S had leased the former student accommodation from a developer.
I met five of the mothers in the building in the first floor 'lounge', all of them spoke some English, some were fluent. Hazel was holding a kettle full of boiling water. 'We have had no hot water in here for two months. I am just going to fill a bath for my baby. We have reported and reported it, nobody in Mears does anything. The housing manager says she has reported it.'
Helen pointed to the dirty carpet, 'I am frightened for my baby on that carpet. She is already ill with a vomiting sickness'. Kelly said, 'We have to put down bed sheets over the carpet so our children can crawl and play here. We vacuum regularly but this carpet needs a proper deep clean – or changing for a new one.'
I remembered the building and asked if I could look around. I told them I was trying to improve the conditions and they were happy to show me round. The room allocated to Helen was tiny and there was another small bedroom but many of the rooms were quite large. Bathrooms and toilets were grubby, and very old, internal window frames rotten. One shower was broken and very dirty. There were a couple of vacant rooms so probably about 18 mothers, babies and toddlers are resident there.
Downstairs, what I remembered as the playroom (four years ago) was now simply packed with buggies with a space for a sofa. Drying washing was piled on a radiator near the main door. 'We keep the kitchens as clean as we can do', said Kelly. Hazel pointed to a closed bag full of dirty nappies in the corner of the first-floor lounge, 'There are no special bins for the nappies.' Beth joined in the discussion on hygiene. 'Every child in this place is on antibiotics for some infection or other. My own child recently had mumps. Thank goodness no other children have got it from him.'
Sewage, rats and a dead fox
Our conversation was interrupted by two workmen coming into the hallway. One of them asked, 'Do you know where we can get into the cellars?' I asked if they were there to repair the boiler. 'No, we've been told they are flooded.
A few minutes later Steve and Joe (not their real names) returned. Steve said, 'The cellar is not flooded with water, it's sewage down there.' Joe said, 'You can come round the back with us if you want and take photos of the cellar. There must be dozens of rats here. I saw their holes all round the building. I'll take some photos for you. There's a dead rotting fox in the outhouse near the front door. I've taken a picture of that too. Those babies and toddlers should not be living in this place, it should be closed down.'
I remembered that Helen had told me she had seen a rat the night before. Steve and Joe were independent sub-contractors for Mears, and they rang and reported the sewage. I asked them to report the hot water problems at the same time. Over an hour later, two Mears workers arrived asking if anyone knew how to get into the boiler room.
Eventually the Mears housing manager Fiona (not her real name) arrived determined to make sure Helen accepted the room. I asked her about the hot water and the rats. 'I have reported the hot water. The rats are outside the building not inside and I reported them.' I asked her if she would be happy for her own two-year-old to be living in the building. 'Alright,' she said, 'I will report the rats again.'
For the next few hours Helen and I negotiated with Fiona's managers at Mears to try and get Helen alternative accommodation. A compromise was reached where Mears managers agreed to move Helen with her baby to one of the many hotels they are using for those waiting for a move to accommodation.
I sent my report on the 'unit' immediately to the constituency workers of the local MP Alex Sobel. They sent me the response they received from Mears, denying all my claims and those of the independent contractors. Here are relevant sections dated 20 March:
We have a newly recruited resident welfare manager on patch, X who has visited the property every other day over the last 2 weeks and spent time 121 getting to know the residents and children. I held a small steering group last week to collect resident thoughts and feedback and again this Monday [16 March], there were no concerns raised about lack of provision, we are continuing to monitor this alongside the children centre and react accordingly.
The cellar flooded due to bad weather and we believe food waste being placed down sinks, nappies and wipes being thrown into the toilet also. Yorkshire Water removed the blockages two weeks ago (emphases mine)
So … Mears says that all the mothers I spoke to and the independent contractors were … lying?
The Leeds mother and toddler 'unit' and the children in there have had to endure the poor hygiene and lack of hot water at a time when a national health emergency was unfolding. A similarly worrying situation had developed at Urban House IAC (Initial Accommodation Centre) in Wakefield.
'How do we wash our hands with no soap in the bathrooms?'
Our South Yorkshire Migration & Asylum Action Group (SYMAAG) had organised discussions with twelve of the residents of Urban House in early February. Further contacts and discussions were held and testimony recorded with eighteen new people on 4 March. These discussions, often through our interpreter, were dominated again by worries over food for children, bed-bug infestation, health care and constant references to poor hygiene in the bathrooms and showers in the older parts of the 310-bed hostel.
One couple who came out to see us said they were moving on the next day. David, from the Middle East, said, 'We have had bed bugs in our room. We have been bitten for all the 56 days we have been in Urban House.' Most of those who gave us testimony had been in Urban House for months. The majority of the people we spoke to were women. One told us of an operation in her country where the surgeon told her to avoid infections and gave her medication. She told us, 'I am terrified of going to the dirty toilets and I cannot get my medication renewed in Urban House. I am sure my vaginal infection is getting worse.' Another woman was crying, 'I have had to leave my two small children in my country, I cry all the time. I am desperate. I need medication and counselling support. The nurse at Urban House just said "try not to think about your children".'
With the women, whom we met in the town centre, we looked online to find an NHS walk-in centre. We found one a few streets away. Kay said, 'Let's go there now, they are open until 10 tonight. we will sit and wait there and ask to be treated.' Four of the women went off to the NHS centre, I learned later that some went the next day and all were treated.
Hygiene in Urban House was raised again and again. Some of the people, who had given us testimony before, had sent dated video and photo material showing that there was no soap dispenser in the women's bathroom in the oldest part of the hostel where they all lived. The soap foam dispensers were also empty in the men's bathroom. Kay, who had taken some of the videos, said, 'We are really worried about the coronavirus. They put notices up to tell us to wash our hands – and there is no soap!'
Lucy's parents 'We are worried about coronavirus spreading in this crowded place'
Whilst I was writing this piece (on Sunday 22 March) I received a text message from a couple, Frank and Yvonne with a two-year-old daughter, Lucy, who had been moved to Urban House from a London hostel six days before. Frank wrote of his worries about coronavirus and the dirty carpet in their room 'because my daughter puts her hand on the ground and then puts in her mouth'. Frank sent me a picture of the bed sheet they had to put on the floor of the room to allow their daughter to play. Of the bathroom and toilets, he wrote, 'these places are so dirty, and we cannot use them'.
Frank said they had a washbasin in their room and some soap. Frank emphasised his fears 'due to the high risk of coronavirus spreading in this crowded place. This situation is very scary.' There was, he said, one other family with a small daughter in Urban House.
Gemma's parents 'We were already in an asylum house and they sent us here'
On Monday 23 March I was sent another text, this time from Bill inside Urban House. 'My daughter is seven years old could you help me? We were in a refugee house in Newcastle for two weeks, then five days ago they brought us here. I don't know why they did that.'
So a family with a seven-year-old child is taken from an asylum house, where they could presumably self-isolate, to a crowded Urban House with 300 people. 
A question for the Home Office
Why was two-year-old Lucy transported 185 miles from London by the Home Office to a high-risk 'crowded place', Urban House in Wakefield, at a time when the government was advising against travel and for families to stay at home and to avoid 'crowded places'? People seeking asylum presently in the UK surely have the same rights as all of us to try and stay safe in their homes, even in hostels, when faced with the threats from Covid-19. The Home Office apparently does not think so. 
'He said I had no choice … you can stay outside'
May is 62 years old and has severe arthritis, asthma and a depressive illness. She came to the UK from the Middle East in October 2019 to reunite with her son, who is settled in Yorkshire. May claimed asylum and in December the Red Cross advised her to apply to go to Urban House IAC in Wakefield, where she would wait until the Home Office could find asylum housing accommodation suitable for her needs as a disabled person. May spent three months in Urban House (the Home Office says people should spend no longer than three to four weeks there). She was regularly told by Migrant Help and Mears that they were trying to find her suitable accommodation, if possible near to her son.
I went to see May on Saturday 21 March in her Mears house in Halifax, 52 miles away from her son. May told me through an interpreter, 'I was brought here on 3 March from Urban House around 11 in the morning. It was a very rainy day. I was shown my room, a tiny room up two flights of very narrow stairs, by the Mears manager. I said I cannot stay here up all those stairs. He said I had no choice, "If that's your choice you can stay outside. You have to sign and stay here."'
I was crying and asking him 'please take me back to Urban House'. He said, 'go yourself but it will cost you £40.Then he left and locked the door. Someone saw me in the rain, and they called a taxi to take me to the police station. After hours waiting, around 6 pm, the police told me that if I was homeless, I had to go back to my Mears house. The police said they had rung Urban House and they said I had to take the room. The police brought me back here in their police car.'
'Since then I have rung Migrant Help many times. Two weeks ago, they said I would have to sign and accept the place, or I would lose my NASS support and money. I signed. They said they would make an assessment. They rang me then and said they were looking to find a place near my son. That was two weeks ago and nothing from them since.'
May very slowly showed me to her tiny attic room, up really difficult stairs. The bathroom was on the floor below – the shower was broken. 'Just over a week ago I fell down the stairs, I still have bruises all over.'
May was denied her rights under the asylum contract
The Home Office contracts since 2012, even though outsourced, have had to conform to all statutory equalities and safeguarding legislation. They also include some protection for tenants to prevent them being allocated accommodation which is 'unfit for purpose' and unfit for their medical or disability needs. (see attached section on Contract Requirements)
May had a perfect right to refuse the property. Mears should have immediately tried to find another more suitable property or at the very least, taken her to one of the many hotels where Mears have places, to wait for a suitable property.
Uncaring treatment of people trying to get a safe home
Researching the Mears asylum contracts in Yorkshire over the past few weeks, people have told me of the uncaring treatment they receive when they leave Urban House, and how they then face unacceptable accommodation, and are threatened by Mears staff that they will 'be on the streets' if they don't accept the property.
Paul's testimony
Paul is from the Middle East and while at Urban House he was diagnosed with a serious medical condition in a nearby Wakefield hospital, and sent urgently for tests and medication to a specialist unit in Leeds. His consultant at the Leeds unit said in a letter sent to Mears on 21 February and later to the Home Office, that Paul was at 'serious risk of opportunistic infection'. What are his chances of avoiding that?
On Thursday 27 February Paul was picked up at Urban House and taken to an address in Leeds. At the front door he was greeted with piles of household waste overflowing from bins. The front door was damaged and would not close and lock. His room door had a damaged lock. The kitchen was very dirty and unusable. Paul sent me mobile phone pictures and I said I would go the next day. Paul was with a friend at the house when I arrived, he said, 'I could not stay here last night; it would have been too dangerous for me. My friend says I can stay over the weekend … When I came the woman from Mears said I had to stay here, I could not refuse. She said that they would repair the doors and then I would have to stay.'
Paul showed me the kitchen. 'I need to cook for myself, there is no real cooker and that (pointing to a table-top cooker full of grease and dirt) would make me ill. The carpet is full of stains and old food. …I waited all day yesterday from 10 am right through to 7 pm when the repair men came. I had rung Migrant Help every couple of hours. They said I had to wait for the repair men and if wanted to move I had to send a doctor's letter for the Home Office to consider a move to another house which would take some time.'
We went upstairs. 'I could never use the shower here. They had brought a new mattress and pushed it into my small room with the bed and old mattress … The Mears woman came when the repairs were done and told me to stay. I rang my friend and he came for me.'
For the next thirteen days, Paul was homeless, sleeping at any friends' who would help him. He constantly rang Migrant Help. I emailed and rang all the Mears management I had contacts with. Paul's doctors emailed Mears and the Home Office.
The doctors were very clear about the hazards of the house offered to Paul. This is what they said: 'It is important that he is able to cook his own meals to keep his strength up in a clean environment. Possible exposure to any bacteria will be disastrous for this man as his own immunity is unable to fight off infection. His current property is surrounded by uncollected household waste that could also make him vulnerable to exposure to bacteria.'
Paul was panicked by being homeless. On the evening of 6 March, he rang me. 'If I get a cold I will die. I am homeless.' On 12 March Mears finally contacted Paul to say they would move him to a house in Leeds on Monday 16 March, later changed to Tuesday 17 March. Paul rang me from the new property. 'They say I have to stay here in a shared house with another man, I cannot refuse.'
A heated conversation followed between Paul, me and the managers of Cascade Housing (subcontractors for Mears in Leeds). It was only when I threatened to find a solicitor for Paul to contact the Home Office that they agreed to move the other man to another property. Paul rang me the next day. 'It's ok here in the two-bedroomed house. Mears staff came here and said they would look for a single flat for me. I have cleaned the place and I feel safe now.'
Perhaps it is worth quoting the Mears 'Service Users Handbook':
Support plan
If you require any specialist care, you may be provided with a support plan. Your support plan will be reviewed regularly, and other people may attend reviews if appropriate, such as a social worker.
If you feel at any time that you would like to review your support plan and the review is not due, you can speak to your Housing Manager and they will organise this for you.
We will work with you to agree a support plan that meets your needs.
If there is anything in your support plan that you disagree with, you can ask for your comments to be included in the plan.
The very first time that any Mears housing manager came to see Paul face to face was Wednesday 19 March – nineteen days after they placed him in a house which would have been a real threat to his life. Death in the time of Covid-19?
At lunchtime today (25 March) SYMAAG received this message:
'My friend who is a asylum seeker is in hostel in Wakefield urban house.
I'm concerned for their welfare. Three people are sharing a room and the cooking facilities seems like a dining hall (crowded easily) from his description.
Doesn't seem like they are any precautions.'
At the same time, I was sent the below image from a mobile phone inside Urban House of lunch today. There seems to be no attempt by staff in Urban House to have social distancing in the queue or in seating arrangements.
This article was first published by Institute of Race Relations at http://www.irr.org.uk/news/asylum-in-the-time-of-covid-19/. See original article for photos
RELATED LINKS
See SYMAAG's right to refusal leaflet