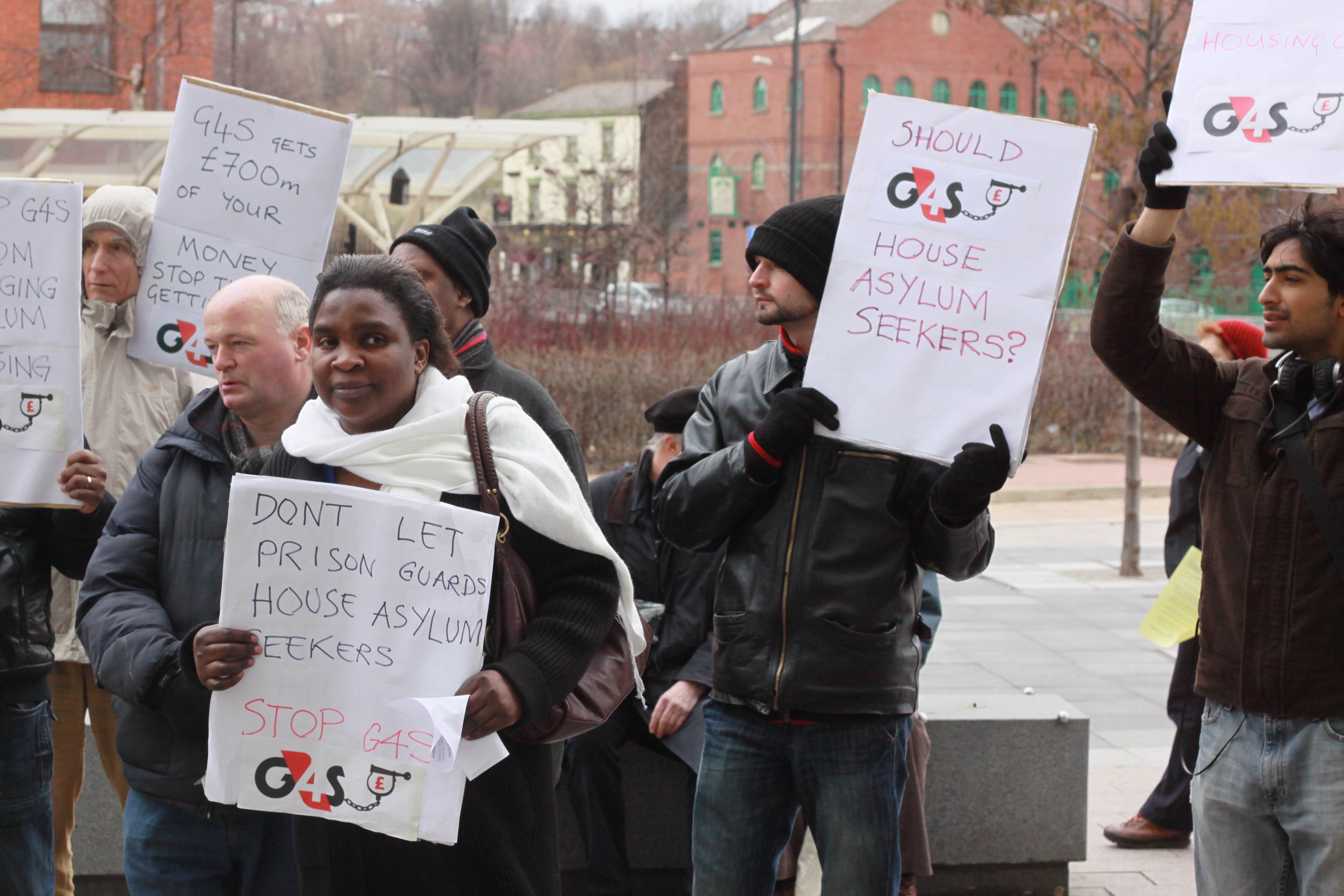 G4S Asylum Housing: Lowering Standards, Demolishing Accountability
Note: UKBA statement on transport of people's belongings issued 1st August 2012. We have been finding cases where people have been told they cannot transport more than 2 bags of their belongings when being moved. In one case this has led to vital equipment for a baby being left behind. G4S, Live Management, Cascade etc take note!
When G4S won the COMPASS contract to house asylum seekers in Yorkshire, Humberside and the Midlands, SYMAAG argued that this would lead to a lowering of housing standards and of accountability. SYMAAG's John Grayson has found plenty evidence of both.
Monitoring G4S and the new asylum housing landlords : the new delivery model and a Sheffield case.
Information and campaigning experience from SYMAAG
August 19th 2012
Chaos and confusion still dominates the 'transition' to the new G4S contracts
The 'new' delivery model
A)Information gleaned from meetings and correspondence suggests (and at this stage only suggests) that the new contracts include inferior 'space' standards in accommodation. Examples of these are :-
1)  Lone women with children can be housed together with other lone women with children. At least in council direct, or contracted accommodation, under the present Target contracts, they are (we believe) allocated independent household accommodation.
This 'hostel' view of the housing needs of lone women and children could be extremely damaging, and stressful, where different languages, nationalities and religious practices are involved. It surely is the case that there is evidence of the effects on the wellbeing of children exposed to the stress and distress of mothers of the asylum process. In hostel conditions; all the children will be exposed to all the distress of other mothers and children.
It would be useful if any campaigners know of any examples of shared accommodation being offered and whether this was already a feature of the existing contracts.
2) A relatively large number of young children can be accommodated in one bedroom with parents in another bedroom in a two bedroomed terrace.
A recent case of four children between 6 months and seven years who were threatened with a move to a two bedroomed house, with their parents, was described by one worker as 'probably just within the UKBA space standards'.
B)  The new delivery model entails an even more complicated chain of contractors undermining standards and dramatically reducing accountability.
In a recentBarnsleycase a landlord contracted by UPM under the Target contracts had provided flats for asylum seeker families. The flats were spacious and of reasonable quality but none of the families had been supplied with washing machines (a UKBA contract requirement). After campaigners raised the issue the landlord within a few days provided a washing machine to one of the families who had been in their flat without one since their arrival in December 2011. He had previously suggested September as the earliest date for it when Live Management took over the property from UPM.
TheBarnsleylandlord also claimed that his flats were subcontracted from UPM / Live Management, with a three months notice clause, so that he could 'get rid' of 'unsatisfactory asylum seeker tenants'.
Thus at least inBarnsleythere are FOUR  tiers of subcontracting for privatised asylum housing and services under the G4S contracts, building in permanent problems in ensuring decent accommodation for asylum seekers, and permanent uncertainty about being constantly moved. These are :
UKBA
G4S
Live Management
Small private landlords with three months notice clauses
A Sheffield case from last week 10th to 18th August 2012
Transition chaos threatens children's wellbeing
ASheffieldcase last week exposed major failings in the way G4S and the private landlords (in this case Live Management) are approaching COMPASS Transition moves of asylum seeker families with children.
The family with four children from 6 months to seven years were given two weeks notice to move to another property on 6th August. The family had been moved from the South coast only on June 7th this year, still under the Target contracts, to a poor quality three bedroomed terrace house. The house was extremely damp and filthy with dirty carpets and mattresses and dangerous electrical wiring, and even  the family's UKBA case worker in the South intervened to get a few improvements.
The parents spent months cleaning and making the house habitable – but major problems remain – here is a quote from an e-mail on 18th August
I hope they come and change the carpets and do all other work on the property, there are slug trails on the carpets and there is also something that keeps stinging you from the carpet as well, do not know what it is
This family were told they were to be moved to another terraced property by G4S.The father went to look at the outside of the property with an overgrown and rubbish strewn back yard. Neighbours said it had been empty for a long time and had only two bedrooms. The family feared an exact repeat of their appalling housing experience of the past three months. They had, after touring local schools, found a school for their two school age children for September, three miles away from their house, and feared the move would put the school places in jeopardy.
They appealed to UKBA and G4S who rejected their appeal, and were told that the property was a four bedroomed property and would be thoroughly cleaned by Live Management for their move.
The family contacted SYMAAG on August 10th by e-mail. SYMAAG raised the issues about the move with G4S, Live Management and the Council. Even on Friday 17th August, with the move scheduled for the 20th G4S was saying that the new address was a four bedroomed property 'according to Live Management'.
A SYMAAG volunteer had seen the property on Wednesday the 16th and confirmed that it was in poor condition externally and certainly looked like a two bedroom terrace. These facts were confirmed by an internet property search where the property was described as having two bedrooms and in   the same street :
Some of these properties are relatively old, as at least 10 of them were built 112 years ago in 1900. The average value of the properties ……..is £53,220, which makes it one of the least expensive places to live in … Sheffield
(from www.mouseprice.com )
When Live Management were contacted inLeicesterearly on the 17th they said their 'area manager ' would be urgently contacted. Later that morning all the parties involved – the UKBA, G4S and Live Management – confirmed with the family that the move had been cancelled – and urgent replacement carpets and improvements would be made to their existing accommodation.
Some lessons for the notoG4S campaign from the Sheffield case
We already know that G4S and their subcontractors can simply not find PRS (Private Rented Sector) accommodation in West andSouth Yorkshireto place families moved from council housing and council contracted housing. All dispersals are now to the North East via Clare House inHuddersfield. The latest information suggests that single people may be moved under the COMPASS contracts to Halifax (Calderdale), as well as the North East. All 'social cohesion' requirements on concentration of accommodation and risks of racial harassment and hate crime seem to have been ignored.
Barnsleyasylum team, whose contract runs out on the 12th November, are now suggesting moves with children of school age children may well be postponed to the October half term holidays.
This desperate search for PRS accommodation means some appalling properties are being brought into service for the contracts.
The G4S 'help line' number was used by SYMAAG. The response was very professional and friendly. But it emerged that G4S was simply passing on totally inaccurate information from its private subcontractors totally unchecked by G4S.
It also emerged that an appeal to UKBA and G4S, as per the 'rights' given to asylum seekers, were dismissed out of hand, without any check whatsoever of the claim of Live Management to have provided a four bedroomed property in good condition.
The Sheffield case also demonstrates the total inaccuracy of the claim in the Stakeholders' FAQ's that UKBA is involved and fully informed of private contractors actions and the dire effects they are having on the well being of children and families. The FAQ's stated:
26 What involvement will UKBA have with relocations?
UKBA will be working with current accommodation providers to identify any special requirements that service users may have and will be sharing this information with new providers so that the most appropriate accommodation can be provided.  UKBA will oversee the current providers' Exit Plans and new providers' Transition Plans to ensure that the provision of services is seamless during the transition period.
As the campaign has argued previously there are NO PROCEDURES OR 'PROPER CONSIDERATION' GIVEN  'TO IDENTIFY ANY SPECIAL REQUIREMENTS OF SERVICE USERS' (ie  ASYLUM SEEKERS AND THEIR CHILDREN), PRIOR TO MOVES CARRIED OUT BY UKBA OR G4S UNDER COMPASS TRANSITION. The Sheffield case is further evidence of this.
The Sheffield case also casts doubt on whether the UKBA is actually involved in ensuring contract compliance On 1st August Anita Bell UKBA Project Manager for COMPASS Transition stated
UKBA are working closely with G4S to ensure properties utilised for transition purposes are contractually compliant and will take appropriate steps to ensure any properties not meeting the required standard are either brought up to standard within the required timeframe or taken off line.
We are working closely with G4S to ensure that the majority of people will continue living in their current properties.  Where people do need to move, proper consideration will be given to any special requirements to ensure minimum disruption.
The Sheffield case suggests that this is simply not true
SYMAAG who have said all along that the 'appeal' procedure is inadequate are advising asylum seekers to challenge appeals decisions and seek legal action via SYMAAG with PIL (Public Interest Lawyers).See SYMAAG advice leaflet (attached)
The threat of legal moves on Friday morning the 17th with both G4S and Live Management seemed to resolve the matter of the move incredibly quickly !!
The condition of the family's existing accommodation is still a major concern with four young children living there.