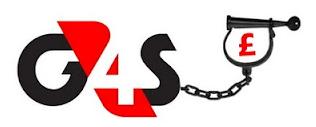 Campaign Briefing: Asylum Seekers to be housed by prison guards
Campaign Briefing
Asylum Seekers to be housed by prison guards – G4S is coming to Yorkshire – unless we stop them
The UKBA through its 'procurement' arm COMPASS has announced that the three multinational security companies that manage most immigration prisons and forcible deportations in the UK G4S, SERCO and Reliance have emerged as 'preferred bidders' to manage asylum seekers housing throughout Britain
Asylum seekers and asylum rights organisations fear that asylum seekers will be subject to further abuse and negligence when these companies become 'social landlords' given the companies' infamous track records here and abroad. The UKBA is deliberately and cruelly intimidating asylum seekers and their families by threatening to install these prison guard companies as their managing landlords. Housed asylum seekers are all fleeing from persecution and in the process of applying or appealing cases for sanctuary.They are not 'criminals' who deserve prison guards as their landlords but families and individuals claiming their rights under international treaties signed by the U.K.on our behalf.
G4S is not a social landlord they are a private security army
In Yorkshire incredibly by far the largest of the prison guard companies –  G4S – is set to become the managing landlord for asylum seekers – UNLESS WE CAMPAIGN TO STOP THEM
G4S are perhaps known to many people in South Yorkshire as the firm who read gas and electricity meters, empty cash machines, and through their 'events arm' inSheffieldpolice local sporting and other events.
In fact they are the world's largest private security army – they are for instance responsible for 'security' at Doncaster airport but also responsible for 'security' atBaghdadairport, and for guarding diplomats at Kabul airport and throughout Afghanistan.
Here in Britainthey have been awarded alongside 13,500 British regular troops, an aircraft carrier, typhoon jets and missiles, a 'security' contract of £100 million for the London Olympics running security inside the Olympic park providing 10,000 guards to patrol venues (Guardian 21st March 2011)
G4S are a mega international corporation – the second largest private employer in the world and the largest employer quoted on the British Stock Exchange. They have managed prisons in theU.S.,guarded oil and gas installations inNigeria,and provided brutal prison guards inSouth Africa. G4S prison guards have a notorious reputation in Australia.
In January 2008 G4S were responsible for the death of renowned Aboriginal elder Mr Ward, cooked to death while being transported more than 220 miles across searing goldfields in a badly maintained van with faulty air conditioning.G47 lost many of their government contracts as a result (Sambrook 2011)
G4S and its unsavoury track record
UKBA maintain that the new asylum housing contracts are going to partners with a proven track record – what is this track record in the UK?
G4S have a close link to police and prisons.They managed in 2011 675 court and police station cells,they manage four detention centres for asylum seekers and since the summer of 2011 they manage a brand new 'family friendly' detention centre "The Cedars" which has already imprisoned at least 17 families prior to forced deportation.
G4S has existing contracts to transport and disperse asylum seekers and until 2011 provided the escorts for the forcible deportation of asylum seekers.G4S lost this contract because of its appalling record.
The charity Medical Justice in 2008 detailed nearly 300 cases of alleged physical assault and racial abuse by private security guards in the deportation process.
March 2010 Baroness O'Loan found that G4S and security contractors involved in deportations had 'failed to properly manage the use of violent restraint techniques by their staff'
6th October 2010 Jose Guttierrez a Colombian deportee badly injured in being forced on to aircraft by G4S and returned to detention (Guardian 21st October 2010)
Mr Mlotshwa a Zimbabwean deportee had his wrist broken and now says he is terrified of being forcibly removed from theUKagain. "It was a terrible and frightening experience which I fear will be repeated tomorrow," he told The Independent. "These escorts are evil, they are really evil. They do these things to you and then the whole thing is covered up so that they get away with it." (Independent October 2010)
And in October 2010 Jimmy Mubenga an Angolan asylum seeker died as a result of his forced deportation by G4S guards.Two of the guards face criminal charges and G4S are still waiting to hear whether they face corporate manslaughter charges.
In July 2011 Amnesty International published a damning report "Out Of Control: The case for a complete overhaul of enforced removals by private contractors". The report stated that a ' complete and radical overhaul and reform of the current system is now required to enable the UK Government to meet its legal obligations to protect people against human rights abuses. Reforms must drastically improve the training, monitoring, accountability, and techniques employed during enforced removals."
Thus the track record of G4S is that they lost their contract to escort deportees after killing Mubenga and being exposed by major reports and official invedtigations.
G4S Managing detention centres:
In 2011 a research project of London, Harvard, Hull and UlsterUniversities found that:
'The story of the UK's immigration detention centres is one of indignity, danger, and misery as catalogued by many authorities among them Her Majesty's Inspector of Prisons (numerous times), Al Aynsley Green, former Children's Commissioner, Bail for Immigration Detainees, Medical Justice, Amnesty International, The Institute for Race Relations, Women for Refugee Women, Asylum Aid and others. In theUK's detention centres there have been 16 suicides, alarming rates of self harm, hunger strikes and appalling levels of mental and physical illness. Thousands of innocent men women and children have been put through the detention wringer and despite Coalition pledges to end the detention of children.' ( McFadyean 2011)
When asylum seekers are forced to work or infringe the confusing regulations on immigration they then become 'foreign criminals'.Between 2007-2010, 43 foreign national prisoners committed suicide in UK jails,  Numbers committing suicide have since returned to what the Ministry of Justice FoI officer described as 'expected levels'. (FOI request from International State Crime Initiative)'
In Leeds in 2008 PAFRAS interviewed former detainees, five of them encountered racism from staff in the detention centres from name calling to violence.
Some of these people are very bad.I ts the sort of thing people don't believe…some of them they enjoy it,they enjoy keeping us behind bars' (Burnett 2008)
The record of G4S managing centres is part of this disturbing picture.
April 2010 a 40 year old Kenyan detainee died at G4S's Oakington Detention Centre nearCambridgepartly through gross neglect of his medical condition.
In 2010 there were a record 773 complaints lodged against G4S by detainees including 48 claims of assault.Three complaints of assault and two of racism were upheld.G4S were allowed to investigate themselves under UKBA 'scrutiny'.
When G4S detention centre guards and violent escorts threaten to suddenly become the social landlord of asylum seekers the result is to dramatically increase anxieties and stress to often already traumatised asylum seeker families.It is ironic to say the least to see that G4S is bidding for the contracts arguing that they could actually 'improve cohesion'.
G4S making profits, privatising asylum housing, lowering standards 
The policy of G4S is summarised eloquently by a recent description of the US private sector detention and deportation industry.
'Every prisoner a profit centre, every immigrant a business opportunity'  (Red Wing 2010)
Perhaps this mission statement should be substituted for the present G4S company  slogan: 'Securing the World'
It is estimated that current (2011) G4S earnings from British government contracts are around £600 million.This tax payers money supporting prison management and security measures which one would expect to be directly provided by the state and accountable to parliament. G4S are simply one of the largest capitalist profit making enterprises in the world. Like other huge companies they are experts at tax evasion and avoidance, including using the murderous Bahraini dictatorship as a tax haven.
And of course there are massive personal gains to be made at the top of the mega corporation…
Former Home Secretary Lord (John)Reid is now a G4S director. (He was on the payroll at £50,000-a-year while he was still an MP). G4S chief executive Nick Buckles, gets a base salary of £800,000-a-year. Then, there's his performance-related bonus of up to 150 per cent of that. Plus payment in shares (assuming targets are met) to the value of twice his annual salary again. Plus there's his £7 million pension pot, growing by the year. Plus, on top of all that, he has an unspecified interest in £14 million of shares in the G4S Employee Benefit Trust. And his personal stack of shares, at today's market price, is worth £5.9 million. (Source Annual Report and Sambrook July 2011)
The UK housing asylum contracts are very profitable ones
In 2006 five year contracts were given to a range of private landlord companies and social landlords for housing around 35000 asylum seekers and worth £900 million (an average of £170 million a year) (Corporate Watch FOI request 2009)
Housing weekly 'Inside Housing' in 2011 through a FOI request established that the housing contracts were worth £164 million in 2010 / 11 and would be slashed 17% to £135.5 million in 2011/12 mainly through axing contracts with local authority and voluntary sector providers
Both Labour and now the coalition have been determined to give the contracts to the private sector.This was pursued despite clear evidence of deplorable standards and the survival of many slum landlords amongst the deliverers of asylum housing, and the creation of a 'housing system which in many instances was poorly regulated, substandard and unsafe' (Burnett 2011)
In the early years of dispersal  local authorities dominated the provision and private rented landlords were in the minority'.Between 2002 and 2004 there were constant scandals ,as in Liverpool with a private company who were housing asylum seekers in properties 'below an acceptable standard.Many had insect infestations,damp and poor electrical installations'.(Burnett 2011) Asylum seekers were frequently attacked with fatalities and suicides and in 2004 six police authorities sought to stop dispersal to their areas to prevent violence.
In 2006 Labour Immigration Minister Tony McNulty still believed the private sector was more 'flexible' (and presumably cheaper.)
Procurement and allocation of contracts continues to the present proposed contracts with G4S, to be more governed by financial considerations than the security of asylum seekers.
The demonisation of asylum seekers by politicians and the media meant local authorities simply stopped applying for housing contracts and housing associations started to pull out.For instance Southampton and Wigan pulled out in 2006.In Yorkshire and the Humber housing associations lost contracts and pointed out the effects this had on the wellbeing of families with disruption of childrens' schooling and health care.In 2010 Wolverhampton decided not to renew its contracts after Birmingham England's largest housing authority pulled out.Leedswas to follow.
But there was resistance, in November 2010 when an attempt was made in Glasgow to terminate council contracts by simply sending eviction notices an effective campaign by the Unity Centre and other community organisations forced a total climbdown by the Home Office and an apology from Damien Green the Immigration Minister
The third round of contracts with security firms Serco, Reliant and of course G4S now being given 'due diligence checks' can also be stopped by effective campaigns at a local and regional level.Asylum seekers clearly want to remain as local council tenants.
Where local councils are involved inYorkshire there is a clear difference with the private sector.
There will be major disruption to the lives of asylum seekers and their children if contracts are transfered from Local Authorities
The past track record of private housing companies and slum landlords delivering contracts is a poor one.
The sub-contractor for G4S inYorkshire and Humberside is United Property Management, an organisation which many local asylum seekers will be only too familiar with.
Sources:
No Borders South Wales
U.K.Indymedia
Corporate Watch:
Conditions of G4S Immigration Prison 'Worse and Worse' : Watching the Corporations December 2nd 2009
G4S guards accused of killing deportee' October 21st 2010
New detention phone system to keep detainees under control April 6th 2011
Asylum seekers to be housed by prison guards December 22nd 201
Statewatch
Amnesty International
G4S Website
Owen Boycott,Paul Lewis and Matthew Taylor 'G4S security guards accused over restraint of Colombian deportee' The Guardian October 21st 2010
Jon Burnett 'Racism,destitution, and asylum' PAFRAS Briefing Paper Number 6 June 2008
Jon Burnett  'Public spending cuts savage dispersal system' IRR news service 27th January 2011
Owen Gibson and Matthew Taylor  'G4S wins Olympic security deal' The Guardian 21st March 2011
Melanie McFadyean 'Detention is no solution' International State Crime Initiative www.statecrime.org  2011
Clare Sambrook 'Duty of Care: beyond the case of Mr Ward,cooked to death by gigantic outsoucer G4S'    Open Democracy 8th June 2011
Clare Sambrook  "Duty of care" vs "earnings per share": private contractors in theUK immigration removals business'   Open Democracy  July 2011
Robert Verkaik 'A disturbing insight into G4S's tactics:Zimbabwean sustains broken wrist on flight but deportation guards are cleared' Independent 30th October 2010
Donna Red Wing 'Every prisoner a profit centre, every immigrant a business opportunity'  Open Democracy 29th September 2010