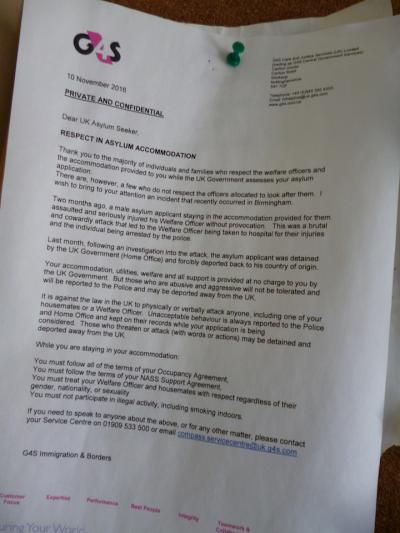 Behave or get deported, says G4S
Behave or get deported says G4S
About 900 people who are seeking asylum live in the city of Sheffield, in South Yorkshire. For five years G4S, the world's largest security company, has held the government contract to accommodate them whilst they await the outcome of their claims for asylum.
A couple of weeks ago, visiting tenants in one of G4S's asylum houses, I spotted a surprising document. Displayed prominently on the house notice board, and marked "Private and Confidential", here it is:
It's a letter from "G4S Immigration and Borders". Dated 10 November 2016, it begins: "Dear UK Asylum Seeker RESPECT IN ASYLUM ACCOMMODATION".
G4S thanks "the majority of tenants" who respect G4S staff, and goes on: "There are, however, a few who do not respect the officers allocated to look after them."
The letter reports "a brutal and cowardly attack" by an asylum tenant on a G4S officer in Birmingham, which resulted in the officer being hospitalised and the asylum seeker being arrested and "forcibly deported back to his country of origin".
G4S then warns that tenants who "are abusive and aggressive will not be tolerated and will be reported to the Police and may be deported away from the UK".
And: "Unacceptable behaviour is always reported to the Police and Home Office and kept on their records while your application is being considered."
And: "Those who threaten or attack (with words or actions) may be detained and deported away from the UK."
G4S signs off with a list of rules, ending in: "You must not participate in illegal activity, including smoking indoors."
So, here's G4S telling vulnerable tenants that words alone, perhaps even a crafty smoke, could result in detention and deportation.
What is the legal basis for that?
Notice in a G4S house in Sheffield, April 2017 (John Grayson)
I showed the letter to Frances Webber, the distinguished immigration barrister. Here's what she said:
"My response is to ask how far has outsourcing gone? Is a private corporation now mandated to make decisions on asylum and deportation?"
Webber explained: "G4S, like any owner of accommodation, is entitled to tell residents that assaults on staff will be reported to police, and if the accommodation is run on behalf of the Home Office, that Home Office officials will also be notified. But a private company has no business issuing threats of deportation, let alone to people who are likely to be particularly vulnerable because of what they have witnesses and/ or experienced."
It's not rocket science. If I assault a G4S officer I might have to go to prison, but that's a decision for the independent judiciary and (i) should not affect my immigration status and (ii) should not be decided by G4S telling the Home Office to send me down and then deport me.
My response is to ask how far has outsourcing gone? Is a private corporation now mandated to make decisions on asylum and deportation?
Publicly, G4S has strongly and repeatedly denied that it has any say over peoples claims for asylum. Here's G4S boss John Whitwam speaking on the BBC's Victoria Derbyshire show:
"I have no influence or interest in the application which the asylum seekers have, whether they are granted asylum or not is not anything to do with the providers such as G4S and Serco it is entirely a matter for the Home Office." (His job title, by the way, is: managing director, immigration and borders.)
John Whitwam, managing director, immigration and borders, G4S
Also on the programme was Yvette Cooper, the Labour MP who chairs the parliamentary Home Affairs Committee. In response to Whitwam's assurances she said: "I know that, and you know that, but for a lot of them, they don't know that and they're fearful and that's the problem."
This exchange starts about six minutes into the clip, and the date is Tuesday 31 January. That's a couple of months after G4S authorised the printing, distribution and display of a frightening notice threatening tenants with deportation.
I have no influence or interest in the application which the asylum seekers have.
I asked G4S and the Home Office to respond on the issues raised in this article. The Home Office did not respond.
G4S emailed a statement: "Our teams have no influence on the course of an asylum seeker's application and we recognise that the language used in this letter was emotive and imprecise. It came following a serious attack on one of our welfare officers that left them badly injured and fearful of returning to work.
"We will ensure that our future communications are expressed more clearly because we have a responsibility to remind the small number of asylum seekers who are violent or abusive that their conduct will be referred to the Home Office and the police. This fulfils our duty of care to the safety of our colleagues and we also believe that it is what the public would expect.
"On the specific point regarding legislation on verbal abuse, there are multiple sections within the Public Order Act around causing harassment, alarm or distress which could apply in those cases."
We recognise that the language used in this letter was emotive and imprecise.
So, was it just a matter of some "emotive and imprecise" language?
Over the past five years, working alongside asylum tenants, I have heard many reports of G4S staff, now called 'Welfare Officers', threatening them with consequences for their claims for asylum, if they protested about conditions. G4S has a poor record in Sheffield both for the quality of accommodation and for its disrespectful behaviour towards tenants.
In 2015 in one Sheffield G4S house, with eight young men in shared bedrooms, G4S had been inundated with complaints about the very poor conditions and the way tenants were forced to share bedrooms. G4S staff posted their own version of tenancy rules – the Golden Rules, stating they had no choice in sharing bedrooms, and no choice of roommate. When the young men took down the notice and told other people in Sheffield, they were summoned to a meeting with G4S staff and told any further protests would be reported to the Home Office and it would affect their asylum claims.
G4S Golden Rules posted in an asylum house, Sheffield, July 2015
This past February, a tenant whose home had for months been infested with bedbugs told me: "Ten days ago, I was really desperate. The children, particularly my ten year old son, have flashbacks at night and the bedbugs make it even worse, none of us have slept well for months and months." He showed me his own medical report. It featured "post-traumatic stress disorder… symptoms of nightmares, flashbacks and insomnia…suicidal thoughts".
He said: "G4S have done nothing about the bed bugs in either of the houses, and simply brought mouse trap boxes to keep down the numbers. So I was determined to keep ringing their Help Line every day until they came to clear up the bugs. On 14 February, I rang them and again demanded action. The operator shouted down the phone 'If you call again and complain we will make sure that this will affect your asylum claim.'"