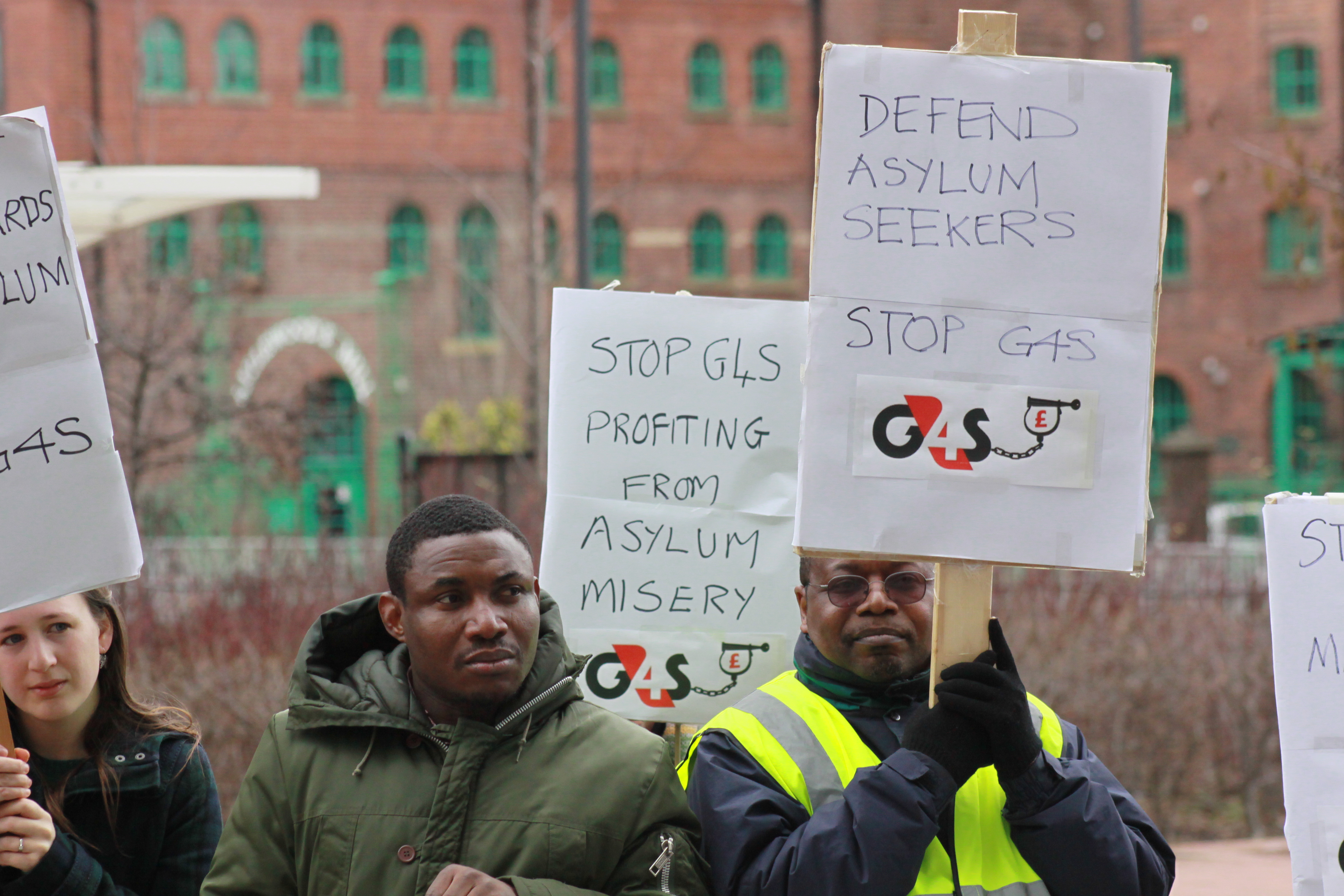 Sheffield, Leeds, Stockton: G4S asylum tenants speak out against overcrowding and WIN!
Latest news Wednesday 25th March: SYMAAG presented evidence of asylum tenants of G4S in Sheffield living in overcrowded conditions to the full meeting of Sheffield City Council. In one case 9 men (all strangers) were forced to share 5 rooms. We petitioned the council, lobbied councillors and spoke at the meeting.
We asked the question: will Sheffield City Council ban G4S (or any other asylum housing contractor) from forcing adults to share rooms? Will the Council join others in our region – like Leeds, Bradford and Hull – in amending its housing licensing guidelines to stop this abusive practice? The answer of Councillor Mazher Iqbal Cabinet Member for Communities & Public Health was "Room sharing in asylum housing will not happen in this city. That practice will stop". He explained that the necessary changes regarding Council policy and regulations on Houses of Multiple Occupation were being made.
This is some good news for asylum tenants in Sheffield. If you are an asylum tenant with G4S or if you know someone who is, or work with them, there should be no more forced sharing of rooms. If G4S have forced you to share a room and you would prefer your own room, it is your right to demand that.
If you have any problems with G4S about this, contact Sheffield City Councillor Mazher Iqbal at mazher.iqbal@sheffield.gov.uk or call him directly 0779 2127843. You can, of course, contact us at any time at dignitynotdetention@yahoo.co.uk
****************************************************
Back in early 2012 G4S senior management requested a meeting with SYMAAG and other critics after the Home Office handed them the £150 million COMPASS contract to house people seeking asylum in Yorkshire and Humberside.
G4S – having recently lost the contract to deport asylum seekers after the death of Jimmy Mubenga – wanted to persuade us to end our opposition to them running asylum housing. When questioned on their motivation for this new business move their response was honest: "our primary concern is to make a return for our shareholders" in "the asylum market".
 "the asylum market" in Leeds
In 2013 Leeds Council ordered G4S to review all of its asylum properties after the brave testimony of asylum tenants highlighted cockroaches, mould and G4S bullying.
Two years later, G4S shareholders might be reaping benefits but asylum tenants are not. A recent report from John Grayson and Violet Dickenson from SYMAAG identified dangerous and unhealthy overcrowding in asylum housing in Leeds – in one house 12 women and 11 babies share one bath (G4S are paid per tenant per house). The story was investigated by BBC Radio Leeds (listen again at 2 hours 10 minutes in). According to Leeds City Council G4S asylum accommodation is "legal but not acceptable".
9 men 5 bedrooms in Sheffield
It seems that overcrowding – in addition to squalid and dangerous housing – is G4S' latest attempt to keep its shareholders happy. In one property in Sheffield 9 men were sharing 5 rooms. Forcing people – sometimes traumatised – to share bedrooms with strangers seems to be on the increase. But, despite bullying and threats, G4S tenants are speaking out.
We are calling on Sheffield City Council to amend the regulations for landlords of Houses in Multiple Occupation to ban the sharing of bedrooms by unrelated adults, unless tenants have expressly requested this.
SYMAAG and the northern Stop G4S group will present a petition to the Sheffield City Council meeting on Wednesday 25th March and address the councillors on this issue. We will begin by lobbying councillors from 1.30pm outside Sheffield Town Hall.
Stockton on Tees: overcrowding and racist attacks
Stockton on Tees is fast becoming a favourite place for asylum tenants to be uprooted and sent too, despite numerous incidences of violent racist attacks. Again, overcrowding is rife, in houses at the bottom end of acceptability managed by sub-contractor Jomast and its millionaire owner. The infamous mother and baby hostel with its rooms described as "cells" still operates despite protests from the women housed there. A recent BBC Inside Out report dealt sympathetically with the issues facing asylum tenants in Stockton and is well worth a listen.
"unacceptably poor" / "substandard"
The latest news from Leeds and Stockton confirms what the Public Accounts Committee concluded a year ago from the evidence on G4S asylum housing provided to them by ourselves and others: that G4S (and Serco) asylum housing was "unacceptably poor". This was after an investigation by the National Audit Office which found that G4S (and Serco) were failing to meet "key performance targets" and placing people in "substandard" housing.
In a pre-election period where political parties exploit people's concerns about the low quantity and quality of social housing we think a light should be shone on those giant companies which receive hundreds of millions of public money to house people seeking asylum and fail to do so. Lowering housing standards for asylum seekers lowers standards for all who need social housing and is an issue that concerns us all.
We repeat our call to local authorities, the Home Office, to this government and the next: listen to what asylum tenants are saying:
cancel the COMPASS housing contract
provide good quality social housing in the public sector for all, including people who seek asylum
compensate asylum tenants for the abuse and disrespect they have endured
no more public contracts to G4S